Fairy Tale Mysteries: The Puppet Thief
Once upon a time, there was a man who went from town to town with songs and poetry, capturing the souls of children. From generation to generation, the tale was told. But every fairy tale has its true bitter beginning. Now a new evil has visited the town of Arbourshire, and children have been going missing. A mysterious puppet theatre seems to be at the centre of their disappearance. The town is in an uproar! A mob roams the streets and the Brothers Grimm have assigned the task of discovering the truth behind the Fairy Tale Mystery to you! Discover the truth behind the myth and save the children!
Customizable difficulty levels
Cinematic storyline
Discover the origins of the Puppet Thief
For a more in depth experience, check out the Collector's Edition
Game System Requirements:
OS:

Windows XP/Windows Vista/Windows 7/Windows 8

CPU:

1.8 GHz

RAM:

1024 MB

DirectX:

9.1

Hard Drive:

835 MB
Game Manager System Requirements:
Browser:

Internet Explorer 7 or later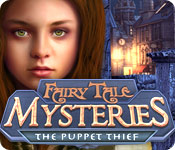 NEW299
The Big Fish Guarantee:
Quality tested and virus free.
No ads, no adware, no spyware.

Reviews at a Glance

Fairy Tale Mysteries: The Puppet Thief
0
out of
5 (
0
Reviews
Review
)
Customer Reviews
Fairy Tale Mysteries: The Puppet Thief
33
33
decent way to start the year
I had forgotten this was originally issued as a CE. It was only when I began the trial today that I was reminded of the expanded version. As an IHOG Puppet Thief does not break any new ground. Children have been kidnapped by the bad guy and it is the players duty to foil the villain and rescue the kids. The HOG scenes are simple and what few puzzles encountered in the demo are also easy to navigate. There is a lot of running around in the game which is basic to most IHOGs. A map would have been nice. The graphics are well conceived and the voiceovers add to the overall effect. There are some games that I like to purchase since I can play them with my 6 year old grandson. Since this entry has a certain fantasy element I'll add the game to my repertoire. A lot of HOGgers might find this game too easy and others might be put off by the fact FTM:PT adds nothing original to the genre. I would probably pass on it were it not for the aforementioned grandson. These games are good teachers on many planes, so those of you with youngsters should always consider the kids. The best part is the interaction and bonding with the child.
January 1, 2013
The Mystery Is Why It's So Short
Let me start by saying this would be a much higher rating if the game was not so brief, even playing on the harder setting. I agree with other reviewers that it's never a good thing when you barely need a couple of hours to completely finish a game. That said, I do think it's more of a shame because I enjoyed the actual game so much. I agree that it's not nearly as challenging as most hidden object games, but there's a lot to like here as well. For starters, the story is very well done. You are working for the Grimm Brothers in a detective agency investigating fairy tale characters. I think there is a lot of potential in this idea and love the magical telegrams they use to communicate. The game also looks and sounds great. There are video cutscenes and animations, and the village area is very detailed and extremely easy to get around in. Voice acting is well done and not over the top. Hidden object scenes are pretty easy, and yes there are the infamous lists of stuff to collect. You have quite a few of them to get through, and will do them more than once, but it's a nice touch that the objects you've already collected disappear. I realize logic might not be the first thought in an HO game, but it is appreciated when it's encountered. I thought the villain was an interesting take on a familiar idea, even if he did strike me as vaguely Terry Gilliam-esque, particularly in the final scene. Minigames are the standard fare and below average in terms of difficulty. This has its flaws, no doubt, but I liked the originality and found the story interesting enough that it was worth the purchase. I will be very interested to see where this series goes from here. Hopefully the next iteration will correct some of the length and difficulty issues. Lots of potential to make something great here.
January 5, 2013
point and click
just inelegant programming every new site has to be backed out of to a main screen, then back in 4 clicks to continue the story. Made it slow and unexciting. The puzzles varied some were entertaining others were too complicated. just an uneven experience
January 2, 2013
Good HOS Game - Great Graphics! Good Storylne.
Played the demo - lasted less than the hour - only about 45 min. Good storyline, no map (which I prefer as there is a lot of backtracking). A lot of HO scenes which are clear and objects are easy to find. Other mini games are not hard & easy to figure out. Graphics are clear & characters are well done. Music is not annoying. If you are an expert you may find it too easy but the story is enjoyable. I am going to buy the game to see how it turns out. A good way to spend a lazy afternoon.
January 1, 2013
Fun and A Bit Challenging
Based on the Trial Game: This is a bit dark and creepy (Grimm should give a big hint on that aspect!) but it is still a Fairy Tale so that makes it a fun game for me. It felt like nighttime throughout the time I played. There are a lot of Hidden Object Scenes which provide you with a needed object to carry out your mission. Too many for me, actually, but the game intrigues me so will buy it. I want to 'save the children'. The puzzles are different and not to difficult so far. As other reviewers recommend - try it first!
January 1, 2013
ho hummmmm
I would have enjoyed this game more if there hadn't been so many HOGs. The more you have, the more distracting it is for me anyway. It makes it harder to follow the game when you have to stop in every scene to play not only a HOG but also a mini game. I also think this story has been done several times before. So I liked it, but won't buy it.
January 1, 2013
Crystal Clarity
I love hidden object scenes with photographed items! The storyline was okay, and it was easy to maneuver around. The fact that you had to make a potion,easy as it was, was too cliche and common, though. Just like locked doors. This game was okay, but had no imagination.
January 21, 2013
LOVE PUPPET STORIES!!!
Review based on completed game in casual mode. Animation/VOS - Good HOS - Clear, some very small items, well concealed. MIsclick Penalty - None Hint - Recharges quickly and acts as a guide. My favorite! :-D Journal - Keeps a record of all info collected along the way. Map - None Puzzles/Mini-Games - Usual level of easy to difficult. Not as many as HOS. A great deal of back tracking so be sure to wear a sturdy pair of running shoes. Inventory - Objects used quickly in other locations. This was a good game but not as good as the PuppetShow series. Still, fun to play. Take it for a spin and happy gaming.
January 18, 2013
interesting but had more promise unmet
I liked the concept, the graphics were good but the colors were monotone. Some games have too much color this one could have used a little more. I played at expert level and found it to be fairly easy. I would have liked a map. The thing that was disappointing was that it just stopped. The story was incomplete. Still I enjoyed playing it. With a little more color, a map, a finished story, and better mini game explanations it would have been a good not just okay game.
January 13, 2013
Nothing Really Exciting
After the intro, I was really excited for this game, but after playing half an hour of the demo, I really was disappointed. Good Parts: The storyline was amazing. Set in 1800s, Grimm brothers storyline. Storyline has a few twists, and I really enjoyed it. Great graphics. Modern and animated well. Journal included. OK Parts: HOS. No interactive or extra step objects, and a little too challenging for my liking. Encountered a few too many in the 1/2 hour I played. Fair bit of backtracking, but not too much. I didn't mind the puzzles, but only encountered 2. Bad Parts: Hint/skip take too long to recharge. No map is included. For some parts of the game, I found it really hard to figure out what to do. I would say that a strategy guide is needed. Tutorial is not really helpful. So, after a great start, the game was pretty average. It's nothing to write home about, and it wasn't really enjoyable to me.
January 6, 2013
The Apple logo is a trademark of Apple Computer, Inc.