Safecracker
WINNER! #1 Adventure Game of 2007
As an expert safecracker, you are hired by the wealthy family of a recently deceased billionaire to search for the last will and testament of their late relative, Duncan W. Adams. An avid safe collector and an "eccentric" to say the least, Adams has hidden the deed to his riches in one of the 35 safes scattered in his extravagant mansion. The stakes are high. Use your expertise, wits, and puzzle solving skills to crack them all and earn your pay check!
Explore over 30 rooms.
Creative and clever puzzles.
35 unique safes to crack.
Game System Requirements:
OS:

Windows ME/2000/XP/Vista/7/8

CPU:

600 Mhz

RAM:

128 MB

DirectX:

6.0

Hard Drive:

383 MB
Game Manager System Requirements:
Browser:

Internet Explorer 7 or later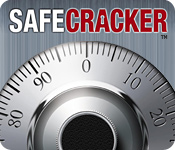 NEW299
The Big Fish Guarantee:
Quality tested and virus free.
No ads, no adware, no spyware.

Reviews at a Glance

Safecracker
0
out of
5 (
0
Reviews
Review
)
Customer Reviews
Best Game of All Time
This has got to be my favorite game! It is probably the most difficult game I have ever played - well, tried to play. You see, I bought this game 2 years ago and still haven't finished it! The puzzles are that good. Graphics are beautiful, clean and concise, and the storyline is logical. You need to be aware that a hint to your puzzle may be in the same room, or in a different area of the house. I don't normally look at walkthroughs to help with a game, I just tough it out. But I might have to break that rule (for a teeny hint!) to help with the puzzle I'm stuck on. Puzzles are really varied..no two are alike. Great game.
April 11, 2012
More, please!
Highly recommended if you love challenging puzzles! Gameplay is extremely straightforward, consisting solely of progressing through a large estate house finding a few clues, solving puzzles and cracking safes. As simple as the game is in execution it makes up for in the many varied puzzles placed in your way. Some are quite simple and require just a minute or two of thought, while others are mindbendingly complex that may stump you for hours. The amazing thing is that they are never cheap, there is always a logical solution - if you can figure it out! The Visual/Sound Quality is pretty good, the house itself is a bit barren but nicely rendered, and the narrator has a pleasing voice that never gets on your nerves. The music is unobtrusive and fitting. Sound effects are great...you'll come to love the mellow 'Ding' sound that arrives when you hit upon the solution to a particular puzzle. The story is as bare-bones as it gets, but that's not what this game is about, anyway. It's about the puzzles. And they do not disappoint!
June 11, 2012
fantastic game
I wish I could find another one like this. It gave my partner and I hours of mind bending fun. Hard but great, more please
November 18, 2011
Difficult and fun
I loved this game. Very challenging, definitely have to think. I hate doing it but I did have to go to hint page, and had to go to the actual solution three times. Words of advice-Most puzzles,if you pay attention tohow they react to different actions, it will come to you. Try not to go to the solutions, because it really does take something away from the game. I figure I solved 75% myself, 15%with hints, and 10%with solutions. Good quality game, personally loved it.
April 10, 2012
There should be more games like this!
Here is a great strategy game. You are at this man's huge estate and everything is locked. You have to find keys, codes, solve puzzles, and explore his house. It's pretty challenging and still has great graphics, even in comparison to what's come out recently! I love the Adventure Company. I will admit, the first time I played this, I used a strategy guide, and that totally helps make sense of a few things, but once you play it, you will play it again and again. A fun game for those who like to solve puzzles!
January 15, 2012
Challenging Puzzle Game
I have a high IQ and this is my favorite game so far. I liked the graphics and found it challenging to solve so many different kinds of puzzles. One puzzle I worked on for hours before solving it, not realizing that there was a hint later in the game.
December 27, 2011
Exceptional game
This is one of the best large file type adventure games available from BFG. It really should have a demo version since a lot of people might overlook it because they can't try it before buying. Despite this, I was blown away by this game. I usually don't like relaxed, puzzle heavy games such as this, but this one really held my attention. The graphics while not exactly photo realistic, are definitely a cut above, and the game engine works extremely well. There is some exploration, item gathering, and story advancement aspects to the game, but the majority of the gameplay occurs within puzzle solving. The soundtrack is quite good as it suits the mood of the game perfectly. The only criticism I'd give to that is the fact that the music repeats a bit too frequently for my liking. The game is quite lengthy so it is well worth a purchase. People who love puzzle solving and don't mind a challenge (the game is reasonable difficult once you've advanced through the first through puzzles) that might keep their attention for some time will love this game. Stay away if you don't like relaxed, slow paced, intellect challenging puzzles. Highly recommended.
November 27, 2012
Awesome large file logic game!
If you like stimulating puzzles of a wide variety, then you have to check this game out. My favorite part of any of the bigfish games are the puzzles. But I usually have to wonder around and kill time before finding another one. Not in this game. With this game, you solve one after another. Love it!
May 28, 2012
The best game ever
I like games that are more of an adventure and puzzles then hidden object games. This is by far the best game for puzzles. They were challenging and engaging. I would love to find more like this one.
April 29, 2012
NOT for HO Fans.....NO help or hints here
Pure adventure, no hidden objects, no hints, no help?..you?re on your own. Do not expect clues or hints as to what to do next, there is none of that here. You are turned loose in a mansion (quite beautiful) to open safes (hence ?safe cracker?). You are looking for a will of a missing/deceased millionaire. Along the way you find letters that provide you background information regarding him and his family. In the end you will (hopefully) find his will and it has no designated beneficiary?.what are you to do? BFG does not have a walkthrough as of this posting (I looked!)?there are the forums for hints, or you can look on the internet for free walkthroughs (they are in abundance). Okay, I admit, I got stuck reallllllly bad at one point and needed help, after that I was on my way. You will go through spurts of struggling, then you unlock one and it rolls through another and that rolls, until you get stuck again. It is very enjoyable for those that like this type of game, and it is also frustrating. Adventure games are known to be lengthy, as you have to use your brain and not be led by the hand. There is a clock at the end of this that gives you your time; mine was 7 hours and 11 minutes. The music is background and pleasant, the man?s voice (your player) is calm and enjoyable (I like the way he reads), and he has a sense of humor. There are no instructions, but I found by right clicking my mouse it would bring up my inventory, from there you can access your map which shows what safes you have and have not opened. You can also save your game from here. You MUST manually save your game yourself EVERYTIME you exit the game. It is enjoyable, albeit very frustrating?.but you get a great sense of satisfaction knowing you did something without being told how or what to do.
September 13, 2012