Safecracker
WINNER! #1 Adventure Game of 2007
As an expert safecracker, you are hired by the wealthy family of a recently deceased billionaire to search for the last will and testament of their late relative, Duncan W. Adams. An avid safe collector and an "eccentric" to say the least, Adams has hidden the deed to his riches in one of the 35 safes scattered in his extravagant mansion. The stakes are high. Use your expertise, wits, and puzzle solving skills to crack them all and earn your pay check!
Explore over 30 rooms.
Creative and clever puzzles.
35 unique safes to crack.
Game System Requirements:
OS:

Windows ME/2000/XP/Vista/7/8

CPU:

600 Mhz

RAM:

128 MB

DirectX:

6.0

Hard Drive:

383 MB
Game Manager System Requirements:
Browser:

Internet Explorer 7 or later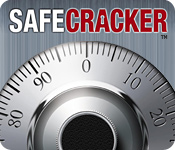 NEW299
The Big Fish Guarantee:
Quality tested and virus free.
No ads, no adware, no spyware.

Reviews at a Glance

Safecracker
0
out of
5 (
0
Reviews
Review
)
Customer Reviews
What have I done to myself? :-)
I bought this yesterday after reading the reviews about it and found myself thinking: "Na!!! Can't be as hard as they say!" How wrong I was. The puzzles are seriously tough, so do believe what all the other reviewers say. And not only that, but you have to crack one safe after the other. I started playing yesterday evening and so far only managed to open two safes. The solutions are logical and really stimulate the brain to the point of pain. The game doesn't have a skip feature or hint button. You can gather some information by reading some letters that you can find and sometimes the character gives you tip. Like in my second puzzle he said: "The only hole reachable seems to be the one on the right". At least that made me aware that I was on the right track, but knowing it and doing it are two different things in this game. Somebody mentioned in a review to observe how some of the puzzles react and I can also recommend to do that. The mansion is interesting, graphics are clear. The storyline is very brief, but you have enough on your plate with the puzzles so you won't miss it. There is a map which highlights all areas of interest (red x for something that still needs doing, green x for something that is done) and a chip with a dollar sign tells you your location. The music gives a good atmosphere and the voice of the character is so nice that I wish he'd talk a bit more. For me the game is great value for money, because I love solving puzzles and I have the feeling that this game may keep me busy for years :-) If you are after a serious brain teaser and don't get frustrated easily then this is game is for you. Great fun if you find a puzzle partner to work the solutions out, btw.
December 27, 2012
If You're Planning a Heist, This Game is for YOU!
This most intricate game, described on the WWW as "The Most Difficult Of All," is full of room after room of codes and laser beams and strange stones to stand on to reach something you need, and much more. The codes are decidedly diabolic in difficulty, and yet, this is NOT the most difficult game I have ever played. Oh, it will have you in a tizzie, what with its "execute one way, only" codes and combinations, and it will keep you busy just going from room to room. Non-linear in nature, the game often had me turning around and entering the wrong room, only to turn back to where I came from and aim my cursor in a different direction. It is a masterpiece of scholarly research and derring-do on the part of the developers, and my admiration goes out to them. If you want a game that is full of head-scratching puzzles, and a mansion full of safes (FIND THAT ULTIMATE SAFE!), then, this game is for you and you should rush to buy it!
August 25, 2012
Fantastic
Absolutely loved this game. A real challenge. Lots of puzzles to solve and every one is a different type. You really have to look around for clues too. Beautiful graphics.
September 25, 2012
Safecracker
A game for Mensa people. Very hard game equal to the Myst games, some puzzles took days, but it is excellent brain food. If you like a challenge here is a game for brain beaters everywhere. Game movement could be improved but all else is excellent.
November 4, 2012
My favourite game
This is the best game I've played here by a long way.Interesting and intrigueing puzzles,far more fun than hidden object.It's only a shame that there are not more games of this calibre,or if there are,I've not found them.
September 21, 2012
Need More Games Like This One
I LOVE this game!!! Need more like it!!!
August 17, 2012
It's hard, but great!
This review is only based on a few hours' play so far, but this game is that good that I'd like to review it now! This game is hard - there are no clues and you are plonked into rooms to find your way around a huge and beautiful mansion. Yes, you may get dizzy with the real-life room navigation, but it makes you feel like you are really there and adds to the adventure. I agree with the reviewer who wrote that a quick Google search will retrieve a few good sites with clues, which I find myself now needing, as the level of difficulty has increased. But I did manage to solve a few of the safe puzzles on my own (very satisfying!). This game is challenging and really gets your grey matter working. I'd advise anyone purchasing a brain-challenging game to: (a) choose this game; and (b) search for games beyond the 'Brain Teaser' genre on the BFG website, as there are also great games under the puzzles section or hidden within other genres. Well done to the developers - more good 'thinking' games like this please, and less dark/evil games. It would be great to have a game like this for landmark buildings or sites eg. the Vatican, historic buildings, etc.
September 7, 2013
game lover
This game really tries the mind. It makes you think outside the box! What a wonderful game this is. I could play this game over and over again and it will still be new to me, WOW!! There is not enough to say about this game but, WOW!! It is a great, great, GAME!!! The visual and sound quality is simply amazing. The level of challenge is unparalleled, and the story line is excellent. Kudos to the writers and everyone else involved in the making of this beautiful game!!
July 15, 2013
Amazing discovery
Safecracker for me is the epitome of a great brain/strategy game. A friend of mine had bought it and we spent hours and hours trying to figure out each riddle's solution and mechanics. I have been longing for a similar game since then, hoping to find a second one, a game that doesn't simply pop out a brain mini-game once in a while, but is entirely consisted of them. Alas, haven't found it. Until then, you people buy this game, enjoy it and you won't regret a penny that you've given. Great work!
June 30, 2013
Need more like this one!
There are just not enough games with a more challenging level of play out there. This was fun, difficult and engaging. Sadly,story was not very long game. I enjoy games more when they test your solution solving skills instead of your hide and seek ones. You will have fun with this one.
June 18, 2013