Grim Tales: The Stone Queen Collector's Edition
The family saga continues when your nephew Brandon encounters the mysterious Stone Queen in a lonely mountain town. She used to protect the miners here, but now she's out for revenge! You must discover the truth behind the queen's anger and save both worlds before a greedy heart brings about their destruction. You'll meet new friends, but you'll also face new foes in Grim Tales: The Stone Queen, an intriguing Hidden-Object Puzzle Adventure game.

This is a special Collector's Edition release full of exclusive extras you won't find in the standard version. As a bonus, Collector's Edition purchases count toward three stamps on your Monthly Game Club Punch Card!

The Collector's Edition includes:
Hours of bonus gameplay
Integrated Strategy Guide
Beautiful wallpapers and concept art
Downloadable soundtrack
Game System Requirements:
OS:

Windows XP/Windows Vista/Windows 7/Windows 8

CPU:

2.5 GHz

RAM:

1024 MB

DirectX:

9.0

Hard Drive:

908 MB
Game Manager System Requirements:
Browser:

Internet Explorer 7 or later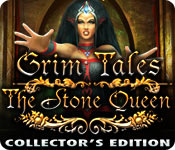 The Big Fish Guarantee:
Quality tested and virus free.
No ads, no adware, no spyware.

Reviews at a Glance

Grim Tales: The Stone Queen Collector's Edition
0
out of
5 (
0
Reviews
Review
)
Customer Reviews
Grim Tales: The Stone Queen Collector's Edition
76
76
Nice game, love the storyline!
As we got to know them from elephant games, a very beautiful game with great VO's. The game grabbed me as soon as I started playing it and went on and on and on, just had to know what would happen next. Pity that there is hardly any music, the game is too silent! No map either, which is a shame. I don't think it's worth it's CE price, no achievements, collectables, morphing objects or other surprises (+ of course extra chapter and SG!) but I am very happy BF sells it for the price of an SE today! In casual mode, the hints are almost too good, as they explain exactly what to do next. SG becomes almost unnecessary! but, all in all, a very beautiful and exciting game that I bought without playing the trial as I saw this great offering today! Thanks dev's and BF! Happy gaming!
July 3, 2013
Was OK..
I have all the other GT games so I bought this game without hesitation and trying the demo. I was a bit disappointed when I first play this game as it doesn't support full screen in my computer, which it always does in other EG. There is this funny background behind the black sidebar as a result of me probably trying to make a full screen but failed. The story seems to rush on the beginning of the game. Like why she suddenly comes out of nowhere? the snow queen herself also seems to lack charisma and she doesn't appear to be scary to me. The map is pretty useful although a bit different than the usual EG's SGs. Our location is marked with a man that look like it was taken from a male toilet :(( However, as all other EG, there is this goblin helping us, and the graphic is superb, albeit the small screen I have.
March 31, 2013
Liked the game until...
The game started with a mean queen that turned people to stone, became a good queen, and was in love with what seemed to be a very young man that looked and sounded as though he was 14 yrs. old. (What???) This was so silly that I'm sorry that I purchased it.
February 26, 2013
Enjoyable, but nothing spectacular or new
Lovely graphics, voice-overs and cut-scenes make this game enjoyable to play. Hidden object games were only minimally interactive and very easy. The puzzles were mostly very easy, although a couple were poorly explained - and one I had to change play mode to skip as I couldn't figure out what to do. There were no bonus objects to find, and no achievements to earn, which was a major disappointment. The map could be used to move from scene to scene. There was no journal. The storyline was was there and flowed nicely, but no edge of the seat drama. The game was a fair length.. The bonus chapter was of the same lovely calibre as the main story, and followed on from the main story, but not essential to it. This would be one of the better bonus chapters I've played. Whilst it did have its shortfalls, the game was still very enjoyable to play. Definitely recommend.
February 20, 2013
REVIEW OF COMPLETED GAME
Dear old Hefelump. I am so fond of these devs. They are without a doubt one of the few who I considered deliver top of the line games consistently. That is why I was so surprised to find no achievements, no collectibles, a complete absence of music, and graphics of a quality I know they can do much better. It strikes me as very strange and I wonder where they got this game from, as it does not seem like an Elephant game to me. That said, it is still a good game. The graphics are very colourful, on wide screen, they just look a little mundane, at first. Later they take on a sort of jagged look, as though they weren't properly finished off. There is a jump map. The story I think excellent. They are also one of the few devs who seem able to write original scripts. Gents, beware. You are at serious risk of falling in love with the Stone Queen. She made my eyes pop, Jim Carey style, and I'm female. What a knockout. The SG is well laid out but does not keep pace. However, unless you want solutions to puzzles, it is not really necessary as the hint tells you where to go and what to do, and is quck to refill. There are golems and goblins, 1 exotic cat, 1 mole and 1 raven. That is all I can remember but there may be a couple more. No snakes, and spiders only in emblem form to open things. My main beef is the lack of music. That made it s little dull - not much atmosphere. I kept going into the options to see if somehow the volume had diminished, but no, it was where I set it, at the highest level.. But it is good, well made and has enough of a fun factor to have kept me interested enough that I am not at all sorry I bought it. The main game took me 4.5 hrs and ended very well. The BC took me 2 hrs, which is rare. So in this case, where BF says hours of extra bonus play, it is true. In this game, the BC has only 2 new locations, again strange for Elephant Games and a little disappointing. It also did not seem very necessary or relevant to me. So, my opinion is that this is not one of their best efforts, but, if it were their first, and I had nothing to compare it to I would probably be a lot more enthusiastic. It just lacks some of the features that we have come to expect from the Ellie people.
January 4, 2013
Very disappointed!
Wow, I can't believe this is an Elephant game! I have the other three Grim Tale games and really loved them. In fact, I have a huge number of Elephants games, as they are one of my favorite devs. What happened, did you hire a student new to the game? Anyway, graphics were not up to the their usual excellent specs (very cartoony#, game play was good, music was odd #came in and out and had long periods of complete silence - very boring#. HOGs okay, but a bit cluttered #items not difficult to find). Games very simple. Nothing extra to find or do to keep your interest and make you want to move on to more. Game was not challenging at all and after the first 3 games, very disappointing to say the least. This would be a nice little game for a beginner...someone who has never played any of the other Grim games, or any of the other Elephant games. I will recommend this game only for that reason. Nothing in this game made me want to continue to see what happens. It did have promise with the stone people story, but it just didn't go anywhere...no flow to the game. Sorry, no buy at the CE price and not sure I would buy it at any price. I really wanted to add this to my Grim collection too. As always, try it for yourself and see what you think. We all have different tastes in games and you may really enjoy it. Thanks for the reviews.
January 3, 2013
A Bit Of A Let Down...
I have played other games by this developer, and this particular game doesn't do them justice. There is a map that allows a player to teleport, but there is no journal. The hint system (as is usually always the case with this developer) is outstanding. But there are no achievements (zero, zilch, zip, nada), and there is nothing to to collect (no morping objects, no butterflies, no flowers, no anything). Although I purchased the CE, I feel disappointed nonetheless. Like I said... I have played other games by this developer (which were outstanding) but with this game I feel a bit short changed.
January 3, 2013
started off so well..... but was grateful when it finished.
i normally really enjoy this type of game with the right balance of HOS and action but this is set over about 8 different scenes of which you just go back and forth, back and forth continuously, and a lot of the items to be used just dont make sense as to why you would use them.... and because the game goes back and forth so often, you completely forget where things are that need doing and what item you will need. I appreciate there is a map, and you can jump around using it, but it completey defeats the object for me... i love a game that flows (normally through chapters), thus you complete each chapter and move on to the next. it is a bit of a con to only use a few scenes... so ultimately found myself hitting the hint button continuously to remind me where i was going next. regret buying this one!!
January 5, 2013
Not Impressed Enough
Looks like I'm pretty much in the minority here. I wasn't very impressed with the game. Graphics were fine, HOS items not too difficult to find, but there was a lack of urgency. If the daughter is so ill, get a move on! I also found it rather odd that after the Stone Queen turned people to stone, which is pretty mean-spirited, you could revive them with a... flower?? Well, at least that's original. Not enough zip to this one, definitely not a CE purchase for me.
January 3, 2013
Just not as good as it should be.
The Grim Tales games seem to be slowly going downhill. I definitely enjoyed the first two, the third one a bit less, and this one even less than the third one. It's partially because the quality has slipped a bit, and partially because they seem to make a bit less sense over time. Honestly, they just could have done a lot better with this game than they did, especially given that it's a CE. The graphics are relatively good, the sound is okay (though the music just sometimes appears to be missing), but overall it's not excellent. The story is a bit wonky, in that it doesn't always flow well. You get the impression that whomever wrote it got started one way, and then changed as time went along but forgot to fix the early parts. For instance, supposedly the boy who you're trying to heal is your nephew from the previous games at the beginning. There's an early part that calls him your nephew, Brandon. And while later on he's still definitely the Brandon from the previous games, he's ceased to be *your* nephew and is now the nephew of the previous mayor. It tends to continue to flow in a somewhat choppy fashion like that throughout the game. And, it ends really abruptly, both in the main story and the bonus gameplay story. It was a story that had the potential to be really good, but just felt poorly written and executed. The level of challenge is a bit lacking, and the main challenge comes from trying to remember what you were working on if you leave the game and come back. Because there's no journal keeping track of either the story or what you've done in this game. There is an interactive map, and beyond letting you travel more quickly, it does sort of keep track of what you still need to do, but it doesn't always accurately do so. There were times where I completed the task in a location, but it was still telling me I needed to go there and do it. It doesn't affect the actual gameplay, as the game isn't requiring you to do it again, but it is a bit odd to see the map trying to tell you to do the same thing again. (And may make it hard for those who aren't playing in one big marathon session.) The mini-games/puzzles are for the most part relatively interesting, but there's a few oddities here and there. In that they had no real challenge at all to them, and seemed sort of like busy work. And I had trouble getting one to function properly at all - the door to the gnome's home puzzle I finally gave up on and skipped not because it was something I couldn't have completed, but because the sliders kept snapping back into a previously held position when I'd try and move them again, and I got tired of fighting with them. That, the tasks glitch on the map, and a few other things here and there just make the game seem more glitchy than it should. For a CE, it really doesn't have much. Sure, it has the bonus gameplay (which is even more glitchy than the main gameplay), the wallpapers, the concept art, and the music, but that's it. And frankly, I don't buy CEs for wallpapers or music, generally. I will say that the bonus gameplay at least isn't a must have continuation of the story - I hate it when the story makes no sense without the bonus gameplay, and this really is a bonus and not the rest of the story. Ultimately, this game isn't worth it as a CE and definitely could have been done much better. If it hadn't been for the previous games, I don't think I'd be as disappointed as I am. I definitely wouldn't recommend buying this as a CE. It's just not worth it at the CE price. The previous Grim Tales games were a much better example of what this game developer is capable of - this one just makes them look kind of bad.
January 8, 2013
The Apple logo is a trademark of Apple Computer, Inc.