Grim Tales: The Stone Queen Collector's Edition
The family saga continues when your nephew Brandon encounters the mysterious Stone Queen in a lonely mountain town. She used to protect the miners here, but now she's out for revenge! You must discover the truth behind the queen's anger and save both worlds before a greedy heart brings about their destruction. You'll meet new friends, but you'll also face new foes in Grim Tales: The Stone Queen, an intriguing Hidden-Object Puzzle Adventure game.

This is a special Collector's Edition release full of exclusive extras you won't find in the standard version. As a bonus, Collector's Edition purchases count toward three stamps on your Monthly Game Club Punch Card!

The Collector's Edition includes:
Hours of bonus gameplay
Integrated Strategy Guide
Beautiful wallpapers and concept art
Downloadable soundtrack
Game System Requirements:
OS:

Windows XP/Windows Vista/Windows 7/Windows 8

CPU:

2.5 GHz

RAM:

1024 MB

DirectX:

9.0

Hard Drive:

908 MB
Game Manager System Requirements:
Browser:

Internet Explorer 7 or later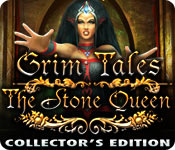 The Big Fish Guarantee:
Quality tested and virus free.
No ads, no adware, no spyware.

Reviews at a Glance

Grim Tales: The Stone Queen Collector's Edition
0
out of
5 (
0
Reviews
Review
)
Customer Reviews
Grim Tales: The Stone Queen Collector's Edition
83
83
A little tedious
I loved the previous Grim Tales games, and Elephant in general, but this is pretty dull. I have found myself using the hint button a lot just to get the game over with quicker. The graphics are great, as usual, but there's just something about the story and the layout that doesn't grab me. It's not helped by having to go backwards and forwards all the time, and there's no map to jump to different places. Some of the puzzles are pretty illogical, and it's difficult to work out what you are actually supposed to do. Others are so simple, I don't know why they bothered with them. There are a few, however, that are genuinely challenging. There are very few HOS, but these are acceptable in the level of challenge. Maybe just a tad on the easy side for seasoned HOS lovers. There's no music in most parts of the game, and I think it needs a little, just to add a bit of atmosphere that is otherwise lacking. I'd only recommend this game for the sake of completeness, with the rest of the Grim Tales games, but even then, there's only a small link to those. Treat yourself to the Surface games instead, if you haven't already!
February 2, 2013
Disappointing.
First off, what is it with this family? The twin sister is always saving everyone. Doesn't she ever get in trouble? What about her life? Did she never get married? Have kids of her own? I guess she was too busy saving her dumb sister and equally dumb husband and son to have a life of her own. So Brandon has grown up and apparently has an uncle in Stoneville our heroine doesn't know about. He also has a secret girlfriend who lives underground. A bunch of stuff happens that makes no real sense and nameless twin has to save her nephew, the town, and eventually the Stone Queen. I guess, even though the first game said that these girls were identical twins of an evil wizard they're not identical in the brains department. And sadly it was the dumb one that bred.
January 21, 2013
Story line a little too scattered for my taste
I really enjoyed the story, but felt like I had to jump all over the map and couldn't really get a sense of what to do next. I love the Elephant games but this one wasn't quite up to par in my opinion.
May 5, 2014
The Grim Tales weak link - Better as an SE
This review is based on a complete playthrough of the game and bonus content. First: The CE stuff (or why should I pay double for this game?) - All you get is one bonus chapter, and not a particularly good one at that. It gives a little backstory to the Stone Queen's family, none of which has anything to do with what happened in the main plot. No achievements, no collectibles, no morphs, no room to decorate. Yes, you get a few pretty wallpapers and sound tracks. On to the game: THE GOOD: It was a long game, easily six hours for me on the middle setting, and using more than a few hints along the way. Bonus chapter added an hour and a half. The graphics were generally good, dark when the scene should be dark, clear otherwise. The HOS were well done, and there were some very nice mini-games (the 'adventure' board game is genius). The map is interactive - it lets you jump from place to place, and tells you which tasks still need doing in each area. The Hint button is specific: It tells you what to do where (and you'll probably need it a few times) THE BAD: So much pointless running around (something breaks, you find a key, you go across the map to open a locked box that has the 'fixed' thing you just broke). Many of the tasks simply don't make any sense, and add nothing to the game. Some of the minigame instructions were incomplete or unclear (HINT: You can revive a fallen warrior for 100 coins). The strategy guide offers no tips for help with them either. Had to skip more than a couple. By the time I found the "solution" to the main quest, I had forgotten what the main quest was. So much in the middle had nothing to do with it - just obstacles for the sake of obstacles. I usually like to listen to the music in these games, but here it was just repetitive, droning, and quickly annoying. THE UGLY: The 'voice overs': The cutscenes consists of a 'blank' screen with a still character while the words he's speaking show up framed in a wood box. They don't always match what is being said, either. Big step backwards from the previous title in this series. The game tells you more than you should know WAY too often (I don't want to pick up <common item> until I've done <strange thing> to it first, long before you'd know you have a reason to). I'm not sure the develops were sure who 'you' are in this game. At one point it sounds like you're the same person from the previous ones (looking for 'your' nephew, who also happens to be the mayor's nephew), but you say lines like "I've never seen a castle before!" (Hello! Your sister lived in one just a couple games ago...) and the 'family connection' isn't really mentioned after the start, which makes it seem like a totally new setting. BOTTOM LINE: This game needed another month or two in the Stone Oven for some Q&A at the end and better plotline/game planning in the beginning. The story is completely and totally tied up in the main game, so if you do buy this one, the SE is the way to go. As a Collector's Edition, I can't recommend it.
February 27, 2014
Another Game with too much Running around
There is just too much backtracking with this game....it seems this developers use this a lot to try and prolong a not so long or great game....But my hand gets tired and my brain is annoyed with all the circular running around...I like a game to be challenging but for different reasons....A reason to return to a certain location other than just backtracking to use up the trial Hour....Don't get enough enjoyable play or feeling for the story....My hand gets tired of clicking on my trackball.
February 6, 2013
Nicely drawn but uneven game play
I have the other Grim Tales games and found them really enjoyable but this one felt different and was disappointing. I should have left it at the end of the trial. The music and artwork were nice, and the story was reasonable. The HO scenes are not particularly difficult or junk-piley. There are no trophies, awards or easter eggs. The issues I had were: *In many cases, next step was unclear; HINT button used often (which I really dislike but resorted to after traipsing around to different locations without success) *Many items carried in inventory for a LONG time without application; others used almost immediately (this varied throughout game play) *Maybe I'm not the brightest bulb but I had real difficulty with some of the mini games. I ended up having to skip several out of frustration because I couldn't understand what needed to be done or how to do it There were also a few technical issues: *The map showed the same info for two different locations *Some of the interactive items in HOS scenes didn't work the first (or second) time attempted. Not this dev's best effort.
January 10, 2013
How Did This Get So Many Stars?
BASED UPON COMPLETION OF FULL GAME AND BONUS LEVEL. This was one of the most frustrating games I've played in quite some time. Everything about it was annoying and frustrating. After many years of playing these, I am an expert at them. Not the kind of player who calls herself an "expert" yet plays games on casual (or even advanced) levels. Usually now there are three levels in games, and I always play on hardcore, or the hardest level available to me. I'm that kind of expert. Having said that, I was incredibly annoyed at this game because there was no rhyme or reason to where items were, where you were in the game or where you were to go. None of it made sense. There was never a clear indication of what was next; none of the clues found brought me any closer to knowing where to head next. It was not intuitive at all. For what seemed like an eternity, everywhere I turned I found another "project" that needed to be done. There's got to be some payoff consistently throughout the game where you are able to find items necessary to click one of those projects off the list. But no - not until toward the end did this game start giving you the items you needed to start completing the steps. Can you imagine how frustrating and boring that was? Of course I finished the game and the bonus level, because I have this thing where I have to finish what I start. I will even read a bad book cover to cover if I have already started it when I determine it's bad. Just one of those little quirks! Love, love, love Elephant Games and the Grim series. However, I was very disappointed; this edition was a real stinker.
February 8, 2013
Poorly Designed
I'm hit-and-miss with Elephant Games, usually, but they do have their strengths, especially in things like side tasks (i.e. morphing objects, collectibles), and they're usually pretty steady even if I don't necessarily find them very engaging. The Stone Queen, however, is amateur hour at its worse; it lacks in both Elephant Game staples and general good sense, far below its siblings from this developer. 1. The player is spoon-fed needed information, regardless of how they're playing the game. For example, early on the player comes to a scene. If you click on a hatch on a car, trying to explore, first, it tells you that "[Name] must be hiding proof of his nefarious deeds behind this strange lock. I must look for a cross-shaped key!" How does the player character know this? Why the convenient newspaper sitting right there... that you haven't yet picked up. In a 40 minute trial something like that -- where the player character remarks on a detail that the player hasn't yet interacted with and thus doesn't know -- came up, to my count, 8 times. An additional 9 times something came up that you simply could not know, such as details about a town you've supposedly never even heard of before. What's the point of having an interactive game if the gameplay doesn't depend on your choices and what you explore/fail to explore? 2. Often times when you pick up an object or find an obstacle it will tell you exactly what needs to be done, whether that information is obvious or not. Since these are not logical jumps it's helpful to the player (as they would probably have had trouble figuring out what to do), but that's bad form on two levels: hand holding and having such confusing gameplay that the player needs their hand held. 3. If you do get stuck you can use the Hint system, which will literally tell you what to do next (i.e. precisely where to go and what to use when you get there). It's like having a Strategy Guide instead of a hint system, which is not a plus for me as the two things hold different purposes. 4. Why does this town have bizarre locks opened only by pendants? Why do they have safes if they're going to write the code on the safe (I wish I was exaggerating but it's literally written on the safe)? There's no logic. A good contrast to this would be the Echoes of the Past games or the Puppetshow games where the puzzles and odd locks are intentionally introduced by the villain to slow people down. We don't get the same sense here (and if so what sort of dumb villain leaves a safe code written on a safe?) 5. Speaking of puzzles, these can barely be called that. Within the five puzzles in the demo, not including the safe one (I refuse to count that for obvious reasons), the puzzles took me on average less than 30 seconds. The only one that slowed me down was a mosaic form puzzle and that was because each box had to be individually marked. I'm quick with puzzles, quicker than average, but they still tend to take me a minute or two to think through. These puzzles required no thought. I didn't even need the instructions as it was obvious upon sight what each was meant for (one within the demo, for example, was a simple 'match the pairs' exercise). 6. As I said earlier, there are no extras whatsoever -- no morphs, no collectibles, no side tasks. Now, usually I'm not a huge fan of these things but they do add colour to a game and allow the player to interact more thoroughly with the world. A lot of people really like them and Elephant Games is, along with Blue Tea Games, pretty well known for them. So it's a negative mark that they're missing. There are some pluses to the game but they are few: the settings allow you to enable/disable 'Special Effects' like fog/odd lighting on hidden object scenes; the music (that is there -- it's very light on music) isn't overbearing; the storyline itself is straightforward. But they are far outweighed by the minuses. I cannot recommend this game even to new players and if you're a fan of Elephant Games I'd suggest giving this one a miss; it might as well be by a different developer entirely.
February 20, 2013
Too much running around
There is too much running around on this game. You gather inventory that really does not make sense and you must use the hint to find out where to go next. Some logic would have been nice but it is not there. Designer might have been too cunning for my taste. I do not recommend.
January 12, 2014
This game is the Elephant in the room. Ugh.
TITLE?Grim Tales: The Stone Queen VERSION?Collector's Edition (full game + bonus adventure) DEVELOPER?Elephant Games (produced by Big Fish Games) GENRE?Interactive Hidden Object Puzzle Adventure STORYLINE?Poor Brandon. Whatever would he do without you, his amazing aunt, forever arriving in the nick of time to pull his you-know-whats out of the fire? This time, he's apparently had a run-in with the Stone Queen, who usually protects the miners but now is running amok turning people into stone. In your quest to save Brandon once again, you'll discover why, as well as who the real villain is. OVERVIEW?Frankly, The Stone Queen is not up to Elephant's usual awesomeness. While the story was rather good, gameplay was chaotic and disorganized, puzzles and mini-games lacked coherent instructions, and required actions seemed inane and unreal. You'll need the SG, a really good walkthrough, or a boatload of hints. GAMEPLAY?Point 'n' click adventure with iHOs, mini-games, and puzzles. iHOs were all of the list type with interactions limited to opening or moving things to find the item, or assembling the item from a couple parts. Mini-games and puzzles were either familiar and easy, or new and lacking adequate directions. SPECIALS?Bonus adventure, wallpapers, music. No collectibles or achievements. INTERFACE?JOURNAL: None. MAP: Jump map with objectives highlighted (but not available actions). HINTS: I didn't note the recharge rate. STRATEGY GUIDE: Not real time, but divided into chapters. SETTINGS?Music, effects, environment, and dialog volumes can be set separately. Special effects can be turned off. Custom cursor and gamma correction are available. Three modes of difficulty. GRAPHICS?Good, but didn't seem up to Elephant's usual amazing job. Maybe I was too distracted by the confusion of the game. CUTSCENES?In-game animation was decent. No lip synching. MUSIC?Unobtrusive. SOUND?Well done. VOICEOVER?The Stone Queen herself was well done. Brandon seemed a bit dated, like a character from Pleasantville. The non-human characters were the best. SUMMARY?It's difficult to believe that the same developer who gave us games like the Surface series and Mystery Trackers: Four Aces and Royal Detective: The Lord of Statues also developed The Stone Queen. While the story had promise, the gameplay was pure chaos. For that reason, I can't recommend it.
May 21, 2013
The Apple logo is a trademark of Apple Computer, Inc.