Grim Tales: The Stone Queen Collector's Edition
Exclusive
The family saga continues when your nephew Brandon encounters the mysterious Stone Queen in a lonely mountain town. She used to protect the miners here, but now she's out for revenge! You must discover the truth behind the queen's anger and save both worlds before a greedy heart brings about their destruction. You'll meet new friends, but you'll also face new foes in Grim Tales: The Stone Queen, an intriguing Hidden-Object Puzzle Adventure game.

This is a special Collector's Edition release full of exclusive extras you won't find in the standard version. As a bonus, Collector's Edition purchases count toward three stamps on your Monthly Game Club Punch Card!

The Collector's Edition includes:
Hours of bonus gameplay
Integrated Strategy Guide
Beautiful wallpapers and concept art
Downloadable soundtrack
Game System Requirements:
OS:

10.9/10.8/10.7/10.6

CPU:

2.5 GHz (INTEL ONLY)

RAM:

1024 MB

Hard Drive:

842 MB
Game Manager System Requirements:
Browser:

Safari 4.0 or later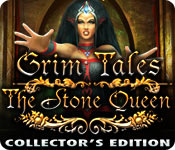 The Big Fish Guarantee:
Quality tested and virus free.
No ads, no adware, no spyware.

Reviews at a Glance

Grim Tales: The Stone Queen Collector's Edition
0
out of
5 (
0
Reviews
Review
)
Customer Reviews
Grim Tales: The Stone Queen Collector's Edition
83
83
started off so well..... but was grateful when it finished.
i normally really enjoy this type of game with the right balance of HOS and action but this is set over about 8 different scenes of which you just go back and forth, back and forth continuously, and a lot of the items to be used just dont make sense as to why you would use them.... and because the game goes back and forth so often, you completely forget where things are that need doing and what item you will need. I appreciate there is a map, and you can jump around using it, but it completey defeats the object for me... i love a game that flows (normally through chapters), thus you complete each chapter and move on to the next. it is a bit of a con to only use a few scenes... so ultimately found myself hitting the hint button continuously to remind me where i was going next. regret buying this one!!
January 5, 2013
Not Impressed Enough
Looks like I'm pretty much in the minority here. I wasn't very impressed with the game. Graphics were fine, HOS items not too difficult to find, but there was a lack of urgency. If the daughter is so ill, get a move on! I also found it rather odd that after the Stone Queen turned people to stone, which is pretty mean-spirited, you could revive them with a... flower?? Well, at least that's original. Not enough zip to this one, definitely not a CE purchase for me.
January 3, 2013
Just not as good as it should be.
The Grim Tales games seem to be slowly going downhill. I definitely enjoyed the first two, the third one a bit less, and this one even less than the third one. It's partially because the quality has slipped a bit, and partially because they seem to make a bit less sense over time. Honestly, they just could have done a lot better with this game than they did, especially given that it's a CE. The graphics are relatively good, the sound is okay (though the music just sometimes appears to be missing), but overall it's not excellent. The story is a bit wonky, in that it doesn't always flow well. You get the impression that whomever wrote it got started one way, and then changed as time went along but forgot to fix the early parts. For instance, supposedly the boy who you're trying to heal is your nephew from the previous games at the beginning. There's an early part that calls him your nephew, Brandon. And while later on he's still definitely the Brandon from the previous games, he's ceased to be *your* nephew and is now the nephew of the previous mayor. It tends to continue to flow in a somewhat choppy fashion like that throughout the game. And, it ends really abruptly, both in the main story and the bonus gameplay story. It was a story that had the potential to be really good, but just felt poorly written and executed. The level of challenge is a bit lacking, and the main challenge comes from trying to remember what you were working on if you leave the game and come back. Because there's no journal keeping track of either the story or what you've done in this game. There is an interactive map, and beyond letting you travel more quickly, it does sort of keep track of what you still need to do, but it doesn't always accurately do so. There were times where I completed the task in a location, but it was still telling me I needed to go there and do it. It doesn't affect the actual gameplay, as the game isn't requiring you to do it again, but it is a bit odd to see the map trying to tell you to do the same thing again. (And may make it hard for those who aren't playing in one big marathon session.) The mini-games/puzzles are for the most part relatively interesting, but there's a few oddities here and there. In that they had no real challenge at all to them, and seemed sort of like busy work. And I had trouble getting one to function properly at all - the door to the gnome's home puzzle I finally gave up on and skipped not because it was something I couldn't have completed, but because the sliders kept snapping back into a previously held position when I'd try and move them again, and I got tired of fighting with them. That, the tasks glitch on the map, and a few other things here and there just make the game seem more glitchy than it should. For a CE, it really doesn't have much. Sure, it has the bonus gameplay (which is even more glitchy than the main gameplay), the wallpapers, the concept art, and the music, but that's it. And frankly, I don't buy CEs for wallpapers or music, generally. I will say that the bonus gameplay at least isn't a must have continuation of the story - I hate it when the story makes no sense without the bonus gameplay, and this really is a bonus and not the rest of the story. Ultimately, this game isn't worth it as a CE and definitely could have been done much better. If it hadn't been for the previous games, I don't think I'd be as disappointed as I am. I definitely wouldn't recommend buying this as a CE. It's just not worth it at the CE price. The previous Grim Tales games were a much better example of what this game developer is capable of - this one just makes them look kind of bad.
January 8, 2013
The weakest Grim Tales yet
I expected more out of this game for some reason. It has an average number of HOS and less minigames.There are many opportunties for minigames that are missed. There is a map to jump around. The Strategy guide doesn't tell you how to solve minigames, otherwise it's okay. The plot is interesting but poorly developed. I don't think this game is as good as it's predecessors, it weakly ties in to the Grim Tales story. I'm not sorry I bought it, but not wowed. At least it's a decent length. Buy it on sale.
January 5, 2013
Not up to par
I'm a huge fan of this developer. In fact, I think the only games I've replayed have come from them. So, like other reviewers, I found this game to be a big letdown. I don't see any reason why this was released as a CE game. What's so special about it? Nothing we haven't seen before. Yes, there's a jump-map, but the dev always provides that (and thank you!) But... no collectibles? Nothing really interesting to do? No wow factor that I can see. There's just no excitement here. Even the graphics seem below the level I've come to expect. Maybe as an SE, this is a buy, but I don't think it comes anywhere near justifying the CE label. With regret and disappointment, I'll pass on this one.
January 4, 2013
Like dancemom1 disappointed
Played only the demo after which there was no desire to buy at all. I also don't know what has happened to Elephant . Apart from Nutcracker which had excellent graphics a good story and well done characters, even though there were no achievements etc , Elephant have lost the plot for me. All their games always had something extra which is why I own so many of their games. This had hardly any cut scenes to draw you into the story unlike most of their other games and the characters were poorly done and were just a drawing with a voice over. Although Grim Tales is not my favourite from this dev I still bought the other three which I enjoyed well enough. Sorry this one does not tempt me to buy at all. I am surprised it has jumped to number 1. But then ERS are also getting games out there without I feel getting them finished. It just seems they can't get them out there fast enough. Sorry.
January 13, 2013
Oh My Goodness!
This Game was HARD! I couldn't have finished it without referencing the Strategy Guide almost every minute! A lot of running back and forth, and lots of locations to remember - too many at times. The Graphics were lovely but due to the difficulty of the Game, I certainly will not be replaying this one again.
April 2, 2013
Not on my wish list.....
I might get this later, but not as a collectors edition. My grand daughter liked it who is 8, but it did not seem to be up to the level of other games from Elephant. It lacked the ahhhh factor that some of the newer games seem to have. I would have liked some cute animated friends to play with and have some achievement awards for getting stuff correct. The puzzles were good, and I liked that some have a few different parts to them. When I think of a 'Grim type story' I think of more fairly tale overtones than this game had, . Art work was excellent in some places and not it others. The voice over art work was not animated, which would not have been much of a deal, if the general feeling of the game was not so gloomy. In comparison to Nut Cracker, which was so amazing and captivating, this game left me feeling a little flat.
January 6, 2013
Story line a little too scattered for my taste
I really enjoyed the story, but felt like I had to jump all over the map and couldn't really get a sense of what to do next. I love the Elephant games but this one wasn't quite up to par in my opinion.
May 5, 2014
The Grim Tales weak link - Better as an SE
This review is based on a complete playthrough of the game and bonus content. First: The CE stuff (or why should I pay double for this game?) - All you get is one bonus chapter, and not a particularly good one at that. It gives a little backstory to the Stone Queen's family, none of which has anything to do with what happened in the main plot. No achievements, no collectibles, no morphs, no room to decorate. Yes, you get a few pretty wallpapers and sound tracks. On to the game: THE GOOD: It was a long game, easily six hours for me on the middle setting, and using more than a few hints along the way. Bonus chapter added an hour and a half. The graphics were generally good, dark when the scene should be dark, clear otherwise. The HOS were well done, and there were some very nice mini-games (the 'adventure' board game is genius). The map is interactive - it lets you jump from place to place, and tells you which tasks still need doing in each area. The Hint button is specific: It tells you what to do where (and you'll probably need it a few times) THE BAD: So much pointless running around (something breaks, you find a key, you go across the map to open a locked box that has the 'fixed' thing you just broke). Many of the tasks simply don't make any sense, and add nothing to the game. Some of the minigame instructions were incomplete or unclear (HINT: You can revive a fallen warrior for 100 coins). The strategy guide offers no tips for help with them either. Had to skip more than a couple. By the time I found the "solution" to the main quest, I had forgotten what the main quest was. So much in the middle had nothing to do with it - just obstacles for the sake of obstacles. I usually like to listen to the music in these games, but here it was just repetitive, droning, and quickly annoying. THE UGLY: The 'voice overs': The cutscenes consists of a 'blank' screen with a still character while the words he's speaking show up framed in a wood box. They don't always match what is being said, either. Big step backwards from the previous title in this series. The game tells you more than you should know WAY too often (I don't want to pick up <common item> until I've done <strange thing> to it first, long before you'd know you have a reason to). I'm not sure the develops were sure who 'you' are in this game. At one point it sounds like you're the same person from the previous ones (looking for 'your' nephew, who also happens to be the mayor's nephew), but you say lines like "I've never seen a castle before!" (Hello! Your sister lived in one just a couple games ago...) and the 'family connection' isn't really mentioned after the start, which makes it seem like a totally new setting. BOTTOM LINE: This game needed another month or two in the Stone Oven for some Q&A at the end and better plotline/game planning in the beginning. The story is completely and totally tied up in the main game, so if you do buy this one, the SE is the way to go. As a Collector's Edition, I can't recommend it.
February 27, 2014
The Apple logo is a trademark of Apple Computer, Inc.
The Windows logo is a trademark of Microsoft, Inc.