Ancient Rome 2
Construct entire residential districts for people and improve their well-being by building markets, schools, theaters and other places, and connect them with roads for ease of access. Create warehouses and farms, plant wheat and bake bread, mine clay and manufacture all kinds of crockery. Once you have your manufacturing in place and running, provide your population with food, improving the status of households. Sell the excess of products and make more money. The richer households become with time, the more taxes they pay, thus helping you improve the city. Once you have successfully completed all the missions, you will be able to build your own villa!
30 levels
Build your own villa!
Large maps for construction
Game System Requirements:
OS:

Windows XP/Windows Vista/Windows 7/Windows 8

CPU:

2.0 GHz

RAM:

1024 MB

DirectX:

9.0

Hard Drive:

154 MB
Game Manager System Requirements:
Browser:

Internet Explorer 7 or later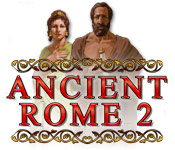 NEW299
The Big Fish Guarantee:
Quality tested and virus free.
No ads, no adware, no spyware.

Reviews at a Glance

Ancient Rome 2
0
out of
5 (
0
Reviews
Review
)
Customer Reviews
Would be fun if it weren't for all the fires!
I was really excited to FINALLY see a new Time Managment game (getting really sick of HOGs) and I was more than ready to play this game. It started out just like any typical city planning TMG, but then........the fires started. In order to continue bulding your city, you need to put out fires immediately or your building burns down: but.....in order to put out a fire, you need to click like crazy (and for a long time)......it got so frustrating that I had to quit (which I almost NEVER do). What a shame to ruin a good game with this senseless feature. i will not be buying this one!
January 8, 2013
Warm up your clicking finger & break out the magnifying lens
Ancient Rome #2, I have never played #1 so can not compare the two. Requires 1024RAM 154 Hard Drive, Available for Mac&PC. Slots for 7 players Options: sliders for Music, Sounds, Music is a choir, repetitious loop. To me it did not seem to fit the game, but can be turned down/ off Boxes to check /uncheck- you can choose to mute the talking but keep the nature sounds, Full screen, Screen resolution choices from 800X600 up to 1360X768. 30 Levels Each beginning level taught you the basics, Instructions were given in a box but for the size of the box the lettering is tiny, since the box is a decent size they had room to make the font larger. This is going to be a major problem for players with vision problems. My vision is good but, even I, needed to bring the lap top closer. I imagine there will be players that need to bring out the magnifying glass when they play this game. The lettering is not just a problem during instructions but also once a building is built, for instance a cluster of 4 tents you must click on the cluster, to find out what other services need to be available close to a home...from wells, wheat, medical services & markets. One area I found missing in the instructions were details like how close does a well need to be to a house or property to be used, or how often do you place a market? When building the various buildings do you have to have a road completely surround it or on 1 side? This answer seemed to change as they started one level with 4 groups of homes together in a square so each section had 2 sides with roadway available but when I placed a single set of 4 tents close to a section of water, road was on 3 sides the program had red square under it until you found an appropriate location then turned green, but when I placed it there, the program kept telling me that the homes needed additional services. I finally had to delete/move it to a new location. Main Goals for each level are in upper Rt Hand corner. Example: Build 3 Homes to a level 4, but does not explain what makes it a level 4. Click house & read tiny lettering of what it needs. As each task is finished it removes from the list. When certain items are gathered to send elsewhere you must click SEND once the supplies are together. When level is completed your screen states "ANOTHER THRIVING CITY OF THE ROMAN EMPIRE IS HERE THANKS TO YOU!" then another screen loads where you create a villa one part of a task at a time. You can choose the order to complete but no choice of different fountains or building architecture. Nothing unusual or exciting about the space. Your building a property with Villa-25 levels, servants-10, Gazebo-5, Fountain-10, Stable-10, Fence-10, Garden-6. The beginning levels seems to give you 2 tasks for each level. Then by level 6 the fires started, a lot of fires, that are put out by clicking the buildings very fast. If not fast enough, long enough or soon enough, it burns down.There is a fire tube next to the burning building showing how close it is to destruction and they seem to burn down fast. The money aspect is another area that was not explained well enough, when I spent too much money, instead of my purchase being denied, Caesar gave me a loan, no penalty that I know of, so why bother with money if there is no limitations? Yes, they did advise to be more careful. Over all the game was OK but nothing new or different, graphics were basic Roman Architecture, story line was forgettable literally, more information was needed in several areas even if just added on a help page. A zoom in/out was desperately needed. The choir music did not seem to fit the game. People had little detail that identified a person. If you are desperate for something new and you have played all the other TM's and you have a pcc available then this may suit your needs ....but personally it made me just want to re-play, The World of Zellian's, and save my code and the frustrations that would come in trying to understand the rules and the small print instructions. The Zellian's you can actually tell what the little people's jobs were as the firemen/women carried their own hoses, doctors in lab coats & even mad men who rip up roadways in their fits before the doctors come and help them. Plus you use strategy to fit all the buildings into the allotted space. In Ancient Rome #2, I did not make it far enough to know if space planning would become an issue. In comparison the people in Ancient Rome #2, the people looked like little more than colored ants if even that and there are only 30 levels instead of the Zellian's, 45, so it is 33% shorter that World of Zellian's. I will pass on purchasing or using a pcc but do try it for yourself and then try the World of Zellian's if you have not yet tried it for yourself.
January 7, 2013
So Disappointing
I wanted to love this game. I really, really did. I played the first one, back when I had a PC and it was one I was sad I couldn't get for Mac so when I saw this I was very excited. I even played the whole demo hour, just hoping it would get better, even though I wanted to just quit after the first couple of levels. The controls are terrible and poorly explained in the tutorial, leaving you fumbling about, generally you have to figure stuff out on your own. When there is writing on the screen, either the "guides" speaking to you at the beginning of the level, or the various tasks that must be completed to finish the level, the writing is quite small. My vision is pretty good and I was straining, so I can imagine that anyone with vision difficulties would be quite challenged and that's not generally the challenge I would look for in a game. It's never really made clear how or when money comes in to buy/build stuff with. There is a tax collection timer but when it fills up sometimes the money is $0 and sometimes it's not without any clear explanation as to why. Then, by the third or fourth level, buildings start catching on fire, again with no explanation. You have to build a fire dept. of sorts and then you still have to click repeatedly on a flaming building to put out the fire. The last level I got to in the demo hour had something burning nearly constantly and was very frustrating to not be able to do anything other than put out fires. The graphics were lovely if you zoomed in but then you could only move around by holding the mouse pointer at the edge of screen, which would then scroll by very slowly... No click to grab-and-drag option. When you click on a house for info it will tell you what it needs, both in tiny writing and little pictures, to survive. But it doesn't tell you how much or how often, and there is no timer for when these various resources will be consumed. So it is impossible to know, other than trial-and-error how many of a production piece (farm, mill, bakery etc.) you would need per house. I do like that it's a more realistic ancient times game compared to say the Roads of Rome series and I do like the rewards that are offered for completing a level successfully. But I'm afraid that it falls far short from other games in terms of enjoyment and those two things cannot make up for all the things this game lacks.
January 8, 2013
Someone dust off the time machine...
Back in the 90s, there was a ton of really excellent city builder games. There was Pharaoh set in Ancient Egypt, one set in China and a whole series based on Ancient Rome called Caesar. I grew up playing these games and utterly adored watching the little walkers roam my roads bringing all kinds of goods to my city populace. I coaxed my little city people to build pyramids and the Great Wall of China. I marched my legions of soldiers against hordes of barbarians who invaded my city map occasionally. The levels were often really hard too, some taking hours of playtime to beat. Ancient Rome 2 somehow stripped all the fun, the LIFE out of this strategy game concept. The levels are horribly easy, take 5 minutes tops and each level is a carbon copy of the last one with perhaps one more production building thrown in. You can't even bulldoze the trees on the map. Instead of advancing your player dynasty through history, your reward for playing is slowly building a Roman villa. Snore.
January 8, 2013
excellent fun for anyone who dreams of being a city planner
this builder game is excellent for anyone who dreams of being a city planner for ancient Rome. basically, your task is to construct Roman towns filled with all the structures necessary for the residents to thrive -- homes, farms, businesses, markets, warehouses, firehouses, schools, theatres and roads ... LOTS of roads. pros: - lovely graphics - lay out and construct your town as you see fit - clicking on a structure reveals which additional resources they need to upgrade cons: - tutorial isn't very thorough and leaves a lot to the imagination graphics: so crisp, clear and surreal that sometimes you just want to look around. sound: chorale music. storyline: practical and down-to-earth, the story is quite believable. gameplay: no timer, achievements, different levels of difficulty nor modes of gameplay. the game becomes progressively more challenging from one level to the next. 30 levels in total and up to seven different players/accounts can play this game. after you complete each level, you play a mini-game where you add structures to your own pre-planned villa, which you are building from the ground up. loads quickly, no freezes. my interaction: one hour demo. i've no plans to purchase this game. although this game did not resonate with me, it looks like it could be fun for the entire family. it will may also appeal to fans of builder games.
January 7, 2013
GORGEOUS but unplayable.
I was completely stoked to see this game pop up on the "Tomorrow's Game Today" thing yesterday and downloaded it the moment I could today onto my Mac. I wish I could say that the game lived up to my hopes. It's a really nice, refreshing, straightforward game. You're managing a series of cities for Ancient Rome. You get goals that you have to meet. There aren't really any time limits or other restrictions, other than the space provided in which to build. You finish the goals and move to the next city. As in "Palace Builder," when you finish a goal you get points to spend to build and improve your dream villa. The graphics are amazing, the sound and audio just superb, and this game boasts a resolution setting--you don't normally see that on a casual game. You can zoom in and out to get remarkable detail. You build houses for your little Romans, and they rely upon goods you produce like squash and bread. They want resource buildings like fire stations and schools, too, and roads to connect them all. It's a gorgeous SimCity-type idea and it is beautiful to behold. Despite all of this, I found the game just about unplayable. I could forgive the rather sparse tutorial and instructions, and I could even overlook how the player isn't told how far a resource building's influence extends (a rather standard feature on most city-builder games). I don't even mind that even after an hour I still don't know how trade buildings work--I never seemed to get my trade money from it, and any time I clicked on it it just asked me what delivery option I wanted, without any reaction when I tried to click on the donkeys. Each building has a pop-up label which is helpful but which has an "i" on it that I couldn't click so whatever information it's supposed to convey, I couldn't access. It's very mystifying but I imagine I'd have figured it all out in time. No, what really makes this game unplayable are the constant fires. Fires everywhere, even if you have a fire station right across the street (their influence seems to extend 1" past their own building's border). Even two or three buildings over from a fire station, buildings caught fire constantly and they burned to a crisp. Fires destroy your houses and goods, fires ravage your city, and render whatever you're doing completely moot. Almost every 30 seconds, I got a new fire. I'm not exaggerating; I timed it. Apparently you can put out the fire by clicking zillions of times on the buildings "I'm burning!" icon, but whenever I tried that the fire went faster, so I'm not sure if I was clicking the right thing or what. My cities' shocking flammability is a singularly frustrating situation. I'm not sure how I'm supposed to address this issue beyond building a fire station every other building, and if that's the idea then forget it, I'll just opt out. Those things are not cheap and you don't have unlimited land. I struggled through the 1-hour demo and a half-dozen cities that were in blackened ruins before I finally gave up. I must reluctantly concede that I will not be buying this game. I hope that the makers of this game see this review and realize how completely devastating this "feature" is to the game. I'm a history wonk and realize that Ancient Rome had a lot of trouble with fire, but this was ridiculous. I do not recommend this game unless you're a lot more patient than I am. I might try it again one day if it's on major sale, but as things stand, I can't even imagine it. And that pains me to say, because this game has so much going for it that to see it wrecked by one completely out of balance issue is just heartbreaking.
January 8, 2013
Just what I wanted
It's a resource management game where you build Roman cities to meet various production goals. The 30 levels get increasingly complex (and lengthy). Basically, it's a stripped down Caesar III. Game play: The levels are not timed (though it does take time for some actions - like selling goods) to take effect. Instead, the challenge is in working out how to prioritize goals and where to allocate your money or other resources. How you lay out your roads and where you put some buildings also have subtle but important effects. Most of the game is planning and a bit of waiting for your little people to move goods around or notice the exciting new infrastructure you've built them. Fires break out rather frequently, and, authentically for a densely populated town, they can spread very quickly. The good news is that you can build prefectures. The prefects wander around and put out any fires that they notice. The bad news is that if the fires spread, or if you don't have any prefects handy, you'll need to step in and put them out yourself. This involves clicking very rapidly on the affected buildings, and the frantic button mashing was pretty hard on my hands. Interface: Nothing surprising here - just the usual menu of building types, a status pane and clicking on objects for more information about what they need to be upgraded/produce stuff. It was all pretty straight forward, at least if you've played other sim or building games. The one gripe is that, on the larger maps, you can't zoom all the way out, and there isn't a navigator map, so you have to scroll around to check on your town. Not a big deal but a noticeable irritant after a while. Aesthetics: The graphics are very detailed and quite attractive. I mostly played the game zoomed out to keep track of what was going on, but close-in animations are nice and I have a fondness for the well researched backgrounds in the cut scenes. The music is cinematic choral/orchestral. It's nice enough, though on longer levels I might have preferred a bit less drama. Value for money: There are only 30 levels, but the later levels can take a good long time to play. I'd say is in the longer/more replay range for the BFG games I've tried. In sum: I'd been looking for a good resource management game, and I've been enjoying this one a lot. Well worth buying if you like simulation games (and don't already have working versions of the Caesar games).
January 8, 2013
OK Time Management Game
I am a time management game hound. This type of game is what I play almost exclusively. What attracts me to these games is a combination of goal setting, task completion, and to a lesser degree, story line pitted against a deadline. Ancillary to these is the visual attractiveness of the game and the music and sound effects. So this is what I have to say about this game. The sound effects, which are usually a secondary consideration, are annoying enough that I mention them first. In fact I attempted to turn off the sounds so that I could concentrate on the game, but seemingly random sounds were still heard; very distracting. I found the music overly dramatic and turned this off before I began playing the game. So for the secondary considerations to be that irritating was a weak start for me. The challenge in this game is to build a city with the services that the people need within appropriate proximity. I played the demo for almost an hour, and overall I found the premise to be predictable (not necessarily a bad thing), but the screens hard to see and the increasing difficulty somewhat lame. With time management games the increasing difficulty is typically dependent on faster actions to accomplish the goal while dealing with increasing problems. Part of the challenge with this game has to do with how quickly you could hit certain keys when dealing with a crisis, which I didn't like at all. I prefer to address a crisis by assigning the game characters the task of defeating it, and not by having to hit the space bar or some other key quickly enough to prevent being overcome. Couple this with having to build quickly, squinting to see the rather small icons, and being startled by the random sound, and the game quickly becomes tedious; a trait I don't much care for in game playing. I didn't find this game particularly fun, and don't recommend it.
January 15, 2013
Out fire out. Click click
Click click away the fires. Spent more time clicking to stop fires than enjoying tthe game. Don't buy this game. Its one of the worse.
January 15, 2013
A trip down a gamers memory lane...
Absolutely love this!! I was fan long ago of the sim building games Caesar/ Zeus/ Poseidon etc. distributed by a "desert named company" that no longer exists. With the exception of the music this is a simplified casual game version of the original Caesar right down to the "brigands". Build a roman city with homes, hospitals, markets, farms, barracks ..etc. 30 levels of gradually increasing difficulty and no timer. You can even decide if you want to end a level or just continue building. As to the music...in options you can turn it off and retain all the other sound effects. Personally I would recommend this completely if you remember fondly the games I mentioned. Happy Gaming ;)
January 7, 2013
The Apple logo is a trademark of Apple Computer, Inc.