Ancient Rome 2
Construct entire residential districts for people and improve their well-being by building markets, schools, theaters and other places, and connect them with roads for ease of access. Create warehouses and farms, plant wheat and bake bread, mine clay and manufacture all kinds of crockery. Once you have your manufacturing in place and running, provide your population with food, improving the status of households. Sell the excess of products and make more money. The richer households become with time, the more taxes they pay, thus helping you improve the city. Once you have successfully completed all the missions, you will be able to build your own villa!
30 levels
Build your own villa!
Large maps for construction
Game System Requirements:
OS:

10.8/10.7/10.6/10.5

CPU:

2.0 GHz (INTEL ONLY)

RAM:

1024 MB

Hard Drive:

75 MB
Game Manager System Requirements:
Browser:

Safari 4.0 or later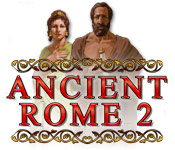 NEW299
The Big Fish Guarantee:
Quality tested and virus free.
No ads, no adware, no spyware.

Reviews at a Glance

Ancient Rome 2
0
out of
5 (
0
Reviews
Review
)
Customer Reviews
Just what I wanted
It's a resource management game where you build Roman cities to meet various production goals. The 30 levels get increasingly complex (and lengthy). Basically, it's a stripped down Caesar III. Game play: The levels are not timed (though it does take time for some actions - like selling goods) to take effect. Instead, the challenge is in working out how to prioritize goals and where to allocate your money or other resources. How you lay out your roads and where you put some buildings also have subtle but important effects. Most of the game is planning and a bit of waiting for your little people to move goods around or notice the exciting new infrastructure you've built them. Fires break out rather frequently, and, authentically for a densely populated town, they can spread very quickly. The good news is that you can build prefectures. The prefects wander around and put out any fires that they notice. The bad news is that if the fires spread, or if you don't have any prefects handy, you'll need to step in and put them out yourself. This involves clicking very rapidly on the affected buildings, and the frantic button mashing was pretty hard on my hands. Interface: Nothing surprising here - just the usual menu of building types, a status pane and clicking on objects for more information about what they need to be upgraded/produce stuff. It was all pretty straight forward, at least if you've played other sim or building games. The one gripe is that, on the larger maps, you can't zoom all the way out, and there isn't a navigator map, so you have to scroll around to check on your town. Not a big deal but a noticeable irritant after a while. Aesthetics: The graphics are very detailed and quite attractive. I mostly played the game zoomed out to keep track of what was going on, but close-in animations are nice and I have a fondness for the well researched backgrounds in the cut scenes. The music is cinematic choral/orchestral. It's nice enough, though on longer levels I might have preferred a bit less drama. Value for money: There are only 30 levels, but the later levels can take a good long time to play. I'd say is in the longer/more replay range for the BFG games I've tried. In sum: I'd been looking for a good resource management game, and I've been enjoying this one a lot. Well worth buying if you like simulation games (and don't already have working versions of the Caesar games).
January 8, 2013
Good city planner game with a few strangely omitted features
I like this kind of game, placing roads, houses, and other buildings to support a city. I thought the game was a small on the graphics until I realized that I could change than by turning the mouse wheel. Music is standard classical type. I only played the demo so I don't know exactly how challenging it gets. But I did think that was missing a few features that I thought were standard in these kinds of games: (1) when placing buildings I couldn't tell how far their area of influence went, especially in the case of the prefectures. They fight fires and I only could tell if existing prefectures would fight the fire if a new fire broke out. (2) It was hard to tell how much production I needed to support the dwellings I had built. (3) I found that even though I seemed to be producing enough supplies, because of how they were placed, resources weren't reaching certain dwellings, and I wasn't sure where I should place them to remedy that fact. (4) I don't know if you can demolish buildings (tutorial seems to cut off before you learn everything). Still, if you're starved for this kind of game, it's worth a chance, if you've got money or game credits to spare.
January 8, 2013
Great Civilization Building Game
I tried the trial first and though the graphics aren't spectacular, I wanted to purchase to continue. I was thrilled after playing for a few hours that a new version was already out. Those new features that tone down fires, and fix some problems within the game were just what I was looking for when looking for a patch!! Thank you!! It is truily a great strategy game. The secret is not to build up your houses or have too many too fast when doing the challenges. Build all the things you will need as you get money build advanced farms/pig farms/flax etc. in advance. That way you will have plenty of the needed comodity 'before' you ever improve your houses. And will have excess to sell. Stopping production on some items causes other items to be produced more. This is tricky but works. It took me a few levels to figure this out. Hope this doesn't spoil it for others that like a learning curve. Consider the more people living in those improved houses uses more resources so it is important not to upgrade them too fast. But to build up your resources before hand. In the new Sandbox mode, though it is very challenging you can build near the river and not play near the main road. This will not affect your game in the least. That way you can have a port, which is faster if you need money fast. I was able to build to level 10 houses and have a bustling world but not without it's woes. Fires, there is a secret to this one. Make sure to have the right building near by all your areas of production and houses etc. The more the merrier, and a large army. The less you will have to deal with fires yourself. Loads of fun! Figuring out which resources bring more money isn't too hard and or which ones you can sell without regretting it later. I love this game! The only draw back and I wish it would be added in a patch, is the ability to turn the the map with the mouse. I need to sometimes see 'behind' buildings to make improvements of the streets. But when finished you wind up with a huge world, looking much like ancient Rome, and it was fun gettting there!! I wanted to give the game five stars but I would have liked a little more indepth idea of how much water is needed, how many houses the wells actually help, though with improved roads all houses seem to have access to them, unless the game tells you they need a well, etc. I would have also liked the ablity to know if those people leaving my town were actually stealing my goods. Sometimes the haulers look like they just walked away with my stuff and didn't take it to the warehouses. I would have liked a little more in the grahics area, but when zooming in it is quite pretty but bump mapping or something might have improved the people or the buildings a little. But I can see how better graphics with all that is going on, would have increased the specs. too much. Great way to pass several hours!!!
January 26, 2013
Played it - started it over and played it again.
Part of the fun is figuring our how to work around fires. Prefectures stroll around putting them out. The more you have, the faster the fires go out. Soldiers kill briggands who start fires. The more you have, the faster they're gone. Once you get into the higher levels, start out each map with armory production and wine production. Nothing but. Then do nothing but sell arms and wine and when you have paid off Rome and made enough cash, start producing everything else. I create blocks of 10 buildings, each block containing 2 warehouses and 1 prefecture. I place one army for each 2 blocks. I sell all surplus as I go. When I have enough money I build the city - without placing any houses. Once I have plenty of necessary products for houses I place houses and they immediately go to the highest level and boom - next map.
January 19, 2013
Improvements needed
I seriously like this game, no timer or heavy clicking, if you build enough prefectures. There area couple of things that would make it 5* First, and most important, a save factor so that I don't tie my computer up for around 3 hours. A map, to make navigation easier, and a better explanation of the game elements
January 15, 2013
Nice relaxing building game
I bought this game after the demo. I really liked this game. I like having the option to place buildings anywhere that you want to. I am not very far into the game, but it seems to get a bit more chalenging as you go along. I rarely listen to the music on games. I usually keep the sound on low. The sound on this game is so awful and annoying that I had to keep it off. Doesn't matter to me much anyway so did not ruin the game for me. If you like building games I would say give it a try. I am usually willing to try and game BF puts up that isn't a HOG!
January 7, 2013
small icons but still entertaining
This is not a real TMG because there is no time restrictions on the levels I played. Icons are small but it is duable. Music is nice and if you like building this one is for you. You build rods and houses and in almost every level ther is another building like baths or gardens added. Time did go by really fast.
January 8, 2013
Steep learning curve
Good once u get used to it and work out the strategy. I build the production units first for every 10 i build at least 1 prefecture to fight fires and always do the barracks and trade houses or harbours on levels with water access. Building the barracks helps keep the fires down and trade always needed to get money and buy unobtainable resources. Levels take me about an hour as i like to improve all the roads and build the gardens to make it look pretty and sometimes i demolish stuff and move it for aesthetics.
January 16, 2013
Fun and a little different
I enjoyed the game. I like other strategy games like My kingdom, and Road to Rome, this is slightly different, but well worth it!
January 15, 2013
Good strategy game
I'm writing this review not only to say that I enjoyed this game, and that it was a nice change from the usual games I find here in the last months which are basically all the same (be them HOGS or resource management games). But also because I find it funny that people seemed to have such a hard time putting up with the fires in their city. This is a STRATEGY game, so whenever you see a problem you have to use strategy! It's not one of those game where it's all a matter of clicking super fast so, if you don't succeed or find it frustrating, you just quit and decide it's not your type of game. I suppose none of those people have ever played Caesar or Pharaoh games. That's the same principle: usually, when you build a building, in order to work and affect the other buildings, it has to be near them. So if you don't want all the fires to start and automatically expand to all your buildings, to the point where it's impossible to put out all of them before they destroy everything, you have to build roads and buildings in an efficient way: I always create a single long road, with the fire station as the first top building of each road and then all the others. The fire man will then walk the only road there is and pass by every building without making many deviations, and it will prevent them to catch fire and burn down (or he will put out existent fires automatically). If your roads have a lot of intersections, your fire men will never visit all of your buildings, and with time, they will constantly catch fire. Doing this I never got a single fire in a whole level anymore (except when there are brigands, but if you have enough soldiers, like 10-15, you should be fine with that either). So it wasn't really a bug or error, it was manageable if you use the right strategy. Just create a single road for every type of buildings: a road for the production buildings, one for houses and all the buildings they need, and preferably don't connect them to the MAIN road, or the fire man might still get lost and walk where it's not necessary. On the main road you can build other types of buildings like the trade posts and the barracks for soldiers. I found this game original (although very similar to the 2 games that I previously mentioned) for a casual game, it was challenging but it was a great satisfaction to have finally everything under control as you find the good strategies for everything. With every level done you even gain points to use and build your estate, which is a nice bonus instead of just going from a level to the other. The graphic and sound was good. Not much of a storyline but all in all, a good game. Too bad there aren't more developers who think about different types of game anymore, these days. :(
June 21, 2013
The Apple logo is a trademark of Apple Computer, Inc.
The Windows logo is a trademark of Microsoft, Inc.