Cursed Fates: The Headless Horseman Collector's Edition
In the northern part of the state, near the upper reaches of the Hudson River, there is a town named Sleepy Hollow. As is often the case, small towns hide big mysteries. A chain of bloody events commenced one ordinary night. A secret marriage and a new will have inflicted a dreadful curse upon this town. A terrible legend has become reality. The legend of a terrifying creature returned from hell.

This is a special Collector's Edition release full of exclusive extras you won't find in the standard version. As a bonus, Collector's Edition purchases count toward three stamps on your Monthly Game Club Punch Card!

The Collector's Edition includes:
Additional bonus chapter
Integrated Strategy Guide
Brilliant soundtrack
Stunning wallpapers and screensavers
Game System Requirements:
OS:

Windows XP/Windows Vista/Windows 7/Windows 8

CPU:

1.0 GHz

RAM:

1024 MB

DirectX:

9.0

Hard Drive:

951 MB
Game Manager System Requirements:
Browser:

Internet Explorer 7 or later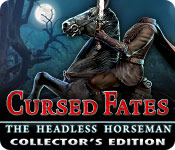 The Big Fish Guarantee:
Quality tested and virus free.
No ads, no adware, no spyware.

Reviews at a Glance

Cursed Fates: The Headless Horseman Collector's Edition
0
out of
5 (
0
Reviews
Review
)
Customer Reviews
Cursed Fates: The Headless Horseman Collector's Edition
113
113
REVIEW OF COMPLETED GAME
I expected more from this game, even though the demo was not inspiring, because I always think that the first hour can be misleading. In this case it was not. I spent it achieving very little and not getting very far. I should have been warned, but I loved the excellent wide screen graphics, the perfect navigation, which flowed like silk, and I have always loved The Sleepy Hollow Legend. All of the above still stand, but the game play after the 2nd hr did not improve and by then I was bored. There is little fun factor to this game. It drags on monotonously, with very little or no entertainment value. The iHOS are a real drag. Some objects are large and prominent, while others are miniscule and the worst ones are the ones which are totally invisible because they are hidden behind other objects. Lot of time spend waiting for a very slow hint button to refill. I got really sick and tired of them and there are far too many. They all have light shafts running through them and of course, some of the items are in the light and I could not see them. Spent ages acquiring things to open doors or solve puzzles only to find another iHOS behind them. iHOS are supposed to show up on their own, not be hidden behind puzzles. There is a click penalty in them. Listen, devs, I own this game. I payed for it. It's mine for life. I want to play it any way I like. I do not need you telling me "There's no point in guessing" and freezing my cursor. What is the flaming point? The music was tedious, even depressing. The v/os were excellent. The SG was unnecessary since the chapters are complete in themselves and there are only a handful of locations in each one. The puzzles were the easiest I have ever encountered before and just as dull as the rest of the game. Small children could solve most of them. I did not feel inspired to even bother with the majority of them. There are achievements and collectibles by way of golden horseshoes, which I was told at the beginning could be used to buy trophies. At that time that sentence did not really register with me for what it was. Why should it? Who ever heard of earning collectibles so that at the end of the game you can buy trophies that you should have earned during the game but didn't because you couldn't be bothered? So, next time you go to replay this game #neeever going to happen#you check out what trophies you earned in the first one and go "Wow, I really cracked this game back then. Look at all the achievements I won." No, you did'nt. You cheated and bought them. Like the stupid Brit law here that allows anyone to buy a Royal Title and have themselves called Lord This or Lady That. Ridiculous. When you come across a puzzle or an object that needs items to make it function, it does not tell you what you need. Instead it says "I should use something here" or the other one that went "I'll have to think about this". What? WHAT? Unless you have a degree in Carpentry or a Masters in Engineering, you end up with an inventory as long as your arm, with which you have to run around from puzzle to needy object, trying everything you have and inevitably you have not yet found the needed darn thing yet. So, it's off to the next one. Same thing. Mop my brow and fan my face, I'm out of breath and flat out of interest. Three keys I had, one time, and not one of them opened either of the two doors in the same scene. No wonder it's such a long game. It took me 5 hrs for the main game #groan# and 1.15 hrs for the BC, which is just another exercise in frustration and boredom and completely belies the ending of the main game, where the Horseman is defeated and banished. These devs decided to invent something that could bring him back so you can defeat him all over again #yawn#, thereby nullifying the traditional Sleepy Hollow Legend.. Having read all the rave reviews here and in the game forum, I was wondering if I am having an off day, or am just tired. Nope. Feel fine and slept like a log. Good job too because I could have dozed of during this snoozefest, many times. If these devs are not new, it's been eons since their last game because I do not remember seeing their name before and if this is what they have spent all that time on, time to quit and go in another direction. Dull as dishwater.
January 6, 2013
Easy Game for HOS addicts
Beautiful graphics. Great voice-overs. Excellent strategy Guide. Lots and lots of HOS. Easy puzzles. Objects in HOS are well camouflaged, which is a plus. However... The story/adventure got lost with all of the HOS. You have a fire to put out, but before you can put it out, there are several HOS. You are asked to hurry, so you can save lives, but again, you're too busy doing one HOS after another. Those lives are lost. This game also has items from other time periods. A record player in the 1700's? I recommend this game for those who love HOS.
January 6, 2013
I wanted to like this- I really did, but couldn't
This game fell flat for me. Maybe I have played so many exceptional games recently that this one just couldn't stand up. As an experienced player, there was just no challenge here. The puzzles were easy, and the hidden object scenes were simply piles of junk to sift through. The voice actors were mediocre at best, and despite trying my best to be involved and engaged it just didn't happen for me. -Nice graphics -Two difficulty settings, but there are sparkles in both settings -Easy puzzles -Trophies to buy from collecting horseshoes -Achievements to earn -Junk pile HO scenes -Locations of puzzle pieces (handle for crank) are illogical and often just plain silly -Dull game play that seems to muddle through what is a fun story
January 9, 2013
Not What I Expect in a CE
So if the graphics are good and the music fits, what's not to like? Plenty. (I generally try the demo in the casual mode, but even then I expect some challenge.) The puzzles were so easy, I could do them in my sleep! Everything you need to do is either sparkled or has the outline highlighted. Takes a lot of the guesswork out of it. With only 2 game modes to play, what's a girl to do? And my biggest peeve is present in this game, too. Are you kidding? Gramophones and vinyl records? Get real! Keep the items in the game true to the period of the game. What is so hard about that? So what IS a girl to do? Well, this girl is going to pass.
January 6, 2013
Lose my head??? Not over this out-dated game!
i don't understand why my 2 favorite reviewers here gave this game 5 stars??? did they play the same demo??? normally i don't review on a demo but! game mechanics were bad for starters. combining 2 inventory items is just lazy on the dev's part. that's easier for them than to have us find a scene where we can do that. what's up with the characters??? out dated!!!! let's see some reality! some lip movement even!!! and let's keep to the era!!! things can't exist in the 18th century if they weren't invented until the 20th century!!! the HOS were junk piles and some items couldn't be found, even when i moved my screen from bright to a bit dark. i hate finishing it and then having to find 1 more item. what is that??? seperate chapters and i couldn't back track to see the scenery??? i love doing that!!! horseshoes are fun to find but that's all this game has going for it. not even a map to be had!!! i played on hard, as usual, took my time to enjoy everything but all i found was disappointment and frustration at the slowness and, frankly, the stupidity of play.
January 14, 2013
Might be a good game but . .
I admint right off that I only played the free trial. The game seemed interesting and I might have considered it. But I won't be buying it because there are no instructions for the mini-games - you have to guess what you are supposed to do. I've played many hidden object games, so I'm sure that I could, but that's not the point of the game and wastes my time. Also, there are no instructions for the second form of hidden object game and (minor spoiler alert) no where does it tell you about picking up the horseshoes or what you supposed to do once you've accumulated them. And I even took the time to use the tutorial. It may seem a trivial, but I won't buy games that don't bother to include instructions. They just get frustrating instead of fun.
January 13, 2013
Are you kidding?
Long review short, you could buy this game or just watch the movie to see how it ends. Totaly unoriginal when you just rip off film and turn it into a game making sure you change the name so you wont get sued. At least the movie has professional actors.
January 7, 2013
Cursed Fates: The Headless Horseman CE
I so wanted this game, and then..bam..no voice without music. I cannot play any game with the music on because I find it hard to concentrate on what I'm doing. Jeers to the devs for doing this. Other than that, it appears to be an excellent game. BOO!
January 7, 2013
Anachronisms abound! Since when was there Photographs or Vinyl records in 1790?
The best thing that I can say about this game was that at least it was short! This game was TRULY HORRIBLE! I love scary things and to me, the headless horseman is one of the scariest, so I was SO excited to see this game! I tried the trial and I thought it had potential and would surely get better. HUGE MISTAKE! If you like trying to find invisible or tiny objects and having to go on pointless missions, then this is your game.... As for me, I hated it!! The hidden objects, which I usually find entertaining, was frustrating because the size or color of the object that you were supposed to find was often not the same size or color of the object that they showed you. The hidden object list were a little better, but often they were either in shadow as to be invisible, too small for the human eye to see, or behind other things. If you tried to click around in frustration, the cursor would fly apart and it would tell you not to guess, but you usually had no choice! The tasks were either so easy that it was insulting, or they made NO SENSE whatsoever! For instance, at one point, you had to put a retort (a beaker like object) in the fire with some sulfer on it. I had the retort and the sulfer, but I could not put it on the fire. I went into the next room and talked to a ghost and got another object that was not related, and then suddenly, when I went back into the other room, I could put it in the fire. STRANGE!!! Some of the items that got into your inventory were called "strange object". At one point you look for a "symbol" which turns out to be a fleur de lis. SO, it has to be done in their order and in their perfect spot and you have to figure out what they are talking about! Oh and add to it that things don't make sense and there is no reason for half of the things that you do.... I was rooting for the horseman to lop off my head by the time it ended, and I could not even bring myself to play the bonus content, it was just terrible! Save yourselves $10 and send me a thank you! I literally fell on this sword so that you don't have to! You're welcome!
January 7, 2013
Bad game
This is truly a poorly designed game. For example, you arrive in a carriage at a locked gate. There is a locked trunk on the back of the carriage you just arrived in. Where is the key to the trunk? On the other side of the locked gate! How did it get there? Just one example. The artwork is OK and the VO are fairly good. The HOS are frequent and awful! Many objects are super well hidden and on a background of the same color. The story is a poor takeoff of a classic and poorly told. There are collectibles, but they are just one more object to look for and they add nothing to the game. What's good about this game? Not a thing that I could find. It certainly isn't worth the CE price.
January 8, 2013
The Apple logo is a trademark of Apple Computer, Inc.