Detective Quest: The Crystal Slipper
Exclusive
A man shows up on your doorstep asking you to track down the woman he loves. It would be just another "missing persons" case, except the only thing you have to go on is a crystal slipper... and the man is a prince from a mysterious, faraway land. Can you find the woman who captured his heart but then vanished? Or will this fantastical land push your detective skills to the limit? And do you really get to ride a unicorn? Find out in Detective Quest: The Crystal Slipper!
Game System Requirements:
OS:

Windows XP/Windows Vista/Windows 7/Windows 8

CPU:

2.5 GHz

RAM:

1024 MB

DirectX:

9.0

Hard Drive:

810 MB
Game Manager System Requirements:
Browser:

Internet Explorer 7 or later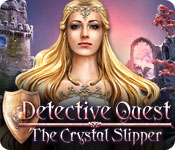 NEW299
The Big Fish Guarantee:
Quality tested and virus free.
No ads, no adware, no spyware.

Reviews at a Glance

Detective Quest: The Crystal Slipper
0
out of
5 (
0
Reviews
Review
)
Customer Reviews
Detective Quest: The Crystal Slipper
53
53
A lovely fairy-tale!!! (Differences to the CE...)
This review is based on playing the complete CE, with 7 chapters plus the bonus-chapter. Played the demo of this SE to find any differences? Wonderful settings! With elements from the cinderella fairytale. I love fairytale based games!! There are 3 modes to play, I played the 2nd mode. Hint refills quickly and is also helpful outside the HOS. HOS are different to the usual ones: You put items out of your list into the scene. Lots of minigames, some new. The inventory comes along with a flashlight and a camera. With this camera you take pictures of 30 fairy-creatures hidden throughout the game. Those pictures are collected in a photoalbum. Nice: We have an interactive map together with a task-list. - All in all this is a very beautiful game! And for those, who are still hesitating: This SE is still a very good catch, because the only difference is, that there is no bonus-chapter and no SG.
January 5, 2013
Disappointing - only reason it's getting 4 stars - there are collectables in the SE!
*I finished the CE - plot 100% tied up in this SE version* I don't do like or love but out of 5 stars. This game should have been named ?jumble mess of every fairy tale? as it would have been more accurate. At the beginning I thought it was the tale of Cinderella with a twist but then the plot just got truly bizarre. Nearly every character in a fairy tale appeared and then throw in some weird animals and that?s your plot. Sometimes this all works out but not here, it was all over the place and I couldn?t make heads or tails of the whole story. Yes the animals were well done and some cute but it was like there was 3 different plots going on at one time and none ended up making any sense or working in harmony together. If they took the animals and did that in another story that would have been good but all those other fairytale characters showing up made no sense at all. Especially at the beginning, I felt like they were trying to copy a few other developers which makes no sense as they are the leaders and are the best of what they do, so it ended up being subpar for my taste. Some of the early outdoor graphics reminded me of some older boomzap games, and the princess is called Isabella (there is a series of games called princess Isabella from another dev), then there are the animals that don?t quite make sense so that felt like an ERS game! After the gorgeous graphics of nutcracker and the 3D stunning graphics of unfinished tales comes the flat weird graphics especially outside at the beginning: The graphics did get better as it went along but didn?t understand why they didn?t stay with their usual top of the line graphics. Their recent grim tales, stone queen game they?ve done the same. The scrolling transporter map sometimes took 3 clicks to get into an area as you had to zoom in (being careful where you place the mouse) on a larger area then it brought up all the rooms. It does give a picture and a list of objectives that have to be completed in the area. It would be great to have a more customisable hardness setting, and on the map to be able to click on and off for map tips. All three modes of play are their usual and you can change midgame which is good. 14 HOS For the first time elephant hasn?t done straight list type and here they are all the reverse kind. You get an item in your inventory and you have to place them in the scene. This is my favourite kind of HOS and I actually take time and enjoy them rather than trying to random click my way through some scenes if they are junk pile or just don?t want to do a HOS. I think one or two were junk pile but the rest was more cluttered but some well done. You never repeat any HOS in any elephant game. 24 Puzzles I class puzzles as one that has a skip button on them as there were plenty of interactions. They all were very easy to easy maybe a couple of medium hardness in main game. We aren?t stupid so I don?t know why they are now going down the road of going easier and easier, just like everybody else. I get very bored when puzzles are so easy and frankly don?t want to do them. They did have some good twists on some of them so at least those were a bit different to play, but I wasn?t really loving them. I don?t mind so much easy puzzles if they are really different and one well but they mostly weren?t. I also don?t know why there have been loads of fairy tale games from elephant ? one after another. I hope that isn?t the future from them as while I don?t mind a fairy tale for a change I liked elephant games as they were neither dark nor super girly and did straightforward tales like MT or surface and they were harder and in a few places (especially the map) this felt a bit too girly for my taste although the other fairy tale games didn?t. I didn?t like this game at all at the beginning (due to above) but the last 1-2 hrs were the best and the graphics and even the plot seem to be slightly more focused again. Don?t get me wrong most of the gameplay was quite good and good in places, which is why I am recommending the SE. Yes it?s me, an avid elephant fan ? my favourite developers and I haven?t been invaded by aliens I was going to give this game 3 stars but I went in and noticed the photo collectable is available in the SE which is the first time they have done this since MT raincliff. PHOTO COLLECTABLES (SPOILERS ahead as to what it actually is) Basically you take a photo of every animal you see but you have to be careful of timing as if you do certain things with some animals or creatures they disappear and if you miss one you've missed it. I didn't like that on hardcore mode there was a camera icon on a creature that you can take the photo off, there was no challenge whatsover but for a SE it's something. To view them click photo album in main menu. I didn't accurately record my time, but it was over 4hrs but I don't think it went near 5hrs (on hardcore mode). This is playing time not including breaks etc.
January 5, 2013
wonderful fairytale
Love the game. I'm not fun of spooks what usually gamers of Big Fish prefer. Very relaxing for girls who has intellectual work in real life :-)))). it's very lovely, very girly and and the same time very brainy. story line is interesting, played the game in one breath. puzzles are unusual and not boring (tired of different modifications of the same puzzles). HOGs are brainy as well - you have to find without special hint where the objects belong to. Story line isn't boring - starts from well known Cinderella story and ends up in total magical twist. level of challenge not that complicated - well.... I was happy about not to going around from one screen to another to submit the objects. but very much predictable which doesn't make this game less fascinating :-) Graphics are beautiful, characters are well done and nice. Voices over not overdone. I recommend this game for people who like to keep their mind outside of dark deeds. In another word for people who like to recharge their emotional batteries in beautiful world :-) Simply loved it and will play it couple of times again for sure.
January 10, 2013
Help Prince Charming Get The Girl!
Who doesn't love Fairy Tales, especially the story of Cinderella. You are a detective hired by Prince Charming to find the girl who stole his heart at the ball. Can you guess what your only clue is? and can this story get anymore cheesier? So off you go, with a glass slipper on hand, a Unicorn to ride, a letter from the Prince and a camera to take the odd photo for your album, (There are 30 photos required to collect thropughout the game). Your adventure begins and once again I realise why these developers have become a favorite of mine. This time we have a unique HOPA where the HO scenes are reversed and not as simple as one would think. Placing objects back to their place is fun and a break from your standard HOGs. . I loved the voice-overs and sound effects as well as the soundtrack which really amplified the gaming experience immensly. The mini-games started off simple but gradually they became more challenging and fun. You have inventory objects to pick-up and ofcourse the HO scenes to play. Stunning graphics, georgeous artwork, captivating storyline adorable creatures you come across and entertaining gameplay are what you will get from this version of Cindarella. If you passed up on the CE then by all means, take advantage of the sale today and go back to get the CE!
January 5, 2013
loved the game
What a bargain for a game. I did not purchase the CE game but thoroughly enjoyed the game. What a fun way to spend some winter hours at play. I cannot say anything bad about the game. I really enjoyed all of the puzzle games and especially the "hidden object" games because they made you think about where to place things. The graphics were fantastic. Have nothing bad to say about anything about the game except "Bravo".
January 7, 2013
great game for the younger kids
I had not demoed this game when the CE version came out but just did so with the SE. This has a very fairytale theme with the opening segment straight out of Cinderella. Then it is somewhat followed in a room with a spinning jenny remisiscent of Rapunzel. Shortly after that the demo ends. There are no standard HO scenes so far. Rather than finding a list of items, the items are given and must be placed appropriately within the given screen. There are a few puzzles in the demo and all are really easy to complete. There is a camera given to the player and pictures are taken of certain animals. I don't know if this is relevant to the game or if it's just an aside. Based on what I've experienced with DQ:TCS, this game should hold significant appeal to kids under 10 who enjoy this sort of game. I cannot see where the CE is viable but the SE seems to be priced right. If it were not for the appeal Slipper should have for kids, I'd pass on it. Having said that, I'll pick it up and play it with my grandson.
January 5, 2013
Fantastical nonsense ..
.. But utterly delightful! I played it with a silly grin on my face from start to finish.
January 10, 2013
ADDING TO MY COLLECTION!
I enjoyed playing this game thus far. I felt like I was a part of the fairytale. So this has been fun for me. The scenery is absolutely exquisite. So bright & vibrant, (at least so far). The HO scenes are ones that have given you the objects beforehand. Then you must figure out where their best match is. Totally acceptable to me. The mini games have not been difficult. Nice challenges.The storyline so far has been based on a Cinderella-type story in which the Lady has left her shoe behind. It is up to us to find her and unite the Prince & her together. But instead of evil stepsisters being involved and having to be home by the stroke of midnight, she receives a letter from an owl about her father being hurt. I'm enjoying it so far and can't wait to see how it all ends. Definitely a keeper!
January 6, 2013
Modern Cinderella
This is by one of my favourite game companies 'Elephant' thus for me the game was going to be at least a 'try-out' having tried the game I am definitely going to purchase, but I am glad I waited for the SE and not paid the extra for the CE. When the CE edition came out it was an ideal Christmas Game (plays out like a twist on the Cinderella story), even now when the SE edition has come out, we are only just out of the season (and the ethos of the tale can be a year round parable). Having played the trial version of both the CE and SE I have decided upon purchasing the SE. The reason being I don't usually manage to get all the 'origami' (or other collectables that you need to unlock the bonus), the ending as another review pointed out is 'sound' in this version and also you do get VO and the ability to collect the 'pictures' (though again I doubt I will collect all 30 or so. The only reason I usually buy the CE is because of the lack of VO which to me helps to drive the story better than reading the text, it is like a story-book being bought to life. Though recently I have noticed in Elephant games they are keeping the VO in the SE edition, so for me I would rather save my cash and purchase the SE edition (so I can purchase more of their games. The cynic in me wonders whether this is the reason they have done this :) Recently I have 'upped' my skill level from intermediate to advance, thus no clues or hints. This therefore does pose occasional problems with regards to some of the puzzles (remember no skip in advance). The story is good and traditional and one that most will know. The VO is good and the graphics are sharp and the music is well-suited to the game. The puzzles are good and innovative, with some that I have not seen before and twists on others. I would definitely recommend this game especially now when there is a 'new year sale' on.
January 6, 2013
Just An Odd Game from a Normally Terrific Developer
I usually love this developer's products, but this game was really odd. It's almost as if they have a totally new team of talent. Graphics were flat and cartoonish. Poor introduction to the storyline and characters. And the story continues in a haphazard sort of way, in that the dialogue is terrible -- it switches from fairy tale type to modern day. Hidden object scenes were frustrating. It took several clicks sometimes to pick up an object and put it back into the scene where it belonged. Played the game for 25 minutes and couldn't take anymore of it. Something that's never happened to me before with a game from this developer.
January 17, 2013
The Apple logo is a trademark of Apple Computer, Inc.