Victim of Xen
Embark on a journey across continents in the Role Playing Game, Victim of Xen. Follow Will as he becomes a victim of circumstance, after the frivolous royal witch, Xen, turns him into a girl. As you search of a way to reverse the spell, you'll get pulled into something much more treacherous. Explore a dynamic story set in a rich world full of war and intrigue, with a dash of quirkiness. Fight monsters, complete jobs and get ready for adventure.
Unique Story
Dynamic World
Can you reverse the spell?
Game System Requirements:
OS:

Windows XP/Windows Vista/Windows 7

CPU:

1.0 GHz

RAM:

512 MB

DirectX:

9.0

Hard Drive:

58 MB
Game Manager System Requirements:
Browser:

Internet Explorer 7 or later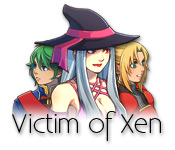 NEW299
The Big Fish Guarantee:
Quality tested and virus free.
No ads, no adware, no spyware.

Reviews at a Glance

Victim of Xen
0
out of
5 (
0
Reviews
Review
)
Customer Reviews
Fun adventure game
Although the combats seemed a little bit difficult in quite the beginning, I'm happy that I didn't quit, because I find this game really fun (bought it right after finishing trial), with just the right amount of challenge (I'm an experienced player of this type of games, maybe that helps), cute characters and interesting (although at some points a bit hard to follow) storyline. What really shows to me that the game has a good difficulty level is that when, with other adventure games, I've had to get tips in the forum several times to finish some (side) quests, here I've managed to complete everything on my own (I've played for several hours now, although it's possible that I'll need some help before the end). A useful addition would be journal or something that would list current quests, but otherwise, great game!
January 10, 2013
Zelda
Looks to me like zelda, a link to the past.
January 9, 2013
Take your time with it
I'm sure a lot of people will get discouraged quickly if they don't think this game through. It's not like the usual RPG where enemies are very easy in the beginning. I don't want to give away too much, but don't just run into battles, "explore" the town for jobs. I hope that is clue enough, other wise you will die very quickly. I'm still getting used to the new spin this game takes on RPGs, but I think I will enjoy it. Hope you will too =)
January 10, 2013
Challenging battles but fun if you stick with it
Yes, you die a lot. get over it people and just level up in the beginning and heal yourself, fight, sleep, fight some more, sleep, etc. The battles will get a better if you level up early. Any rpg fan knows that is always a good idea especially on harder level fight games like this one. Yes, armor is expensive but when u level up, u get coins. I think all the bad ratings are because people are amateur rpg players. More experienced players will enjoy this. When I first played the first Aveyond, I died a lot but that was also extremely enjoyable. Maybe start there for beginner rpg players. I highly recommend Aveyond series. They got easier with each installment. Also, a journal log would be appreciated. I just write it down on a piece of paper for now :)
February 16, 2013
Nice story twists
I like these sorts of old school fantasy games a lot! This one doesn't make it too obvious what to do, you have to talk to people to get clues. You don't have to leave the starting village to trigger the quests but it's okay if you do wander around a bit. If you don't want to fight when you are weak you can escape most enemies. I am enjoying it very much so far and wondering what the end will be like!
January 11, 2013
A good idea but really needs a walkthrough and some fixes...
I love these kinds of games so I was excited to see a new one. I played the demo and although the battles were a little tough, I managed to get through them and purchased the game with a credit. I am not finished with it yet, but am enjoying the storyline so far, however there are quite a few things that are driving me a little crazy..... Some minor cons: 1) There is no quest log, so it's hard to remember what you're supposed to be doing 2) You can't choose difficulty level. I generally play these on the easy because I enjoy the quests and puzzles way more than the fighting. Here you have no choice. 3) No easy way to get money #other than a couple of random jobs at towns) and items are expensive - the monsters are hard to fight and after an extremely long battle with multiple baddies, you only get 1 or 2 coins!! No chests yet to find in the houses etc.. 4) No walkthrough or strategy guide that I could find. A MAJOR annoyance is a bug in the game where every few minutes the character no longer runs into walls #he walks right through them!) and then you can no longer interact with people and doorways until you exit and restart a previous game. VERY annoying... I will keep going and hopefully i will get better, but had I known about the issues, I would not have wasted a credit on this game.
January 10, 2013
Fun game but terrible ending and too many things left unanswered
**Some spoilers** The gameplay was fun. A little annoying how you have to do a certain job over and over and over and over again to get enough money to equip your characters as you get next to nothing from battles. Very aggravating that it never lets you into a city in the middle of forest in the north area of the map and never explains why.....also never finishes the story about Dusans illness or anything about Markus and his sister or Wills mother. It didn't fit too well that the characters get locked into this battle for the ultimate power just to get this one guys body back. There were so many holes in this game that I didn't realize weren't going to be fully explored until all of a sudden it just ended.....and that was that.....really kind of wish I could get my credit back as after hours it feels like I kind of only played 60% of a full game.
January 18, 2013
Wasted Punch Card Coupon
I played the full trial. Just as it got my interest the trial expired. I used a Coupon from my Punch Card to purchase this game but things only got worse. The glytches started. Your character would be walking on air, over everything & unable to interact with anything. The only option was continue from my last save point. The bad points are: #1. Weapons & Armor are expensive. #2. Very few chest or ways to get money. #3. Invisible random monsters that are difficult to kill. #4. No Health Meter on enemies. #5. No Quest Log. #6. Walking on Air Glytch. You have to Save once every minute because it can happen anytime. I think I should have let the coupon expire.
January 10, 2013
Role Playing Game
This is one of the worst role playing games I have encountered on Big Fish Games to date. It is fairly easy to start out. Once you have checked out the hole for the old man in the very beginning of the game, you pretty much have no clue as to how to continue. The man is sleeping and you get no help from anyone. You have to be almost on top of the other characters to talk to them if you want to use the mouse to play this game. Overall, this was a great disappointment!
January 10, 2013
Is it even beatable?
I played about 20 mins of the game, went through about 6 fights and basically nearly died in every one of them. I think that the creatures are far too hard especially it being the beginning of the game. I wont be finishing my trial because too much work to win a fight and too much rework when I lose
January 9, 2013