The Tribloos 2
The Tribloos are back in a brand new adventure! Join Trey and the gang as they embark on a brand new epic journey. The storms that wrecked havoc on their island have returned and they need to find a way of stopping them permanently before their friend Matilda the Dragon completely tires out! Can you help Trey build his way to the truth behind these terrible storms and stop whoever is responsible once and for all? Find out in The Tribloos 2!
Fun and challenging levels
Over 22 minutes of original music
Save your island home!
Game System Requirements:
OS:

Windows XP/Windows Vista/Windows 7/Windows 8

CPU:

1.2 GHz

RAM:

2048 MB

DirectX:

9.0

Hard Drive:

80 MB
Game Manager System Requirements:
Browser:

Internet Explorer 7 or later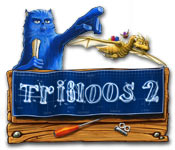 NEW299
The Big Fish Guarantee:
Quality tested and virus free.
No ads, no adware, no spyware.

Reviews at a Glance

The Tribloos 2
0
out of
5 (
0
Reviews
Review
)
Customer Reviews
Cute Builder Game
Morning, all... So, hmmm... when I first had a look at the screenshots I thought: oh no, not another kiddie game. But then I looked at the video and saw that it was a building game. So I downloaded the demo, and to my surprise, I enjoyed the few levels I played so far. You are in the woods, and wood is your main building material, for the time being, anyway. Many other materials will be added/used in the later levels. You build houses, and sawmills, and later on windmills to make flour, so you can bake bread, etc. This is a really cute builders game, and there is no time limit. You can win gold stars or silver or bronze for finishing each level quickly, and you can win achievements, but there is no rush. You can take as long as you like to play each level. I bought the game and love it.
January 14, 2013
HOORAY! FOR THE BLUE....
This is only from the demo but that the decision is one I will most welcome idea to BUY! The first look at the screenshots on the game page was ...O! No! another arcade game, the only reason I passed the first was that was my thought...wrong!...It states TM and its an awesome game. Makes you feel that the fun factor smiling all the while playing. The tutorial is well explained, graphics are rather 'cute' as should be for these lil 'tribs', no penalities for taking time but there is achievements for level completion, music is not annoying...Well! its a 'try it' for sure. Gotta say 'kudos' to dev's and thanks to BFG.
January 14, 2013
builder lovers are in for a treat
so last year there was this awesome little gem released as a soft release called "The Tribloo,s" it was a awesome fun long addicting builder TM,, well, at another forum i belong too,, the devs Andy and Rich, (cant mention the company name) have been working very closely with us,, finding out what people like and dislike in a builder tm,,,,,they are really awesome 75 Normal levels in the "campaign" 5 Bonus levels (one at the end of each area as before) 15 Challenge Levels - i have been playing since yesterday,, and man is it good,,,,you can chain tasks, add or remove workers, timer is only for medaling,,you can continue after timer runs out,,,,,the story is deeper...the Tribloo,s adorable, ..there is even a screen grab for each level, (some people play challanges , and this feature lets you show your scores, the game is quite long, the challange levels very fun Builder lovers are in for a treat,,,,,and now that its released you all are in for a treat,,,wtg Andy, and Rich, and congrats on getting tgt, instead of a soft release
January 14, 2013
Unbelievably good puzzler/builder game..
Not a kid's game, with over 70 levels, finally a builder game that depends more on brain power to strategize than on clicking until your wrist is numb. The logic aspects are superbly addicting. *NO timer* means success with every level, yet for competition we can replay all levels for Silver or Gold even. The quest to determine the perfect strategy is really captivating. Storyline is fun & characters are cute. Best are the huge variety of missions, level challenges & buildings. Unlike most builders, Tribloos2 offers something new for nearly every next level. From driving an airship to baking to repairing machines to using ziplines to building weather stations & other not-seen-before structures, nothing boring here. And the game is *not* an endless clickfest. Brain power more than wrist action will give the best results, a definite attraction for puzzle lovers. Unique & silly-fun yet challenging mini-games add extra value along with awards & bonus levels that are devilishly tricky for seasoned players even. Music is wonderful, backgrounds & graphics attractive with colourful environments. Plus, the unique side-on perspective (vs typical top-down view) is more effective & engaging. Overall, a wonderful game to satisfy builder lovers or anyone who enjoys logic-type challenges. Better than Tribloos1, many hours of entertainment, huge replayability: a steal at $6.99!
January 17, 2013
A Great Gem of a Game
Anyone who loves Builder/TM games are in for a treat as this game is a gem. The first game was released last year and anyone who missed it that too is a great and very underrated game. This time around the graphics have improved and extra tasks added to make it even more fun. Anyone hesitant about trying out this game or this genre this game is a good one to start as there is no time limit. The tutorial is good and tasks are clearly explained. Getting gold in each level is a challenge but that?s the fun in these games and I think it?s not impossible to get gold unlike other TM games where you click so much your hand goes numb. And Tribloos so cute and hardworking. There are loads of levels so it bodes well for lots of fun all I can say is what a delightful game and am pleased to see more variety recently in Big Fish?s offerings. I love hidden object/adventure games but am enjoy branching out to other genres and love the variety. Please as ever give the free trial a whirl and see if this lovely game gets you hooked like it did me. I highly recommend it. Love it.
January 14, 2013
The best game on BFG yet.
I loved the first game but it took me a long time to work out the best strategies for a lot of levels. Tribloos 2 fixes a lot of little annoyances in controlling your fellas and improves the graphics a great deal. The sound and music is perfect for the game and the whole thing has a refreshingly fun and positive approach! Buy it! Then wait for the next one and buy that too!!
January 15, 2013
I'm In Hammer Heaven With The Fuzzy Blue Dudes
I was so excited to see this game here this morning when I signed on I thought I was gonna have to call 911 my heart almost jumped out of my chest ! I loved the first one and I love this one and it's just as fun if not funnier than the first one. It's laid out like a platform game but it's far from a platform game it's off the hook fun building and challenging but not to the point that you can't do it you just have to do a little planning with some of the levels. There isn't a timer for your task or goals you can take your time but you can earn gold, silver, or bronze if you finish the level in time there is a bonus timer down in the bottom right hand corner and don't worry if you don't get the gold you can always go back and replay the level and you can keep rolling even when the bonus timer runs out. You can earn achievements as well. This game is just off the chart fun with cute graphics, adorable characters, and a cute little story and the game is just so bright and full of life and character. It is truly one of the funniest building games I've ever played and so was the first one and there have been some improvements on this one. The buildings are adorable that you build and when you build a house your awarded with extra workers and that really makes it easier to complete your goals much quicker and these little dudes hustle I love watching them climb up and down the ladders it's just too cute. I'm loving every minute of this game and it definitely has replay written all over it you just can't get tired of this one. Give the demo a try it's so worth it and I don't think you'll be disappointed. Thank you so much developers for this little gem you guys did a great job so stand up and take a bow you more than deserve it and please keep them coming we love these building games and can't get enough of them and thank you Big Fish for another great building adventure and please give us more we love them. Have fun everybody !
January 14, 2013
Fun game!
I too, almost skipped this one as I thought it looked like a kids platform game. I am so glad I read the reviews before totally ignoring it. My initial thought in the trial, was that this was going to be too easy & there was no strategy element to it, ie: what to build first etc. I was totally wrong. Only a couple of levels in, I found myself having to re-play levels just to get gold. Before I knew it my 60 minutes were up & I knew it was a buy for me. I love builder/TM/strategy games & hate that they are so few & far between. Now I am going to go back & check out the first game, as I guess I must have made the same assumption with it that I almost made with this game. Happy gaming everyone ;-)
January 15, 2013
LOVE this game!!!
I remember playing the first installment of this game and liking it- but not as much as this one! During the trial, I thought it was a little too easy, but I really enjoyed playing so I purchased it. Thank goodness I did, because the levels got harder and it's currently my favorite game! It's nice to see some different TM games coming out. Give it a try, you won't be disappointed! =)
January 15, 2013
Love this game.
Hi I just wanted to say I love this game. The graphics are deceivingly simple for such a challenging game. Really cute and creative idea.
January 15, 2013
The Apple logo is a trademark of Apple Computer, Inc.