Pizza, Pizza!
Help your pizza restaurant become the most popular in town in Pizza, Pizza! This exciting game takes you beyond a typical Match-3 experience and challenges you to work smarter and faster as you scramble to satisfy your customers. Bake yourself through challenging levels, bonuses and upgrades as you fight to keep your customers coming back and your pizzeria dream alive!
Manage your own pizzeria!
Bonuses & upgrades
Match-3 with economy simulation
Game System Requirements:
OS:

Windows XP/Windows Vista/Windows 7/Windows 8

CPU:

2.0 GHz

RAM:

512 MB

DirectX:

9.0

Hard Drive:

80 MB
Game Manager System Requirements:
Browser:

Internet Explorer 7 or later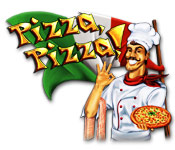 NEW299
The Big Fish Guarantee:
Quality tested and virus free.
No ads, no adware, no spyware.

Reviews at a Glance

Pizza, Pizza!
0
out of
5 (
0
Reviews
Review
)
Customer Reviews
Ideal for learners
This is a very ordinary match 3 game. The graphics and sound are good but the story line is a little confusing. You gain points/cash through matching a variety of tiles and then use these to build a pizza shop. You do not get any bonuses for matching more than 3 tiles which would be useful in the boards with the blocked sections. The requests for pizzas and ingredients that pop up are generally filled by normal game play. I do not recommend this game for players who have been playing for a while.
January 17, 2013
bad graphics
i love match 3 - but the graphics here were subpar
January 15, 2013
SAD and DISAPPOINTING MATCH 3 GAME
I was so excited to see a game that was not 'dark' or 'spooky' or based on something evil, I nearly bought this game without trying it! Thanks Big Fish reviewers for saving me a game credit! the game. I tried the free trial and made several (3) attempts to enjoy I had trouble with my giant cursor and the board with its TINY ingredients and I even had trouble getting the cursor to go to the bottom of the puzzle at all. Objectives are not clear. Even the HELP section is not very helpful. I guessed what I was supposed to do based on other games. Graphics are abysmal. Flat and boring. The music was okay, but became annoying after a while. GIVE MAC USERS something like BURGER RUSH..... or more than 2 FARM FRENZY choices and I'll buy them.... but I am glad I saved my money on this sad game.
April 8, 2013
Bad translation
This game is no good if you have never played the 'turn all squares the same colour' genre of match 3 games. As others have said I was 'fumbling in the dark' for a while as I didn't know that I was suppose to do this. Also the translation was not good and neither was the the spelling. In one of the first 'pop-up's' there had spelt whole as 'wohle' which didn't look very professional. English was bad and it seemed like someone with an elementary understanding of English (and grammar) had translated. This didn't make for a pleasant experience. The sound was good but that is about the only redeeming quality, as the rest of the game wasn't. I can't recommend this game (unless you really have a 'credit to burn'
January 17, 2013
Same Old Story
This game covers the same basic match-3 storyline involving food. You obtain a restaurant. You need to fix it up. Woo hoo. Pros: - Match-3 mechanic works well. - You can upgrade your restaurant. - Customers randomly come by and ask you for specific items, and this gives you some sort of time boost (although that's not really needed, because the timer seems to be really, really generous.) Cons: -Annoying music. -Not-so-great graphics. -Each time you find a new food item, the game must tell you! Must! -Restaurant upgrades are entirely too expensive. There's not much to this game other than playing the match-3 boards, filling character requests, and buying upgrades. The "simulation" aspect in the blurb on the game's main page made this game sound way more interesting than it actually is. It's basically a more poorly redone version of a Coffee Rush kind of a game.
January 15, 2013
Painful Match 3 Game
I made it 20 minutes into the demo when I began regretting the time I had spent playing this game. It is a standard match 3 game where you earn money to build your pizza business. Occasionally a customer shows up and you get extra points for clearing the board of items on the customer's order. However, it was unclear why sometimes I received 80 points and at other times I received 500 points by fulfilling the orders. Unlike other match 3 games, there are no bonuses for four or more matches. The boards become progressively more difficult by having areas blocked out or by having to match the object in a block that is covered by a vine which also serves as a barrier until you match it with two or more of its kind. The problems with this game are that at times there are so many spontaneous matches that it takes more than several seconds before you can make your next match; some of the boards have so many blocks that the board is hard to see clearly on my laptop; when items are covered by the vines it is extremely difficult to tell what it is; there is no story line; and the music is so-so. I like most match 3 games, but you I won't be including this game among them.
January 21, 2013
I quite playing it after 10 minutes.
I wasn't fond of the game though I do like Match-3 games. The story was okay, but everything seemed slow, and after just a few levels the items to swap got very small and hard to see. Also - it installed the BingBar on my computer without any ability to opt out - not cool, BFG.
January 22, 2014
Lame
I did not even last 15 minutes into the demo. This game is painful to play. It is slow to clear matches, no bonus for 4 and above matches. In the middle of each board a person comes on and says I'm in a run and need a pizza and then you have to clear so many of certain objects from the board but you never get a chance to because the board is falling matches. Then they have blocked lines and you have to make a match with the object under the vine blocking the way but you cannot tell what object is under the vine. If you like Match 3, and I do, avoid this mess!
January 15, 2013
Bottom of the Barrel Match 3 Game
Okay, whoever heard of putting egg on your pizza?? If you think that's weird, just wait. First, you might think the instructions and storyline are in English, but there were whole sentences I did not understand. If foreign game developers want to market their games in the U.S., Canada, the UK and Australia, then they need to hire a professional translator so us English speaking people can understand what the heck is going on. It would also help if Big Fish was aware of what they were putting on their site. The first board you play on is HUGE but the pizza ingredients are tiny. There are red squares on the board which are not explained, so if you've never played a Match3 game, you could be lost as to what they are. It took me a minute to realize my goal was to rid the board of the red squares. In the middle of playing, a customer pops up and says she wants a pizza with eggs on it. EGGS??? On PIZZA?? Anyway, after playing four or five boards, I was finally able to purchase tables for my restaurant. There are powerups, but they are minimally explained and quite frankly, I didn't continue playing long enough to find out much more about them. The only tolerable thing about this game was the music. It was a bit techno and rather lively, which I enjoyed. Sadly, this is a poorly developed Match 3 game and if you've never played any others, try Four Elements. Obviously, I would steer clear of this game and cannot recommend it.
January 15, 2013
Big Fish takes games from High Schoolers?
The title says it all... this game is clunky, has bad music, and seems like it was written by someone that just figured out how to program.
January 16, 2013
The Apple logo is a trademark of Apple Computer, Inc.