Reality Show: Fatal Shot
Exclusive
Uncover the truth behind a shocking on-air murder in Reality Show: Fatal Shot! Everyone knows that breaking into showbiz can be tough. But for participants on Fright Reality Show, it can be murder. After a man is killed on the set of the hit series, the victim's wife arrives at your office, begging for justice. Follow the clues, from the city streets to the top floors of the station's headquarters to uncover the truth behind this shocking crime. But be careful! Things are rarely what they seem on TV...
Game System Requirements:
OS:

10.8/10.7/10.6/10.5

CPU:

1.4 GHz (INTEL ONLY)

RAM:

1024 MB

Hard Drive:

403 MB
Game Manager System Requirements:
Browser:

Safari 4.0 or later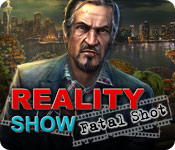 NEW299
The Big Fish Guarantee:
Quality tested and virus free.
No ads, no adware, no spyware.

Reviews at a Glance

Reality Show: Fatal Shot
0
out of
5 (
0
Reviews
Review
)
Customer Reviews
Reality Show: Fatal Shot
16
16
Very short pure adventure game (no HOS)
REVIEW ON FINISHED SE GAME on hardcore (I don't do like or love but all ratings out of 5, including challenge etc) ERS can be the their own worst enemy sometimes as I have no idea how this could have been a CE purely on length alone. I knew it would be short so I played on hardcore - and didn't use skip or hint, or walkthrough and I didn't skip any dialogue even after I read it all as I want to be fair and it was under 3hrs. Having no HOS in it is no excuse as their Dark Alley's pure adventure game took me 5 hrs. Saying that, the enjoyment factor was higher in this game for me than dark alley's, the plot, the different locations, the pace of the game, although if they had the length and the same level of 'hardness' (which wasn't hard) as dark alley I would have really loved this game. This game was a bit infuriating as for once I was really enjoying the plot - simple, clear, straightforward no weird animals or out there insertions - like a junk pile plot. No witches, demon posession etc but it does have a bit of a dark opening so don't recommend young children to play this which is a shame as this game is easy think they could. I'd class this as a filler game - short, simple but sweet. I like filler games as I play them between hard games but some of those puzzles were so simple it's annoying. The gameplay is easy and very contained so the lack of a transporter map is no loss. There is 3 choice of modes and you can switch them during gameplay and I strongly suggest everyone should try hardcore. Hardcore was annoying as it said no black bar tips but I still got some, there is hint and skip button (I think) but it does take a long time to fill. I was annoyed as especially at the beginning, it's insultingly simple the puzzles and it's infuriating as they had some lovely ones which by minor tweaking could have been easy to medium. They have some great thoughts to puzzles but either technically how they do them or by making it so boringly easy, it takes any joy out of some of them. At the end it was more medium but of the 36 (roughly) puzzles I counted most of these were very easy to easy. Only about 4 or 5 I could class as medium and even those everybody can do so have no idea why they didn't make all of them that hardness. I did love a couple - the yeti and the ball, not hard but fun, that's all I ask. My play time is including the long time I took with the word puzzle which said it was counter clockwise which I did and it was fiddly only to find out it was clockwise! I thought they missed out on a great opportunity with the red balloons. When you see a red balloon you use your UV light on it. There were only 8 red balloons in the whole game but if they made them less obvious, it could have been like a collectable but still part of the game, make the clues more extra like a background story with the UV light so if you miss one it doesn't matter. I did enjoy it but thought they missed a brilliant opportunity with them. Thanks to CE reviews saying it had a tied up ending, it's the only reason I bought this as with this DEV I've been burned too often re this, but I felt the ending was satisfactory as a SE player. I think I could guess where the bonus may go but it was tied up enough for me to be happy with it. I only recommend it for a DD or free coupon which I used because of the length. Unless you are looking for a filler game (simple gameplay and mostly simple puzzles) and don't mind that it's short, then I'd pass. I normally wouldn't put an active recommendation on a game under 3hrs but as it was very close, and I liked the plot and gameplay even if the puzzles were mostly too easy, I will.
January 18, 2013
I've been waiting for this SE to finally defeat this evil clown!!!!
Played the demo of the CE and decided to wait for the SE release, as there was no sufficient bonus-content for me, as achievements or collectables... Another great game from ERS!! And this one is for the adventure hooked gamers, as there are no HOS. Very good graphics, very clear and detailed. Thrilling story!! Lots of puzzles and minigames, some new, but not very challenging. 3 modes to play - can be changed during the game. We have a detailed notebook together with an ultraviolet lamp, which can be used to search for hidden clues in areas marked with a red balloon. Hint (shows you the direction where to go) refills quite fast (at least in the 2nd mode). Unfortunately we have no map :( This story/ gameplay really hooked me and yes, I do recommend this great SE game!!
January 18, 2013
Reality Show :Fatal Shot
I think this game is amusing,you search for clues to find out who killed your clients husband.( when in need you have a friendly bum who gives you clues as to where you should search next.)If you like clown this one is rather creepy looking so you know he is up to no good .The mini games are fun and the whole game is pretty easy to figure out with or without the friendly bum ...Enjoy ....
January 18, 2013
Adventure: a risky or unexpected undertaking...
...is just what this game turned out to be. You are a detective in an inner-city setting,seemingly hired by the widow of a personality on a reality show, who has recently died under mysterious circumstances. There were some very unique elements to this game. Sam, the homeless man, is your friendly neighborhood helper. You are given a UV light to use on red balloon markings to get clues and an alley cat pops up every so often to undercover things for you. There is a Goals button. The Hint button is a camera that takes a picture to help you on your way. The characters' faces and movements are extraordinarily real. I was very impressed with the variety of different things that you need to interact with during the game. The stage props and clown elements gave things an interesting twist. My only disappointment was the lack of HOS and map. This is an extremely well-done Adventure/Puzzle game that is worth every penny of the purchase price.
January 18, 2013
Creepy clown murderer!
This game was just okay for me. There are no HO scenes, only items to find and use along the way, most of which are used almost immediatly.The puzzles are extremly easy such as swapping tiles or moving puzzle pieces, nothing even remotely challenging. The game is about a detective trying to nab an unruly and evil looking clown ( who is always one step ahead) because a woman named Sarah had been attacked and robbed of the evidence she had collected about her husbands murder on a live television show. The dialog is written in boxes that you have to click to continue and the graphics are good but more cartoonish than realistic. I recommend this game only as a game to keep you busy or while waiting on a better game to come along.
January 18, 2013
The Reality Is There Are No Hidden Objects!!
Reality Show: Fatal Shot, an excellent adventure game. No hidden object scenes to add fluff time to the game. I do not mind if the game is short for lack of hidden objects. The ambiance of the game was suitably creepy. The story moved from scene to scene smoothly. Scenes submersed you into a dark, cold, gray almost empty city. The quirky rabbit vagrant was a humorous and entertaining. The creepy little clown face man was at first confusing but I got used to him popping up now and again. Didn't know what his role would be in the game. The puzzles were challenging and thoughtful. Some of them took a bit of my time to complete. I like that. Not a fan of the music, turned it off at times, but it did suit the overall game play. A clever "who-dun-it" story. I will be playing this one again and again.
January 25, 2013
Fatal Shot misses the target.
I played the CE version and quickly forgot about it. First sign! When the SE came out I thought I'd try it again. All I could remember was the creepy clown (not a fan) and the dirty hobo I can almost smell through the computer. It's listed under HO games but there are none. Graphics o.k. and I thougth the story would be interesting but nothing makes me want to buy this one. Maybe on sale but I doubt it, there are many others I'd rather play.
January 18, 2013
Like the game
I played the demo, then bought the game. It was a good game. It had many mini games that were new to me. I thought some were hard, some were easy...so, to me, that is the sign of a good game. I played on the hardest level and after the 45 minute demo, it played another 3 hours. It is a fairly easy game, nothing stressful, I used the hint a couple of times, but after I did, I thought, "How dumb was I?" You don't need a map because you backtrack, but not enough to need a map. The voices were fine and the music was not annoying.
January 20, 2013
Not a hidden object game
Not really a hidden object game,more of a puzzle solving game,too easy even on hardest setting,2 hours to finish,not worth the money.avoid.
January 28, 2013
The Reality Is... This Is A Good Game!
I enjoyed playing this game. It has all of the qualities I like in a game. It was fun being the detective and solving the case. Although the graphics weren't sharp, they were still pleasing to the eye. The mini games had their challenges. The skip meter didn't take a long time to charge up. The storyline was an interesting one. By time you did solve the case, however, you pretty much knew who the guilty culprit really was. Although the initial suspect is not who he appears to be - which was surprising and good for me as a twist. I don't think you can go wrong purchasing this game. I believe the trial version will draw you in so that you will give it a try.
January 22, 2013
The Apple logo is a trademark of Apple Computer, Inc.
The Windows logo is a trademark of Microsoft, Inc.