Reality Show: Fatal Shot
Uncover the truth behind a shocking on-air murder in Reality Show: Fatal Shot! Everyone knows that breaking into showbiz can be tough. But for participants on Fright Reality Show, it can be murder. After a man is killed on the set of the hit series, the victim's wife arrives at your office, begging for justice. Follow the clues, from the city streets to the top floors of the station's headquarters to uncover the truth behind this shocking crime. But be careful! Things are rarely what they seem on TV...
Game System Requirements:
OS:

Windows XP/Windows Vista/Windows 7/Windows 8

CPU:

1.4 GHz

RAM:

1024 MB

DirectX:

9.0

Hard Drive:

420 MB
Game Manager System Requirements:
Browser:

Internet Explorer 7 or later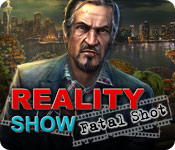 NEW299
The Big Fish Guarantee:
Quality tested and virus free.
No ads, no adware, no spyware.

Reviews at a Glance

Reality Show: Fatal Shot
0
out of
5 (
0
Reviews
Review
)
Customer Reviews
Reality Show: Fatal Shot
27
27
Creepy clown murderer!
This game was just okay for me. There are no HO scenes, only items to find and use along the way, most of which are used almost immediatly.The puzzles are extremly easy such as swapping tiles or moving puzzle pieces, nothing even remotely challenging. The game is about a detective trying to nab an unruly and evil looking clown ( who is always one step ahead) because a woman named Sarah had been attacked and robbed of the evidence she had collected about her husbands murder on a live television show. The dialog is written in boxes that you have to click to continue and the graphics are good but more cartoonish than realistic. I recommend this game only as a game to keep you busy or while waiting on a better game to come along.
January 18, 2013
Pure Adventure Game
This review is based on the whole game as I just finished it. I am being very generous giving this game a 4 star review. I think it deserves more of a 3.5 but I rounded up. However, due to the fact this game is so easy even my dog could play it, its almost insulting how easy the puzzles are, I would probably rate it in my own terms about a 2.5 BUT it was FUN to play so thats why I gave it such a high review. Not to mention, The storyline really had me wondering what happened the entire game so kudos to that, however once you figure out what happens, what a let down!!! There is an ending in the standard edition, a first for ERS games and although it does end satisfactorily, I would have liked it to end with the video because it would have made more sense. The clown character was interesting but if I had an accident where my face was burnt, i don't know that Id be dressing up like a clown everyday just to hide it so some things were a little far fetched. However, I am giving high stars for CREATIVITY and ORIGINALITY because ERS usually seems to lack this in their games. Also, this is a pure Adventure game so more stars for that! It was sooo nice not to run into sooo many hidden object scenes like in other games. However, since I was playing on the hardest mode, the puzzles could have been harder. Im a puzzle person BUT these puzzles are so easy that anyone could do them. I think my 85 year old grandma who doesn't know how to use the computer could do them. Im not trying to be mean but adventure games are supposed to be somewhat challenging however the puzzles in this game were sad. It was the most disappointing part because there were so many!! This game could have been hours longer had it had some kind of flexibility. Im good with a varying difficulties but this was like move one and done. However, despite the easy puzzles, I really enjoyed this game. I can't tell you the last time I played an ERS game and thought it had a satisfactory ending in a standard edition. Not to mention this wasn't a sequel that already had 9 in front of it. I like the originality ERS! More of these please! with harder puzzles because Im willing to bet, your customers that are buying your adventure only games are looking for more of a challenge than your customers buying the hidden object scene games. Kudos to a fresh, new idea. 4 stars for that.
June 21, 2013
over all a good game
in general I liked this game. the only reason I marked it down a bit is I ended up skipping most of the games they were just to complex or confusing for me for some reason. and I don't use sound so can't rate that but otherwise story line was good, hint button was great so map was not needed. you save the day in the end which is always fun. over all I recommend this game.
October 8, 2013
Nice who dunnit story
This was an entertaining game, pure adventure, nice change from all the HOPA's. I had a lot of fun, the game moved ahead really quickly, very little backtracking. Very much different scenes, but you don't linger about, you rush from room to room trying to catch the killer. Graphics are nice, immersive atmosphere, characters are very well presented, VO's are excellent. ERS brought us something different with this game, and I really liked it! Have fun all!
August 17, 2013
MILDLY CHALLENGING FOR EXPERIENCED GAMERS
Find out who killed the contestant and is now after the evidence and the contestant's wife. 3 modes of play. Fantastic graphics and terrific production values. Finely polished and mildly challenging linear gameplay - experienced gamesters can readily figure out what actions are needed next as they just flow naturally. Music appropriate to a suspenseful atmosphere. Puzzles are easy but fun. UV light to read balloon messages is a nice touch.
June 11, 2013
The Reality Is... This Is A Good Game!
I enjoyed playing this game. It has all of the qualities I like in a game. It was fun being the detective and solving the case. Although the graphics weren't sharp, they were still pleasing to the eye. The mini games had their challenges. The skip meter didn't take a long time to charge up. The storyline was an interesting one. By time you did solve the case, however, you pretty much knew who the guilty culprit really was. Although the initial suspect is not who he appears to be - which was surprising and good for me as a twist. I don't think you can go wrong purchasing this game. I believe the trial version will draw you in so that you will give it a try.
January 22, 2013
Fatal Shot!
A good games with nice graphics from ERS. Enjoyed it. The only flaw is that there is no map so you have to use the hint button to move around when you get lost.
August 30, 2013
Very short pure adventure game (no HOS)
REVIEW ON FINISHED SE GAME on hardcore (I don't do like or love but all ratings out of 5, including challenge etc) ERS can be the their own worst enemy sometimes as I have no idea how this could have been a CE purely on length alone. I knew it would be short so I played on hardcore - and didn't use skip or hint, or walkthrough and I didn't skip any dialogue even after I read it all as I want to be fair and it was under 3hrs. Having no HOS in it is no excuse as their Dark Alley's pure adventure game took me 5 hrs. Saying that, the enjoyment factor was higher in this game for me than dark alley's, the plot, the different locations, the pace of the game, although if they had the length and the same level of 'hardness' (which wasn't hard) as dark alley I would have really loved this game. This game was a bit infuriating as for once I was really enjoying the plot - simple, clear, straightforward no weird animals or out there insertions - like a junk pile plot. No witches, demon posession etc but it does have a bit of a dark opening so don't recommend young children to play this which is a shame as this game is easy think they could. I'd class this as a filler game - short, simple but sweet. I like filler games as I play them between hard games but some of those puzzles were so simple it's annoying. The gameplay is easy and very contained so the lack of a transporter map is no loss. There is 3 choice of modes and you can switch them during gameplay and I strongly suggest everyone should try hardcore. Hardcore was annoying as it said no black bar tips but I still got some, there is hint and skip button (I think) but it does take a long time to fill. I was annoyed as especially at the beginning, it's insultingly simple the puzzles and it's infuriating as they had some lovely ones which by minor tweaking could have been easy to medium. They have some great thoughts to puzzles but either technically how they do them or by making it so boringly easy, it takes any joy out of some of them. At the end it was more medium but of the 36 (roughly) puzzles I counted most of these were very easy to easy. Only about 4 or 5 I could class as medium and even those everybody can do so have no idea why they didn't make all of them that hardness. I did love a couple - the yeti and the ball, not hard but fun, that's all I ask. My play time is including the long time I took with the word puzzle which said it was counter clockwise which I did and it was fiddly only to find out it was clockwise! I thought they missed out on a great opportunity with the red balloons. When you see a red balloon you use your UV light on it. There were only 8 red balloons in the whole game but if they made them less obvious, it could have been like a collectable but still part of the game, make the clues more extra like a background story with the UV light so if you miss one it doesn't matter. I did enjoy it but thought they missed a brilliant opportunity with them. Thanks to CE reviews saying it had a tied up ending, it's the only reason I bought this as with this DEV I've been burned too often re this, but I felt the ending was satisfactory as a SE player. I think I could guess where the bonus may go but it was tied up enough for me to be happy with it. I only recommend it for a DD or free coupon which I used because of the length. Unless you are looking for a filler game (simple gameplay and mostly simple puzzles) and don't mind that it's short, then I'd pass. I normally wouldn't put an active recommendation on a game under 3hrs but as it was very close, and I liked the plot and gameplay even if the puzzles were mostly too easy, I will.
January 18, 2013
Fatal Shot misses the target.
I played the CE version and quickly forgot about it. First sign! When the SE came out I thought I'd try it again. All I could remember was the creepy clown (not a fan) and the dirty hobo I can almost smell through the computer. It's listed under HO games but there are none. Graphics o.k. and I thougth the story would be interesting but nothing makes me want to buy this one. Maybe on sale but I doubt it, there are many others I'd rather play.
January 18, 2013
FUN GAME FOR A RAINY DAY
BASED ON COMPLETED GAME ON MOST ADVANCED MODE ***WARNING*** The name puzzle says to place the name COUNTERclockwise. This is an error. You must place the name CLOCKwise. Ok, that said, this game is pretty cool It's fun, easy, short and has everything you need for a pleasant afternoon. There's nothing astounding about it. Neither is their anything horrible about it. It would be a great game for a discount buy or free game buy. As the other reviewers have said better than I could; it's a pretty decent game. I think you will enjoy it a lot, just watch out for that error on the name puzzle. :) Enjoy a pleasant afternoon with a pretty good, easy, game.
August 29, 2013
The Apple logo is a trademark of Apple Computer, Inc.