Surface: The Soaring City Collector's Edition
Exclusive
Search for your brother, Jeremy, in a beautiful world where the sky is as wide as your imagination in the Hidden Object Puzzle Adventure game, Surface: The Soaring City! Jeremy was a great inventor who discovered a magnificent land soaring in the sky. He created wings for the people, making them free. The new citizens were happy...until one day Jeremy was kidnapped and blamed for conducting inhumane experiments. It's up to you to save your brother from imprisonment and redeem his good name.

This is a special Collector's Edition release full of exclusive extras you won't find in the standard version. As a bonus, Collector's Edition purchases count toward three stamps on your Monthly Game Club Punch Card!

The Collector's Edition includes:
A whole new adventure in the bonus chapter
Integrated Strategy Guide
Stunning wallpapers
Fascinating Concept art
Game System Requirements:
OS:

10.9/10.8/10.7/10.6

CPU:

2.5 GHz (INTEL ONLY)

RAM:

1024 MB

Hard Drive:

1016 MB
Game Manager System Requirements:
Browser:

Safari 4.0 or later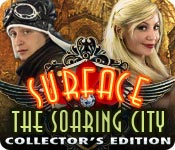 The Big Fish Guarantee:
Quality tested and virus free.
No ads, no adware, no spyware.

Reviews at a Glance

Surface: The Soaring City Collector's Edition
0
out of
5 (
0
Reviews
Review
)
Customer Reviews
Surface: The Soaring City Collector's Edition
139
139
What you come to expect from Surface games
I like the Surface series. This one was a good sequel. A good balance of HOS and puzzles. A good story line. The only thing I had a problem with was the voice overs; they did not match so it was like watching an old Japanese film.
March 6, 2013
Surface: The Soaring City
Nice Story, many locations, HoG really easy
February 22, 2013
confusing game
There seemed no logical pattern to the game-you had to jump backwards and forwards from room to room with no obvious reason. It was very difficult to work it out for yourself and the clues/inventory items sometimes made no sense eg "pour the ashes to secure yourself"-seemed nonsensical and useless in helping solve it. rating 3/10
December 28, 2013
NOT THE BEST ELEPHANT HAS DONE
There are: ~ Live actors; ~ Voiceovers ~ Casual, Advanced and Hardcode modes; ~ Achievements garden; ~ Interactive map; ~ Interactive HOS; ~ Collect as many flowers as you can to spend in the Philanthropy area (there are 3 areas). Silly story line really. Quite unbelievable. I got bored during the game but persevered because I had paid for it. I was quite glad when I had finished the game. I didn't bother to do the bonus game. I think this was mainly due to the colours and graphics. It was really hard to make out what objects were without staring at them for a while. Nothing seemed crystal clear which is a shame because Elephant has shown us perfect graphics in other games. The HOS were interactive and items were used from your inventory. The mini games were very easy as well. I enjoyed collecting the flowers and I managed to decorate and clean up all 3 areas in the Philanthropy Area. All in all, a very easy game which would be perfect for a beginner if they can get passed the hideous graphics. I'm going to recommend this game for a beginner to get the experience.
January 19, 2014
Fun Game with Some Annoyances
This game could have been great. The graphics are good, achievements/collectibles are fun, HOS were interactive (this is both good and bad in this game), good interactive map letting you jump between locations and built in SG. The game revolves around two brothers. You play as the "world traveler" brother that has come home to see his "genius inventor" brother. Your brother is kidnapped by flying people and you have to rescue him. When I first saw the flying people, they reminded me of the flying monkeys in "The Wizard of Oz" so i had that music stuck in my head for awhile. They developers insist on using live actors for the "genius inventor," his nemesis, his wife and his child. The actors are not very good and the lip-syncing is beyond horrible. If they had stayed away from the live actors, it would have improved the game. The hint button (which you won't ever need) is poorly positioned. I hit it a couple times while in HOS scenes without meaning to do so. Some of the achievements are not cumulative. If you can't finish the game in one sitting, you will miss out on some achievements because the counters are reset when you go back to continue game play. The mini games are fun. They are not too difficult, so you won't need the skip button. The story definitely requires suspension of belief, but had potential to be really entertaining had it been handled better. The HOS had potential to be really entertaining because you use items from your inventory to complete certain objects you have to find. Unfortunately, several of them had items that you hadn't found which required continuing game play and coming back to the HOS later. If you can overlook the annoyances, the game does have some fun parts. Definitely use the interactive map to travel between locations. If you don't, you will spend forever going back and forth. It is a long game and the bonus chapter is good (and would have been excellent if not for the live actors). Other bonus material includes the standard wallpaper, concept art, etc. There is also a philanthropy section where you can spend points you earned during the game. This was okay, but not what I was expecting. Overall, I recommend this game as long as you can overlook the annoyances.
July 11, 2013
ANNOYING AFTER A WHILE
When I started this game, I was pretty satisfied with the way it was going, but over time, I simply became annoyed with it. Although I played in Advanced Mode, I did not need any hints, which is good. The graphics are fine although the actors' mouths are clearly not speaking English... a small point. The story was fantasy and entertaining for a while. So what annoyed me? The length of time between when you find something for which you need a tool and when you are actually allowed to find it. It kept me running back and forth, which I detest in a game. By the time I released Jeremy (with what I thought was a totally implausible method) I was forcing myself to finish the game. I get so bored when the story bogs down in back and forthing, that I can't enjoy it. It becomes a chore to complete. I'm going to recommend this game because it's obviously a good game, just not for me.
June 10, 2013
Mindumbingly boring....
All I have to say is that it is one beautiful game with a horrible storyline. I was so over Jeremy and his wings I could scream. Bought the CE and didn't even play the bonus chapter. The game seemed endless. I ran like crazy to the next game.
February 12, 2013
SoSo!!
If not for flying people, game would have been good; did not like storyline at all!! Loved the HOs and I am not a fan of them, but the way they were put together, they were really fun. Really enjoyed the extra "philanthropy" part; that was nice!! Had no problem with the rest of the game!
June 2, 2014
REVIEW OF COMPLETED GAME
I did not particularly care for the 1st of this series. The 2nd was much better. This one I found far too taxing. There are simply way too many machines and devices, which I do not recognize, and all are broken and you must find the parts and repair them. There are too many puzzles, one after the other, all requiring a level of ability I do not have, obviously, since I could not work them out. The backtracking is enormous. Even though there is a jump map, it became too much when I had to use it every few minutes. Same with the SG - had to use it all the time because the game is too convoluted and there is way too much to do in every location, and it is not fun stuff. I am not an Engineer or a Mechanic nor anything else in those fields and this was just plain boring. For 7 hrs I have been doing this and I am worn out and got no satisfaction and little fun. The story to my mind, is inane. Winged humans in a floating city. Your brother is an inventor and he found this city by chance and invented the wings ahd bestowed them on the citizens. Really? No, man, come on now. Then he messes with the leader's girl and they fall out and it's war. You have to rescue said brother. I have the ability to suspend belief, but this is just dumb. The graphics are not much worth commenting on. Wide screen. Very ordinary. There are collectibles and achievements. The iHOS are ok, but you cannot complete them in one go because you have to find things in other areas for the interactive objects. There are too many notes all over the place, one after the other. You have to read them, or at least open them because they contain collectibles. They did not add to the story, or tell you anything you do not already know. The cut scenes are slow and jerky and would not close after completion so I had to hit skip all the time. The lip syncing is way off. The live actors are annoying. There is something called Philanthropy, when you can go when you have enough collectibles and use them there to do various things. Rather lame. Music? I cannot even remember hearing it. The hint button takes 60 secs to charge. Why? Why do we have to wait? To make the game longer? Believe me, this game is way too long for what it consists of, as it is. The guys will probably love it, and I wish them well of it. I will never play it again. The main game, 5.5 hrs. The BC 1.5 hrs and just as tedious as the main game, doing exactly the same stuff in different locations. Sorry, Elephant. I am still a fan, but this was just too much for me. I am tired and I have a headache. I could have stopped playing but the thought of coming back to it tomorrow just was not bearable. I wanted it over.
January 24, 2013
Couldn't get "into" it
I would rate this 3.5 stars if I could, but I can't so it will have to stay at 3 because it's definitely not a 4. I cannot put my finger on it but this did not blow me away. The graphics were good, especially the way they've integrated live action actors into the animation (I could even ignore the bad dubbing). Although Chester was a completely redundant character who will spend 90% of his time in the game flying his plane trying to get back to you (like seriously dude, I've rescued the baby already - go find something useful to do). I suppose then it all boils down to the gameplay? I found the pacing bad. The first few scenes were quite slow and really made you work for your finds. Sometimes you'd have to accomplish 2 - 3 steps before you would even find anything you could remotely use next. Some of these left me so stumped I had to call up a hint, which annoys me. The HOS were a mixed bag. They did it differently by allowing you to find items that are then used in a HOS ... but the FIRST HOS was painful for me because I needed to find a rose that just WASN'T in the scene!!! The hint did NOT help (something like "You need to place a rose in the vase" ... you don't say. But WHERE'S the darn rose?!). Moving forward, you basically can't complete a HOS if you're still missing items. Not sure whether it's the gamma on my machine but the hint bars were almost illegible. The game producers decided to use a light beige / light gold colour on font which showed up against a bright sky most of the time so you'd have to lean forward and squint to read each time. Hello people? The pacing picks up suddenly about three quarters through the game, as if the producers suddenly realised "Oh darn we need to move our gamers along - chop chop now!" So all of a sudden EVERYTHING you do produces a find. This was made even worse by the fact that there was not even much thought to them - you'd basically arrive at a scene, then find an item that can then be used in the scene that you came from before. And when you go BACK to the prior scene, you would find an item you can THEN use in the scene that you would be proceeding back TO. So in the end, you have a first half where you would plod along with mostly 4 - 5 inventory items (many of which you'd use in a HOS as opposed to the actual gameplay), and when you reach around the 70% mark you suddenly have a super full inventory with up to 10 items at any one time. This really did annoy me. The puzzles were super easy. As a puzzle non-fan I skipped past most of them, but of the ones I did not skip, I solved in approximately two, maybe three strokes maximum. Gosh. The storyline was OK, but then it veered into ridiculous in the bonus game. I was fine with this though because ironically, the gameplay was so much better paced there! Finished the game - including bonus - in about 3.5 hours so it's rather short. IMHO, not worth collector's, so I would recommend to stick with the SE.
August 11, 2014
The Apple logo is a trademark of Apple Computer, Inc.
The Windows logo is a trademark of Microsoft, Inc.