Surface: The Soaring City Collector's Edition
Exclusive
Search for your brother, Jeremy, in a beautiful world where the sky is as wide as your imagination in the Hidden Object Puzzle Adventure game, Surface: The Soaring City! Jeremy was a great inventor who discovered a magnificent land soaring in the sky. He created wings for the people, making them free. The new citizens were happy...until one day Jeremy was kidnapped and blamed for conducting inhumane experiments. It's up to you to save your brother from imprisonment and redeem his good name.

This is a special Collector's Edition release full of exclusive extras you won't find in the standard version. As a bonus, Collector's Edition purchases count toward three stamps on your Monthly Game Club Punch Card!

The Collector's Edition includes:
A whole new adventure in the bonus chapter
Integrated Strategy Guide
Stunning wallpapers
Fascinating Concept art
Game System Requirements:
OS:

10.8/10.7/10.6/10.5

CPU:

2.5 GHz (INTEL ONLY)

RAM:

1024 MB

Hard Drive:

1018 MB
Game Manager System Requirements:
Browser:

Safari 4.0 or later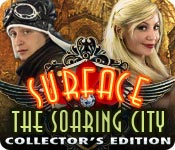 The Big Fish Guarantee:
Quality tested and virus free.
No ads, no adware, no spyware.

Reviews at a Glance

Surface: The Soaring City Collector's Edition
0
out of
5 (
0
Reviews
Review
)
Customer Reviews
Surface: The Soaring City Collector's Edition
130
130
Mindumbingly boring....
All I have to say is that it is one beautiful game with a horrible storyline. I was so over Jeremy and his wings I could scream. Bought the CE and didn't even play the bonus chapter. The game seemed endless. I ran like crazy to the next game.
February 12, 2013
Fun Game with Some Annoyances
This game could have been great. The graphics are good, achievements/collectibles are fun, HOS were interactive (this is both good and bad in this game), good interactive map letting you jump between locations and built in SG. The game revolves around two brothers. You play as the "world traveler" brother that has come home to see his "genius inventor" brother. Your brother is kidnapped by flying people and you have to rescue him. When I first saw the flying people, they reminded me of the flying monkeys in "The Wizard of Oz" so i had that music stuck in my head for awhile. They developers insist on using live actors for the "genius inventor," his nemesis, his wife and his child. The actors are not very good and the lip-syncing is beyond horrible. If they had stayed away from the live actors, it would have improved the game. The hint button (which you won't ever need) is poorly positioned. I hit it a couple times while in HOS scenes without meaning to do so. Some of the achievements are not cumulative. If you can't finish the game in one sitting, you will miss out on some achievements because the counters are reset when you go back to continue game play. The mini games are fun. They are not too difficult, so you won't need the skip button. The story definitely requires suspension of belief, but had potential to be really entertaining had it been handled better. The HOS had potential to be really entertaining because you use items from your inventory to complete certain objects you have to find. Unfortunately, several of them had items that you hadn't found which required continuing game play and coming back to the HOS later. If you can overlook the annoyances, the game does have some fun parts. Definitely use the interactive map to travel between locations. If you don't, you will spend forever going back and forth. It is a long game and the bonus chapter is good (and would have been excellent if not for the live actors). Other bonus material includes the standard wallpaper, concept art, etc. There is also a philanthropy section where you can spend points you earned during the game. This was okay, but not what I was expecting. Overall, I recommend this game as long as you can overlook the annoyances.
July 11, 2013
ANNOYING AFTER A WHILE
When I started this game, I was pretty satisfied with the way it was going, but over time, I simply became annoyed with it. Although I played in Advanced Mode, I did not need any hints, which is good. The graphics are fine although the actors' mouths are clearly not speaking English... a small point. The story was fantasy and entertaining for a while. So what annoyed me? The length of time between when you find something for which you need a tool and when you are actually allowed to find it. It kept me running back and forth, which I detest in a game. By the time I released Jeremy (with what I thought was a totally implausible method) I was forcing myself to finish the game. I get so bored when the story bogs down in back and forthing, that I can't enjoy it. It becomes a chore to complete. I'm going to recommend this game because it's obviously a good game, just not for me.
June 10, 2013
REVIEW OF COMPLETED GAME
I did not particularly care for the 1st of this series. The 2nd was much better. This one I found far too taxing. There are simply way too many machines and devices, which I do not recognize, and all are broken and you must find the parts and repair them. There are too many puzzles, one after the other, all requiring a level of ability I do not have, obviously, since I could not work them out. The backtracking is enormous. Even though there is a jump map, it became too much when I had to use it every few minutes. Same with the SG - had to use it all the time because the game is too convoluted and there is way too much to do in every location, and it is not fun stuff. I am not an Engineer or a Mechanic nor anything else in those fields and this was just plain boring. For 7 hrs I have been doing this and I am worn out and got no satisfaction and little fun. The story to my mind, is inane. Winged humans in a floating city. Your brother is an inventor and he found this city by chance and invented the wings ahd bestowed them on the citizens. Really? No, man, come on now. Then he messes with the leader's girl and they fall out and it's war. You have to rescue said brother. I have the ability to suspend belief, but this is just dumb. The graphics are not much worth commenting on. Wide screen. Very ordinary. There are collectibles and achievements. The iHOS are ok, but you cannot complete them in one go because you have to find things in other areas for the interactive objects. There are too many notes all over the place, one after the other. You have to read them, or at least open them because they contain collectibles. They did not add to the story, or tell you anything you do not already know. The cut scenes are slow and jerky and would not close after completion so I had to hit skip all the time. The lip syncing is way off. The live actors are annoying. There is something called Philanthropy, when you can go when you have enough collectibles and use them there to do various things. Rather lame. Music? I cannot even remember hearing it. The hint button takes 60 secs to charge. Why? Why do we have to wait? To make the game longer? Believe me, this game is way too long for what it consists of, as it is. The guys will probably love it, and I wish them well of it. I will never play it again. The main game, 5.5 hrs. The BC 1.5 hrs and just as tedious as the main game, doing exactly the same stuff in different locations. Sorry, Elephant. I am still a fan, but this was just too much for me. I am tired and I have a headache. I could have stopped playing but the thought of coming back to it tomorrow just was not bearable. I wanted it over.
January 24, 2013
Really lousy storyline - Not beautiful filming
I really disliked this game bc it was so... Well frankly, sorry to say it; ugly. It annoyed me all the way through, and the quizzes and puzzles have all been tried before. Sigh. Nothing new, and in a very unpretty "package". :( Regret buying it.
May 9, 2013
Real Actors in an Animated Game - Worst Idea Ever- Ruins the Game
This was the first game I played that had real actors inserted into the animated scenes. It is very creepy and takes away from the great artwork of the game. The script was trite and not very imaginative. The voice overs did not match the movement of the actors. I also found the mini-games a little to easy. Maybe this would appeal to a much younger crowd. But definitely not for me. I have also played Aramathine: Tree of Life; it is of the same style. I have the same problems with it as I do with this one. I will avoid these in the future.
July 6, 2013
My expectations were not met...
I've played the other "Surface" games and I really liked them. I expected this to be as good as the others, but unfortunately it wasn't. The storyline was ok, the acting was awful. It was really easy even when playing inte the hardest mode. They've spent a lot of effort on special effects but they could've spent that time making an interesting game instead. Sorry to say, but I can't recommend this game.
February 5, 2013
dont waste ur money
it might b worth 6.99 not 20, the plot is awful, the gameplay is mediocre
February 11, 2013
Total let down
A prime example of how much the story matters. I loved the first two Surface games! I thought both had excellent stories and were well made. This installment was a total disappointment. The main voice actor during the cutscenes was horrible. He ruined the whole game for me. He was bad in the sense that he missed every emotional cue so it seemed his voice tone was not indicative of what was going on in the story. The other main voice, that of your helper, was just annoying, although his acting was better. Finally, just to make it a hat trick of annoyance, the person you are suppose to save, your "brother", looked like such a dud that I had no motivation to save him. (Ok that last comment was a bit of a joke, the no motivation to save him was not). Let's move on to the story. My first thoughts when I finally got the gist of the plot was........it was stupid, it was lame, it was a mishmash of 3 different games that weren't working out so they combined them to make this game. Since saying something is stupid or lame is not very helpful, all I can say without revealing the whole story is try the demo and see if you agree with me in any way. My opinion of the story is a 1 out of 10. Another disappointment is the CE extra. Mainly where your can spend the in game currency. Making the picture look nicer? Really? Lame lame lame lame lame lame. I actually thought the pictures looked better in disaster mode and regretted spending the currency on them. Unfortunately that is the only place to spend it. Just to let you know, I played the game twice, with many other games played between sittings. Yes, complete. Twice. My hatred has grown. The one bright spot is the bonus chapter is playable. I can't say I enjoyed it, but I didn't hate it. I would comment on the gameplay but others have covered that subject. I thought it was on the more challenging side, but that may be a side effect of my hatred of the story, which of course leads to disinterest. All I can tell you is I didn't enjoy it, was very disappointed with the lack of quality and really felt that the game was a thrown together as a cash grab.
May 10, 2013
Don't look now!!
I must start my review with the reason I dislike it so much; The bad graphics and the "video" of the main assailants in the "game" I do not like the use of z grade actors in what could be a very good game. other than that the story line was contrite and boorish and puzzles were of no challenge what so ever. I bought the CE and would really like a refund for lack lustre standard of the game, My opinion ;)
May 3, 2013
The Apple logo is a trademark of Apple Computer, Inc.
The Windows logo is a trademark of Microsoft, Inc.