Sable Maze: Sullivan River
Exclusive
Every night you have the same nightmare. You see children wandering through a maze, crying for help. These sleepless nights are ruining your waking life. To stop them, you must return to Sullivan River Summer Camp to uncover what happened during that long-forgotten summer. Beware though, this camp isn't all that it seems. With every step, you can feel eyes watching you. Reveal the secret of the ancient labyrinth in this eerie Hidden Object Puzzle Adventure game.
Game System Requirements:
OS:

10.8/10.7/10.6/10.5

CPU:

2.5 GHz (INTEL ONLY)

RAM:

1024 MB

Hard Drive:

645 MB
Game Manager System Requirements:
Browser:

Safari 4.0 or later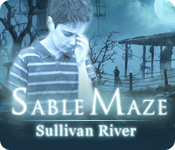 NEW299
The Big Fish Guarantee:
Quality tested and virus free.
No ads, no adware, no spyware.

Reviews at a Glance

Sable Maze: Sullivan River
0
out of
5 (
0
Reviews
Review
)
Customer Reviews
Sable Maze: Sullivan River
34
34
Like the CE, the SE was released on Sunday, so I say again: An excellent Sunday guaranteed!
An excellent game, I already bought the CE, and I repeat here my review for those who prefer SE games: - Great interesting story: Return with Derrick to the Sullivan River Camp that left him with nightmares until now, already adult: the labyrinth ... bulliyng ... missing children ... Cutscenes very well made and appealing will hold you in this game. Great graphics, immersive atmosphere, sound very appropriate. Exciting locations with lots to do. Three difficulty levels. It has a interactive map (you can go straight to the desired location by clicking on the map) and a journal. Good balance of interactive HOS, entertaining mini games, not too hard, but very enjoyable and some are brand new! The game itself has good level of challenge, although the HOS are not difficult. Not much comes and goes, found objects are used soon. It only took half an hour playing to decide to buy. Highly recommended!
October 28, 2012
Creeeeeepy!!
I've not even finished my demo yet but this is a definite buy for me. I played on the middle of 3 levels. The cutscenes are compelling, voice-overs well done, and the storyline pulls you right in. When you were a child, 6 campers vanished from Sullivan River after bullying a fellow camper, who seems to have been helped by the trees (think: whomping willows from Harry Potter). In an attempt to restore your memories of that fateful day, you've returned to discover what truly happened there. The music adds to the ambiance without being annoying, there is a very cool interactive map, minigames are challenging (and skippable) yet not frustrating, navigation is easy, and progression very logical. The HO scenes are unique in that there might only be 5 objects for you to find, but each of them must be used in the scene to find another item on the list -- way more than I've seen in other games. If I had to find one negative it would be that minigames don't come with directions (but are straightforward enough) or help, and Hint button is inaccessible. But what really sold this game for me was the creep factor. . .it'll provide some shivers without being gruesome. The background sounds are just unnerving enough to make you smile and say, "Cool," and want to keep on playing. Fishies, this one's definitely worth a look. I'm looking forward to diving back in to Camp Sullivan River!
October 28, 2012
Wonderful game... but very, very linear
Everything about this game is very well conceived and constructed... the graphics and the sound are irreproachable... and the storyline keeps you going as if you were reading a thrilling fairytale... Gameplay itself has all it needs to suit the famer: there is a map with teleportation - but I really didn't need it, because there is no real backtracking to do; the hint button refills quickly and keeps you on track by pointing in the right direction, whenever you need it; the notebook is useful to give you extra information about the documents that you find and events which happen along the way. The HOS have interactive elements in them and they are easy to complete. Puzzles are interesting, with some new ideas and variations on well-known ones... a few of them I found tricky, but most of them are quite easy to finish... one was even childhishly easy. And this brings me to the one drawback of the entire game: it is too easy... gameplay is very, very linear and you always find just what you need to go on. Frankly speaking, I like my games to have more of a challenge... what's the point in racing through a wonderful game? It's not as if you were reading a gripping whodunnit which makes you want to reach the last page to find out who the murderer is, is it? So, by making the puzzles and the things to do more of a challenge, the gamer would have a chance of spending more time exploring this beautifully constructed game. Anyway, I enjoyed spending this cold sunday with this game, but it took me barely 5 hours to finish it off and I regret having finished it so quickly.
October 28, 2012
TERRIFIC HORROR SHOW
What a creepy and sinister game! Such eerie and creepy sound effects and music. Wouldn't want to play it on a stormy night while home alone. Scarier than things that go bump in the night. You go back to your youth camp at the suggestion of you shrink to put your nightmares at rest. Who should meet you but one of the kids who disappeared in a labyrinth and needs your help. Horrifying surprises abound as you go through the camp, making it even more fun to play. There are so many places to explore that the interactive map sure is handy. And so many things going on at once; either a good memory or pen and paper would come in handy. Very detailed graphics and challenging gameplay. If you like scary, this is it! A very well developed, polished game. It certainly grabs your attention from the get go!
October 28, 2012
just ok
I waited along time for this SE guess I should have played the demo first. the story was good but the artwork was'nt, it was grainy and bland no eye candy here, maybe I'm spoiled by ERS and elephant and blue tea. I bought it, played it, and deleted it. not a keeper for me. I think you should try before buy with this one. on the up side the HO's were interactive and good combining with things and the hint button was helpful. the puzzles and mini games were fine. sorry I just didnt care for the scenery.
October 29, 2012
An Excellent Choice For The Halloween Season
Story: You take on the role of Derrick (now an adult) who is still traumatized by his childhood due to the disappearance of six children while playing at a Celtic Labyrinth so you seek out the help of a psychiatrist who recommends you return back to the scene of where it happened at the Sullivan River Summer Camp to try and rescue them. 3 play modes - I played advanced mode. No sparkles but does show black bar tips up at the top of the screen. There is voice-over There is a journal and also a map that you can use to travel back/forth. HOS (hidden object scenes): I counted 22 scenes for the main game. All found by word list and are interactive. HINT: I can't comment on how fast it charges up this time around as I only used it one time for the whole game but I can say it's helpful if you're not sure where to go/do next as it will lead you there until you get to where you need to be. Puzzles: Some of the same seen in many games such as rotate rings however came across a few different ones I've never seen before anyway. Most I found pretty easy however I did skip a few of these as I'm not a fan of the puzzles and can be skipped in less than a minute. My overall impression: I purchased the CE version when that was released and I don't regret doing so. What a great game for the Halloween season since that is just right around the corner with this spooky, eerie game. I was hooked to this right from the get go and held my interest to the very end as I did not stop playing until I got to the end. I can sure tell there was some time and thought put into this game. The graphics, HOS, music, voice overs along with the story being told. I sure welcomed a whole different setting than the usual mansion and car crash theme and well this here was absolutely flawless for me and just something different. Also a lot of places to go and things to do. Game length: 5 hours for me. May be more or less for you. Undecided between the SE or CE version of the game? The bonus chapter is not needed to complete the main game here however without giving anything away the bonus chapter does have a continuation that never occurred to me. I felt like I had a complete main game here without it as for me the bonus was a bonus. This also does start off from where you left off in the main game however opens up to all new locations. As for HOS only 6 scenes. There's also some puzzles of course. There's also trophies to be won and the strategy guide. Bonus length: For me was an hour. May be more/less for you. Overall, 5 stars from me! Thanks Big Fish and developer for an excellent game here. As always, definitely give it a whirl and decide for yourself. Just because I enjoyed it doesn't mean you will be I sure hope so!
October 28, 2012
Good Mystery
Game is a combination of Hidden Object and Adventure. Storyline: Six children at summer camp have disappeared while playing at an archological dig of a Celtic Labyrinth. As an adult, you are still traumatized by the event. Due to horrific nightmares of an attacking tree, you seek the help of a psychologist who recomends that you return to the Sullivan River Summer Camp, the scene of the crime, to help you remember what happened. Trauma Warning: If you are startled by ghosts popping up, then this might not be the game for you. Options: 3 levels of play, Options for sound, music, voiceover, custom cursor, and full screen. Music, Sound and Graphics: Music is atmospheric, Sound, graphics and voiceovers are excellent - top notch quality. Hidden Objects and Puzzles: Butterflies indicate the location of hidden object scenes. They have made them interactive by having you find one item in the scene to use on another. In other words, find the key in order to use it to find the open padlock. Items are crisp and large for the most part. Puzzles are evenly balanced with the Hidden Object scenes. Some of them are new, and the "typical" puzzles have a nice new twist to them. Overall they are very well done. New Item: They have added a new item of a locked inventory item. You might find a fishing pole, but it remains locked and inaccessible until you find the reel. Fun! Tape Player: There are reels of video that you can find throughout the game that give you (in video format) the backstory of the game. No reading pages and pages of the journal. Navigation, Journal and Hints: Journal is concise and helpful. There is a map that is used to navigate only, but does not show what areas have an active scene. Hint button can also be used to tell you where to go with no penalty, but if it indicates a task, will have to recharge - 30 - 60 seconds depending on level of play. I purchased the Collector's Edition of the game and played it all the way through. Well worth my credits.
October 28, 2012
Sable Maze: Sullivan River
Good Story line, excellent graphics, would be nice it the mouths of characters moved when they speak otherwise the graphis are high end. Well thought out storyline. Not very challenging. I like that most objects you need to solve a puzzle are nearby. Played the Demo and I had to buy, I am not disappointed. Overall great game!
October 28, 2012
Not Impressed
I thought from the write up for this game it would be much better than it is. I have played it all the way through and was dissapointed. Not that interesting for me. This is the 1st time I have said that I believe. Most games I love. It fits my 19" widescreen which is a plus. Very dreary storyline. Some of the HOs were called by the wrong name. I hate to search for a ragdoll which turns out to be a cuddly toy, a dog I seem to remember. Also others. Graphics were quite good. I never used the map to jump as the hint was good in directions. Puzzles not bad but have had most of them before. The game worked for me with no hic-cups. Some of the things you have to do, you have to find the right place to put whatever you have to use on it. If you like dull and dreary go for it but I don't recomend it. 1st time ever.
November 21, 2012
Used a free game coupon and still feel buyer's remorse.
It's extremely rare that I play a game that I find so bad I feel the need to complain about it. And actually feel annoyed by it. I stopped playing and I won't be finishing it. The whole thing seems extremely juvenile, yes, it's about kids at a summer camp. But playing as a grown person revisiting bad memories should not play out like you're 12. No fun factor. Here's why... The graphics while not entirely awful, were below mediocre. Cut scenes were a total blur. A poor rating is actually quite generous here. And I really don't understand all the horror scenery. Really. I just don't understand how this story is working here. So you go back to summer camp as an adult to work out your reoccurring nightmares. The place you arrive at is straight out of a horror story and yet your pondering the relationship between your camp director and the nurse as you are being attacked by trees. I don't get it. So, "awful" is an understatement as far as storyline goes. Challenge,.. hmm, well, good for a beginner in the genre I guess. But for me a poor rating is again generous. I haven't played any trials before I buy in quite some time now. Sometimes I'm not all that thrilled, and sometimes I love the surprise of a great game. But never have I felt this let down. And the game was a freebie. No, for the first time I believe, I do NOT recommend.
December 11, 2012
The Apple logo is a trademark of Apple Computer, Inc.
The Windows logo is a trademark of Microsoft, Inc.