Puzzler World 2013
Puzzler World returns for 2013 with new puzzles, more variety and new bonus games to excite players young and old! Challenge yourself with brand new games like Drop Zone, Splitwords and Mixup as you win Hint Tokens to aid you on your journey.
1200+ Puzzles and Bonuses
20 Puzzle Types
Challenge and Master Modes
Game System Requirements:
OS:

Windows XP/Windows Vista/Windows 7

CPU:

1.0 GHz

RAM:

256 MB

DirectX:

9.0

Hard Drive:

63 MB
Game Manager System Requirements:
Browser:

Internet Explorer 7 or later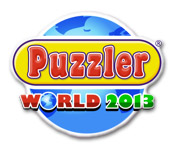 NEW299
The Big Fish Guarantee:
Quality tested and virus free.
No ads, no adware, no spyware.

Reviews at a Glance

Puzzler World 2013
0
out of
5 (
0
Reviews
Review
)
Customer Reviews
Not a game for kiddies
I already have puzzler world one,so I already knew what it was about,if you like brain games,I think you should give it a try,I am not a professional review writer,just a gamer that likes physic games and other brain games,at my age I need all the help that I can get in that department,this game has variety, crossword,and sudoku among others, and if you don't like certain games no problem,just skip it,it's a keeper for me. Sorry about the run on sentences but, it's pretty much the way I speak.
January 22, 2013
Excellent pure puzzle game
This review is based on the full version. First of all, don't be scared by the negative reviews. This game has a LOT to offer. Note that I have not completed this game because it will take months to do so. There are probably 30 different types of logic puzzles in this game. My favorites are the drop zone (select the letters in the correct order to build a new word) and link a pix (create a picture using logic). In addition to the variety of puzzles, you also have a lot of languages to choose from, including a British and American flavor of English. This adds a nice personalization to the game. A tip to make the most of this game is to select games that you can solve easily and build up a lot of hint tokens. After you have a lot of tokens saved up, you can tackle the crossword puzzles and other similar games where you will need lots of hints.
January 25, 2013
Loved it so much, I searched out the app for my phone
This game can quickly become addicting. If you enjoy the variety puzzle magazines, then this is the type of game for you. I enjoy that I can play the puzzles that interest me more, such as lin-pix, while putting off the puzzles that I have to be in the mood for. To find the instructions to each puzzle, you just pause the game and press the little "i" button. The only complaint I have is that you can only save one in progress puzzle at a time.
March 14, 2013
Love, love, love
In spite of some of the negative reviews here I went ahead and bought the game. I figured there were so many different kinds of puzzles, I would just play the ones I could figure out. Well, after stumbling a bit on the first 4 or 5 puzzles, I managed to figure everything out. It wasn't as hard as I expected, and I am having a lot of fun. I have the most trouble with the Takegaki puzzle. Thank goodness for hint tokens :) . I have been having a great time and am on #144 so you can see I'm having a good time.
May 8, 2013
Good Puzzle Variety
This is the third game in the Puzzler World series of games and it's as much fun as the first two. This one has a different variety of puzzles than the other two: Find the Difference, Hangman, Color by Number and Word Find were some of the ones I encountered. These games are great fun and make me think of the old puzzle books I used to pick up on the magazine stand (and still do). Not too difficult, just fun to pass time with.
January 25, 2013
great mix of puzzles
i read the negative reviews and almost didn't download this, however i'm glad i did. brilliant mix of puzzles, i found all the instructions to the games and i could exit the game without any problem. i have played puzzler world on my nexus pad and on my phone, this is basically the same but with new puzzles. i definatly recommend this game
January 28, 2013
I love this game
This game has given me hours of fun. It actually makes me think! There are instructions that explain the basics of how each game is played. I like the fact that there aren't too many available hints. You have to earn tokens to get better hints and earning them does not take very long. I recommend this game to any one who likes word/game puzzles.
April 7, 2013
Have to give it a chance
Since I have Puzzler 2, I was really happy to see this game, once it came out. I have to admit, I was a little sceptical, since it didn't get very good reviews, but I'm glad I didn't give up on it. If you are familiar with the other Puzzler games, the information/instructions are very good. On the screen where you pick the puzzle number, there are 3 buttons on the bottom. The bottom right button (i), is where all the instructions are for each puzzle. Puzzler 2013 is quite a bit more challenging with more and different type puzzles, which I love, since I'm getting really bored with so many HO games that seem to be the majority that are out there now. This one is really worth your money, too. The only negative I would have to say, is that the screens were changed, a bit, so on Linkapix and Suduko , you can't play in windowed mode, because the numbers are too small to see. On a couple of the other games, while you are playing and trying to concentrate on numbers and adding, there will be a big button blinking constantly, which really distracts you. Other than that, I really enjoy these type of games, and would like to see more of them.
February 3, 2013
Outstanding Puzzle Game!!!!!!!!!
This is an exceptional collection of puzzle games. It?s a shame that the devs made the rules for the individual games hard to find for many reviewers. The rules are actually quite complete and easy to follow. They are located in the bottom right hand corner as a pink rectangle with an ?i? in it on both the ?Challenge Mode? screen, ?Master Mode?screen and main menu screen. Unfortunately, if you are playing a game, you must first exit the game to find them. This program consists of over 1500 puzzles divided into 25 different puzzle types including crossword, sudoko, cryptograms, anagrams, word search and even hangman. Three of my favorites are logic games that I haven?t seen any place else: link-a?pix, takegaki and suko. There is even a variation of word search (my least favorite variation) called pathfinder which I really enjoyed! The games are very well programmed and designed. I can?t begin to imagine how much work went into programming all these varieties of games and then creating over 1500 different puzzles. A real labor of love; kudos to the devs!!! You are never really stuck in any game as you are able to earn hints in a pinball game presented after every bonus game. It occurred to me that this program is an excellent way to exercise your brain. Over a short period of time you work on verbal skills, math, spatial recognition, memory, logic, color coordination, etc.. Music is very upbeat. Actually, too upbeat for me and I had to turn it way down. I much prefer zen like music for working on puzzle games. An excellent example of a game with this type of music is ?Strimko? (excellent logic game) where I?ve actually left the music on as background while working at my desk. Overall, this program rocks!!! If you enjoy any of these types of games, you can?t go wrong with this collection.
January 28, 2013
karissa
I love it this game so that why I'm tell every one
January 7, 2015