Deadly Voltage: Rise of the Invincible
A mysterious force from a parallel universe wreaks havoc on a small town as a scientist fights to stop it from taking over the world! With its dazzling animation, super-charged gameplay and electrifying story, Deadly Voltage: Rise of the Invincible is a hidden object adventure for all ages! Plug in today!
Explore an abandoned city
Discover a shocking revelation
Unlimited hints and tips
Game System Requirements:
OS:

Windows XP/Windows Vista/Windows 7/Windows 8

CPU:

1.6 GHz

RAM:

512 MB

DirectX:

9.0

Hard Drive:

638 MB
Game Manager System Requirements:
Browser:

Internet Explorer 7 or later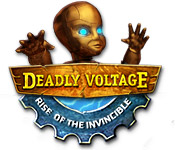 NEW299
The Big Fish Guarantee:
Quality tested and virus free.
No ads, no adware, no spyware.

Reviews at a Glance

Deadly Voltage: Rise of the Invincible
0
out of
5 (
0
Reviews
Review
)
Customer Reviews
Deadly Voltage: Rise of the Invincible
50
50
Too many HOS
Cool game, but nothing special. Definitely for those who prefer HOS over puzzles. - graphics are good, lots of color, crisp, I really liked the look of robots - choice of music is nice but not suitable for this game, I really didn?t imagine jazz in the background while dealing with robots - story is great, I was hooked from the very beginning - 2 modes: regular and expert - you have a journal that contains notes and map( you can use it to travel) - hidden object scenes are good, nice visibility, interactive, but as I sad there are too many of them- disappointed - puzzles are mainly easy, nothing tricky, but for a relaxed play they are perfect Over all, nice game to spent some time on, especially for those who love HOS!
February 22, 2013
Not many special effects, but still good entertainer!
A man will deliver a package to a hotel. On the road hits a robot. The whole city is electrified and a strange man controls the electricity. Find out what's happening! The game is well designed and crisp despite being night. Does not provide the "special effects" or the amusement of others, as collectible, VO, new mini games and great interactivity, but it is a game with many HOS and lots to do, so it keeps the interest. It has many interactive HOS and some known and easy mini games. Music would be good if it were not so repetitive. Ends tiring. Has much comes and goes but the locations are not far away. Well, I had fun despite being a game "old fashioned" compared to games released nowadays. Fulfills its role.
January 22, 2013
Old Timey HO Adventure
Agreed graphics are old timey but decent. This is a game brought to you by the same people who did Natural Threat: Ominous Shores and Oddly Enought - Pied Piper. Options for Music, Sound, Full Screen Aspect Ratio and Custom Cursor. 34 locations 17 hidden object scenes 20 mini games 45 videos Overall, interesting storyline with nicely challenging puzzles, journal and a navagatable map. Agree that items can be tricky to find, but not too bad. Robotic story is intriguing enough to keep you going. For those of you who don't like traveling around in a game - not for you.
January 22, 2013
Robots, Nostalgia . . . Fun
What can I say. I like this game. It is full of hidden object scenes. While the objects are not difficult to find, you will have at least two objects that will require interaction which can be challenging. The setting seems to be in the past. The story is about robots who seem to have taken over the town. There are mini-games (not difficult), hints fill up quickly, and there is a map, though it does not allow you to jump to areas requiring action. In fact, the map is really useless. There is also a lot of moving back and forth from scene to scene which some might not like. I played 40 minutes and will most likely purchase the game. I'm all for hidden object games and this one is full of it. I believe this is a game that some will like and some will not. I recommend that you give it a try and decide for yourself.
January 22, 2013
Another Game From The Vault!
After having played the demo I have decided to pass on this one. Although I enjoy the classics, this game was either produced many moons ago along with the first IHOGs that came out or the developers enjoy the nostalgia of the earlier HOPAs and are sticking to that format. What we have here is a somewhat interesting Sci-Fi story that has us playing a delivery man who stumbles across a town that is threatened by robots gone amok. Apparently there is a parallel universe involved but I really didnt get that far to find out. I actually love Science Fiction but found this game out-dated. Surprisingly the graphics are relatively good, sharp with good annimation although the HO scenes are dark and somewhat murkey making some items difficult to spot. There are no voice-overs which tells me that the budget for this game was very restricted. I liked the music, a cool jazz tune that does not suit the storyline but is not entirely unpleasant to listen to whilst you play. There are two play modes and although there are no sparkles in the second mode, the blackbar tips offer you too much information as to what you need to look for. Gameplay offers you adventure with alot of HO scenes that are slightly interactive. There is a journal along with a map that will allow you to jump and there is alot of jumping involved. Other than the zaps and the sizzles you hear from all the electricity around, the game has no other paticular sound effects. If you enjoy nostalgia, are a fan of HO games and/or are a beginner to this genre, this game may just appeal to you. It offers an interesting story, quick pace in gameplay, lots of HO scenes, very few mini-games that are far too simple and an adventure that involves finding inventory objects and using them to either unlock, repair or apply. It isnt a bad game nor a great game but falls somewhere in the middle. Highly forgettable and if you have a spare credit to spare, it may offer slight amusement. By all means try the demo but my earnest recommendation is to wait for it to come out as a DD.
January 22, 2013
Unique HO !
I for one, really like this game. Alawar always has games like no one else. The drawings are so precise, there's no way you can't tell what everything is. The HO's are a little tough, but if you bear with it, you can find them. I didn't really like the music, but I could get used to it. If I was grading this game, I would give it an A+ !!
January 22, 2013
REVIEW OF COMPLETED GAME
I have read so much negativity about this game and I cannot understand any of it. These Devs have given us a super, solid 6 hour SE iHOPA that is just the bee's knees. I have not had this much fun with a game in a month of Sundays. Gorgeous wide screen graphics with so much detail and so many locations, it's awesome. One of the best story lines in ages. An electromagnetic entity has come through a portal from another dimension and contaminated our world and is trying to take it over altogether. This is the Golden Boy and he is just magnificent. You are the messenger, hired to deliver a package to the town hotel, where you are roped into helping the person responsible for causing all the trouble with this portal he opened. You are directed to open the package and don the futuristic contents, which enable you to deal with electrifcity. This Golden Boy has brought fairy robots with him, which are so beautifully designed they are amazing. They interact with you throughout the game and are always seen flitting around. There are robots dotted around various locations. They ran amok at some point and have since been disabled, but you still get to use them for codes and items you need. If you do not get how good a story that is, then I have not done it justice. It's brilliant. There are many iHOS, its true, but they are so well done, clear and quick and easy that I did not mind them at all. The puzzles are hard for the most part and although a small percentage defeated me, they are still fun. Backtracking is minimal and you never have to go back very far. Even if you did, the mechanics and navigation are so smooth and instant, it is a pleasure to roam around. The music is piano jazz and whilst I am not a fan of jazz, I applaud anything that is not a funeral dirge. It lends style and atmosphere to the game. I wish more Devs would consider changing their music from the usual dismal orchestrals. There is no map but it's unnecessary with this game. There is a journal for all your clues and codes and information on the progress of the game. There are no voice overs but I ceased to notice that very early on, I got so caught up by the game play. This is a really fun, creative, immersive game that is wonderfully designed and created, with everything one could wish for in a game, incorporated with flair and imagination, that gripped me straight off and held me all the way through. From the ending I think there will be a sequel and if there is, I will be over the moon. Thanks Devs. Make more. Lots. Just like this one. Loved it. If you can get this one with a pcc, it really will indeed, be your lucky day. I would have paid CE prices for it, it's that good. It starts off normally, just like any other game. Then it's uphill all the way. I played the whole thing with just one thought on my mind, "Wow, this is faaantastic!". Recommend it? Heck, YES. It's a slam dunk!.
January 23, 2013
A nice game with many things to do!
I liked this game because of the really good graphics, the length of it - about 4 hours - and all of the HOS - real junk piles...! The map allows to jump to a location, which is good, since there are many of them! The mini-games are on the easy side, but interesting. All in all, well worth the money!
February 24, 2013
I Liked It!
The negative reviewers found the game boring,outdated & lacking spiecial effects. They also found the HOS were not interactive enough. On the contrary, the game moved quit well with many tasks to do as you searched for the professor. Also the HOS were not the usual junk pile mess & contained an interactive element. The grapics were crisp & you could recognize everything. Though I enjoyed the game I didn't care for the music or the noise made when something was found in the HOS. I agree that a voice over would have been nice. Don't be put off by the negative reviews & try the game for youself before deciding to buy it or not.
January 22, 2013
a lovely piece of fluff from Alawar
there haven't been too many Alawar games that I've tried and not liked. this one has a storyline that grabs you and cajoles you into wanting to find out what happens next. this is not a super challenging game, but the graphics are nice and it progresses at a good pace. I like having several inventory items, and several locations to figure out where to use them. this game has it! while the characters are drawn in the style of the Treasures of Mystery Island, but the developer has come a long way since then. I'll admit that I missed having voiceovers, but it's not a dealbreaker for me. the game opens up in wide screen, which is never a bad thing. the puzzles could have been more challenging. the hidden object scenes always left an item or two that were difficult to find and required some concentration. the black bar tips, even in the advanced mode, were too informative. the journal had detailed entries, and I was up to about page 42 when the demo ended. there's also a jump map. all in all not the best game I've ever played but it definitely held my interest from the minute I started the demo. I was actually disappointed when it ended. I've got a punch card credit burning up at the end of the month and I think I know just what I'm going to use it on.
January 22, 2013
The Apple logo is a trademark of Apple Computer, Inc.