Lake House: Children of Silence
Long-forgotten memories bubble to the surface when the past invades the present in The Lake House: Children of Silence! Located at the edge of a gloomy lake and shrouded in fog, the house at the center of this story has stood empty for 15 years. Beckoned by what appears to be a ghost, a woman who lived there as a child returns to the house to solve a mystery that begins with an old photograph and ends in a secret room. Find hidden objects, solve puzzles and prepare yourself for an ending that will take you to a place darker than you can imagine!
Over a dozen hidden object scenes
Film projector with eight story clips
Casual and Expert modes
For a more in depth experience, check out the Collector's Edition
Game System Requirements:
OS:

Windows XP/Windows Vista/Windows 7/Windows 8

CPU:

1.8 GHz

RAM:

512 MB

DirectX:

9.0

Hard Drive:

879 MB
Game Manager System Requirements:
Browser:

Internet Explorer 7 or later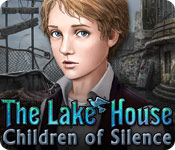 NEW299
The Big Fish Guarantee:
Quality tested and virus free.
No ads, no adware, no spyware.

Reviews at a Glance

Lake House: Children of Silence
0
out of
5 (
0
Reviews
Review
)
Customer Reviews
Lake House: Children of Silence
74
74
Good Value
This is the first game I've played in quite a while that felt worth the money. Everything is nicely done, not too many HOS, 14 chapters, and if you don't rush, you can play for a good 5-6 hours or maybe longer. Overall, a satisfactory gaming experience.
March 8, 2013
too short
Overall, a very fun game but not challenging enough in the "expert" version. If the game had a few chapters and the mini games more challenging it would've hit a home run. #2013#
February 1, 2013
Great game
Good storyline.. the graphic to me is fine enough.. puzzles/ HO not too difficult.. overall a great game...
January 24, 2013
Fun Game!!
I liked this one, mostly for the creepy storyline. The graphics were very good, as was the HOS. There is a map, though not interactive to those who need that. The objects in your inventory are very easy to figure out, so the hint wont be used much. I hope another comes out! Happy gaming gamers!!
June 19, 2013
children silence
The gm was enjoyable;however I can't believe you had a pic of a dead whale They were hunted I know, but so majestic.
February 10, 2013
Missing Something
Graphics are just ok, nothing great & colorful which I prefer. HOGs are typical, some hard, some not. I do not listen to audio - too many games are just dreary or sluggish So I'm just learned to play without it.. There is a great deal of moving back & forth which often is ok in some games but here there is No understanding (at least to me) of why and what to do next. I'm using Hint much too often. I can also only stand to play about 15 min. at a time - I keep playing because I bought it.... I realize there is a story here but I don't get a lot of it in playing the game.
February 21, 2013
A childhood of pitfalls, and unfortunately, plot holes.
I really really wanted to love this game. And if you are more prone to play games based on the graphics and mini games alone, not the actual story line then you will LOVE this game. But I love games for the stories themselves, which is why I was severely let down in this game. I am not going to reveal anything in this review that would spoil the plot at all, but for the first time I wish I could...I can say that the plot involves a mystery that is completely ruined within the first hour by an anonymous voice that is completely recognizable. The end, while satisfactory, does NOT explain how it would be possible for the events to unfold the way they had over the years, even with the magic and fantasy thrown in. Completely non-existant mystery ruined by the voice overs...and the one part that I wanted explained at the end made absolutely NO logical sense. Details in the game were illogical...a loving tight-knit family that would allow their children to endanger themselves within view of the back of the house? Really? One family's heart ache drives an entire prosperous town to ruin? Even as a fantasy style game...I was completely uninspired and frustrated by it. This game tries very very hard to be a physiological childhood angst game but any person looking for a game that gets them involved in the characters and stories will be sorely sorely disappointed. However, the graphics were wonderful, the mini games were great and some were a bit new or different which was nice, the flashbacks themselves were handled with a twist, and the HOs were the normal junk piles. If you want a game for the adventure/HO, by all means, this is a great great game. If you want a game that is plausible and connects you to the story and has surprises thrown at you, no. Still recommending because of the length and puzzles.
June 24, 2014
Could Have Been a Great Game
I tried this game and love the story line, but the graphics was just awful. Very Out dated. If they fix this with clear, sharper graphics I would buy this in a heartbeat. Sorry but this is how I feel.
January 23, 2013
Enjoyed.
Tough at times but OK. Good graphics. A lot of gaming.
March 2, 2013
Bit dreary but good story
My REVIEWs ARE OF FINISHED GAMEPLAY here it's the SE. I didn't like this game, when the demo ended I was so-so about it so decided to use a free coupon on it. I thought the graphics in the demo was about the best at least some scenes had colour to it even if most scenes seem to be drudge and dreary but shortly after the demo the graphics got a bit more grey (most still had some colour to it but some didn't) but I just don't like that kind of graphics - bit washed out, not sharp so that didn't help either. I get it's supposed to be an eerie game but don't understand why the cafe for instance in the demo just looks dirty and unkempt - why eat there? For me that's how it came across instead of atomspheric, and basically I find these kind of graphics depressing. I know graphics have a huge impact on a game so if you don't find that at all about the graphics you'll probably like it. I found the 15 puzzles mostly to be easy, I didn't like most of them not just because of the ease of them but either the type or how it looked. Most were uninspiring except for a couple. I think I counted some 'interactions' at the beginning which weren't technically a puzzle with a skip button. So the numbers are rough. There were 18 list HOS - mildly interactive. I would class at least 2/3rd in the junk pile realm and quite a few were dark and dingy looking in the middle but at the end they were better. There is a random click penalty which is annoying but no sparkles even for HOS on the hardness I played on. You do have to backtrack and check on the HOS as they repeat about half of them (you play them twice). You can change settings midgame. There is a hint button and skip button on hard. There is no transporter map but a map in the journal which does gives hints as it tells you places there are things to do in, I did use this especially half way through to the end as wasn't liking this game. As there is a fair amount of backtracking in it, don't know why it wasn't a transporter map as that was another thing I didn't like. The opening of the game re story had me interested, the graphics at the beginning were OK to quite good but with how it turned out with graphics, gameplay, hos, puzzles I couldn't wait for the game to end. The one good thing about the game was the story, it was interesting but I didn't like how the characters zoomed in and out. You play as Henry the fiance, don't want to say anymore as it's a spoiler. I did think how they did the story - through some letters, film and cutscenes was very well done and how I like a story to be told. The ending I would say is sort of finished although at the very end it's trying to create suspense with the ending, having you wonder but it may continue into the CE. Either way I couldn't say it was 100% tied up for a SE player as it doesn't seem that way to me but a CE player may tell you if it was. I felt OK with the ending for a SE player, even if I would prefer they didn't do that. About 1-2 yrs ago I would have enjoyed this a bit more, but have played so many games with that type of graphics and strip away the story (after all it is a game not a novel) the gameplay is uninspiring, backtracking, bit blah puzzles, dreary graphics, not even the plot could hold it together for me. But as I said if the graphics are OK for you, or if you don't mind that kind of thing, and if you love a bit different plot then it's certainly worth a DD or coupon. It just wasn't for me, but check it out for yourself. Time about 4hrs - Used the map in the journal, and some hints in the HOS.
January 23, 2013
The Apple logo is a trademark of Apple Computer, Inc.