Mahjongg: Legends of the Tiles
Ten new ways to play this classic tile game in Mahjongg: Legends of the Tiles! New and innovative game modes blend traditional tile matching with the latest game styles such as Solitaire, Concentration, Tetris, Memory, Match 3 and more! Play a quick, relaxing game of Mahjongg or settle into an extended adventure that can unlock secret levels. Travel to exotic locations and collect rewards to reveal more exciting challenges.
Relaxing or fast paced play
Detailed backgrounds and elaborate layouts
Import your own photos to customize
Game System Requirements:
OS:

Windows XP/Windows Vista/Windows 7/Windows 8

CPU:

600 Mhz

RAM:

128 MB

DirectX:

9.0

Hard Drive:

111 MB
Game Manager System Requirements:
Browser:

Internet Explorer 7 or later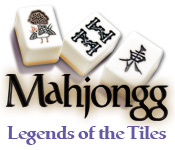 NEW299
The Big Fish Guarantee:
Quality tested and virus free.
No ads, no adware, no spyware.

Reviews at a Glance

Mahjongg: Legends of the Tiles
0
out of
5 (
0
Reviews
Review
)
Customer Reviews
Mahjongg: Legends of the Tiles
15
15
Play like YOU want to play! timed/un-timed; Choose style of play, layouts, background & tile, Even create your own! AWESOME, Thanks Developers!
BFG Review-Mahjongg Legends of the Tiles 128MB RAM; 111 MB Hard drive Import your own pictures and create your own boards 15 spaces available for Name, 5 player slots, name will be on lower left of screen After entering your name you have a screen Listing Adventure, Zen Mode, Options, Create Layout, Achievements, High Scores & Quit. Options has music & sounds on sliders & a box to un check for full screen if desired. The volume does not slide adjust, it is more of increments of adjust-ability I would have liked turning down one more notch before the music went silent as I did like it just not quite as loud with my ear bud. Achievements are symbols of 25 Ancient Chinese emblems such as gong, dragon, swords, lanterns & bells to name a few and were given for completing in a set amount of time, not using hints, not having to shuffle, receiving the highest score etc. You could click achievements to see the awards you have won. I started in Adventure which had a timer that immediately started in the upper right corner (counting up not down) and had me concerned at first, but I had no need to worry with this game. I had many choices and had the freedom to play Mah Jongg in the way I wanted to play. As I finished a layout the achievements I earned flashed up on the screen & the score board for that layout was posted, my new score added. You then can choose to replay to try to improve your score & increase your achievements or you can continue to the next layout. Since there are at least 7 top scores for each layout(sorry I forgot to count for the exact number), you will see the score board after each time you play for a while, but it does not take long to move onto the next layout. I played about 6 levels in Adventure mode & along the bottom of the screen it showed # of matches available, Undo, Shuffle, # of tiles remaining & Hint. If there were no more matches a small bell sounded to let you know there were zero matches available and our options were to shuffle or undo. A few times I missed the bell, so be sure to keep an eye on that area so you don't waste time looking for matches that are not there, or just turn the volume up so it is not as easy to miss the bell. If you must shuffle you have a certain amt of points removed from your score but I was able to re shuffle how ever many times I needed to be able to complete the board. The timer never stopped you. Your score for the layout was just effected depending on the amount of reshuffles you required as well as the time you took. The backgrounds were beautiful scenes from around the world that varied greatly from ancient pyramids to South of France beaches and villas, the tiles used were clear and easy to recognize as a familiar common Mah Jongg tile. I then went to Zen Mode where I was able to choose game variation between Solitaire, Memory, Doubles, Waterfalls, Flip it, Nanjins, Hide & Peek, Four Rivers, Golden Dragon & Collapse. After choosing the style of play you want to try you then choose one of 30 layouts with up to 75 layouts that will unlock later. You then choose the background to play the layout on and again you have 30 choices with up to 75 that will become unlocked. Then you choose the tiles you wish to play with and 6 start out unlocked with a total of 15 types of tiles that will unlock. A few of the names of the sets were Chinese Legends, Arabian Night, Wild Wild West, Hindu Script, South of France, Chinese Garden, Middle Ages & Lost Atlantis. All tiles seemed clear and the few I tried were easy to play with. The backgrounds are beautiful scenery from around the world. Scenes that I could enjoy looking at but never seemed to distract me or make it hard to make matches either. Then there is part of the program for you to download your own pictures for your back grounds and for those who enjoy creating layouts that is also a possibility with this program. How fun! If I am understanding it all correctly that would mean we could download the pictures from our CE's with those options then play these existing layouts or create our own layouts to use on top of them. So when we need a break from the current game we are in we can come here and have parts of that other game here also. I most definitely recommend this game to those who enjoy Mah Jongg. My plan is to use one of my PPC's after the first of the month, now if more games come up by the first I just may fill another card by the first and get this one immediately!! Give it a try and see what you think!
January 25, 2013
Re-Do of Brain Games - Mahjongg
The developers have taken my favorite mahjongg game and made it better. They have added tile types and more colorful backgrounds. The original game had wonderful tiles and backgrounds. I bought the game because of the music and wound up loving it because of the tiles and backgounds. My one complaint is that the connection to the original game, Brain Games - Mahjongg, has been lost because of the new title.
January 26, 2013
Great especially for the unusual tile sets
The other reviews pretty much tell you the great variety this game offers, but I'd like to say a few words about the excellently designed special tile sets. Each has the basic makeup of Mahjongg tiles, but you get numbers and characters appropriate to the set. For example, the Mayan set uses Mayan calendar symbols, and the Medieval set uses Roman numerals for numbers. My favorite is the Arabian Nights set, which uses Arabic letters and numerals. This is easier for a person who can read the Arabic letters (like me#, but not impossible for anyone who just looks at them as random symbols #hint: Arabic is written from right to left, so if you look at the tiles from that direction, they will be easier to tell apart). I found working with those different tile sets to be very brain-stimulating and a lot more fun than just the same old Chinese sets.
March 10, 2013
Lula Enders
This game has capabilities of moving tiles around unlike any game I have ever seen. You can actually move any tile you want around to make it available to match up & remove. I have never seen this before. I applaud whoever programed this game. I thank you also. With there being so many options in changing up your games, it NEVER gets dull. I can't play just a few games when I get on Mahjongg Legends. I find myself still playing 3 or 4 hours later. I get totally immersed in this game. I can only think of one game that is equal to this one & it is also a BigFish Mahjongg game. I have bought & played many Mahjongg games throughout the years. LOVE IT, LOVE IT LOVE IT!!! Being disabled with only limited capabilities, I am bedridden or in a chair most of my days. That leaves my options of TV or games on my laptop. Games help me push through the pain I have lived with for 20 years now since my injury. I speak with great knowledge when I give a review as this is the first 'Review' I have ever given that I remember. That, for me, speaks volumns, when I give an excellent on each of the 4 choices listed above. You will not regret trying this game, but better yet, purchase it! You will have unlimited playing of one of the 2 BEST MAHJONGG GAMES EVER.
September 3, 2013
LOVE IT!!!
Like all the others here, I absolutely LOVE the game... so many nice variations of game play, tiles, backgrounds... very nice..but I would love a restart and an undo button. I would also love to know what the scoring rules are. I've not been able to find them anywhere
December 17, 2013
fantastic
Super Mahjong - The layout is nice difficult -
January 26, 2013
Mahjongg Journey of the Tiles
I purchased this game for 6.99 on Oct 4 2014. It worked for a short time. When I contacted the toll free 800 number they wanted to charge me 149.00. Will not purchase another game from them.
October 20, 2014
Top Marks !
What an excellent game. I've had it now for several weeks and always play it whilst eating breakfast. Starts the day well... I'm still blown away by the versatility of the game as it's so much more than your average mahjong. Many game modes to play in, plus tiles to match whatever layout you choose to play. The sharpness and the colour of the tiles is 100% so even if your eyesight isn't perfect you won't find yourself needing to press your nose against the screen. This game will be a keeper.
March 29, 2014
I love the mahjond
A game(set,play) of mahjong as I like(love). Of numerous choices of tiles(blows). Of multiple capacities(measures). A Zen mode. We always manage to finish the game(set,play) with the function(office) mix ". Bravo for this game(set,play).
January 24, 2013
Good game, several variations.
Good graphics, colorful, but the music is boring. Better play without sound. - You can play adventure or zen mode. - Has traditional and more 9 game variations. - 85 layouts and you can even create a layout. - 85 different backgrounds. - Some layouts and backgrounds are locked. You have to progress through the game before you can use. - 15 tile sets. - Has hint, shuffle and number of possible matches. - Several achievements A fun game, nicely varied that provides hours and hours of entertainment
January 24, 2013