Chimeras: Tune of Revenge Collector's Edition
During a celebration, a mysterious organ grinder appears, selling fortune cards for a penny. When the first victim falls prey to a mysterious beast, you rush to discover who this organ grinder is and what he wants. He claims revenge for the death of an innocent man, but what really happened on that day thirteen years ago? And who is trying to cover it up? A web of lies and deceit await you in this darkened city that was once so full of happiness. Uncover the truth and unmask the true villain in Chimeras: Tune of Revenge, a thrilling Hidden Object Puzzle Adventure game.

This is a special Collector's Edition release full of exclusive extras you won't find in the standard version. As a bonus, Collector's Edition purchases count toward three stamps on your Monthly Game Club Punch Card!

The Collector's Edition includes:
Integrated Strategy Guide
Bonus chapter featuring the organ grinder's fate
Collectable curse cards and supernatural pets
Downloadable wallpapers, art and soundtrack
Additional mini-game
Game System Requirements:
OS:

Windows XP/Windows Vista/Windows 7/Windows 8

CPU:

2.5 GHz

RAM:

1024 MB

DirectX:

9.0

Hard Drive:

1013 MB
Game Manager System Requirements:
Browser:

Internet Explorer 7 or later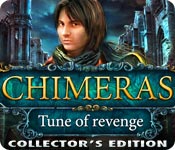 The Big Fish Guarantee:
Quality tested and virus free.
No ads, no adware, no spyware.

Reviews at a Glance

Chimeras: Tune of Revenge Collector's Edition
0
out of
5 (
0
Reviews
Review
)
Customer Reviews
Chimeras: Tune of Revenge Collector's Edition
112
112
Good postition!
I'm in general not a fan of Elephant games but this one was pretty cool! Many photo-like locations but those which was painted looks soooo good! Very interesting story, plot and monsters which we all know. Just to play :)
August 9, 2013
A good game but ...
This is a typical Elephant game. There is a lot to do, pretty and crisp graphics, nice music and a long playing time. But somehow it just didn't grab or excite me. This is the 2nd CE I've recently purchased from Elephant that has been a disappointment. There were only 10 collectibles and the CE extras were a joke. I would recommend the SE but save your money on the CE.
April 9, 2013
A really fun and entertaining game!
I just finished the Collector's Edition and Bonus material of this game. I really enjoyed it and would have given it 5 stars if the main character's voice had not been seriously annoying, very Cockney English, and the main game had been a little shorter. I liked the game, but I liked the Bonus game even more. It was less involved so it moved faster and was more fun. The whole thing took me a good while to finish, although, since I'm stuck in bed after knee surgery, I really didn't count hours. I was very impressed by the graphics and the music. They are lovely and add a lot to the enjoyment of the game. I usually like Elephant games and I was not disappointed. This is a lovely addition to the pond.
March 15, 2013
Very good
This game is very good. The music is very good. I didnt find it too challenging. All the HOS and puzzles were actually pretty easy to me. I didnt use a single hint at all throughout game. The graphics were very good. The storyline was very good too (revenge). There are a lot of bonus content(songs, wallpapers, bonus gameplay, extra puzzles etc) which is nice for once. There are many collectors editions that hardly have anything.
February 28, 2013
My kind of game!
I think this game is great - a must buy for me. The HOS are pretty easy, which is perfect for me as they are only secondary and not my reason for playing BF games. If there are too many HOS I lose interest. I enjoy the story. The music adds to the ambiance and suspense. What I don't like is the demo ending before the full hour of play. That has made my decision not to buy a game in the past - it irritates me to no end!
February 24, 2013
So much fun and great atmosphere!
I absolutely loved this game! I would have given it 5 stars, but I didn't thoroughly enjoy some of the minigames. Still the graphics are amazing and I thought the weird creatures and mysterious atmosphere was fresh and interesting. I would recommend this game to anyone who likes HOGs with a good story and something a bit different from all the the other HOGs.
February 22, 2013
Short CE - bonus review at bottom
REVIEW (as usual) ON FINISHED GAME I rate CEs and SEs so differently as the CE is double the price so I am not recommending this CE version of the game on length alone. If it was even 45mins longer I would. There are other considerations as well why this game isn?t working for me and for a CE although I had fun in parts. PLOT It?s a junkpile plot ? lot of things going on but never quite working in harmony with each other. The plot is a bit like detective quest ? creatures are cursed and you have to uncurse each creature. There is a background story of girl wanting to rescue her father. I know I have an attention span of a gnat in games and like a lot going on but not in stories as you are never then fully invested in any of them if there are so many stories and widely varied creatures. I honestly thought this game felt more like an ERS game, in plot and in easiness of puzzles and the feel of the game. I did manage to play through the gigantic snake (which wasn?t in much of it thankfully). I realise this is one of the cotton candy fluff plots (no depth or substance to it) but it was all over the place. GRAPHICS I know when it?s not elephant?s A game as there are inconsistencies. I know a lot of people work on games but some scenes look hand drawn and not that sharp and others look like ?elephant? trademark. The HOS also were so varied in type and look but no consistency in graphics. Some ultra sharp and clear others not but at least you can make out what each item is. 12 list HOS Always the same with elephant (thankfully) ? no random click penalty, never repeat, no sparkles on HOS scenes in either advanced or hardcore. Here it?s all list type, some more interactive than others, mostly junk pile. They have done far better HOS in other games, in graphics and look. No tiny items or well blended in. 12 puzzle I know most devs give ultra simple puzzles in the beginning and here it?s no exception with a literal 3 click and turn rings ? it?s not even a rotating ring puzzle! I can?t even say varied hardness as there wasn?t a hard puzzle in them and at the most, for a HOPA only about 3 could be classed about medium hardness. If puzzles are unique enough or fun enough, I don?t care how hard or easy it is but if it?s one we have seen before then to make it interesting it has to be at least medium hardness ? a puzzle I can sit down with and take more than 1-2 minutes to do. The easiness is more pronounced as gameplay wasn?t hard, or that unique (mostly but it did have moments) and as usual they have black bar tips on hardcore. I have grown accustomed to it and don?t look at top of screen but it?s the map tips that are very obvious. I?m now fed up with saying I?d love if map tips could be turned on and off like another DEV, as if I?m in a lazy mood I?m sure I?d want them a couple of times. I do try not to use the transporter map but as I hate backtracking like poison, which this game had a lot of, especially near the end I used the map (BTW there is a lot more active locations than the map shows). Since royal detective I have found elephant is making most of their games all round way easier and shorter as well so their oldest customers who liked them as they were one of the harder DEVS around, I feel they don?t care about us anymore and just cater to the new people who are discovering them or only play their recent games. I keep expecting their next game to bring us back again but this isn?t it. EXTRAS 10 morphs (lost pets) not many and very obvious even sparkles on hardcore (seriously I?m not joking ? they are so big to begin with I couldn?t believe the ?sparkles?.) 8 are in main game and 2 in bonus. Lost pets is just a screenshot of the 10 morphs you get in the game (2 in bonus) it?s a bit more interesting than a medal in the achievements room but that?s all the area is, completely non interactive. Cursed cards - I don?t understand as it?s just cards that you have to pick up in gameplay ? very obvious not collectables. Bestiary is 9 jigsaw puzzles of the main baddies in the game (at least that had different shapes and is a bit different but with bad collectables, it?s the only real extra in the game which isn?t enough for me.) Extra minigame you make limited music in a barrel organ ? you get 3 discs which are 3 different sounding melodys on (one melody a disc) and 2 barrels which change the tone of it. Bit different but not as good as it sounds. 4 music, wallpaper, concept art, BONUS play 3 hos 4 really simple puzzle 2 morphs are in bonus The plot ending is 100% tied up in main game. The bonus plot they literally took the last scene in the main game and decided to suddenly change it and you help that character throughout the bonus. You didn?t need it at all, and I thought the ending in the SE was better so you didn?t need the added plot (or was that interesting) but it ended up the same ending anyway in the CE. About 2 scenes were brand new but quite a few scenes were changed so much to be nearly new and actually a couple of beautiful ones in it. It was about same quality as main game but it was just on the hour. One of their poorer bonus games I thought. The main game took me 3hrs and 30 mins. I don?t give 5 stars out to CEs that main game is 4hrs and have been voicing my concern with this DEV for shortening some of their games recently but this is going into other DEVS shortness and again I have to say something or they think this is acceptable which it?s not. For a SE I?d be mentioning shortness in a game but a CE sorry think it?s dreadful. They used to do such long and quality and harder games so I know they can do it on the budget.
March 2, 2013
Spoiled by the oldies.
Colorful, crisp scenes make this game better that the usual fare. The story is standard. The creatures are more comic book fun than scary. The HOs are pretty, but easy, as are the puzzles. The vo for Nigel is so bad that it had me laughing. There is much running around with inventory items, but the map helps. Guess I have been spoiled by the great games of past years. Lately, there have been none to get excited about. This game included.
February 28, 2013
Wow, Been there done that.
First-if you are new to these types of games than this review will not be helpful, there is challenge to be found but only if a person is new to this kind of game.....Maybe I have played to many of these types of games. My favorite games are the large file games, they offer the highest level of challenge, which is why I came to BigFish so many years ago. This game flows well and offers some challenge, and yes the visual and sound quality is good/ok, but it should be considering how new the game is and where the level of tech is these days. I will say that they did UP the Hidden Object scenes to the point where I used the hint button, not because I just wanted to move through as fast as possible to get a so-so game over, but because I could not find the item. You will not need a walk through with this one. I was very happy to learn there was no jump map, because of this fact, I give the game a rating of 3 stars. Some might say I should raise my skill level, but there are times when I need to use a walk through or a guide. So based on this perhaps I might be to hard on these games, still this is how the game was for "me". I am stunned that the experts rate this game so high, not sure what that is all about, this game offers no challenge to an expert. (someone who uses no help period, which just my opinion)
April 24, 2013
Mediocre!
I hate to be the only one that thought this game was just okay but I did! The demo only lasted 35 minutes which does not bode well for the length of the game as a whole, and there were so many HOs in that short time that I lost interest. I love these devs as many others do but this game just did not grab me in the way that most of their others have...sorry!
February 23, 2013