Spirits of Mystery: The Dark Minotaur
Exclusive
In the dark of night, an elusive figure breaks in to the royal menagerie and steals four magic animals, your childhood companions and dearest friends. It is up to you to save them! Take the journey to discover more about the Dark Minotaur who threatens the magical world. Can you save them in time?
Beautiful art style
Find the stolen animals!
For a more in depth experience, check out the Collector's Edition
Game System Requirements:
OS:

10.8/10.7/10.6/10.5

CPU:

1.4 GHz (INTEL ONLY)

RAM:

1024 MB

Hard Drive:

658 MB
Game Manager System Requirements:
Browser:

Safari 4.0 or later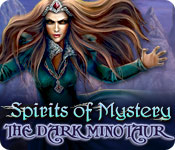 NEW299
The Big Fish Guarantee:
Quality tested and virus free.
No ads, no adware, no spyware.

Reviews at a Glance

Spirits of Mystery: The Dark Minotaur
0
out of
5 (
0
Reviews
Review
)
Customer Reviews
Spirits of Mystery: The Dark Minotaur
60
60
Good hidden object and puzzle
The art work was well done. HOS complicated enough to be challenging.
January 27, 2013
Great Game!
Downloaded demo and played 15 minutes before I bought, had to have it! Glad I did. Good storyline, nice graphics.
January 26, 2013
Fun Game
I liked this game. The graphics and sound were good. It was a little differcult, but I was able to figure out what to do. I did use the hint button sometimes. I got stuck on the well, but I did get through. I is a fun game to play. I would recommend this game.
January 26, 2013
Good game!
I downloaded the demo, telling myself that I didn't have to buy it. Right. I played the usual 60 minutes demo, got kicked out because my time ran out, bought the game and just continued playing. It was awesome. It's a beautiful game, not too dark as it is so often. The story was nice, not more, but that wasn't really important! The game was very entertaining, so it's a really good choice!
February 15, 2013
Thrilling & Beautiful HO Game!
Very good game! Good graphics, sound, storyline and more! A beautiful fantasy also...! Love this game :D
February 8, 2013
Spirits of Mystery: The Dark Minotaur
Help the princess find her magical pets (panda/tortoise/cat/nightingale), which were stolen by the evil witch and her mage. Each pet you rescue and feed will create a useful item. Graphics are beautiful, creatures are mesmerizing, and music is soothing. The interactive HOS and minigames are mildly challenging, but beautifully rendered and fun to play. Items are used soon after acquiring, so there is not excessive backtracking during the adventure. Storyline is captivating with closure at the end of the game.
January 30, 2013
Couldn't put this one down!
Wow, I have to say, this one really took me by surprise. The reviews were good, but not great, and although I had briefly considered it in the past, it was only a Daily Deal that made me ultimately buy it. But this was actually spectacular! QUICK TIP FOR MORE EXPERT PLAYERS: I often like to play these on the hardest difficulty possible (as long as I have the option to switch back, ideally, haha) BUT in this case I tried going back and forth between the middle and hardest difficulties to see if I was missing much by not having the black bar tips in terms of interesting commentary. As it turns out, I was ? there were multiple amusing/sarcastic lines that added to my enjoyment once I realized early on that it was worth it to keep the ?tips? on, even if I didn?t want the ?tip? part of it. Thus, I recommend the middle level of difficulty because the occasionally funny commentary is worth it. THE GOOD (for me): -Extremely interactive in terms of the storyline. You really feel immersed in the story. I had read some people say that, but it is true for this game more than most I?ve played. And as mentioned, the commentary was generally a lot better than average, and some of the ?solutions? themselves in the gameplay were amusing, too. I had a blast. -Lots of puzzles, most of them pretty good! Some of them were medium to hard, which I liked. I pretty much never skip puzzles, and there was one that I struggled with for wayyy longer than I?d like to admit, haha (mainly because that specific puzzle type is harder for my non-linear brain to fathom, apparently, not because it was not-doable.) -The animals. Not too cutesy or anything, but I do love animals and they added some fun to it; I still would?ve given this game 5 stars without them, though, just an FYI. Although, I would?ve liked to know what happened to that one furry sidekick that was working for the other side? maybe that was in the CE, which I now wish I had gotten. And I don?t usually feel that way! THE BAD (for me): -Too many HOS, and the List ones were a bit too tough for my taste. Normally I don?t like very many HOS ? and there are certainly games out there with a lot more than this one had ? but I wanted to mention this for others in case they really hate HOS rather than not be a big fan of them in anything other than smallish quantities, like me. The fact that I still really enjoyed this game and am giving it 5 stars despite this is saying something. - There were a couple of glitches, one of which required that I skip a puzzle. The other minor glitches/errors did not affect gameplay. COMPARISONS: I hesitated to buy this partly because the reviews compared it to the Awakening series a couple of times, which put me off. Yes, throw stones if you must, but I have to admit that I?m not really a fan of the first couple in the Awakening series (which are the only ones I?ve pushed myself to complete thus far of the 4 that I bought at once during a bundle sale without trying them?*slaps forehead*) To me, this was VERY different than the first 2.5 of the Awakening series because there was more drive to the story. I felt an urgency to continue in Dark Minotaur, in a really good way. It was exciting, like a real adventure. It was bit dark without being too dark, yet full of magic and beauty. My point of all this is that, despite it having more HOS than Awakening, I liked this light-years better because of the storyline and level of challenge (which was higher than the first 2.5 Awakenings), as well as the music, and quirky comments, and music?etc.etc. That?s just me. BOTTOM LINE: You will probably like this if you?re similar to me in prioritizing the adventure aspect and a good storyline, with beautiful graphics too, of course. Even if you have a bit of an aversion to HOS, I think you?ll like this.
January 28, 2014
Lovely game
I loved exploring different scenes in this game. Beautiful, intricate artwork and relaxing ambient sounds make exploration an enjoyable experience. I can take the time and appreciate all the elaborate construction. The puzzles are innovative, not the standard hidden object fare. Some are like mini storybooks.
July 16, 2013
Smart and magical
For one thing it is beautiful. Some scenes are breathtaking. The puzzles are not too difficult, but some take a smart twist. The game had me at the dragon cube with two HOGS scenes that switch when pressing a button. There it was find the object whose silhouette it is, and then find where to put it. They had the regular HOGS but even then you got to open and close doors. or had to light the scene up. Enough variation to keep you interrested. One mini game has you finding the monsters in the swamp with a magic mirror. The puzzles are not hard, but the fun quotient goes up with such twirsts. Then there is the invisibility potion, which runs out on you twice. There is no map, but you do not need it, as you usually do not leave an area until you have finished with it, and it only at most five, six rooms. You do get to go back to some scenes, but you come from a different route, and it is not too hard to remembeer where to go, as there is a pending task and you know where that is. A great fun game in all.
April 29, 2013
EXCELLENT GAME - THERE'S NOTHING DARK ABOUT THIS!
An engaging Fairytale storyline - a very relaxing and entertaining game with bright and vivid scenes throughtout. The gameplay is very smooth, with a natural flow. It is challenging but at a level that means any player can complete, after a pause for thought! A great idea to bring the animals into play and younger players will love feeding them. The title may include the Dark Minotaur but rest assured this game is bright and colourful and good value I feel to all BF gamers.
March 30, 2013
The Apple logo is a trademark of Apple Computer, Inc.
The Windows logo is a trademark of Microsoft, Inc.