Spirits of Mystery: The Dark Minotaur
In the dark of night, an elusive figure breaks in to the royal menagerie and steals four magic animals, your childhood companions and dearest friends. It is up to you to save them! Take the journey to discover more about the Dark Minotaur who threatens the magical world. Can you save them in time?
Beautiful art style
Find the stolen animals!
For a more in depth experience, check out the Collector's Edition
Game System Requirements:
OS:

Windows XP/Windows Vista/Windows 7/Windows 8

CPU:

1.4 GHz

RAM:

1024 MB

DirectX:

9.0

Hard Drive:

649 MB
Game Manager System Requirements:
Browser:

Internet Explorer 7 or later
Fantasy Violence
Mild Blood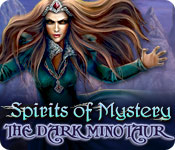 NEW299
The Big Fish Guarantee:
Quality tested and virus free.
No ads, no adware, no spyware.

Reviews at a Glance

Spirits of Mystery: The Dark Minotaur
0
out of
5 (
0
Reviews
Review
)
Customer Reviews
Spirits of Mystery: The Dark Minotaur
66
66
Ok, but a little frustrating at times
This is the third HOG I have purchased here, and the only one I have been frustrated with so far. I got stuck a few times and the hints are pretty much worthless unless you are in the exact room or spot the hint can be used in. It locks you into small segments of the map. There are no map views. There is no option to restart the game, you have to pick up where you left off. There aren't very good instructions for the mini games, so sometimes I just had to click randomly. "Grim Tales: The Wishes" & "Detective Quest: The Crystal Slipper" are far better games. This one wasn't terrible, but I'm glad I got it on sale. It isn't worth a whole lot.
April 5, 2013
Princess Imperfect
Ah, yes, once again we have the dreaded "I should look someplace else" hint system and no map. I did need to check the walk-through once which I haven't had to do in ages, and several times in the HOS I did use two or three hints to find the hard-to-spot objects, or because I was starting to feel bogged down, frustrated, and anxious to move on. Puzzles could be skipped fairly quickly. There were some potions and other things to put together -- not my favorite thing to do. It seemed like most of the game was looking for the stuff you needed to make other stuff! I think at least once you make a potion to add to yet another potion. This seemed like a very long game. I played it straight through, but toward the end I was beginning to wonder when it would finally be over. The ending was quite abrupt. Oddly, as a result of the sudden ending, I couldn't quite remember why the princess had begun the adventure. Oh, right... to rescue her favorite animals. It would have been nice to show her bringing them back to her realm and getting them settled again into their little homes. Instead, the animals had become mere devices for use in her quest to destroy the minotaur and foil the evil witch's plot. Good but not great, and not one of this dev's better games.
June 1, 2014
Disappointing and Another Poor Ending!
I like games that have a sweeter factor than most HO's so I thought I would enjoy this game. I was entertained in a casual, relaxed way, but I expected more use of the lovely animals and the fearsome Minotaur. It's like the story line got forgotten. Sigh, I hate boring, nothing happens endings. No fanfare that the evil was expelled and the animals safely back home? No celebration? I'm celebrating that I didn't pay too much for this game and will be having a bit of fanfare when I delete this game from my computer. Once was quite enough to play this one. I'll recommend this game as a once play if you have nothing better to do.
December 25, 2013
Odd story distracts from gameplay
This game probably isn't that bad, but I couldn't spring for it based on the demo. Apparently I'm playing a princess who starts out in her own bedroom, where she needs to collect items and keys to unlock her own jewelry box. Why don't I know where things are in my own room? The princess is quite the animal lover and when her private zoo is looted, she's determined to go rescue her animal friends herself. But an early puzzle involves freeing a koi fish from a fishing net... by hooking the fish with a fishing pole! If the princess is such an animal lover, why is she making her beloved koi fish swallow a barbed hook? To add insult to injury, the character has a scoop net, which she puts the fish in after hooking him, supposedly so that she won't 'hurt him' while she untangles him from the fishing net. Are the developers aware that a hook through the lip hurts? And then there was an evil witch and a prophecy that I'd be the one to defeat her. Wait, I thought I was looking for my lost pets? I guess that didn't seem dramatic enough, so instead it's a different cliche. The rest wasn't bad, just very rote and formulaic, and it seemed like not much thought went into the story. The art is good, the puzzles are typical for this type of game. I just felt the early weirdness in the story probably didn't bode well, and the other elements weren't enough to overcome my exasperation with the story.
September 8, 2013
Work on the bugs
I'm a bit irritated with this game. It kept shutting down on me so I'd have to open the game over and over again until I turned off the voices, music and custom cursor. The music was bugging me anyway. The lag in the mouse was nagging me a bit though I do like that we don't go back and forth to the same area we started in. The magical animals were cute but only the first one gets noticeable use. The rest are used once near the end so it's easy to forget their in the game at all, which is bad since they are supposed to be a big part of the plot of the story. We also meet some characters who's only reason to be there is to make the game seem longer. Next time give us more to explore, fix the controls and visual images, don't forget the plot of your story, make less annoying music, add depth to your characters and don't add random people/things in just to make it a proper length game. Don't waste our time with pointless drivel after the demo! This is yet another game I'd recommend buying on sale as an SE cause it isn't worth full price.
April 10, 2013
Spirits of Mystery: The dark Mniotaur
Not bad game. Story line and graphics are very typical of the ERS Studio game output. To me, the graphics seem to be a bit "cartoonish" to my liking. I have seen better from other programers. I did like the story line and the challenge was average. All in all not a bad game.
January 25, 2013
Not my favorite game
I was expecting more from this game when I read some of the reviews. I have to agree more with the others who gave this game a 3 or less. I would have liked to have had a map, and I didn't like the fact that when I needed to know where I should go next it would only tell me there was nothing to do in that place. After some of the great games I have played before this one, well, this one was such a disappointment. I did enjoy a couple of the hidden object games which were different than I have played before...those were fun. I am glad I didn't spend money on this one...only a free code. I liked the animals...but they weren't in it enough.....they were given such a small part, I thought! This is my thoughts and many may still enjoy this game...I also thought it to be short compared to the others I have played lately. I was done with this in 2 days...and that wasn't even playing just this game. So, that is TOO short of a game for me!
February 2, 2013
nothing exciting
Aside from being brighter and more colorful than most this is a very standard HOPA. Seems as though we've played it before if we've played any of the previous ones in the series. I found the mini games ridiculously easy and the whole game had very little challenge. It did have the addition of an invisibility potion but that really did not add much. Too bad because that's a twist that the developers could do a lot with it seems. But other than you could get by the guards at the castle it did not add a lot of drama. The story was overly familiar and the ending yawn worthy. There's a witch that wants to take over the Kingdom. Her accomplice is apparently the palace hunter?? I did have a few odd moments.. I was figuring out a maze and the next minute I was in a room with the two villans. Not sure how that happened. Nothing new here but it's a bright, colorful rather standard game that's very similar to the ones that came before it. Glad I didn't buy the CE this time.
January 30, 2013
Spirits of Mystery
not as good as other spirit of mystery games. Got bored at times and felt there was not clear path or purpose.
January 26, 2013
not bad - had a few flaws
While I liked playing this game - had some major problems. When I had NO clue what to do next - would have loved to have had a map showing me where there were areas I could have done something. Instead I wandered around way too much and got frustrated. When in the cave - doing the 5 steps - kept coming back to the entrance because it wouldn't let me go to the first one - could hit all the others, but not the beginning. Certainly wasn't going to reload the game just for that! It's okay - you'll have fun - mostly believable - maybe I'm losing my edge - sigh
September 11, 2014
The Apple logo is a trademark of Apple Computer, Inc.