Amaranthine Voyage: The Tree of Life Collector's Edition
Exclusive
During your career as an archaeologist, you firmly believed that the Tree of Life was simply a myth. However, once you uncover a magical artifact, you open brand new worlds of possibility. You're whisked away to a lush world that is slowly being poisoned by a mysterious dark force. Your artifact is the key to restoring this beautiful world, but dark forces stand in your way. Protect the artifact and save this dying world in Amaranthine Voyage: The Tree of Life, a thrilling Hidden-Object Puzzle Adventure game.
Bonus gameplay
Integrated Strategy Guide
Downloadable soundtrack and art
Exclusive behind the scenes video
Re-playable mini-games and hidden-object scenes
Game System Requirements:
OS:

10.8/10.7/10.6/10.5

CPU:

1.4 GHz (INTEL ONLY)

RAM:

1024 MB

Hard Drive:

1115 MB
Game Manager System Requirements:
Browser:

Safari 4.0 or later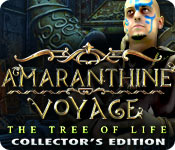 The Big Fish Guarantee:
Quality tested and virus free.
No ads, no adware, no spyware.

Reviews at a Glance

Amaranthine Voyage: The Tree of Life Collector's Edition
0
out of
5 (
0
Reviews
Review
)
Customer Reviews
Amaranthine Voyage: The Tree of Life Collector's Edition
84
84
Good CE, just short of great
This definitely qualifies as a full CE package - SG, collectibles, all the bells and whistles. Quite an engaging story too and rather beautiful graphics. I always play with sound off, so can't comment there. Decent mix of HOGs and games, not ridiculously hard and all well-executed. HOGs are often a two visit affair - once for a junk pile and then a second time to collect 12 of something. These are easy enough to identify in advance and give yourself a head-start. I would have liked an interactive map, but that wasn't a deal breaker in any way. It still shows you where you need to go to complete a task - just doesn't take you there. Can't quite put my finger on what stops this being a 5 star game. Despite the obvious care and attention that went into it, something didn't quite click for me. Still a worthy CE and well deserving of a trial to see if you like it.
February 4, 2013
Great Gaming
This game will keep U on your toes and your mind open
January 28, 2013
Bit of everything, but nothing new...
I'll start with the most annoying thing with this game - the 2 main characters [queen and prince]. They were live/real people, and were overacted and miscast to the point of being irritating. Other than that, the game was pleasant to play. Beautiful graphics, with great cut-scenes [especially loved the narrators voice]. Achievements to earn [although Tutorial achievement included - grrr] and bonus objects to find. Hidden objects were very easy although a couple of scenes had 1 item that was slightly obscure. Puzzles were a collection of the usual - and were extremely easy. Very basic stuff. Storyline was average and game length was fair. Bonus chapter followed on from main story, but not essential to it. More of the same play as main game. Storyline was flawed and full of holes. Also wasn't very long, but still acceptable...just. Would recommend this game, but SE or CE....flip a coin to decide.
February 6, 2013
a lot to offer
Quite a bit of work went into this game and I always appreciate that. There were achievements galore and collectibles also. There was a mystery achievment where you had to make each owl hoot. It also showed your objectives as they were introduced into each scene. There was a diary that you actually had to use to complete puzzles. And some of the mini games were new and fun. The story starts out on a blimp which quickly crashes and you find yourself in some kind of ancient ruins. And that's where for me, the storyline gets a bit wonky. Although I did like how you placed missing peices into circular objects in the wall and they showed a cut scene wth more of the story. The story itself was interesting enough but it just didn't seem to jive with these live actors. But honestly I've played a lot worse games. This one had enough plusses that a kind of odd storyline could be overlooked. i really liked this one. There were also lots of extras. Really well put together package and some value for the money.
March 6, 2013
AWESOME GAME...BUT...
LOVED THE GAME..LOVE THE 3 BEYOND OBJECTS TO FIND..EXCEPT 1 MAJOR ISSUE..WHEN COLLECTING THEM THERE IS NO WAY TO COLLECT THE OWLS..YOU CLICK ON THEM & ALL THEY DO IS "HOOT HOOT" NUT OTHERWISE VERY WELL TOLD STORY & GRAPHICS WERE GREAT
March 5, 2013
NOT MY CUP OF TEA!!!
I love Hidden Object/adventure games and I consider myself to be a bit of an expert as I have been playing for quite a number of years and was looking forward to playing this one, but I did find the HO scenes too crowded and would have been nice if the map had been interactive as there is a lot of going backwards and forwards. I found the game to be very slow and a bit muddled, on the plus side it has beautiful graphics and a very good storyline but unfortunately was not my cup of tea.
February 19, 2013
Fun Adventure
Enjoyed the game as there are lots of puzzles and the hidden objects are not hard to find. You do go back to them, but only to collect 12 of something. The bonus game is excellent. Also, if you skipped a puzzle and want to try it again you can after you complete the game.
October 13, 2013
good, easy, but gets boring
has voice over but a lot of talking and video. The game is quite easy. the HOS are easy and the puzzles are not challenging at all. Has some flow but too much talking and the game is too easy to get into. Not bad. Good for a beginner.
May 4, 2013
REVIEW OF COMPLETED GAME
This is a game for beginnings, with lovely wide screen graphics, easy puzzles and clear and quick iHOS, although they have laid them on rather too thick. They could have done with a lot less. There is a Special Item inventory that upgrades as you find new things for it. Very useful. The cut scenes are also a little heavy, but they are clickable and well done as well as short. There are Achievements and different Collectibles in each scene, about 4, but I could not for the life of me collect any of the owls. They just hooted at me and stayed put. The story is a simple tale of Royal Family troubles, evil step mothers and sibling rivalty. You have to restore all the has been devastated and heal The Tree of Life. Obviously, this you do and that is the end of the main game, which is 4 hrs 45 mins long. However, if you wish to achieve something to benefit yourself, you have to do the BC. This starts in the same location as the main game ended, but quickly opens out to brand new ones. It is different from the main game and I rather liked it. The music is pleasant and the voice overs are good. There is a standard map and a journal and the SG is well done. This all sounds rather wonderful as I read it back, but the game has an amateurish feel to it. I do not understand this as these Devs also made The Final Cut, which was far superior in every way and much more challenging. There are 8 extras after the main game, one being the BC. I would advise anyone buying this to carefully read through the last 3, maybe 4 entries at the bottom of the Index in the SG, to see how all these collectibles work. For me, collectibles are rather an irritant and I do not usually bother with them. It is a pretty game and a sweet one, but it irked me for it would lag continually on my PC. Maybe this is why I found myself losing interest in it. I will recommend it, but with the warning that some may find it too tame.
January 27, 2013
Well ... definitely not a worthy archaelogy dig ...
I love archaeology very much and looked forward to playing this game, as it gave the impression of an adventure game. However, I just couldn?t get a grip on the story. It lacks smoothness. You really just play one scene after the other without really moving forward and the game has certainly no adventure factor at all. Nada. A straight HOG. The graphics could have had potential, because the locations are nicely drawn, yet I do not appreciate grainy graphics at all, as it gives a blurry look and also makes it hard at times to find or identify objects. As with meanwhile almost all CE you?ll have to collect blimps and butterflies, the map I have found a bit mediocre, but helpful (although you don?t really need one). The iHOS are standard, and again, this grainy look - considering that I finished 3 HOS in a row under 3 min. each (one even under 1 min.), you can imagine that they are simple? Very few mini puzzles, and yes, they are ok but not outstanding. As a ?helper? to shoot down objects you have a bow/arrow in your permanent inventory. Two modes to play, standard and expert. Now, the cut-scenes (not during the introduction, but later on during the game) I have found really really really bad ? and I started skipping them. What really unnerved me (in particular at the beginning of the game), that it shows you about every 2 minutes that you have to fulfil a task, that you achieved the objective ? ahhh?. and this black banner is rather large and stays on for quite a while on your screen, absolutely unnerving! The only thing I appreciated about this game was the woman?s voice: a clear and smooth voice. But the rest? Well, having played recently two excellent games, this one is definitely a no buy. Very standard and certainly not worth a CE. It?s actually a pity, as the story line could have been good, it?s just badly told. And the game is most certainly not an archaeology dig, that would knock you off... giving you the thrills, as you have discovered the worlds biggest treasure ever found. It's rather like building a sand castle, and I guess that would be even more fun. I give it a 3-star; the developer made an effort, but simply missed the goal.
January 27, 2013
The Apple logo is a trademark of Apple Computer, Inc.
The Windows logo is a trademark of Microsoft, Inc.