Royal Defense
The castle needs a hero – hordes of trolls are surrounding it! Build towers, save money, learn spells, and keep the enemy away! Follow the exciting story of the dwarven kingdom's eternal struggle against the troll hordes, who want only to crush the dwarves and claim their territory. To defeat these monstrous hordes, you must construct defensive towers and units and learn to wield powerful spells. Tap anywhere you like for a handy pop-up menu listing all the units and structures that can be built in each location. Tap existing structures to see how you can upgrade your forces with powerful improvements! All your towers and units have specific stats: Damage, Fire rate, Damage radius, Damage type, as well as various other features, such as Enemy Slowdown and Damage Over Time. Each level also brings new units and structures to help you fight the troll menace. You'll never be lacking for new and exciting ways of decimating those nasty trolls!
40 Levels
12 Tower & Structure Types
Extensive Magic System
Game System Requirements:
OS:

Windows XP/Windows Vista/Windows 7/Windows 8

CPU:

600 Mhz

RAM:

512 MB

DirectX:

9.0

Hard Drive:

87 MB
Game Manager System Requirements:
Browser:

Internet Explorer 7 or later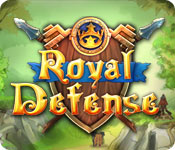 NEW299
The Big Fish Guarantee:
Quality tested and virus free.
No ads, no adware, no spyware.

Reviews at a Glance

Royal Defense
0
out of
5 (
0
Reviews
Review
)
Customer Reviews
Excellent Tower Defense game!!!!
I loved this game! I just finished every level easy-hard. It took me a decent amount of time and I loved improving my towers, etc. and adding that extra motivation to complete every difficulty level. If you like tower defense games, this one is perhaps my favorite ever. There is plenty of challenge to it, but I promise, no level is impossible and it is so fun!!! So glad I found this game!
May 16, 2013
Really fun strategy game
RD has such a simple premise, but I played it for weeks in order to earn enough upgrades to beat every level. Then I went back and played it again to earn the gold shield. It has two worlds with lots of levels on each. New and more difficult enemies appear, and you should go back to previous levels, replay them and earn jewels to buy upgrades. Once you start to upgrade the magic happens and you can defend your little castle and defeat the enemies. I highly recommend the game forums on Bigfish. They were a huge help for some of the most difficult challenges.
April 27, 2013
Challenged
Fun defense game. Play some of the early rounds again to gather more jewels to upgrade for later rounds.
February 15, 2013
challenging and addictive.
Great game! wish it had an endless mode.
January 31, 2013
Great Tower Defense game!
This is my absolute fav tower defense game. It's challenging and you can go back and replay the levels to get more gems so you can increase the abilities of your spells, guns etc. Of the games in this series all created by the same company this is by far the best.
March 16, 2014
Wicked hard!
Wicked hard - & I was playing on Easy! There are 3 levels - easy, normal, & what I would call insane based on what the easy levels are like. I've played 5 levels on the easy & managed to get 3 stars on 1 of them - as I said, wicked hard! There is a lot more strategy here than in a lot of the other tower defense games that I've played. If you don't put your towers in the correct positions - not generally at the start of the trail - there isn't any way to save the people in the castle. I feel lucky to have any people left! In addition to placing towers, you also have access to spells that regenerate the longer you play. I'm not sure whether it's just a time thing or a combination of items. There is one level where you start out with no money to build towers - if you don't use the spells, there isn't any way to survive. Another different feature is collecting gems. Get enough gems & you can buy extra spaces on the playing field. Save your gems & you can apply them to things like lowering the cost of the towers, increasing the damage, increating the range, etc. Since you always need money to build towers, there is also an option to use spaces on the board for gold mines! While you do have to give up a shooting position, that extra gold can come in VERY handy! As with any tower defense game, there really isn't a story line. Place your towers - try to stop the bad guys from destroying your home base - that's pretty much it. The only complaint I have is that I really feel the graphics are sub-par based on recent games. However, that doesn't stop the game from being well executed & an interesting version of tower defense. Since I love tower defense games, this will be a buy.
January 28, 2013
This is one of the Hardest TM Games
I've played many tower defense games--but this is one of the hardest I've ever encountered. In addition to time management, you have to use ingenuity and strategy--but it can be hard to figure out a plan.
February 10, 2013
Royal defense review and tips
Am average computer game person. Agree with others that the levels seem misnamed sometimes - easy often hard, but have got 3 stars on all 20 of each of easy/normal/hard of the green game and all 20 of the easy section of the snow games so far. Trick is to find an easy level and do it over and over to build up jewels to buy weapons etc to max. If no money on start-up screen, freeze trolls at a crossover point and wipe out with meteor shower, swamp, & earthquake to get startup funds. Game can't be judged in a 1 hour trial.
April 13, 2013
Tough But Fun Tower Defense Game
I'm generally loathe to review something that I haven't finished playing, but at the rate I'm going I'll be three weeks dead before I finish this game! It's hard and a bit frustrating but I still really like the game. There are three levels to the game, and "easy" is very hard! I can't imagine even trying the medium level. As with all tower building games, there are different towers that do different kinds of damage. As you go up in levels, upgrades become available to the towers, as well as new towers. There are various spells that do different kinds of damage and renew after a set period of time. There is also a "gold mine" to help you get gold, and with upgrades can even help more. As the levels progress the monsters get tougher. Heck, not just tougher, they also start getting resistant to various spells or tower upgrades. As another reviewer mentioned, you will wind up going back over previously played levels to gather enough gems to buy further upgrades -- how fast a spell regenerates, how much damage a spell or tower does, how much they cost, how much or fast a mine generates, and more. But as you go back over previously played levels you get to keep the upgrades you've made since, making the level easier and usually even more enjoyable. It's slow going and there's a lot of replaying levels, but the challenge remains and it's still a lot of fun. My biggest complaint --one that keeps it from being a five star review-- is that you are given information about changes only when they're made available. In the middle of a level and cannot remember which upgrade does what? You'll have to guess, as there's no in-game guide to what's what. That's kind of annoying. Otherwise, if you like tower defense games, you'll like this one.
February 11, 2013
Very good but flawed
I was stuck on the first level of this game for 5 or 10 minutes so I initially did not like it at all. After playing a bit more and advancing a few levels I can say that this is a pretty solid tower defense game but it has a flaw that may make it frustrating for the average gamer. There seems to be a problem with the pacing and it can sometimes be impossible to avoid taking damage at certain intervals in the turn cycle when the enemies come at you. This does not mean you are guaranteed to lose, but it can make the game considerably more difficult than it needs to be and adds pointless frustration from the repetition that is involved with this issue. Besides that, the graphics and theme are very nice, although the use of futuristic looking "cannons" against mythological creatures is a bit humorously odd. The music is nothing special and the sounds are decent. If you can see past the pacing issue I'd say this is a great tower defense game. Recommended.
February 5, 2013
The Apple logo is a trademark of Apple Computer, Inc.