Royal Defense
The castle needs a hero – hordes of trolls are surrounding it! Build towers, save money, learn spells, and keep the enemy away! Follow the exciting story of the dwarven kingdom's eternal struggle against the troll hordes, who want only to crush the dwarves and claim their territory. To defeat these monstrous hordes, you must construct defensive towers and units and learn to wield powerful spells. Tap anywhere you like for a handy pop-up menu listing all the units and structures that can be built in each location. Tap existing structures to see how you can upgrade your forces with powerful improvements! All your towers and units have specific stats: Damage, Fire rate, Damage radius, Damage type, as well as various other features, such as Enemy Slowdown and Damage Over Time. Each level also brings new units and structures to help you fight the troll menace. You'll never be lacking for new and exciting ways of decimating those nasty trolls!
40 Levels
12 Tower & Structure Types
Extensive Magic System
Game System Requirements:
OS:

Windows XP/Windows Vista/Windows 7/Windows 8

CPU:

600 Mhz

RAM:

512 MB

DirectX:

9.0

Hard Drive:

87 MB
Game Manager System Requirements:
Browser:

Internet Explorer 7 or later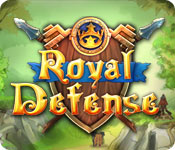 NEW299
The Big Fish Guarantee:
Quality tested and virus free.
No ads, no adware, no spyware.

Reviews at a Glance

Royal Defense
0
out of
5 (
0
Reviews
Review
)
Customer Reviews
Super hard and I like it
I appreciate a game that sets the standards high for difficulty. I can barely play Easy, which means that I have a lot to look forward to as I start to get better. Usually, games like this are fun but a little to easy to beat once you get the hang of it. Unfortunately, as there are more and more enemies, the game starts to freeze up. Also, the sheer number of forces can sometimes block my ability to see where I need to click to upgrade defenses. Finally, I feel like the developers could have made it a little bit easier to collect crystals (good place to add a sound cue), which seem to disappear just as you are about to click on them.
February 13, 2013
Good game.
Very good tower defense game. A bit too hard on certain levels but feasable. All in all , a game i recommend.
January 31, 2013
It could have been really good
There are a few things missing from this game that make it just ok instead of great. Compared to something like Garden Defense it comes up short. No enjoyable characters/defensive weapons just cannons of various types. No unlockable achievements. No story line. Just keep killing trolls until you have enough crystals to buy enhancements. Over and over and over and over.... ah what it could have been - so close and yet not quite there. They should have made the early levels easier on the easy setting so you get some sense of progress especially for new or more casual tower players. They also should have included a better tutorial and maybe a weapon stats log that could be easily accessed. Stil better than many tower games, just disappointingly short of great.
February 15, 2013
Once again, a game of this type suddenly gets very hard
Enjoyable game, where you have to think tactical against which weapons will best defeat the enemy. I say "enjoyable"....... but only up until a certain point. Then it suddenly gets VERY hard. I am on level 11 and have tried this level at least 10 times and cannot get past about the 3rd wave!!! It's ridiculous, and I am playing on EASY!!! Easy?? Yeah, right. Me: Put lots of dart guns with minimum power - die Put lots of cannons - death Put combinations - expire Put only a couple of dart guns to slow and power to max, add cannon for strength - shuffle off mortal coil Put couple of dart guns to max plus artillery - cease to exist Put dart guns on "power-up" and use gems, plus cannon and artillery - stiff Max out cannons only - kick the bucket Max out dart guns only - Shuffle off mortal coil Use combo of all three - push up daisies Put guns in place where they have the most range - snuff it The only useful thing is that I have played that stupid level so many times that I keep getting gems and can buy more power-ups. But I still.....wait for it.....DIE! Bet you got a shock at that. Sadly, ANOTHER game which starts off enjoyable, then upon purchase, becomes (for me anyway), annoying, frustrating and a waste of money. The other things about this game are: *Graphics aren't that good. *The music is okay! I usually turn the music on 99% of games OFF, but kept this on lower volume as it worked with the theme of the game. *The tutorial is adequate if you know these kind of games. *The big artillery are often annoyingly inaccurate (Sorry, I posted a very similar review in the review section on the forum). .
January 28, 2013
High level of challenge
I had no problem downloading the game. My only issue with the game is that the level of challenge starts out very high. I had trouble keeping up. After the third or fourth level, I called it quits. Seems like a solid game but it is just too much, too fast, too soon for me. I like coasting through the early rounds.
January 29, 2013
Frustrating, but still enjoyable
I feel like I should have read the reviews before I purchased this title. I like stratagy/defend the castle games. I loved monster mash. This reminded me of that game very much when I first started played RD. You have a few different types of weapons, and they are upgradable...much like MM. The problem I had with this game is that after the first couple of "tutorial" levels, it becomes insanely hard to get gold, even when playing on easy. The gems you get randomly and at the end of levels were nowhere near enough to upgrade at the pace you would need to make this game fun instead of just aggravating. If the "easy" rate of play were indeed that, or if you were able to earn gems faster, this would have been one of the games I keep going back to play, as I do with MM, but due to the aggravation level of not being able to keep up, I don't think this one will make into the regular rotation. Could have been a great game, instead it's an "eh" game.
January 30, 2013
Easy is not Easy at all!
Playing on easy and it's not easy at all. However, with some wise strategy it's doable and interesting. BUT! Just arrived to level 17 in Easy mode and it's a nightmare! You start with 0 gold and 0 buildings! You use the skills to kill few of the wolves, but it's by far not enough for a decent weapon... or any weapon whatsoever. If you need to update the stuff (like more money from monsters), it's around 10-15 crystals. But in some cases the monsters drop only 1-2 crystals per level, it's annoying to think I need to redo previous levels over and over just to gain crystals as I already have 3 stars for them. Quite annoying.
March 15, 2013
OK Tower Defense Game
This was fun, no trouble launching here, I enjoyed the free hour but I wouldn't buy a game like this. My guess is if you are into defense games you would like this one.
January 28, 2013
A Very Challenging Tower Defense/Strategy Game
I was about to title my review an impossibly challenging Tower Defence/Strategy Game and I thought perhaps I was being too harsh as I like to think that game developers are trying their best to make good games and with this game I thought I?d give this developer the benefit of the doubt but they?ve made it a tough call. There are three levels of play; easy, normal and hard. I played on easy and it was not easy for me, I consider myself an intermediate player but this ?easy? level left me feeling like I was a total beginner. Perhaps I was missing something in the tutorial but there was not enough money/funds to buy weapons and right from the start there was a stream of enemies invading the fort/castle. If you start out at a disadvantage like that it seems to me to be almost impossible to ?catch up? so to speak. After that first level the pace did not let up, so a very steep learning curve all in the ?easy? level. I can?t imagine how normal level would be and will not even consider ?hard?. I only took the trial up to five levels as I felt increasingly frustrated at the game play, no amount of strategy on my part could overcome the lack of funds/money. Perhaps I am not a skilful enough player at these kinds of games but I would have thought that ?easy? level would not be quite so frustrating. I didn?t finish the hour as I just didn?t feel like playing any longer. A pity as I could see the potential of a good game there ?.somewhere. Graphics are pleasant enough, the menu had a wide a variety of weapons, spells and with forty levels it looked promising. I can only say those of you that are curious by all means take advantage of the free trial maybe you will fare better. I will give this game a weak recommendation as I think there may be Tower Defence/strategy players who may enjoy the game and may be able to work out how to progress in this game.
January 28, 2013
I've played much better
This game really isn't exciting, and you don't "save money," nor do you really "learn spells." Each level comprises of the hordes coming down winding paths and you, if given any money to start the level at all, have to put gradually increasing powerful guns at certain points along the way. It is like Bloom 4, the monkey dart game that is online, but far from the excitement. Most levels have no more than five waves of enemies, so you rarely have time to upgrade, and the "spells" are given to you after a few levels. You don't actually learn them. Over time you collect gems (although I haven't figured out how you actually do it - they just appear sometimes on your screen), with which you buy upgrades for your guns. All the money you acquired killing the hordes of enemies each round? Gone. You can't carry it over to the next round OR purchase upgrades, OR purchase gems. You also can't control your guns. You can't tell one to shoot at the first of the pack, and the next to shoot at the maximum range. They just shoot at the first enemy until it is out of range, then swing around and pick another target (sometimes the one in front, sometimes the one in back, sometimes one in the middle of its range.) It is very frustrating because they will often seem confused, like they don't know which one to shoot at, and waste shooting time trying to pick a target. All in all, I wish I had not purchased the game. It was fun in the beginning, but after several hours of playing, I'm let down. Short levels, no way to truly "save your money," like they say you can, and stupid guns you can't control. TOY SOLDIERS is much, much better.
April 19, 2013
The Apple logo is a trademark of Apple Computer, Inc.