Nightmare Adventures: The Turning Thorn
Two weeks after the events of Nightmare Adventures: The Witch's Prison, Kiera Vale finds herself drawn back into a web of occult sciences, mysterious dark entities, and government secrets -- woven by the agency known as A.R.C.A.N.E.. Kiera is happy to receive the call, but soon after her arrival finds that things are not at all how she remembers them to be. What are these agents hiding, and why didn't they tell her the whole story? What is the true nature of the Blackwater "Witch"? Why is Dr. Thorn's young daughter locked up in a containment cell? From the top secret labs in the depths of A.R.C.A.N.E.'s headquarters to the distant spires of alien worlds, Ms. Vale will seek answers, solve cryptic puzzles, banish evil otherdimensional creatures, and perhaps even make a new friend over a game of Piggy Princess along the way, in Nightmare Adventures: The Turning Thorn.
Game System Requirements:
OS:

Windows XP/Windows Vista/Windows 7/Windows 8

CPU:

2.0 GHz

RAM:

1024 MB

DirectX:

9.0

Hard Drive:

392 MB
Game Manager System Requirements:
Browser:

Internet Explorer 7 or later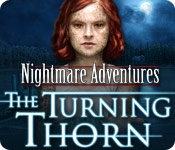 NEW299
The Big Fish Guarantee:
Quality tested and virus free.
No ads, no adware, no spyware.

Reviews at a Glance

Nightmare Adventures: The Turning Thorn
0
out of
5 (
0
Reviews
Review
)
Customer Reviews
Nightmare Adventures: The Turning Thorn
90
90
Great Puzzles-Storyline-Creepyness!
Simply stated, this game is interesting. It's easy to move around, puzzles can be skipped after a few minutes, for those of you who don't want to spend all day on one puzzle. But you dont have to skip them! Theres also a hint button which will let you know if theres nothing more you can do in a room, which is also a time-saver. I really liked the comical comments the main character makes when you click on something you don't need. It's a simple game, in that theres not a lot of moving graphics...its more like a story. Not a lot of dialog which is good too. I hate clicking through dialog. It kind of reminds me of Monkey Island. Except this has the creepy factor. A few times I jumped. I think you will really like it if you like adventure games.
January 30, 2013
Nightmare Adventures: The Turning Thorn
Challenging puzzles; difficult to follow clues as to what to do next; great graphics;
January 27, 2013
Interesting Game!
Based on demo, which I played for 15 minutes so far. It's a different type of game. No HOS yet, which I like. Hints are helpful. Game starts out with woman in bed and she feels as if it's an out-of-body experience. I'm not very good at writing reviews, but I do like this game and will probably buy it.
January 26, 2013
Long Scarey Adventure
I absolutely loved this game! The continuing story from previous game Witches Prison picking up a few weeks from where we left off. The story was fantastical and kept me enchanted like a good book one can't put down. It is quite a long game and the puzzles are many and challenging. Many consisted of unique twists to the old standby adventure game puzzles that made it all the more fun and kept me on my toes. I was never bored in the game ever. Instead of "collecting" clues and having to read them in the middle of a puzzle, you are given a camera to take pictures of the clues. This happens automatically for you. I found this a nice change. The clues where all very helpful but still many quite challenging to figure out what they meant. My applause for the developers. There are some humorous events. e.g. click on the qupie doll enough times the character finally says "I'm not taking it home already so quite trying to get me to pick it up." haha Also if you are randomly trying objects in your inventory for a puzzle you get some very funny comments for the wrong ones. Some not so good things: If you minimize the game, upon reopening it reverts to the pregame menu and loads textures. This takes quite some time and is annoying (at least 30 seconds). In a few instances, the textures did not load and I was left with a white screen with some black outlines. I was able to minimize and reopen and in some cases this fixed the problem but I had to wait again the 30 seconds for the textures to re-populate. Again annoying. In one instance I had to close and restart the game, all the while with that sinking feeling that I would have to restart at the beginning if the game bugged out.Luckily it turned out ok. There are a few misspellings but hardly noticeable. There was one instance where the game said I was hovering over something which was on the other side of the room which was a bit confusing as I needed to use an object and it kept saying I was somewhere else. Sorry I cannot remember where (in a room in the compound somewhere) All in all this was by far one of the best and inventive games I have played. If the minimize issue was fixed I would be jumping up and down and submit for best game award. teaser: It has a cliffhanger ending
March 31, 2013
Very unique
Great game after you get the hang of it. There are a lot and I mean a lot of puzzles to solve. They are medium to high in level of difficulty, so if you like harder puzzles this game is for you. At first I did not care for the game, it seemed to lack any direction at all but I stuck with it and actually started to really enjoy it. it is a different story line than most and seemed to actually have a good plot. I am surprised to say I am looking forward to the sequel. Kind of creepy and left you hanging at the end....
February 5, 2013
Fun
Not quite what I was expecting. But fun to play enjoyed the fact the storyline continued the previous games but there was enough information that if you had not played the other games you could still follow the story. Ending was a it of a disappointment guess I need to wait for the next installment.
February 1, 2013
Fun adventure game
Loved the game until I hit my first bug
February 6, 2013
Started out Great the end? not so much
I loved the beginning of this game. It seemed to be a great story and not an easy one at that. As the story hit about mid point... it kind of stalled until the end. This is the first one I have played that ever did this. They are usually great or not but not both. With this in mind, it is not easy to review it. It received a lot of great reviews. I'm guessing I'm picky..nah That's about all I can say. Happy Gaming
February 3, 2013
An Excellent Sequel to "The Witch's Prison."
Although this game is excellent, it is not on a par with "The Witch's Prison," the previous installment in the series. Ghost Ship Studios cleverly left this game open-ended so as to permit yet another sequel. Kiera Vale and A.R.C.A.N.E. are again thrown together to try to save Dr. Thorn's daughter, Abigail, from the ravages of the Blackwater Witch, who seeks only destruction and havoc. The tale is woven well, and instead of finding hidden objects bins every few screens, one, instead, must search for scattered items that are intrinsically linked to the game, and without which, one cannot continue on. I found this quite refreshing. The graphics are very good, but I just wish that Ghost Ship would extend itself a bit more and give us some voice interaction between characters. If that was done, Ghost Ship could very well rival HERINTERACTIVE.
February 26, 2013
Oh the puzzles...
The story & voice acting were both good, although I didn't think it gave enough backstory at the beginning for those who either didn't play the previous game or didn't remember what happened. There were a bunch of memos, notes, and emails scattered throughout the game for you piece it all together. Now I do prefer puzzles to hidden object scenes, but the puzzles in The Turning Thorn were some of the most obscure I've run across in a long time. I ended up having to skip about half of them because I either couldn't figure out how to solve them or even what the purpose of the puzzle was (bad descriptions).
February 1, 2013