Nightmare Adventures: The Turning Thorn
Two weeks after the events of Nightmare Adventures: The Witch's Prison, Kiera Vale finds herself drawn back into a web of occult sciences, mysterious dark entities, and government secrets -- woven by the agency known as A.R.C.A.N.E.. Kiera is happy to receive the call, but soon after her arrival finds that things are not at all how she remembers them to be. What are these agents hiding, and why didn't they tell her the whole story? What is the true nature of the Blackwater "Witch"? Why is Dr. Thorn's young daughter locked up in a containment cell? From the top secret labs in the depths of A.R.C.A.N.E.'s headquarters to the distant spires of alien worlds, Ms. Vale will seek answers, solve cryptic puzzles, banish evil otherdimensional creatures, and perhaps even make a new friend over a game of Piggy Princess along the way, in Nightmare Adventures: The Turning Thorn.
Game System Requirements:
OS:

Windows XP/Windows Vista/Windows 7/Windows 8

CPU:

2.0 GHz

RAM:

1024 MB

DirectX:

9.0

Hard Drive:

392 MB
Game Manager System Requirements:
Browser:

Internet Explorer 7 or later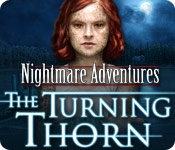 NEW299
The Big Fish Guarantee:
Quality tested and virus free.
No ads, no adware, no spyware.

Reviews at a Glance

Nightmare Adventures: The Turning Thorn
0
out of
5 (
0
Reviews
Review
)
Customer Reviews
Nightmare Adventures: The Turning Thorn
89
89
wanted to like it but just didn't do it for me
I really tried to like this game but ended up just giving up, I skipped all the games. fortunately the hint button while slow was helpful or I would not have known what to do. the story line was okay but the game was dark, games were too hard, the pictures helped but were confusing for me since the game and the picture hint did not always seem to match up. unfortunately I am sorry I bought this one and can't recommend it.
October 10, 2013
Just okay
This game was a little strange. It kept my interest, but had some glitches. I am on a newer computer now and when I got the meteor it was not indicated in my inventory. The hint button would point to the empty spot where the meteor would be sitting in my inventory, but I could not pick it up or see it to use it. I would use a free game point for this, but only if I knew it would run without glitches.
March 19, 2013
Medium
Good length of play, some challenging puzzles...some harder some easier...got a few jumps...good graphics and I would say more positive to this game and much less negative but, I'll keep this short and simple & say it was OK. I've played some other games I got into much more and enjoyed more. However, I would say it's worth trying the trail and decide for yourselves. Have a good one. :)
March 18, 2013
Not for me
Don't have an awful lot to say about this game, except thank goodness I used a free game coupon to buy it as I really didn't enjoy it. The graphics and game-play are very basic and I got a little bored. There are no HO scenes and I was put off by how difficult the majority of the puzzles were. I'm not playing these games to spend half an hour stuck on a puzzle just randomly clicking in the hope it will solve itself. I ended up skipping most of them just to get on with the game! However I did like the inventory based puzzles and figuring out where to use items. I also liked that you had to read documents and emails, etc, to find codes and solutions to get through doors and stuff. Overall though, the game frustrated me and I actually started skipping all the puzzles and using hints if I got stuck, just to get to the end. This game just wasn't for me I'm afraid.
January 27, 2013
reservations
I love the controls, LOVE being able to specify the brightness level, LOVE killing the voiceovers. OTOH, the backing a forthing is offputting and there are too darned many puzzles. I'm not fond of puzzles. Figuring out where to go next is enough puzzle for me. When I have to click on things in picky-precise order, feh! Even so, I may buy it.
January 26, 2013
not for me
I don't know where all these high scores are coming from. The mini games were all symbols, which I don't like, the storyline was just not pulling me in.. I didn't like that ANY object you click in a room says something like 'my favorite shoes' that gets tedious. I tend to like games that are more artsy and pretty and this one is gray. I didn't make it through the free trial so I cant say if it gets better or not. I did not come across a hidden object game in the trial. Just blah for me I guess..maybe its just not my style.
January 27, 2013
The Ending Did Me In
I loved the game Nightmare Adventures The Witches Prison so when this came out I got it right away. It was the same style adventure game, with the same creepy atmosphere. So much fun!! I was going to give it a 4 star rating because 99% of the puzzles were mind numbingly hard. The photo clues for solving these puzzles were pitiful at best. So I would get my phone out and play a game until the skip button charged. Then skip:) I still was enjoying this adventure until the ending came along. What a horrible ending; I hated it. It literally ruined the whole game for me. If you can get past a horrible ending it is a lot of good adventure fun.
July 7, 2013
THORN IN MY SIDE
Review based on about 2 to 3 hours gameplay. Found this game to be quite tedious. Animation - Not as much as I had hoped for. Characters were well drawn but not much, if any, movement. VOS - Some scenes had vos, others had mostly text dialogue. Another disappointment. Hint - Slow to charge. Gives clues and directions. Puzzles/Mini-Games - Unusual. Moderate skip which I used quite often. Random Click Penalty - None This wasn't the game for me.
June 19, 2013
Never be able to finish this game..
Bought this game not knowing that it would crash. I only could play until level 4 before the game crashes and won't revive. I read that other users experience the same although they have reinstalled the game. Guess I would never be able to finish this game. On the other side, the game has better interface, but same music (very minimal like the first one, so it's like a silent game), with more voice overs. Hint slowly recharges and not so helpful. Don't know what happens next because the game closes before I can find out what happens.
March 11, 2013
Potential lost
I have no excuse. I played for an hour. Things were going fair to middling. I liked the first Nightmare Adventure, so I let that, rather than the actual playing of the second game, affect my purchase. Now I resent the free credit I used. This is a hidden object game only in so far as there are objects you look for, one in this room, one in that. You have a PDA(think diary) and a camera that photographs clues You have a set of locations that you work in that are self contained till the next level of the story. You travel through that set repeatedly, repeatedly, repeatedly. The puzzles were either way out of my league (Hey, folks, Einstein I'm not!) or just not working correctly. I ended up skipping most of them out of shear frustration. Maybe they needed more and better instructions. Maybe being able to post the photos you take along the way next to the pertinent puzzle would help. There has to be a better way to set this up. The art work is good, the story is lame. There's plenty of back and forth over those limited locations. Eventually you have worked all of the puzzles, but many show up only after repeated visits to the room/location they are in. There are a lot of possible plot points in the trial period, but little actual information. And it doesn't get better as you go along. (Please note: I did not use the word "progress.") I am past the end point of the trial period, but not to the end of the game. I don't know if I'll ever finish. I play to relax, to be challenged, for distraction. Raising my blood pressure this far is not what I look for in a game. Now I'm going back to play the first game and see if I was dillusional the first time around.
January 26, 2013