Nightmare Adventures: The Turning Thorn
Two weeks after the events of Nightmare Adventures: The Witch's Prison, Kiera Vale finds herself drawn back into a web of occult sciences, mysterious dark entities, and government secrets -- woven by the agency known as A.R.C.A.N.E.. Kiera is happy to receive the call, but soon after her arrival finds that things are not at all how she remembers them to be. What are these agents hiding, and why didn't they tell her the whole story? What is the true nature of the Blackwater "Witch"? Why is Dr. Thorn's young daughter locked up in a containment cell? From the top secret labs in the depths of A.R.C.A.N.E.'s headquarters to the distant spires of alien worlds, Ms. Vale will seek answers, solve cryptic puzzles, banish evil otherdimensional creatures, and perhaps even make a new friend over a game of Piggy Princess along the way, in Nightmare Adventures: The Turning Thorn.
Game System Requirements:
OS:

Windows XP/Windows Vista/Windows 7/Windows 8

CPU:

2.0 GHz

RAM:

1024 MB

DirectX:

9.0

Hard Drive:

392 MB
Game Manager System Requirements:
Browser:

Internet Explorer 7 or later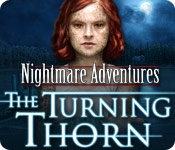 NEW299
The Big Fish Guarantee:
Quality tested and virus free.
No ads, no adware, no spyware.

Reviews at a Glance

Nightmare Adventures: The Turning Thorn
0
out of
5 (
0
Reviews
Review
)
Customer Reviews
Nightmare Adventures: The Turning Thorn
90
90
Potential lost
I have no excuse. I played for an hour. Things were going fair to middling. I liked the first Nightmare Adventure, so I let that, rather than the actual playing of the second game, affect my purchase. Now I resent the free credit I used. This is a hidden object game only in so far as there are objects you look for, one in this room, one in that. You have a PDA(think diary) and a camera that photographs clues You have a set of locations that you work in that are self contained till the next level of the story. You travel through that set repeatedly, repeatedly, repeatedly. The puzzles were either way out of my league (Hey, folks, Einstein I'm not!) or just not working correctly. I ended up skipping most of them out of shear frustration. Maybe they needed more and better instructions. Maybe being able to post the photos you take along the way next to the pertinent puzzle would help. There has to be a better way to set this up. The art work is good, the story is lame. There's plenty of back and forth over those limited locations. Eventually you have worked all of the puzzles, but many show up only after repeated visits to the room/location they are in. There are a lot of possible plot points in the trial period, but little actual information. And it doesn't get better as you go along. (Please note: I did not use the word "progress.") I am past the end point of the trial period, but not to the end of the game. I don't know if I'll ever finish. I play to relax, to be challenged, for distraction. Raising my blood pressure this far is not what I look for in a game. Now I'm going back to play the first game and see if I was dillusional the first time around.
January 26, 2013
Good game
This game is so, so... I think that we could it done without the loading, is to slow. the items are to hard to find and the clues can't be understood. All in all I think this was a ba purshase for me.
February 7, 2013
Nighmare Adventures: The Turning Thorn
Did not care for this game. It was very poor quality and too many complicated puzzles. Skip button took forever. Sorry
January 26, 2013
No adventure here!
I do occasionally like straight adventure games, but mostly like the combo of adventure, HOG, FROG, etc. This game is pretty much adventure. Graphics were nice, game play good. Didn't run across any HOGs during demo. Hint system the usual. This game seemed to be a bit old school. A lot of running back and forth to the same location, a lot of clicking. I don't care to have my hand held through a game, but this was a game without any real direction or explanation of what is happening. No I did not buy the first game either, so maybe that's my problem. Anyway, the game drug along too slowly for me and had no real challenge. Therefore, I will not be buying it, even with the great sale going on this weekend. There are very few games that I don't find some reason to recommend purchase, but this is not one of them. Too bad, I really need to get rid of some credits. As always, try it for yourself and see what you think. We all have different tastes in games and you may find it quite enjoyable. Thanks for the reviews.
January 26, 2013
Yawn
This one had me frustrated from the very beginning. It didn't hold my interest long enough to finish the trial version. The puzzles were silly. The cursor turns into an eyeball indicating you should examine something further. But when you click on an object you only get a silly comment. This boring game is not for me.
January 29, 2013
I really hated this game
There were too many mini-games with strange symbols and some that were too hard, even with the walkthrough. A lot of the scenes from the first Nightmare Adventure were used again including the odious child with her whining and demands. I had to take the headphones off to get away from her voice. The best part of the game was when it ended and it looks like there will be a third game to continue this story. Good thing I used a bonus free game code and didn't waste my money.
January 28, 2013
BOring and horrible. Voiceover then no Voiceover etc
HOrrible.... Graphics not sharp at all... I had to Blast speaker at the start to hear the people talking then had to turn sound Way down for rest.. I dont say that about most games that look kinda decent.... Did NOt Like one bit. Wish i did.. have two free game credits. THe MAIN REASON FOR MY DISLIKE: Mini games with tons of #s or symbols and NO Instructions whatsoever. If you cant by chance figure it out you have to skip... Some voice overs other spots you have to read read, read... Start was a horrible bore.. by the time i was a bit into it i was on like my 3rd mini game with no guidance to how to solve. and even if I can figure one out I didnt figure them all and skipped a few... Not how I want to play. I want to play the mini games and not skip... Not even worth a freebie for me.. See a few 5stars... not sure why...
January 26, 2013
Did not enjoy
I did not like this game at all!!
January 31, 2013
sounded cool, but..
The reviews made it sound really cool. The graphics are nice. But I've been playing for 20 minutes and still no HOS. Delete.
January 28, 2013
Sound wussy, but too difficult
I don't like the HOS games anymore so I was looking for one with more puzzles. I have played 100's of Big Fish games and I just could not solve most of the puzzles without skipping them or going thru the walkthru. I am not stupid, but feel like it while playing this game. Not done with it yet, but wish I didn't spend the money on something that is more hard, than enjoyable. The hints are vague, but I had no choice but to use them constantly.
June 10, 2013