Amaranthine Voyage: The Tree of Life Collector's Edition
During your career as an archaeologist, you firmly believed that the Tree of Life was simply a myth. However, once you uncover a magical artifact, you open brand new worlds of possibility. You're whisked away to a lush world that is slowly being poisoned by a mysterious dark force. Your artifact is the key to restoring this beautiful world, but dark forces stand in your way. Protect the artifact and save this dying world in Amaranthine Voyage: The Tree of Life, a thrilling Hidden-Object Puzzle Adventure game.
Bonus gameplay
Integrated Strategy Guide
Downloadable soundtrack and art
Exclusive behind the scenes video
Re-playable mini-games and hidden-object scenes
Game System Requirements:
OS:

Windows XP/Windows Vista/Windows 7/Windows 8

CPU:

1.4 GHz

RAM:

1024 MB

DirectX:

8.0

Hard Drive:

1114 MB
Game Manager System Requirements:
Browser:

Internet Explorer 7 or later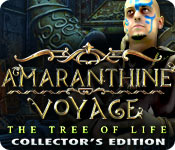 The Big Fish Guarantee:
Quality tested and virus free.
No ads, no adware, no spyware.

Reviews at a Glance

Amaranthine Voyage: The Tree of Life Collector's Edition
0
out of
5 (
0
Reviews
Review
)
Customer Reviews
Amaranthine Voyage: The Tree of Life Collector's Edition
84
84
STARTED GREAT THEN FIZZLED
I purchased this game after playing the demo as it seemed to be a little different and looked like a good story and good game play. When I got to about the half way point of the game I was getting bored as the game play became very, very repetitive. You knew before hand what was going to happen next and you could see the end of the story way before you got there. HOS were played twice each time, once with a list and once to "find 12" of something. Puzzles were to easy. There was no feeling of accomplishment when you completed one successfully. I certainly don't want a bunch of head banging puzzles, but please, make me think. Some may like this game, but for me it was just getting way to boring at about the half way point and playing the bonus game was almost a chore. Try the demo as you may like this game, but I found out it wasn't for me.
August 2, 2013
Bad voice acting and That Guy
If these are the best voice actors they could get, they should have used the time and money elsewhere. I was annoyed with Prospero, the King. It didn't feel right giving the staff to the guy. He didn't offer hints and only when we first meet him and the end did he give us something. For the rest of the game, go back to that room and he is looking at the ceiling as if he is bored. Here I am, running around, saving the world, later sacrificing any way of getting myself home, can he at least LOOK as if he is doing something useful? Not a bad game. I really liked how the blimp in the lower right corner would let you know if you had found it in that area. The "Recommend" thing down there could be a little less enthusiastic but yes I do recommend it. with the voices off.
July 1, 2013
Dissapointed
After seeing good reviews and the screen shots, I was looking forward to playing this one. However, I've been left wondering if I'm even playing the same game! The graphics were really fuzzy, were the cut scenes. There seems to be rather a lot of them too, but maybe it was just because the poor quality was bugging me. The hidden object scenes were poor quality graphics wise too, but still very easy. I think I got my "10 objects in 10 seconds" in the first or second scene. The puzzles were also far too easy for me, all bog standard ones that we've all seen before, and required very little thought to quickly complete. I also found objectives constantly popping up, even though it was pretty obvious what to do next, and everything I clicked on gave me exact instructions what to do as well. I know the sparkles debate goes on, but if I choose the harder setting which specifically states there will be none, that's what I expect, why offer it then not deliver? Big intrusive sparkles over every hidden object screen, which on top of everything else, made me feel as if I was playing on a very easy difficulty level. The music and sound effects were good, and would have gone well with the settings had the graphics been better. There are also achievements and collectibles, which I also like. The story line could have been interesting too. Such a shame, could have been a good game, but let down by poor graphics, far too much 'hand holding', and little to no challenge during game play.
January 28, 2013
Boring
It's weird because I read the other reviews before I wrote mine. Reviewers would say the game is amateurish, or the HO scenes too busy, or too much running around or terrible voices or confusing cutscenes. Then they would give it 3 or 4 stars. Those things are exactly why I gave it 2 stars. Too much wrong with this game and not enough redeeming. Zeppelin scene could have had some great scenes and graphics. But the interior shots were not very Zeppelin like. Owls appear for no reason. You collect dirigibles and butterflies for why? Just seemed to me like a mish mash. No story line even unless you read the journal. There just wasn't any there there.
January 27, 2013
Not recommended
I have not finished the game and already I am looking for another one to play. I found this irritating and in the end kept returning to the hints just to hurry it along. It goes on too long and there are too many things one has to find before you can move forward at all.. each time you arrive in a new scene it requires any number of items that are not in your itinery and have to be found, despite the number of items you already have. For this reason the game seems too long and boring
February 9, 2013
Not a challenge
I did not buy this game. I only played the demo and was not about to waste my money on the full game. The voices were absolutely horrible. The sound effects were distracting. All the creaking eventually sounded like nails on a chalkboard. The game was way to easy even on the hardest level. Need a key-its right there at your fingertips. The only part I liked was the riddle at the end of the HOS.
January 28, 2013
Didn't grip me in the trial
and therefore no buy for me. The game starts with the advice that the game is best experienced with the sound on, something I can't confirm. I tried it with sound on and with sound off and the experience didn't change. In fact, I found the sounds annoying if anything. At first constant wooshy sounds, interrupted by loud bangs and the usual jingle when after I found something important. When you get into the jungle there's hardly any sound at all, which for a jungle is a bit unusual. From the title I was looking forward to a great expedition, but no, very early into the game some red fuzzy entities appear and tell you to hand the relic you found or else. These I found really annoying, because they whoosh through your screen for what seems to be ages until they disappear and you can get on with what ever it is you need to do. Really frustrating. The graphics and artwork aren't exactly the Creme de la Creme either, so I'm really not sure why this mediocre game was launched as a Collector's Edition. In the Hidden Object Scenes you have the find the usual items with some items being interactive and at the end of each one they added a bit of poetry in a futile attempt to make it a bit more interesting to find the last item which is also happens to be the only useful one. To that add some stupendously easy puzzles and boredom is guaranteed.
January 27, 2013
Not for me I'm afraid
Postitives: Yes, the graphics are great. There are collectables, which I enjoy. But I am afraid that I found the dialogue irritating and over long - simply holding up the action, and the cut scenes, giving the background to the story, felt like padding. The HOGs and games were too easy - I kept getting 'achievements' for completing a HOG in less than three minutes. So I won't be buying.
January 27, 2013
Oh My!
They don't get much more boring than this. The graphics are fuzzy. The background music and sound effects are innocuous, and therefore contribute nothing. The voice overs are ridiculously amateurish. There is no challenge, and no reason whatsoever to want to play this game. The story is not interesting, or scary, or captivating in any way. So, I've wasted 1/2 hour of my Sunday morning. Should have quit sooner.
January 27, 2013
Dumb Game
Based on playing the demo only, this has got to be one of the dumbest games BF has offered. Really bad story with corny dialog. Barely average artwork. HOS and puzzles are standard fare and easy. I can't imagine paying the CE price for this dog. I wouldn't buy it if it was the deal of the day.
January 28, 2013
The Apple logo is a trademark of Apple Computer, Inc.