Galactic Express
Take command of Galactic Express, the busiest shipping station in the galaxy! Engage your expert packing skills to load colorful cargo into transport ships before they launch to destinations across the universe! You'll earn power-ups and profits as you fill special orders from the solar system and beyond.
Pack interplanetary cargo into spaceships
Earn tokens to buy special power-ups
Two game modes to play
Game System Requirements:
OS:

Windows XP/Windows Vista/Windows 7/Windows 8

CPU:

600 Mhz

RAM:

512 MB

DirectX:

9.0

Hard Drive:

63 MB
Game Manager System Requirements:
Browser:

Internet Explorer 7 or later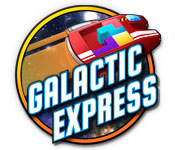 NEW299
The Big Fish Guarantee:
Quality tested and virus free.
No ads, no adware, no spyware.

Reviews at a Glance

Galactic Express
0
out of
5 (
0
Reviews
Review
)
Customer Reviews
A 'sleeper' of a game
This is an excellent 'tangram' style game. For those unfamiliar with the term 'sleeper' it means something unexpected that turns out to be really good. This fits the category perfectly. The game was not the 'tomorrows release' game yesterday, and usually the secondary games are not really that good. I like tangram style games and this was that but so much more. This is a definite tangram game but unlike some that penalises you for discarding blocks this doesn't. The storyline is actually quite decent considering this genre of game doesn't usually have much of one. You are a packer for international space company (hence the tangram style game), along with packing the blocks, you are given other side-tasks to complete (these are not compulsory but you get extra points if complete them), this adds variety to the game and as some of the shapes are quite awkward makes think even more strategically. There are two modes of play a casual (fairly relaxing mode), that has no real time-limits and is a good introduction to the genre (if you have never played these types of games before), and the 'delivery' mode, where by you are giving time-limits and the 'extras' to complete. To be honest this is where my hours 'free-play' went. I will give a tip though whilst you do get points for 'colour-blocking' a section, sometimes the need for colour overtakes the overall picture thus you may not meet the deadline because of the 'need for colour'. Overall if you like puzzle games and particularly if you like this type of puzzle I would defiantly try it. For me I think this 'sleeper' has turned into a 'keeper'!
January 29, 2013
Pleasantly Surprised
If you like inlay games and you enjoyed this games first iteration as Ocean Express you will likely fall in love with Galactic Express. This game blows its predecessor out of the water in all respects. The graphics, music, sounds, interface, story, and overall gameplay are much better this time around. This is one of the best inlay games I've ever played hands down. There's not much to be said because the genre is so perfectly simplistic. It is another inlay classic comparable to Fireworks Extravaganza, Magic Inlay, and Charm Tale. Recommended.
February 5, 2013
Casual Mode Is Fun For Young Children
I've only played the Casual mode of this game so far. I picked it up because my four year old nephew has shown a liking for jigsaw and tangram-style puzzles and I thought he might like it. He absolutely loves it! Playing it in the Casual mode means we're not playing against a timer. We have a goal-meter that advances for each package we place (and decreases for each one we throw away) but not reaching the "goal" doesn't seem to cause any ultimate penalty. As we complete each group of ships, our company expands its shipping range from the Moon outward into the solar system and a journey line is provided to show our progress. Each new planet reached results in new background screen when playing. My little guy liked the fact that there were special packages that gradually appeared as the game progressed - packages of medical supplies, packages of tools, packages that we're calling electric motors (it had a lighting bolt on it). We've had chats about the importance of such packages and what they would be used for. Bonus points are earned by placing the same colored pieces next to each other, by filling a shipping container with all the same color pieces, by placing those special packages, and by achieving 100% filling of the containers. Pieces can be rotated and they can also be tossed away in order to bring new package shapes down the conveyor belt; once the pieces are placed in a container shape, though, they cannot be removed. The number of containers within the ships, the complexity of their shapes, and the number of ships in each level increases as the game progresses. Positive reinforcement is given for high completion rates, and a launch sequence counts down and the ship zooms off-screen as each ship is filled; the kidlet loved that. It is a gentle game - no scary bits for the little guy. The actual gameplay is not complex - left clicking to drag-and-drop, right-clicking to rotate the pieces. It's fun to watch him figure out what to place where (and for myself, it's fun to do that too). We are both enjoying playing the game, so if you enjoy the tangram-style puzzles or have a kidlet who likes to assemble things or do puzzles, give this game a try.
February 6, 2013
Highly recommended!
Cleave is been a big fan of the Express games series, and when he saw me testing this one out, he's like, "Oh! We are so getting this one!" Turns out his instincts were right on the money, because Galactic Express is really fun! In this game, we load cargo spaceships as they leave Earth and head to the moon, and with every successful level conquered on beyond the Sol System. Galactic Express is somewhat like a Tetris game, but we can chose which packages we place into the cargo holds, and earn extra points for special items, like meds, tools, batteries and such. These case have a certain shape that works best in corners or tight places. The only drawback is we never seem to get that one tiny 1 x 1 package that will fill those little spaces. Still, sending out a ship at 98% capacity is not so bad. Packages also are clour-coded, and if you fill a hold with all one colour, you will receive bonuses that can be used for upgrades. If you enjoyed any of the Express time management games in the past, you will love this one. It still has the simple, but strategic gameplay, but the stunning outer space graphics really set this one apart from previous games. The addiction will come back to you, and you will soon find yourself heading to Alpha Centari and wondering were all the time went. Galactic Express? Highly recommended!
January 30, 2013
UPS meets Tetris
I never thought about it, but I guess working for a shipping company is a bit like playing Tetris, and in this game that is what you are doing. Your goal to is fill spaceships with the maximum amount of cargo in the shape of tetrominoes (geometric shaped tiles) as quickly as possible. Pack an area with tetrominoes of the same color for extra points. Meet the quota for specialty items (special tetrominoes) to complete the level. The premise is simple and familiar, but it's still a lot of fun. And any day I can use the word tetrominoes four times in one setting is a good day!
January 30, 2013
real nice come back
this is a very good game for those that have played puzzel express i loved that game it did get hard though this is just like it some what puzzel express is filling trains this is filling rockets they both have time and relax i like the trains better but this still works for me wish bigfish would get puzzel express though so i could have them both thanks bf for making a nice game other then hog hot wings out
February 1, 2013
A Fun Game
I found this inlay game much better than I thought it would be. There are goals to complete, and it is interesting, colorful, and fun. I bought it.
January 29, 2013
From the exciting world of.... shipping and receiving?
This is not a bad game, but it's just not my personal cup of tea. Graphics and sound were great. But I found the game play to be monotonous - and I didn't play relaxed mode either. I was hoping it would be something along the lines of Jewel Charm (only more challenging please!), but I was to be disappointed. You get tetris like pieces (packages for shipping) and you must place them into the ships. You have an unending supply of packages so there is no challenge there in using them up before the tray gets full. The only thing to really work toward is filling up a ship and making color bonuses. In later levels, you get special requests for certain packages on your ship - no challenge to them really. And you get to buy power ups of single square packages to fill in gaps. Really I didn't find this challenging or interesting enough to catch my attention for the full hour. I felt like I could be doing something like this with a FedEx truck and actually get paid for it.
January 29, 2013