Nightmare Realm: In the End...
When your daughter, Emily, is suddenly seized by a mysterious force, you must journey to the Nightmare Realm to search for a cure. But nothing could have prepared you for what you find there… You soon find yourself trapped, racing against time to save your family. Can you track down the creature that cursed your daughter and uncover the secrets behind the Nightmare Realm before it's too late?
Gorgeous Graphics
Save your daughter!
For a more in depth experience, check out the Collector's Edition
Game System Requirements:
OS:

Windows XP/Windows Vista/Windows 7/Windows 8

CPU:

1.0 GHz

RAM:

512 MB

DirectX:

9.0

Hard Drive:

1442 MB
Game Manager System Requirements:
Browser:

Internet Explorer 7 or later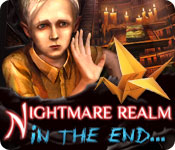 NEW299
The Big Fish Guarantee:
Quality tested and virus free.
No ads, no adware, no spyware.

Reviews at a Glance

Nightmare Realm: In the End...
0
out of
5 (
0
Reviews
Review
)
Customer Reviews
Nightmare Realm: In the End...
53
53
A Nice Challenge
Would highly recommend this game if you're up for a challenge and like to play in hard core mode, as I do. The puzzles range from easy to fairly difficult. Very few HOS, which is fine with me, as I enjoy the puzzles the most. I think most people will really enjoy this one.
March 19, 2013
Quite a good game in the end
I really enjoyed this one. It seemed to have a bit more length and depth of game play than the norm. I found the story line engaging. HOS were nicely balanced with puzzle challenges. Although most of the puzzles had no instructions they were fairly easy to figure out and I found all of them yielded to reasonable patience and logic. The last climactic couple of scenes were a bit disappoining in that the audio and video were out of sync; the speech would be heard, then the visual would play out so slowly I was afraid the game had frozen. Thankfully this was not the case. The graphics after certain sections had been solved were particularly beautiful and gratifying. I thought the story line was more clever than the norm as well.
March 7, 2013
A marvellous game!!!
A fantastic and unique game!!! Excellent story, music, art (not just graphics or videos!)! A must buy!
March 7, 2013
Well constructed game
I dont do many reviews unless I am really impressed with a game and this one has everything. Very few HO which were generally clear and inovative games. Good length and fantastic graphics. I like having 'chapters' that clear the inventory, so you start fresh with the next scene.
March 5, 2013
ONE OF THE BEST GAMES I HAVE EVER PLAYED !!
This would have to be one of the best games I have ever played !!!! It is creepy, intriguing, amazing artwork, great puzzles, challenging and just keeps going on and on from one scene to the next. Absolutely and totally worth the money !!!! Love it !!!!
March 4, 2013
Great game !
I really enjoyed this game ! The plot is intriging so you want to play more. The graphics are beautiful and the puzzles are not too hard but challenging. A must !
March 2, 2013
Great sequel!!
If you didn't play the first one, I would suggest you do. You don't have to play it to play this but it makes it more complete. Great fun, good length of game play and fun, unique puzzles. I am waiting for the next one to come out!!! Worth the purchase!
February 8, 2013
I Started Playing and Couldn't Quit!
I really enjoyed this game! It was a sequel to the original Nightmare Realm. The graphics were fantastic! Absolutely nightmarish...or beautiful! The puzzles were not hard. Not many HOGs, some new creative puzzles I enjoyed. I even felt this one, the fear, the urgency to save my husband as well as many other characters! I really recommend this one!
February 5, 2013
Nightmare Realm: In the End
I truly liked this very much, it is so awesome that it started right where the first one left of. I found everything about it excellent, I especially liked that it seemed to be longer than most reg games. The story was so interesting and I am excited to play the next one which I assume that there will be a next one. So my overall satisfaction is very,very satisfied.
February 4, 2013
Dark adventure game (literally and figuratively) 4 HOS
I finished the CE but the ratings etc are for the SE (especially as it seems the SE has collectables). Main plot is 100% tied up in this main game the bonus was a backstory.* This is a sequel to nightmare realm which I really recommend that you play first or I think you would be lost and also I think you would miss out on a lot if you play this game then the first game. This other strange world which you can go into because your child dreams and paints pictures. Your child is now grown up (although doesn?t look it) and you play as the mother again. If I hadn?t played the first game I would feel differently about this game but in two aspects that I feel they did so much better ? colour in graphics and plot there is no way around it, that I could ignore it. Comparing between the two, the first one wins hands down in plot, even graphics (colour in the darker scenes) and fun factor. I can?t quite put my finger on it but this is missing the spark of the first and I think it is to do with plot, and for me when the scenes were grey (although not all of them where) it made me feel depressed although some pictures and scenes were of course lovely and had some colour to them. I felt there was a lot more grey scenes in this compared to the first game which I always remember as being a visually lovely game in the dark scenes although here it?s well done. I just like some colour in dark scenes ? rich midnight blues but make the next dark scene, dark oranges etc. So that?s why I?m not all excited about this game as I realised afterwards I actually felt a bit depressed by the end of the game which stuck with me, due to the dark grey scenes and to a lesser extent the dark theme. And it's doesn't have that super sharp graphics that I love either. Although the puzzles were good, and the adventure aspect was very good. The interactions were different, and loved that adventure side of it. I don?t like saying anything about the plot as it?s a spoiler but I miss the suspense, charm of the first game. Even though the first game was dark it still was charming and it was more the lack of a plot or story that I also really missed in this game and in places how it was edited. I loved the plot in the first game. There are but a handful of games that I even remember the plot and how it stands out and the first game in this series, was so well done but this wasn?t. The reason why I didn?t like the plot in the bonus in the CE is completely different to why I didn?t like the plot in the SE. The interaction between the mother and the first prisoner ? really that?s it? No explanation re Uncle and it just ended up being another ?meh? plot because of HOW it was done. If those two things were the same as the first game, I?d give the SE 5 stars. *If I was a SE player I may think (using that word to be none spoiler) that the bonus may give a different ending to one aspect but it doesn?t the ending you see is the ending for CE players as the bonus went back in time trying to explain the ?why? of it all. This is a far darker game than the first one, with more references to demons although I thought the other realm was to do with more evil men and imaginings, so I couldn?t figure that part out. If you have played drawn then you understand the concept and gameplay. It plays as an adventure game (the first one didn?t), with some puzzles (21) and only 4 HOS in main game. I did enjoy a lot of this game ? it had some very good adventure aspects to it along with a wide range of puzzles from easy to more involved. On the hardest setting of three (which I played) there is no hint button but there is a skip button. There is a map indicating things to do but it?s not a transporter map. I liked that the inventory bar you can unlock it so when you don?t need it?s not in view. 4 HOS All were list and one you repeated. They were very interactive and some nearly every item you had to do things with. No tiny items, I thought most were clear ? the first one in the forest was the least clear of all of them. There is a random click penalty but it is very forgiving. 21 puzzles (has a skip button on it) I loved a lot of the puzzles, even some easier ones if it?s interesting, different and fun I enjoy them. Wide range of hardness. I do class puzzles that are harder in a HOPA if it takes me a while to do. So there were a couple ?hard? ones for a HOPA but not ones you would never work out, it just took time. I loved some of the puzzles ? the multi layered ones especially, as it?s more interesting. Taking each aspect of the puzzle was actually easy but putting them together into one made it more interesting. Some of the types of puzzles ? Hanoi tower (which I hate as done it so often), tangram, rotate ring, move people across river, 2 jigsaw types, balance puzzle, arcade, move water around between bottles/ 3x3 slider, photo fit, paint puzzle, mosaic swap tiles. There are a lot that we have seen before (see the list) but I thought the graphics or how they did them were really good and just seem to change them completely. Most did have the fun factor. TIME ? about 4hrs 30mins ? pure playing time not including breaks etc (on hardest mode but I did skip one puzzle as didn?t like the type) I recommend this game to people that don?t like a lot of HOS, don?t mind dark games, or grey scenery a fair bit in the game. If it wasn?t as dark, had the plot, suspense and more charm of the first game, some colour in the grey scenes then it would be a near perfect game for me. I went in to so much detail so you can see if that is something that would affect you.
January 30, 2013
The Apple logo is a trademark of Apple Computer, Inc.