Break the Curse: The Crimson Gems
Exclusive
Once upon a midnight dreary, as Lorenzo slept, weak and weary, the carnival master's star performers, Harold and Eliza, went missing! Its up to you, an expert in the arcane and supernatural, to track them down. From the lair of a powerful alchemist to the mythological creatures of the Zephyr carnival, embark on an adventure through a world of magic and mystery. Will you save Harry and his wife, or will they be Nevermore? Find out in Break the Curse: The Crimson Gems!
Lush, hand-painted visuals
Game System Requirements:
OS:

10.8/10.7/10.6/10.5

CPU:

1.0 GHz (INTEL ONLY)

RAM:

1024 MB

Hard Drive:

524 MB
Game Manager System Requirements:
Browser:

Safari 4.0 or later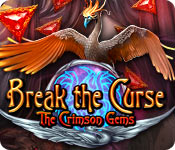 NEW299
The Big Fish Guarantee:
Quality tested and virus free.
No ads, no adware, no spyware.

Reviews at a Glance

Break the Curse: The Crimson Gems
0
out of
5 (
0
Reviews
Review
)
Customer Reviews
Break the Curse: The Crimson Gems
44
44
REVIEW OF COMPLETED GAME
This is a must have for addicted puzzle fans and a no-no for HOG lovers, there aren't any, just puzzles. At first I wondered how to categorize it, as there are some things to find, but they appear in small boxes about 3x3" and are all the same object. They were rare, though. So, I have decided it is a Puzzle Adventure Game only. But what a cracker. BF says the graphics are hand painted. I do not know how that works in a computer game, but whoever did them is a gifted artist. They are gorgeous, surreal and sumptuous, a veritable visual banquet. The majority of the puzzles are extremely complex and intricately designed and they take some doing. I could not do them justice and regrettably spend much time waiting for the skip to fill. But I still would not have missed out on this. At first the story was just the usual make-believe supernatural fare that we see all the time. But there came a point when I was jolted out of that by a particularly disturbing turn of events and it became apparent that the villain of the piece was one of the most unpleasant I have ever encountered in a game. Not just in her deed, but moreso in her motives. It took on a very dark and sinister aspect, one that is prevalent in this world and one of the most dangerous and destructive. This game is not one I would want my underagers anywhere near. There is no visual explicitness, but it is obvious from what the main character writes, exactly what kind of thing he has been subjected to, and I found it very nasty indeed. Definitely adults only. The voice overs are good, as is the music. The navigation leaves a little to be desired, but I do stress the word little. Also some of the cut scenes are little sticky. It took me 5.5 hrs and I skipped about 25% of the puzzles, so for those dedicated "must and will solve it" players, look at about 6 hrs. Lovely piece of work, devs. A real delight to navigate through. Just brush up a little on the mechanics next time. But, thank you and thank you, BF too.
December 24, 2012
Had Me Backwards
The music is relaxing. The story was okay. Good game for kids and adults. It took me a few minutes to realize the info when clicking on something was in a band below instead up at the top of the screen. The hint button told me exactly what to do next. The puzzles were fairly good. On the easy side. The graphics were very good. The flow of the game was okay. I would probably make this one one of my free ones on a rainy day. I founding the game some what relaxing. Some Hos and some interaction with atmosphere or animals would have been nice. Maybe on the collectors??
December 24, 2012
Puzzles Galore!!! No HOG's Here.
Review based on Purchase and 3/4 completion of game. I can't believe the bad/low reviews! I had to stop playing and write a review. LOVE LOVE LOVE this game. If you're a fan of Hog you will probably not like this game.....there are ZERO. If you love puzzles you will be thrilled (I am!#. ?There is one puzzle after another #like heavy HOG games#. ?The storyline is good, not dark or gloomy, based upon unrequited love. ?The graphics are painted and take some getting used to. ?Hints tell you exactly what needs to be done. ?Flow of game is very good; you stay in areas and can't advance until you complete tasks. You are given a task list. ?Map: none, not needed ?Journal ?Very limited backtracking. Voice over for Lorenzo #circus owner# is excellent. Don't care much for the bird. ?Puzzles: there are your usual pipes, dials that need colors to match, found one match 3 so far #again 3/4 into game#...some that are new and new twist on old standards. I have often wished for a game with just puzzles #much like hog fans get with games such as Clutter etc.). This is that game. Replay value? YES...the puzzles are literally one after the other, with just moments between. I'm off to continue playing....haven't had this much PC game fun in years!
December 26, 2012
Puzzles galore
I think I've seen this game before, I demoed it at least a year ago and have been looking for it. this is not a HOG A very good puzzle adventure beautiful artwork with loads of color puzzles [tons of them] range from easy to hard. I'm a puzzle lover and I had to finally skip a few. The game had several find 10 of this or that no map but no to much backtracking helpful hint button so if your a puzzle fan and tired of all gray games, give it a try I think you'll enjoy.
December 26, 2012
5 stars because it is NOT a Hidden Object Game
I love adventure games but when I see the "sparkly" areas, I know there is the dreaded hidden object part. It is so hard to find games that are not Hidden Object - adventure. I really wish that the website people here would create a separate category for adventure games that are NON Hidden Object games. Is there a place to ask for this service? Or someone here pass the request to separate NON Hidden Object games.into their own category. Please?
December 27, 2012
Adventure Game
Two circus performers are missing and feared kidnapped by an evil witch. Review based on 45 minutes of demo time. No junk pile HOs. Find 10 jewels; 10 pieces of a ripped up painting; find an occasional tool; that sort of hidden object scenes. Lots of puzzles; many are more difficult that the average hidden-object-puzzle adventure games. I skipped some of the puzzles because I wanted to get as far as I could during the demo time and some of them were going to take quite a while to solve.
December 24, 2012
Fantastic Puzzle Game
This game has lots of puzzles for those of you who enjoy them. I am having so much fun with the puzzles that I look forward to the next one as the game progresses. In fact, I restarted the game just to play some of the puzzles a second time. The graphics are very colorful and well done, which is something I love in a game. The voice-overs are excellent. The developer has put so much into this game I am surprised that it wasn't released as a CE. All in all, a very nice game that I will enjoy playing many times.
December 25, 2012
Great fun - creative, imaginative, interesting!
I have just finished the demo and will be purchasing. The storyline is interesting, just a bit "spooky" (If you can deal with "Hansel and Gretel", this is just fine.) There are two difficulty levels. (I played on the Casual level.) The graphics are very good, with lovely, bright colors, There are good voice overs for dialogue and a very good hint system. In places where you are "checking" to see what something might reveal to help you, there will be a written comment in a banner above your inventory. There is a really good journal that stays open to where you last read an entry. The mini-games are unusually creative, imaginative and intriguing. If you want to skip a mini-game, you can. The music is both beautiful and relaxing. I believe the length will be quite good; based on the number of entries to be made in the journal, and how many I had gotten through in the 60 minute trial. (I was just a "smidge" past one-quarter.) I did skip one mini-game and took my time admiring the beautiful scenes. If we could give half-stars, I would give this four and one-half. Lots to enjoy - have fun!
December 24, 2012
Excellent Adventure-Puzzle Game!
I agree with Sheerija, BTW, thanks for your thorough reviews. I'm only about have way through, but want to give my opinion. I am thrilled with the puzzles, I've only played a couple run of the mill ones. I found most to be unique.This is the most challenging game I have played in a very long time. Definitely gives your brain a work out. Try the demo and see if you like it as much as I do!
December 26, 2012
Fun puzzle game
Just finished this game, have to say I really enjoyed it. Not much of a HOG however there are a handful of scenes that requre you to find some certain items such as 10 coins etc..these are presented in smaller windows in the middle of the screen so those with smaller moniters may want to check out the demo first. The puzzles in the game range from somewhat simple to head scratchers that you may want to skip here and there, I myself skipped maybe 10% of the puzzles and this only after fiddling with those few for sometime as some were just a bit too frustrating and there aren't any achievments for not skipping etc... Puzzles feature pipe navigation, color wheel manipulation,sliding tile puzzles,fitting pieces into boxes correctly,manipulating tiles allowing the piece to slide out the center, some math rotating dial puzzles and a few other ones. I thought the story was pretty cool and a bit darker from the norm I think playing so many HOG and puzzle games you tend to expect stories to be similar and even though this is..it still was a bit darker with a small twist. Graphics are decent for what they are very nice hand drawn and the voiceovers aren't too bad. The game is a stretched widescreen like so many games, I wish more companies would just make all games widescreen considering most of us have widescreen moniters. All in all it took me about 3-4 hours finish the game wasn't really keeping track but had I not have skipped puzzles I would give it a solid 4 hours so not too bad. Check it out.
December 26, 2012
The Apple logo is a trademark of Apple Computer, Inc.
The Windows logo is a trademark of Microsoft, Inc.