Rolling Idols
Feel the onset of the doomsday. It has begun. Monster Nibiru, sent by evil divinities, swallowed some of the nature Elements, keeping them inside itself in captivity. And the track of time is lost due to broken and hidden by parts Mayan calendar. You get the chance to be the savior of the universe! Use the power of the nature and Mayan sorcery to defeat Nibiru and send it back to where it belongs!
Numerous upgrades
Stunning animation
Countless achievements to earn
Game System Requirements:
OS:

Windows XP/Windows Vista/Windows 7/Windows 8

CPU:

1.0 GHz

RAM:

1024 MB

DirectX:

9.0

Hard Drive:

179 MB
Game Manager System Requirements:
Browser:

Internet Explorer 7 or later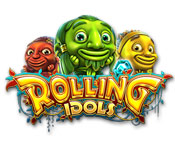 NEW299
The Big Fish Guarantee:
Quality tested and virus free.
No ads, no adware, no spyware.

Reviews at a Glance

Rolling Idols
0
out of
5 (
0
Reviews
Review
)
Customer Reviews
Fun Match 3 game
This is a very fun and relaxing match 3 game. The graphics and sound are great. The directions are easy to understand. The actural game is big enough to see. I would recommend this game.
January 30, 2013
Not for the Average Match-3 Gamer
The creators of the Montezuma series did it again. A very sophisticated and complex game that challenges your brain's ability in so many more ways than just matching some nice icons. At the first sight the simple board might fool you. For the better or worse, the game does not have an elaborate tutorial. This will probably sort out a lot of players without even having discovered the beauty and diversity of this game. The learning curve is steep, and it took me about two thirds of the game before I figured all the different steps and strategies this game provides. It does not only have 6 power-ups based on the matching color, but the properties of the power-up also change, depending how often a certain icon has been matched. (I. e., if you match a blue stone the first time, this stone changes to a pull-stone for dragging the entire row but also keeps its ability for a simple exchange if just clicked, and not dragged. If you match the same stone a second time it becomes an icon that can trigger a change of all red stones to brown etc.). And the more you upgrade the power-ups, the more powerful they get. Wow, that simple board will be a firework of explosions and movements. It really takes some strategy and thinking ahead on how to overcome all the obstacles and catch the one icon that finally counts - the one with diamond. And it takes some quick action if you want to score high and get or upgrade your power-ups faster. However, if you don't like the time pressure, you still can continue your game and still will receive a point reward for moving on. All in all - one of the few match-3 games that does not just put some little pictures together. It has the challenge of a game and not a story.
February 1, 2013
Rekindled Romance
This game reminds me just how good Match 3 titles can be. The graphics are not what most would consider "high resolution" by today's standards but they are high resolution for a casual game. There is a great deal of smoothness, style, color and lack of pixelation which is beautiful and impressive. The game has a story (although kind of weak), cut scenes, power upgrades, trophies, and best of all a solid and fun gameplay dynamic. If you've played any match 3 you can pick this up in a second, but what's so great about this one is the fact that it builds on many previous match 3 iterations by allowing a progressing change in gameplay as you advance levels. The music is also wonderful, which is another pleasant surprise because a lot of "casual" games are sorely lacking in quality soundtracks. Definitely worth a game credit, do not miss out on this rare gem from BFG.
February 2, 2013
More Here Than Matching
I'm a match 3 fan so I expected another fun but normal match 3. No way! This one challenges your meory, strategy and patience and that's just the opening rounds! You've got idol heads to match but must get those diamonds for more power and beware how you combine idols because their powers may adversly change those nearby. Powr-ups sure, but which one to get and in what order to max out the pyramid and weaken the evil enemy! I played the untimed mode but even there you are pressured to "go for the gold" on the timer as you'll need more points for buying powr-ups. Two flaws kept the game from total perfection. No instructions and the idols look very much alike so it's hard to see which one of a given color you're gonna use. But even with these downers, the game is fun and definitely worth a try for any m3 fan.
February 14, 2013
Fantastic match 3!
Can't stop playing! Amazing visual effects and graphic! Waited this game for a long time and now happy :D. Interesting storyline and gameplay. Maybe, its too easy sometimes to win(need hardcore mode), but its enough to get some fun!
March 18, 2013
Not bad
OK, this is for the demo only, haven`t played all the way thru. Good match 3(or more) game. I`ve played for 45 min. and still not sure what the game is all about. You have to match these idols and you can play timed or relaxed mode, I played the timed. During the process you earn points to which you can buy power-ups, i.e. 'frogs' which leap over and help you match, or other power-ups which will move the entire line so you can make matches. As you make matches, your energy bar fills up, but watch it as you will have to make matches with idols that are holding 'crystals' because your energy bar will be blocked unless you collect the crystals. Some of the idols will be in cages, it took me awhile to figure out you don`t need to bring the 'key' to the cages you just need to match the idols that have the keys to release the idol from the cages. You will also have idols tied up and all you have to do is match them, both of the caged and tied idols can not be moved you must have other idols near them to destroy them. Music not intrusive, pretty good, I just turned it down, graphics ok, if a little cartoonish. Still not sure how to use the power-ups, but will play a little more and go from there. All-in-all a fun game, not sure I would pay full price as there are a lot more match 3 games that are more interesting, but ok game for younger kids. As for me I think I will wait until it becomes a DD.
January 30, 2013
Beautiful Match 3 Game
I'm always a sucker for pretty games that have nice music, and this game fits this description. In this match 3 game you earn points to purchase special tiles that have enhanced power, such as altering the board or exploding adjacent tiles. The more points, the more powerful tiles you can purchase. What I liked about this game were the beautiful graphics, nice music, and the ability to alter game play by upgrading to power tiles. What I didn't like was that there was nothing extra earned if more than three tiles were matched. Otherwise, it was a fun but standard matching game.
January 30, 2013
Different Match Three
I enjoyed this game overall. Its a mixture of different types of match 3s, with blocking pieces, sliders, and upgrades -- which was nice. My only negative comment is that -- there is no custom cursor so the standard default cursor can get lost in the screen. Given all the wonderful graphics in the game, it seems odd that the designers didn't do a custom cursor.
January 30, 2013
It's Not That Bad
Rolling Idols does have instructions. Really! Your task is to build pyramids throughout the game to be rid of the fluffy critter at the top. And the frogs help you make matches easier. The powerups above the purple critter do have different functions and they help, but you have to buy them. The bonuses/points you get go toward upgrading your powerups. The music is cool. Graphics good. I played the full demo. It's not difficult. Go ahead and play it. It's not that bad.
February 2, 2013
Liked it!
A fun, challenging Match-3 that doesn't keep interrupting with a storyline! Great game to waste some time on! Definitely buying the full version! The gaphics were good & the game play was crisp, but not too overwhelming.
February 12, 2013