Death Pages: Ghost Library
Exclusive
You come to the city library to investigate the case of three teenagers gone missing. It turns out that the former owner of the library, the Alchemist, kidnapped the souls of three readers and planted them in the book "Romeo and Juliet". They are to live the lives of the main heroes but you can stop the tragic ending! Wander the gloomy halls of the library, travel to the medieval streets of Verona, discover the Alchemist's insidious plan and save the children!
Engaging storyline
Wander Shakespearean Verona
For a more in depth experience, check out the Collector's Edition
Game System Requirements:
OS:

Windows XP/Windows Vista/Windows 7/Windows 8

CPU:

2.5 GHz

RAM:

1024 MB

DirectX:

9.0

Hard Drive:

681 MB
Game Manager System Requirements:
Browser:

Internet Explorer 7 or later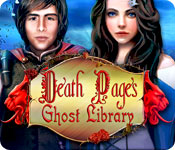 NEW299
The Big Fish Guarantee:
Quality tested and virus free.
No ads, no adware, no spyware.

Reviews at a Glance

Death Pages: Ghost Library
0
out of
5 (
0
Reviews
Review
)
Customer Reviews
Death Pages: Ghost Library
24
24
For those who were desperately waiting for this SE: GO and GET it!!
Just could not wait for the SE release and had to purchase the CE? Elephant games did it again! Detailed graphics, very good story: We have to stop the villain with his evil jester puppet transfering live souls into Shakespeare?s book of Romeo and Juliet... 3 playmodes to choose from - can be changed during the game. 4 chapters offering +/- 4 hrs. gameplay. Good amount of not too challenging minigames and hidden object scenes. Hidden object scenes are different to the ones we used to know: You place items shown in your inventory into the scene. That is a lot of fun and not that easy as you might think... HOS/ graphics are similar to "Detective Quest: The Crystal Slipper"... We have an interactive map with tasklist. Hintsystem is very good, telling you what to do next. (Therefore the strategy-guide offered in the CE is not really neccesary). Together with the inventory we soon get a cude and helpful owl! And as there were no CE extras such as collectables or achievements, this SE is high recommendable!!!! (Even though I loved playing the bonus-chapter?. Spoiler alert!!! Where our teenage charakters meet ? Dorian Gray!!... oops:))
February 20, 2013
Excellent SE ? Elephant + Shakespeare = Success!
There is nothing standard about this SE! If you like HOPA games by this developer, you will not be disappointed. The storyline is engaging, and the visuals and sound are extraordinary. The gameplay provides a good balance of adventure, HOS and puzzles. Three students go to the library and disappear into a book - Romeo and Juliet. Not spooky, in spite of game title. Interactive HOS where you place items into the scene. Interesting puzzles. Not too easy or too hard. Both HOS and puzzle content are relevant to game. Excellent graphics, with gorgeous and colourful artwork. Great transporter map with task markers and a task list for each site, so travelling does not become a chore. Hint is useful outside of HOS. Since gameplay covers a large area, the extra help comes in handy for those of us without perfect memories. You will not likely miss the SG. Music is varied and appropriate to moment. Cutscenes and dialogue are not too long or intrusive. Both enhance the adventure experience. I can?t comment on how the story ends or how it differs from the CE as I have not yet finished it. Based on the demo and my enjoyment of the CE, I highly recommend that you give it a try and see for yourself!
February 20, 2013
Really nice game
with a very particular storyline, really interesting the idea to base the game on adventures taken from classical novels! Excellent graphics like always in the Elephant standards(loved the helping owlet!!), easy puzzles but original and not boring, funny hidden objects scenes...i did not give the 5 stars because I found it a bit too short, round about 3,5 hours in hard mode, but beside that is a very good game which really worth a try.
February 20, 2013
Fun beautifully illustrated Elephant HO/Adventure game
Though some have said that the game play was redundant or there were issues playing on Mac I truly love Elephant games. The artistry is perfection and the story was intriguing. The plot was somewhat more twisted and dark than I prefer, but I enjoyed the demo thoroughly and bought the game straight away. The story-line flowed easily and the movement between scenes was simple enough to not become frustrated at what to do next. I quite enjoy the HOS where you place the object instead of find it, though it might not be everyone's preference. This seems to give a new element to the game instead of the same 'ol boring seek and find HOS. The game play has mostly been done before but it works and I'll keep playing Elephant games as long as they keep developing some of the best games on Big Fish.
February 20, 2013
This game is a lot of fun!!
What an interesting storyline - you go into the play "Romeo and Juliet" and the modern world to try to save your friends. You have to go back and forth and try to remember where you need to go next. It is a challenge. The game is a lot of fun to play and very well drawn. You pick up a helper or two along the way. In the games you put things where they belong and some of them are a little hard. I think you will really enjoy this game as much as I have.
February 20, 2013
Just Do No Know About this One
This is a difficult game to review. I only played the demo, so it might get better as time goes along. I liked it, but didn't. I spend the majority of my time using the hint button, which is very helpful and fast, in getting around. The fun factor was okay. I just was not impressed with the two fold story situation and running back and forth from the library to the books. There is a map which is very helpful in getting around, but for the life of me I could not, in most cases figure out what I was suppose to be doing. I spend the hour trying to free these poor souls, but only succeeded in releasing one. Obviously I don't know what is past the hour so it might become great. The sound is good and the graphics are top notch and pretty. With the map and the tasks available, you shouldn't have much trouble, but I prefer not hitting the hint button to figure out what I'm suppose to do. The mini games are not difficult. I played them all and that is saying something for me. Normally I don't have the patience to play them especially if I'm running against the clock. Once again, it is interesting, the quality and sound are what you would expect from Elephant, the challenge is there and the story line may improve as the game progresses.
February 20, 2013
Trapped in the library!
Good story, a few kids dissappeared in the library and you must investigate what happened to them. You learn that a madman has trapped them inside their favorite books as the main character! You will travel between the real world and enter a book portal where you will try to help each kid in their book world. The graphics are crisp and the details are well done. I turned down the music because it was distracting. There aren't too many HO scenes and they are reversed, you are given picture items in your inventory and you must place them into the scene. The puzzles are not new and they aren't hard but a little time consuming such as dividing up equal amounts of weights to balance a scale, rearranging a picture by sliding the pieces one tile at a time to the correct position to complete a portrait. The items you find will be used in the real world as well as the book world and visa versa and I will admit that at times you are lost as to where an item is to be used, but the hint system is very specific in casual mode and will tell you exactly where to go and what to do.
February 20, 2013
I've played better
I just played the demo, not the full game. I had three problems. First, lot's of running around. Seems to be the new trend. Back and forth between two worlds. Time consuming and annoying. Second, on casual setting, mini games way too easy. Here is a bookshelf with 8 books with Roman numerals and one book missing. When you put the missing book in, all you have to do is arrange them numerically. The other "tough" one was a jigsaw puzzle. Maybe the games play different on more advanced settings, but these were way too easy. Third, I just could not engage myself in the story or related to the characters. Once you got the story setup in the opening, little plot advancement during the time I played. The HO scenes were take an item in inventory and place it in the appropriate place in the picture. I find I do better with a list of words of items to find, but maybe that's just me. I knew early on I wasn't going to buy, but wasn't even impressed by the "free" part.
February 20, 2013
Seems I've been here before
I think this game has come out before or its just my imagination since lately they all seem the same. The game is fun, not too challenging, good graphics as always with Elephant games. The constant running around is a little annoying but most games lately make you run around I gues they want us to get mental exercise.
February 20, 2013
Not My Cup of Tea
I am not a fan of HO games in the 1st place, but that seems to be 99% of what we're offered. For those who like the multiple areas/rooms, this is probably great. For those who are just looking for a destressing game to end the day, this may not be the one, Try the demo. It's a quality game of its type, just not MY type.
February 21, 2013
The Apple logo is a trademark of Apple Computer, Inc.