Grim Tales: The Stone Queen
The family saga continues when your nephew Brandon encounters the mysterious Stone Queen in a lonely mountain town. She used to protect the miners here, but now she's out for revenge! The mystery deepens as you explore her shimmering Stone Kingdom, hiding just beneath the town. You must discover the truth behind the queen's anger and save both worlds before a greedy heart brings about their destruction. You'll meet new friends, but you'll also face new foes in Grim Tales: The Stone Queen, an intriguing Hidden-Object Puzzle Adventure game.
Game System Requirements:
OS:

Windows XP/Windows Vista/Windows 7/Windows 8

CPU:

1.0 GHz

RAM:

512 MB

DirectX:

9.0

Hard Drive:

658 MB
Game Manager System Requirements:
Browser:

Internet Explorer 7 or later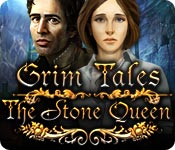 NEW299
The Big Fish Guarantee:
Quality tested and virus free.
No ads, no adware, no spyware.

Reviews at a Glance

Grim Tales: The Stone Queen
0
out of
5 (
0
Reviews
Review
)
Customer Reviews
Grim Tales: The Stone Queen
60
60
Great Grim Tales saga!
I agree this game doesn't have as good of a story as the other Grim Tales, but it's still a fantastic game. The graphics are very crisp and well detailed. You don't need to have played the other Grim Tales to understand this one but you are missing a great series of games if you don't. The hint system is good (nothing on hardcore# and there is a map that let's you travel to other locations as well as telling you what actions need done in those areas. There aren't very many HO's but they are somewhat interactive # touch a case to open) and well done. The puzzles are clever and some are a little tricky, but you can always skip them without penalties because there are no achievements or collectables in this version. The game is fairly long, you will find it hard to stop playing!
February 1, 2013
FUN-CHALLENGING-BEAUTIFUL
Another great game Big Fish has for us. This one is better or equal to the other three games. Brandon is all grown up now but still getting into situations that he needs help getting out of. This game keeps you busy the whole way through with fun games and thought provoking problems to solve. Beautifully drawn and exciting to play. I had a great time with this game. You get a little help along the way from some "friends" that you pick up. The help button is great if you need it. It took me about four hours or so to play and I will play it again real soon. Loved it!!!
February 1, 2013
Absolutely enjoyable
This is a very good, nicely detailed game. The graphics are beautiful, Elephant, of course. So much to do that sometimes you may forget what to do next. The map can help with that, giving you objectives and retrigger your memory. The imagination and story and sceneries are typical for these devs. Little guys will help you along the way. I did not want to buy the CE, because it really did not have anything that the SE does not have, except for the bonus game. Very beautiful game, and stunning graphics.
February 2, 2013
Check Out The New Visuals!
BASED ON COMPLETED GAME At first I was concerned when there was no mention of the Gray family. A ?Grim Tale? would not be a ?Grim Tale? without that demon-prone family of ours. Never fear, our darling nephew has got himself in a fix, and it?s SUPERAUNTIE to the rescue. It?s just we didn?t receive a formal invitation this time, *grin*. However, the game does not follow the same pattern as the previous ?Grim Tales?. No wandering through Brandon?s memories, this time we must save him in the here and now. Once we find him. It is pure chance (of course it is) that we run out of petrol near a mining town where legends say the Stone Queen protects and blesses with gems all hard-working & honest miners. So why are the mines closed and the people turned to stone? And what on earth brought Brandon here? From the moment the game begins you know that you can expect something really special. The GRAPHICS QUALITY is sensational! I couldn?t believe so much improvement could be made on such high quality graphics as we found in the previous games. And many delightful scenes have been created to showcase it. There are all kinds of locations, showing the extent of the imagination of the artists. I have to make particular mention of one track of MUSIC which was linked to entry into beautiful areas. It was heavenly. I could sleep soundly every night to the sound. Mind you, some of the ENVIRONMENTAL SOUNDS are also wonderfully soothing. Yet there was still room for creepy and dramatic effects as well. The VOICEOVERS were VARIED in their effectiveness. In GAMEPLAY, puzzles are favoured over HO scenes, and MANY ORIGINAL PUZZLES were QUITE HARD. Some of the instructions were sufficiently vague for me to be unable to finish them. Interactive LISTS for the HOs, no repeats. These were clear and decent sized and often truly beautiful. There is a fair amount of to and fro, some of the actions and uses of items are less than obvious, and it is a large game area. This makes the INTERACTIVE JUMP MAP essential. The HINT button GIVES HINTS, not exact instructions, although it was pretty obvious in most cases. You also get help from some intriguing and amusing sources, but that?s for you to find out. With so much to do and so much ground to cover, the game is QUITE LONG, as all the Grim Tales games are. This one is a bit different from the rest in the series, and some may miss the more structured gameplay of the earlier games, but this one is well worth the extra effort.
May 1, 2013
Love the Grim Tales Series
I bought this game without playing the demo. I enjoyed the others so much that I knew this one would not disappoint and I was so right.....a lot of fun....I can play this game again in the future and enjoy it all over again....That is what I look for in a game when I purchase it....I want to be able to play it again someday and not be bored with it.....This one did not let me down....If you liked the first two, then you will like this one too....Fun, entertaining and the scenes are gorgeous....I highly recommend.......Enjoy gamers
February 2, 2013
Fantastic Game
I absolutely love the different challenges which this game has in it. Most are the type of mini-game that I have never seen before. The game is very long which is another bonus, there is a great hint system and a map which automatically gets you where you want to be. The strategy guide is very helpful if you really get stuck, which I have done a couple of times but that is my brain at work, LOL. Awesome game in a great "Grim Tales" series.
September 20, 2013
Hard Rock Miners!
Beautiful addition to the Grim Tales series. It's fun to take the story out of the big houses and into a town. Fast game, highly enjoyable. PROS: Great graphics, wonderful variety in creatures (goblins, stone people, miners). Nice voice-overs. Varied puzzles (I liked the inclusion of a mini-match 3). Generous hint feature and a map that lets you jump around quickly. CONS: Not very intuitive. Had to use a couple "Do this with that" hints. Lots of jumping from one place to another (map helps). Scenes change while you aren't looking. Ex: after you clear a scene, a dog appears and you have to go find it, even though you don't have any prior memory of a dog. Overall, I live the Grim Tales saga and this was a great addition. Fun, and interesting.
May 27, 2013
Great Game!
I bought this game months ago and although I bought many others more I still go back to play it over and over again. The last time I played it , I made a mistake . I was over confident. To reach the end of the final chapter one has to place a few fragile glass( gem) flower petals on a stem using a glove( a green glove). There are four gems to be collected or maybe five. Anyway, I collected 2 and stupidly placed them emmidately on the stem then the glove disappeared and I couldn't collect the rest to finish the game. There was no way to retrieve it. One has to play the game all over again. I don't mind though but do pay attention to the GOLVE! Have fun.
June 28, 2013
Big hit with us!
Based on completed game. Game starts out a little slow and ordinary. However, once you get into the mine the imagination and creativity of the developers really shines. Lovely, imaginary world filled with creatures and characters that enchant. Excellent, nonlinear game play! You are presented with some tasks early in the game that you cannot resolve until the very end. Good fun and good for your memory. There is a helpful map which shows the different sites in the game and lists the tasks to be performed at each site if you can't remember what to do next. This map also lets you jump from site to site so there is no backtracking unless you enjoy playing the game in that fashion. HOSs are well crafted and not too easy. Never had to use the hint button for an HOS. If you get stuck during game play, the hint button will give you very specific directions on what to do next. If you have played the other Grim Tales games, you will see your nephew Brandon again in this game all grown up. GT The Legacy the best of the previous games. The puzzles are only of medium difficulty and no Skip buttons were needed. We really enjoy games that create enchanting, beautiful worlds to look at and still challenge us mentally. This game truly meets those expectations. Buy it!!
March 9, 2013
Fun Adventure Hidden Object game
This is a very interesting game. It is an adventure hidden object game. The people in this town have been turn into stone. As you go through the game, you find different objects and you can bring the people back to life. The graphics and sound are great. I finished the demo and I would recommend this game.
February 2, 2013
The Apple logo is a trademark of Apple Computer, Inc.