Grim Tales: The Stone Queen
The family saga continues when your nephew Brandon encounters the mysterious Stone Queen in a lonely mountain town. She used to protect the miners here, but now she's out for revenge! The mystery deepens as you explore her shimmering Stone Kingdom, hiding just beneath the town. You must discover the truth behind the queen's anger and save both worlds before a greedy heart brings about their destruction. You'll meet new friends, but you'll also face new foes in Grim Tales: The Stone Queen, an intriguing Hidden-Object Puzzle Adventure game.
Game System Requirements:
OS:

10.9/10.8/10.7/10.6

CPU:

1.0 GHz (INTEL ONLY)

RAM:

512 MB

Hard Drive:

612 MB
Game Manager System Requirements:
Browser:

Safari 4.0 or later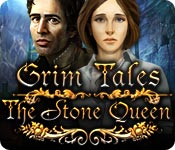 NEW299
The Big Fish Guarantee:
Quality tested and virus free.
No ads, no adware, no spyware.

Reviews at a Glance

Grim Tales: The Stone Queen
0
out of
5 (
0
Reviews
Review
)
Customer Reviews
Grim Tales: The Stone Queen
58
58
Beautiful game, but harder than expected.
I enjoy casual games to get lost in the story line with a relatively easy stress less adventure. I always play on the casual setting but even in the easiest mode this game was difficult for me. I used the hint button way more than I ever had and even skipped a couple puzzles. I really enjoyed the story line immensely and would've played simply for that alone. There was a gratuitous amount of hopping back-n-forth from scene to scene. The movement was easy enough with the map but it became tedious after awhile. The game was long and didn't end abruptly but wrapped up nicely and thoroughly. I'm simplistic in my fun and would recommend this game for the more serious player.
February 27, 2013
Sloppy Story/Mechanics
I really like this series but this one fell kind of short for me. The other Grim Tales games all have a pattern to them. You go to a bunch of different places (like through daydream type images) and once you are done there, you don't have to backtrack and you get whatever you need to advance the story and then you go back to a main "base" so to speak and then it creates another mini world and off you go again. This one differed from the previous setup which is not always a bad thing but I felt it was done quite sloppily for an Elephant offering. The story line was all over the place. I like a good twist but this one made very little sense. Your nephew is back in it again but your sister and husband in law aren't and its really confusing to why your nephew is there at all. At first I thought maybe this game had nothing to do with Luisa and her family for once but halfway through it was made clear your nephew required your help like always. It just was not done well. It had a satisfying conclusion for a standard edition. I am guessing the bonus chapter would be about rescuing the bad guy because my character states at some point "I should go get him because even though he did horrible stuff, he doesn't deserve to be left that way". I thought the game was over at a certain point and then it twisted on again with you having to defeat creatures and since that was nowhere else in the game, it just felt like pasted together. Someone had an idea and took it way too far and some guy doing a project completely unrelated pasted his into this one is what it felt like. It was not coherent what was going on and why for that matter. Elephant usually has great game mechanics and gadgets. A lot of the mini games didn't have clear instructions and/or a reset button. Also there is no lock to hold up your inventory which is a big sad face for me. I hate it bobbing up and down especially when you have so many items to discover. This was probably the first elephant game I played that didn't have that many locations. The map was somewhat helpful but each location said "To waterfall, To Cave" instead of saying "Cave, Waterfall" so sometimes it was kind of hard figuring out which area to be in. Also areas would say there was something to do but you weren't able to do it right now which made it even more confusing. I liked the overall game and had a good time playing it as I really liked a lot of the puzzles in this game but the plot is definitely lacking, the changes they did were not for the better and The Legacy and The Wishes are far superior games in the series than this one. I feel like this game was hastily put together instead of putting their best work into it and thats a shame. I recommend this game but only because it is a series about the same family. The graphics are beautiful as always and if you haven't liked the previous style of the series, it does change in this one so it might be more to your liking.
November 5, 2013
A MISS COMPARED TO LEGACY AND WISHES
Review based on two hours casual gameplay because that's about all I could take. I never did play Grim Tales: The Bride but I did play and enjoy The Legacy and The Wishes. Pity this game didn't measure up to these. Animation - None. Characters were realistically drawn and VOS were excellent. It's a shame they didn't move. VOS does not include player so there's a great deal of dialogue to read. Hint - Moderate recharge, gives clues and directions. Map - Does transport. Misclick Penalty - None IHOS - Usual fare, etc. Journal - None Puzzles/Mini-Games - Usual fare, etc. I'm sure you can tell by this review that I wasn't exactly overwhelmed by this game. There are 3 features I look for in a game - Animation and VOS throughout from beginning to end and the storyline. If you've played the previous Grim Tales games, you may or may not enjoy this one. If, like me, the animation and vos are important to you, I suggest the trial before buying.
March 24, 2013
A Little Grim This Time
The story-line could have been better. It started out good but begin to fizzle as it neared the end of the game.
February 25, 2013
The Mac version is full of glitches!
Just finished the game, it was fun but I didn't get it at all. I couldn't see the dialogs sometimes, If I click hints sometimes they only thing you saw was the dialog box empty. And never saw any of the in between clips because the image started skipping like crazy. At first I thought "maybe it's the game trying to get all suspense and not letting you see all the action" but nope, they never showed. So after I finished, I had to look a walk-thru video to see the clips and now I get the story. The game is really fun but they REALLY need to fix the glitches asap!
February 12, 2013
I really tried to like it!
The Grim Tales series have been good, although I still can't play The Wishes due to a bug. However I have been struggling with this game now for a few days and I just can't get into it. I can't seem to put my finger on why though. There is a level of logic that doesn't seem to gel with my brain! For instance you have to use a certain object on another and I would never have thought of putting those 2 things together. I just find it a little too obtuse, coupled with the fact there is very little in the way of sounds or voice overs, it just makes it a bit boring I guess. I would never say don't play this game as everyone is different as you can see that from the other reviews, but for me, it just didn't deliver. On the positive side... Graphics were good!
February 24, 2013
Not a good game
I did not like this game very much. The artwork is good, but the VO is awful. The story is ridiculous, inconsistent, and just plain awful. The HOS are OK, but some of the puzzles are not even easy to figure out what to do. The HINT button tells you what to do and where, which is good because it sure isn't ever obvious. There is a map that shows where action is needed and allows jumping, but it isn't always accurate. Playing this game reminded me of some long hikes I have been on. You start out enjoying the scenery, whatever, but end up just wishing you'd get back to the car so you can stop. I found this game to be very tedious. The one thing you could count on was that the object you found would be needed a loooooooong way away from there and usually a looooong time later. Unless you have a photographic memory and play the game in one sitting, you are lost. Very poor game design.
February 13, 2013
Too much Going Back & Forth
I play a lot of HOG games. Many you do have a lot of going back & forth but are usually still fun. In this game, there is a Great Great Deal of wandering Everywhere plus you Collect a lot of stuff & half my time is spent having to scroll back & forth to find the item I need. Because of this, I only play about 15-30 minutes at a time. I figured out why this game is long is because of all the back & forth. The good thing is the (oops forgot what it's called) on the right side is a map which helps a great deal. This game could have been a lot better but I just get bored having to do so Much Back & Forth. I usually enjoy games similar with going back & forth - BUT this one just has TOO much back & forth going on & I get bored. Audio - I never listen to so can't tell you about this. Graphics - are really nice, so far no dark areas. The HOGS are sometimes hard to find. This game does not Just have a lot of Back & Forth but I do not always know what to do next and have to use HINT a great deal - No fun in that. Not like all the Other Grim Tales that I have. I appreciate those who can handle this game - But is just Not for me.
February 14, 2013
Grim Tale Agony
I really wanted to like this game and there were parts I really liked. The parts I didn't like were awful. Thank goodness there was a map, because...even though this is what you do in a HOS...there was SO much back and forth it was ridiculous. The mini games were either crazy hard or simple enough for a five year old. The items in your inventory were very simple to use or so off the wall that without a hint button you would never figure out where to use it. The story was great, the graphics were beautiful, it was a long game...all of that was great. The other part, YIKES. I finished it only because I had invested too much time to give up. I usually love Elephant games but not this one.
May 17, 2013
Grim Tales Sequel? GRIM GAME Sequel!
If you are looking for some FUN & EXCITING play from the Grim sequels then pass this one by! I was & I was sorely disappointed! I went ahead and finished the game because I had spent money on this [but wish that I hadn't after about an hour of play-time!] This sequel did NOT live up to the previous ones from "Grim Tales" in my opinion. The "voice-over's" were horribly done & looked rather "sesame street-ish" to me; on top of that most of them skipped horribly in my download of this game (don't know if it was just a bad download or if it is just a 'glitch' in this particular game? but EVERY time it came to one: it sounded like "the needle getting caught on a skipped/scratched record") The characters lips didn't even move to the voices! It was all rather childishly done! Then lets talk about the plot: there really wasn't one! Not one you could follow anyway! Then somewhere in the midst of the game (toward the end I think; I don't recall, as I got so bored) there comes some sort of gorgon GIANTS into play that don't even have ANYTHING to do with the "so-called" plot/story-line of the game that you have to vanquish with the help of some little "helper" they give you with an axe that they never really explain to you WHY? [it is there for you?] It looked to me like they were in a hurry to put out a new game for the public to play & didn't really think this one through very hard & just slapped it together really fast & we had to suffer the consequences! If you are wanting to spend your money on a decent hidden object game I would pass this one by. I wish that I had! The Grim Tales Jealousy game I purchase with this one was a little better. I DON'T recommend this game!
March 9, 2013
The Apple logo is a trademark of Apple Computer, Inc.
The Windows logo is a trademark of Microsoft, Inc.