Mountain Trap: The Manor of Memories
Save your best friend in the exciting Hidden Object Puzzle Adventure game, Mountain Trap: The Manor of Memories. What will you do if the vacation of your dreams doesn't go as planned? If your friend is alone in a foreign country and gets into trouble, will you have enough strength and courage to help her? Join this fascinating journey and face the 200-year mystery of the manor Ardennes. Find out how strong friendship ties are and discover to what extremes unrequited love is ready to go!
Beautiful art and gorgeous locations
Fantastic puzzles and hidden objects
Save your best friend
Check out our Blog Walkthrough
Game System Requirements:
OS:

Windows XP/Windows Vista/Windows 7/Windows 8

CPU:

1.2 GHz

RAM:

1024 MB

DirectX:

9.0

Hard Drive:

792 MB
Game Manager System Requirements:
Browser:

Internet Explorer 7 or later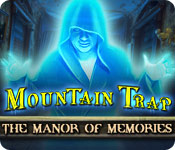 NEW299
The Big Fish Guarantee:
Quality tested and virus free.
No ads, no adware, no spyware.

Reviews at a Glance

Mountain Trap: The Manor of Memories
0
out of
5 (
0
Reviews
Review
)
Customer Reviews
Mountain Trap: The Manor of Memories
55
55
TERRIFIC
This is a good one. You have to think, use the hint button, colorful, great sound effects (snow wind), HOS and good thinkable puzzles. You do not get lost in where to go, just remember where you been (LOL). Have fun...
February 4, 2013
Put your thinking cap on!
Review of Full game played on hard mode. This is a good game. Some puzzles were intermediate for a change. You will have to work at a few of therm. NOT slow at all, you have to think and be patient. This game does not give you items. --Whoa there is a locked door- here is the key. There is a wilting flower, here is the watering can. Some interactive areas do not become active until you have the item you need. Be on your toes , you will have to go back and look for things. HOS are interactive, but will not give you the "grabby hand" to tell you what object you need to combine. (At least on hard mode) You will have to do that on your own. Not a big problem. Graphics are very well done, clear and pleasing. Not that overly glossy stuff that gives me a headache. Right at the start they give you a brighness option. ( very nice) Music is actually good BUT a drawback is as they have 3 songs that play over and over. The ending isn't going to be what you expect......
February 17, 2013
Hm! I liked it!
Given all the low reviews I was really skeptical of this game, but I gave it a try anyway. Sometimes in spite of the reviews :o) I was honesty surprised that I liked this game so much. There was an "old schoolness" about it that appealed to me, I guess. What others have said does hold true for the most part: the text lags behind the voice over, yes; the music is a loop and a short one at that, yes; and, perhaps the most annoying, the reminder that popped up on every single screen that you had "get this to Elizabeth" (once you found something you were to give to her). If you found that item 5 screens away, you got that popup on every screen as you made your way back to where she was - including when you got there. That was a bit much, though I do understand the logic behind it. Also, I was often in the dark about what to do with items... because when I noticed the item was needed it was *WAY* back at the beginning of the game, or quite a ways back and I almost never knew what to do with the item. That was a bit frustrating. I was very thankful for the hint button - it did tell me when there was nothing to do (quite a bit!), but when there was something to do I would get a proper sparkly hint that encircled the item where the action was needed and *then* I would know what to do with the doodad I got so long ago. All of the above aside, oddly enough, I still liked the game. I liked the graphics, the story, and the game play itself. I did like the music even though I wished it had been more varied. I found the game to be immersive, and I liked the twist ending. I dunno - I guess some games just strike you that way and when there's a general outcry of "yuk" you find that it appeals to you. Ah well, as I always say try it for yourself because a game might just hit you the right way even when the majority says no. [Oh, and by the way, I didn't run into any of the slowness or lag that was reported in other reviews as far as cut scenes went. One plus was that while it did take forever for items that were picked up to get into your inventory, you could move on to the next scene while it was still going in and your doing that didn't cause issues. The item still went in your inventory. One last thing: I did notice an issue when you did an alt-tab to swich applications while the game was running. The game did close down on me, so I wouldn't recommend doing that.] Happy gaming to all.
February 9, 2013
Review of completed game. BRILLIANT!
Great game for the price. Gorgeous graphics, loved the puzzles and everything about it. There is a lot of running round but the graphics are that lovely I enjoyed it. Good long game and looking forward to the next one, message at end tells you it is to be continued. Fantastic!
February 8, 2013
LOVED IT
I really enjoyed this game, lots of challenges, the lack of "hints" makes you really think. Admittedly I skipped a lot of the mini games, however they are quite different from the usual. Writing your own notes as to where things belong is helpful. I will definitely re-play without using the skip button and try to figure out how to do the mini-games on my own, lol. (maybe). Great game, well worth the purchase price.
February 6, 2013
Very Good Game To Play
This game was a slow start, but after awhile then it was going good. I really did like this game alot. It was even getting better the more you played in the game. The ending was good also. I can not wait until the second part comes out too. I hope they will have it soon so we will not forget of what went on in the game. I think you all need to go ahead & buy this game as it is pretty easy to play. The only thing that I didn't like was that it did have too many Hidden Objects in the game. But I still rate this game as a Big 5.
February 5, 2013
I enjoyed it
I think you enjoy a game because of the story not just if the graphics are good . After all there are a lot of murderers wizards etc in gaming land . This is a game where you have to do a bit more thinking for yourself than a lot of games recently .I thought the game got better as the story moved along and as someone else commented 20 minutes of demo time doesn't always give you an idea of what the game is really like but if you hate it just leave it . The game played with no gliches some ho's were a bit dark but you are given the option to increase the brilliance before the game starts The puzzles were varied and you could skip if you wanted I found it far more enjoyable than I had expected after reading some early reviews
February 5, 2013
Bored to Death!
I could only endure 30 minutes of this game. So of course, I will not be buying it. I was bored ot death with this one! I tried to get into it. But simply COULD NOT! It was no fun for me. The visuals were only ok. I have definitely played games with better graphics. The HOGs were ok. They were "find the shape" games. Those are ok from time to time and spread out in a game. But I'm not one to have to repeatedly look for those type of HOGs. The mini games were simple. An interactive map should have been provided - even for the short amount of time I played the game. I can't comment too much about the storyline because I don't think I played it long enough to see the results of it or to see if it was a cohesive one. And sadly, I have no interest in seeing where it goes. Please play the trial FIRST! However, it gets a thumbs down from me! Good luck to those who purchase first and play later...
February 5, 2013
Just Okay.
The graphics are okay, how hard can that be when everything is covered in snow? Storyline is typical, two women skiing one stays longer and injures herself the other must find her (in a manor again) There is no achievements or collectables, no guide, the hint only tells you to look elsewhere. The HO's are silloutted shapes, no interaction. Many of the items were hidden in the dark, but you are able to use a brightness level in the menu. Not a bad game, but nothing grand either.
February 4, 2013
Surprised!!
After reading some reviews, I downloaded the trial and let me tell you, I was hooked. I had to buy this one. I Played all the way through with great mini games and lots of hidden objects. Lots of rooms to explore and you'll think you got a collectors edition cause it plays out to be longer then normal. Go against the reviews and try this one. It is sure to please,
February 7, 2013