Mountain Trap: The Manor of Memories
Save your best friend in the exciting Hidden Object Puzzle Adventure game, Mountain Trap: The Manor of Memories. What will you do if the vacation of your dreams doesn't go as planned? If your friend is alone in a foreign country and gets into trouble, will you have enough strength and courage to help her? Join this fascinating journey and face the 200-year mystery of the manor Ardennes. Find out how strong friendship ties are and discover to what extremes unrequited love is ready to go!
Beautiful art and gorgeous locations
Fantastic puzzles and hidden objects
Save your best friend
Check out our Blog Walkthrough
Game System Requirements:
OS:

Windows XP/Windows Vista/Windows 7/Windows 8

CPU:

1.2 GHz

RAM:

1024 MB

DirectX:

9.0

Hard Drive:

792 MB
Game Manager System Requirements:
Browser:

Internet Explorer 7 or later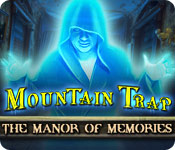 NEW299
The Big Fish Guarantee:
Quality tested and virus free.
No ads, no adware, no spyware.

Reviews at a Glance

Mountain Trap: The Manor of Memories
0
out of
5 (
0
Reviews
Review
)
Customer Reviews
Mountain Trap: The Manor of Memories
55
55
Could have been so much more..........
Interesting but dull. I kept hoping there would be an "end to demo" which there was. Another nice to play for a bit but no intention to buy. Graphics were just okay but the storyline was never really built up enough to want me to rescue anyone. There didn't seem to be any 'newness' to the story. Overall, average - play the demo and decide for yourself.
February 4, 2013
Poor hint system
I just fnished the game. I wasn't crazy about it. My main peeve is that when you click on the hint, it almost always just says that there is nothing else to do here. When I am stumped, I would like a real hint as to what to do next. I didn't like the ending, it wasn't a good ending, after playing through the whole thing. Just not my cup of tea, but if you don't mind minimal hints, give it a try.
February 19, 2013
Not Recommened
This game is the slowest, one-at-time game I have ever owned. It's hint system is the worst. Nothing is intuitive.
February 11, 2013
Good!
I really like this game. Annoying little pace, but overall nice.
February 9, 2013
Not Enjoyable
I hope they either have a better hint system on what you need to do next or a walkthrough for the next one. This was the most frustrating game I have ever played. Couldn't enjoy the story as I was tying to figure out what to do next or where to go so I could move forward. I toughed it out as I always finish what I start if it is interesting enough. Sad to say I wish it hadn't been interesting so I could have trashed it.
February 4, 2013
Not fun
Fair storyline, but disjointed and not tracking well from scene to scene.
February 5, 2013
ho hummmmm
There was no flow to this game. I only played a few minutes and I was bored. The visuals are good, and the story line is okay, but it's the same old stuff and I'm always looking for something unique/special. Not a buy for me.
February 4, 2013
Enjoyed the demo and bought it!
As at least one of the earlier reviewers said, it has sort of a Dire Grove feeling to it. I liked wandering around in the snow (without getting cold), figuring out what to do. :) Graphics are quite pleasant. The music is well-suited to the game, just wish there had been more of it. Navigation, tasks, and usage of inventory seemed very logical (and practical!). It offered an in-game adjustment for "brightness", but graphics were just fine without any adjustment on my system. There were some interactive items in the HOS. Hope to see more of in dev's future games. Overall, I knew just a few minutes in that it was likely a buy for me. When the demo kicked me out, I came to post reviews and buy.
February 4, 2013
Pretty darn good HOAdventure with a cliffhanger ending...
Ok, i've screwed up & deleted this twice, & wouldn't bother again except I like this game a lot - despite the fact that that it could have used some refinements, which hopefully will show up on the promised sequel. The game opens in a ski lodge type setting where you'll benefit from some sound fx that'll have you thinking you're back in Dire Grove, with the feel that something creepy's gonna happen... then transitions to the spooky manor on the hill with completely different play atmosphere. Nicely done, imo. Graphics are generally pretty darn good, & adjusting brightness helped. Cutscenes are ok. Voiceovers were just bad script reading, while voice & music volume control were one & the same which doesn't work out very well (but there are subtitles for dialogue). Music was repetitive & not great, & there's not much in the way of sound fx after the opening chapter - both of which could have enhanced the spooky atmosphere. Plenty of clear HOscenes offered some challenge, with listed objects as well as finding items from silhouettes. Minis/puzzles were few & easy. I'd say this game is heavier on the adventure aspect which i liked, so there's some more challenge, with a whole lot of back & forth, searching, finding, & figuring out what to do & where to go next. And essentially no help, so you're pretty much on your own. The hint button does the "Nothing to do here" thing; there's a journal & task list, no map; no hand holding. There is a walkthrough tho', which i used a few times, or i'd probably still be wandering around in that place. This is a pretty long game with a good storyline, & it played smoothly without problem for me. It's got a nice spooky feel, & if you get into it, will keep your head engaged 'til the cliffhanger ending. A little more purpose to the constant back & forth would make this feel like less of a "slow mover", even though pretty much everything you do here is goal directed. I do think this dev did a good job overall, & i await the follow up, hopefully with just a few tweaks.Imo, it's worth a try for both HOgame lovers & adventure fans. I'm going 4 stars for a looong, engaging game, atmospheric, nice graphics, with room for just a little improvemnt by a promising dev.
April 2, 2013
Mountain Trap: the Manor Of Malaise
This game had a little bit of everything... everything wrong that is. The navigation interface was terrible. Finicky in exactly where you had to position your mouse, disorienting in that it frequently reversed your perspective when traversing between areas, and annoyingly sparkly on every available direction. The cut-scenes were very long, very, very dull, and exceedingly poorly acted. Hire professionals next time, folks. And within the hidden object scenes were a full deck of my favourite pet peeves: - more than one of an object in the scene, when only one is called for. So when you click on one of them, nothing happens and you think to yourself "but that's the thing I'm looking for!" Very frustrating. - bad spelling or what I'm assuming are bad translations in the object list. I think what I saw were the German words for "cameo" and "divider". Anyway, it wasn't English. - reasonably bad artwork, so that on more than one occasion i thought to myself "wow, that REALLY doesn't look like the object I was supposed to find". - click penalties! Seriously, what is the point of click penalties? You wait a few seconds... why? There is no opponent to take advantage of that time, no scoring for points to be lost, it is just annoying! What is wrong with clicking on the scene? Encountered these a few times while looking for foreign-named objects that didn't look like what they were supposed to be... And the ongoing adventure parts had similar issues. A segment in which a pair of pliers had to be used to pull nails out of a table was very annoying and a typical example: not only did you have to click on each nail one by one when it was clear you were going to do the same thing to all of them, but also after each nail the pliers returned to your inventory. So selected the pliers, clicked on a nail, watched the little 'movie' of the nail being pulled, and then you had to select the pliers out of your inventory again, click on another nail, watch another movie... tedious. Anyway, in case you weren't clear... I don't recommend this game.
March 6, 2013