Mountain Trap: The Manor of Memories
Save your best friend in the exciting Hidden Object Puzzle Adventure game, Mountain Trap: The Manor of Memories. What will you do if the vacation of your dreams doesn't go as planned? If your friend is alone in a foreign country and gets into trouble, will you have enough strength and courage to help her? Join this fascinating journey and face the 200-year mystery of the manor Ardennes. Find out how strong friendship ties are and discover to what extremes unrequited love is ready to go!
Beautiful art and gorgeous locations
Fantastic puzzles and hidden objects
Save your best friend
Check out our Blog Walkthrough
Game System Requirements:
OS:

Windows XP/Windows Vista/Windows 7/Windows 8

CPU:

1.2 GHz

RAM:

1024 MB

DirectX:

9.0

Hard Drive:

792 MB
Game Manager System Requirements:
Browser:

Internet Explorer 7 or later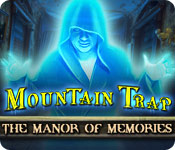 NEW299
The Big Fish Guarantee:
Quality tested and virus free.
No ads, no adware, no spyware.

Reviews at a Glance

Mountain Trap: The Manor of Memories
0
out of
5 (
0
Reviews
Review
)
Customer Reviews
Mountain Trap: The Manor of Memories
63
63
ho hummmmm
There was no flow to this game. I only played a few minutes and I was bored. The visuals are good, and the story line is okay, but it's the same old stuff and I'm always looking for something unique/special. Not a buy for me.
February 4, 2013
Don't Get Trapped!
I love winter set games. So, I hoped this game would be good. The write up about it isn't exactly like the game. Your in a small village that is suddenly empty, just as you need help finding you're friend. The game play was slow, boring, and not much to do. I played 26 minutes and now will uninstall it. Don't get trapped in this game.
February 4, 2013
boo
the game moved too slow for me. ie; putting inventory away. the "bing" noise when you used an incorrect item on something was like nails on a chalkboard. (2013)
February 7, 2013
Manor of memories
, I think it far better that this manor, should be renamed as the shed somewhere in the far distant countryside. In a manner of speaking like outer space. No I will not be buying it. I can be bored on my own and for free.
February 4, 2013
Game faulty
You cannot get past the first scene in the car. Games should be checked for faults prior to putting them on-line, just a good thing I hadn't bought this.
March 6, 2013
using old technology
This game has the feel of a previously unreleased game-from maybe eight or ten years ago. Don't waste your credits or money.
February 4, 2013
blah
not that great of a game.Hint no help at all.Was bored the whole game.The quality was poor,you would think that it was made a long time ago.
August 18, 2013
A snail of a game
Ok, first off, I couldn't play the game until the end, I had just enough and could not take any more... For about the first 30 minutes I was really into the game, but after that my interest started to descend 'til I had about zilch interest in "Mountain Trap". To be honest, I kinda felt "trapped" in this game because I really wanted to play it until the end but then I lost my patience. First, the cons: The game is totally linear, which means that it moves at a completely sluggish pace; As I have read in another review here, certain objects that you pick up along the way that seems to be totally obvious where you can and have to use them, just won't do for that end. For example, you end up picking up a scalpel and you'd think it was obvious that you could use it for cutting a sack, right? Wrong, very wrong. That means that everytime you pick an object, you will only be able to use it in one place, which means the game moves along like a crippled snail just like I mentioned earlier; This game will probably make you question your own intelligence. For about 98% of the game I didn't know what I was supposed to do and where to go next. Which means that the hint system is not helpful at all. There was no guidance whatsoever and this was the reason that made me lose completely any interest in the game because everytime I gained a new object I knew that I would have no clue where to use it next; There was a bit too much back and forth. I've played games with a lot more before, but in this game this is a complete minus; The game moved along based on the hidden objects scenes, which were way too much, by the way; The storyline: same old same old; The mechanics of the game are slow, just like the development (cursor, menu); I'm probably better off by just mentioning the pros now, because the rest of the game is a giant con: The graphics were just beautiful, top notch. The mansion was beautifully designed, really; The music was very calm and wasn't intrusive, it was nice, actually; I just had to get this over with already. Ufff... This game was a total let down and I lost my patience with it, which is saying much. Don't play it if you're looking for a calm or a good game, but if you're patient and can cope with the snail-like pace, the "I-have-no-clue-what-to-do-next" part and the general bore of it, go for it. You might like it. I know I didn't.
February 26, 2013
Mountain Trap: the Manor Of Malaise
This game had a little bit of everything... everything wrong that is. The navigation interface was terrible. Finicky in exactly where you had to position your mouse, disorienting in that it frequently reversed your perspective when traversing between areas, and annoyingly sparkly on every available direction. The cut-scenes were very long, very, very dull, and exceedingly poorly acted. Hire professionals next time, folks. And within the hidden object scenes were a full deck of my favourite pet peeves: - more than one of an object in the scene, when only one is called for. So when you click on one of them, nothing happens and you think to yourself "but that's the thing I'm looking for!" Very frustrating. - bad spelling or what I'm assuming are bad translations in the object list. I think what I saw were the German words for "cameo" and "divider". Anyway, it wasn't English. - reasonably bad artwork, so that on more than one occasion i thought to myself "wow, that REALLY doesn't look like the object I was supposed to find". - click penalties! Seriously, what is the point of click penalties? You wait a few seconds... why? There is no opponent to take advantage of that time, no scoring for points to be lost, it is just annoying! What is wrong with clicking on the scene? Encountered these a few times while looking for foreign-named objects that didn't look like what they were supposed to be... And the ongoing adventure parts had similar issues. A segment in which a pair of pliers had to be used to pull nails out of a table was very annoying and a typical example: not only did you have to click on each nail one by one when it was clear you were going to do the same thing to all of them, but also after each nail the pliers returned to your inventory. So selected the pliers, clicked on a nail, watched the little 'movie' of the nail being pulled, and then you had to select the pliers out of your inventory again, click on another nail, watch another movie... tedious. Anyway, in case you weren't clear... I don't recommend this game.
March 6, 2013
tedious
I hate being forced to watch videos and trying it out, it wouldn't end after the trial but went into an ad for the game that I had to force through computer software to stop. Don't like being required to watch or listen to anything continuously. I don't mind a watching for a couple of the puzzles or something, but not the entire game. Also don't like the "demo" versions that cut someone off. If it says I get an hour, I should get an hour.
March 23, 2013