Mountain Trap: The Manor of Memories
Save your best friend in the exciting Hidden Object Puzzle Adventure game, Mountain Trap: The Manor of Memories. What will you do if the vacation of your dreams doesn't go as planned? If your friend is alone in a foreign country and gets into trouble, will you have enough strength and courage to help her? Join this fascinating journey and face the 200-year mystery of the manor Ardennes. Find out how strong friendship ties are and discover to what extremes unrequited love is ready to go!
Beautiful art and gorgeous locations
Fantastic puzzles and hidden objects
Save your best friend
Check out our Blog Walkthrough
Game System Requirements:
OS:

Windows XP/Windows Vista/Windows 7/Windows 8

CPU:

1.2 GHz

RAM:

1024 MB

DirectX:

9.0

Hard Drive:

792 MB
Game Manager System Requirements:
Browser:

Internet Explorer 7 or later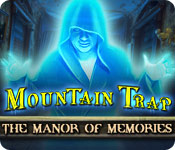 NEW299
The Big Fish Guarantee:
Quality tested and virus free.
No ads, no adware, no spyware.

Reviews at a Glance

Mountain Trap: The Manor of Memories
0
out of
5 (
0
Reviews
Review
)
Customer Reviews
Mountain Trap: The Manor of Memories
71
71
Mountain of Trouble
Beginning of game the cursor would not change into a magnifying glass or hand to find items. Sourly had to click on everything to see if I could pick it up or get a close up. Once beyond the car the cursor worked fine. I had to up the brightness on the game to see the HO's which were okay. Two kinds not real hard. When done with the game it made the brightness ghost like on the computer desk top and on the internet and could not get the computer back to normal so had to reboot to get rid of that problem. Past games were you control the brightness it only brightens the game and not everything else in the computer. Hated that the voice over sounded like it was done in a bathroom instead of outside in the snow. The graphics were great and the scenes fairly nice. Wish always for bigger music selection and interaction with critters moving about during game and HO's This game felt like it was just thrown together. The story line was good and wish going into rooms felt like a nice size room instead everything felt like a closet and junked up closets. Going into a room felt like a HO scene without it being a HO. Hopefully they take more time with the Collector to work out the kinks because they had a great idea, but failed short of themselves.
February 4, 2013
Very slow and just blah!
I don't know this dev, so don't know if they are new or what. Graphics were old school and game play was nice. HOGs a bit junky. Sound okay. Games very simple. Hint system may be fast recovery, but not helpful...don't just tell me to look somewhere else, at least point me in the general direction. Music okay. Voice overs just sounded like someone reading a line with no urgency or fear or whatever the scene called for. Very blah. This game looked like something from 2-3 years ago and was not challenging at all. A beginner would like this game, except that there is a tremendous amount of unnecessary running back and forth. This game did not make me want more when the demo ended, so it will not be a buy for me. As always, try it for yourself and see what you think. We all have different tastes in games and you may find it quite enjoyable. Thanks for the reviews.
February 4, 2013
One For The DD List
BASED ON DEMO Story: You?re alone in a foreign snow-bound country, you friend has disappeared, and the only thing for you to do seems to try to reach the mysterious mansion, Manor Ardennes. Developer: ? Release Date: Feb 2013 Extras: Teddy bears? Did someone mention teddy bears? It took me precisely one hour to complete the first chapter, which looks promising for the length of the game, as there are 7 chapters in all. The emphasis is on HOs, of which there are many. I have no problem with that ? I like lots of HOs. The difficulty I have in liking this game is the weather. That wind is already driving me nuts! Seriously, I found I had no idea what to do next way too often for my tastes, and the game seemed to go very slow for me, perhaps for that reason. But, an hour and I still haven?t even started on my rescue mission? I won?t rush to buy this one, but I might be grateful for a few snow scenes come our (downunder) summer, and am intrigued by teddy bear comments of another reviewer, so it maybe goes on my Daily Deals list.
March 5, 2013
Slow, easy and outdated
This game is just not good enough. Annoyingly slow movements so even thoug it is easy it takes forever to do things. There is a journal but no map - but you don't need either, as you just keep getting a 3-scene location and you just go back and forth between those 3 locations untill you have found what you need to solve the easy tasks. The HOS came close to nice and had both variation and mild interaction, but as the storyline along with the slow, slow movement seemed quite dull, it didn't really do enough to make it a good game. And as the gameplay at the same time seemed so outdated compared to all the good games BF provide..... this game is just a no-go for me. Anyone just a little experienced would find this one too easy - but who knows.... someone might need a filler :-)
February 4, 2013
A snail of a game
Ok, first off, I couldn't play the game until the end, I had just enough and could not take any more... For about the first 30 minutes I was really into the game, but after that my interest started to descend 'til I had about zilch interest in "Mountain Trap". To be honest, I kinda felt "trapped" in this game because I really wanted to play it until the end but then I lost my patience. First, the cons: The game is totally linear, which means that it moves at a completely sluggish pace; As I have read in another review here, certain objects that you pick up along the way that seems to be totally obvious where you can and have to use them, just won't do for that end. For example, you end up picking up a scalpel and you'd think it was obvious that you could use it for cutting a sack, right? Wrong, very wrong. That means that everytime you pick an object, you will only be able to use it in one place, which means the game moves along like a crippled snail just like I mentioned earlier; This game will probably make you question your own intelligence. For about 98% of the game I didn't know what I was supposed to do and where to go next. Which means that the hint system is not helpful at all. There was no guidance whatsoever and this was the reason that made me lose completely any interest in the game because everytime I gained a new object I knew that I would have no clue where to use it next; There was a bit too much back and forth. I've played games with a lot more before, but in this game this is a complete minus; The game moved along based on the hidden objects scenes, which were way too much, by the way; The storyline: same old same old; The mechanics of the game are slow, just like the development (cursor, menu); I'm probably better off by just mentioning the pros now, because the rest of the game is a giant con: The graphics were just beautiful, top notch. The mansion was beautifully designed, really; The music was very calm and wasn't intrusive, it was nice, actually; I just had to get this over with already. Ufff... This game was a total let down and I lost my patience with it, which is saying much. Don't play it if you're looking for a calm or a good game, but if you're patient and can cope with the snail-like pace, the "I-have-no-clue-what-to-do-next" part and the general bore of it, go for it. You might like it. I know I didn't.
February 26, 2013
Wouldn't buy even as a daily deal
This review is based on the demo, couldn't make it any farther. I mainly dislike this game because there is no challenge. I selected "advanced" mode, which is supposed to give me no hints or sparkles. There were sparkles everywhere, from the HOS to the next place I was supposed to go. There are also annoying voiceovers that you can't turn off. The rest of the game seems pretty ordinary, a run of the mill "mysterious disappearance of your best friend". Skip this one.
January 25, 2014
blah
not that great of a game.Hint no help at all.Was bored the whole game.The quality was poor,you would think that it was made a long time ago.
August 18, 2013
Not Recommened
This game is the slowest, one-at-time game I have ever owned. It's hint system is the worst. Nothing is intuitive.
February 11, 2013
Too Much Trap
The scenes are very detailed and beautiful, the music seems appropriate to the story. That being said, this game moved too slow for me, and the story line did not flow easily from one scene to the next, making it very difficult to know what to do. The voice overs were so low that i had to constantly turn my volume up and down, and they really didn't give me much useful information, even though the game insists that they do. As a casual player, this game isn't relaxing to me the way I like games to be. I could not finish this game; it just didn't reel me in like others.
February 5, 2014
Game faulty
You cannot get past the first scene in the car. Games should be checked for faults prior to putting them on-line, just a good thing I hadn't bought this.
March 6, 2013