Supercow
Professor Duriarti, a famous criminal, has seized the farm and captured the animals! He cloned them and made the clones work for him to successfully fulfill his diabolical plan of earth's destruction. Through her network of informants, Supercow heard about the situation, and dashed off to save the farm animals. Because after all, who knows how to save the farm better than Supercow? Supercow is an arcade game for the entire family!
Plenty of challenging levels.
Easy and fun game play.
Great cartoon story.
Game System Requirements:
OS:

Windows 2000/XP/Vista/7/8

CPU:

600 Mhz

RAM:

128 MB

DirectX:

6.0

Hard Drive:

78 MB
Game Manager System Requirements:
Browser:

Internet Explorer 7 or later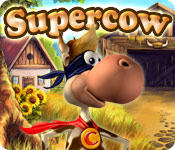 NEW299
The Big Fish Guarantee:
Quality tested and virus free.
No ads, no adware, no spyware.

Reviews at a Glance

Supercow
0
out of
5 (
0
Reviews
Review
)
Customer Reviews
Very good game although nothing special.
A very good game with nice graphics and nice music. Although this game is not something really great or original , it is pure fun to play. Funny characters and a quite interesting storyline. I would prefer it to be a little harder/challenging but I think it is perfect for children or unexperienced players.
July 6, 2012
Supercow
Delightful scrolling/platform game for young and young at heart. Guide supercow through various levels as you save the farm animals and foil Professor Duriarti's evil plan to destroy the earth. Choice of mouse or keyboard for gameplay. Arrows help guide the way to meeting the level goal. Several save points (mushrooms) throughout each level. Plenty of lives available, either by getting the hearts or restoring health by drinking milk and eating fruit. 100% earned for collecting all the coins and gems, defeating all the enemies, and finding all the secrets.
April 10, 2012
Very nice game
If you like arcade games with long levels,that games is for you! Well,I 've owned this game for 2 years I think and is really nice!Nice graphics and sounds.Even the story/dialogues are funny...I loved the diary after each level,in this way I was having a break for reading this,it was cute!Basically I didn't know that Supercow is a girl,I found it out in the end ;)...Anyway loved it...but the last levels were too boring for me.I mean,If you are the kind of player who wants to pick up EVERYTHING,that game will make you angry for sure!I was so anxious for restarting all the time when I missed something!Oh,it still gets me!Ok,the most of the times you can return and pick what you missed but some others...you cannot even continue the level!But ok,it's very nice game! An other complain which is not too important -it's just about my tase in games-is that the last levels,which were in our way to Professor ,were inside caves(you know the--> backround)..I didn't like the colours,or the enemies!I'd collected about 20 lives and I spared them there!Ok,many enemies,but nothing wrong,I can even say that it was more challenging,so no problem.What is more,the last levels as well, were too long!!After a while I got bored of it ,but maybe this is because I prefer HO games,so don't worry! I hope you enjiy it!
May 7, 2012
Great Game For Younger Folk, Not For Us "Old" Farts
I'm in my late 50's, married, a full time housewife, the mother of 17 children and have 14 grandchildren with 3 more on the way later this year. I play computer games at night to relax after spending another hectic day cleaning our home, cooking & baking, doing laundry, yardwork, running errands, etc. This would be a great game for my grandchildren ... they'd love it. I personally didn't care for it ... much too easy, not challenging. I played up to Level 10, I believe, before I decided to call it quits. I got quite good when I played Donkey Kong and Mario & Luigi with my children while they were growing up and this isn't much different. I strongly recommend this game for families who have young children. I don't think teenagers would enjoy this game because there is no violence in this game at all. The majority of teenagers I know personally, including my own grandchildren, don't like games that are not full of "blood & guts." Supercow is a refreshing change from that, I must admit. (Yeah! The game world needs more of this type of game.)
July 4, 2012
Great Silly Fun
I replay this all the time. It isn't long but sure makes up for it in fun factor for replay. The story line and characters are so out there that you have to laugh. I have tried some of the Granny games but I like this more.
April 6, 2013
Kind of fun arcade game
I bought the game because it was recommended by Big Fish based on my previous purchases of the Super Granny games. The game was kind of fun, but I love the challenges of the Super Granny games and this game just didn't live up to my expectations. The levels are monotonous and just not very challenging. I am playing it through a second time but am looking forward to getting back to my Super Granny games that I play over and over, trying to better my score.
October 16, 2012
Great For Kids and Lots of Fun!
I cannot deny that I had fun with this game. It's great for kids (reviewing this as a 14 year old) Good Parts: Very, very fun! I was quite surprised by this game as I thought it would be very kiddy like Fizzball, but it was very entertaining! Great Graphics, very modern, realistic and detailed. OK Parts: Awards were included in the game, but they did not serve much purpose and seemed too childish. Bad Parts: Althog challenging levels were promised, the levels were way too easy and repetitive. Storyline is dead set awful. Ridiculous. Seems more like a 90's child action hero comic than a game. The scenes should've been more well presented, Supercow was realistic, but the rest were just cartoon drawings. The dialogue was very childish and didn't really follow on with the storyline. I liked this game and believe it will provide fun for all ages, but it's not one I'd spend my money on!
July 3, 2012
A Super winner
This game reminds me of Donkey Kong in some ways but holding it's own in a different way. Loads of fun and a challenge on every level. This game is for all ages with many new suprises to look foward to.. I highly recommend this game for the whole family..
July 2, 2012
The best platformer game on BigFish!
I have owned this game for a couple of years now and keep coming back to it. The storyline is pretty simple and kept brief. The cartoon characters are drawn really well and are really engaging. It isn't high end graphics but that doesn't bother me for this sort of game. Gameplay involves collecting trash to clean up the country, jumping on evil animals (including bats, hedgehogs, snails, crows, frogs and dogs), battling bosses, collecting coins, collecting gems, and finding secret areas. Great amount of levels and good level of challenge. Most people will be able to finish every level so it is very encouraging - but sometimes the secret areas are harder to find! Any chance of Supercow 2???
May 12, 2012
Super Fun Super Value
This is one of those classic games you must have!!! There's multiple levels of fun, captivating graphics, fun & whacky sounds, and rolling screen format. Very thoughtful in the layout and design of the game. Make sure you don't miss out on this one.
March 18, 2012