Airline Baggage Mania
Fast-paced against-the-clock gameplay and lots of fun coming up to you in Airline Baggage Mania! Manage your first service point at an airport and establish new ones all around the world. Make sure that your passengers get their personal belongings in the shortest amount of time possible. It is no easy task because all the cases have opened during loading and their contents are scattered all over the conveyer belts! Being quick is the ultimate objective because all the passengers are in a hurry! Travel around the world to personally support your new service points!
Career and Survival Modes
70 phenomenal levels
Hilarious gameplay
Game System Requirements:
OS:

Windows XP/Windows Vista/Windows 7/Windows 8

CPU:

2.0 GHz

RAM:

1024 MB

DirectX:

9.0

Hard Drive:

57 MB
Game Manager System Requirements:
Browser:

Internet Explorer 7 or later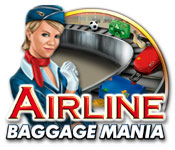 NEW299
The Big Fish Guarantee:
Quality tested and virus free.
No ads, no adware, no spyware.

Reviews at a Glance

Airline Baggage Mania
0
out of
5 (
0
Reviews
Review
)
Customer Reviews
Airline Baggage Mania
43
43
fun game
time managemen is fun to playing game
November 19, 2013
Not worth it at all....
Tutorial is useless more or less... Just trying to figure out how to play the first level was a challenge in itself since theres nothing showing you your progress and no easy "play" button. You basically need to fill up suitcases with different kinds of items for a specified role (doctor, old men,etc) and cant put the same items twice, nothing shows whats missing in the suitcases or whats already in it so all you do is click on things until you finally get it. Mouse steering is slow in this game. Nothing like the Burger Shop franchise at all. All in all, i dont recommend this game. I only did 3 or 4 levels before uninstalling it.
February 5, 2013
Some challenge, but not in a good way
The game play is very tedious. Various suitcases come down the line, and you select the matching items for that case from another conveyor belt. The concept might work, but this game doesn't. The only challenge is in trying to get stuff moved from the conveyor belt to a suitcase before it falls of the end (which ends the level immediately), and this is purely a matter of speed, not skill or strategy.
September 2, 2013
What a load of old baggage!
Yuk, sluggish controls and depressingly tedious game play! Pick items off a conveyor to complete a suitcase for a waiting airline passenger. I only managed the first two levels (and I love tm games) before giving up in disgust. The graphics weren't that great, the mouse seemed to move at a different rate to the onscreen cursor and the game play was just awful. I would not even recommend this to die hard tm fans and if you're new to tm, avoid this one it will put you off for life!
February 5, 2013
Airline Baggage Boring!
I'll start by saying the game is very pretty, there's been a lot of thought put into what kind of baggage there may be and each item has been carfully drawn to look obviously different to the others. However, the game is just plain boring! You can tell it's been hastilly translated as there are some grammer mistakes (although I have to say it's a lot better than some games out there). Your main task is to take an open case and fill it with the correct items that the customer has lost. It's a nice idea (reminds me of a teddy creation game from years back) and would be very good for younger children. However, even young children will be bored after a few repetative levels and it will not hold their attention. I think this is a nice idea, but with the lack of story line wanting you to move forward it was something I uninstalled straight away.
February 5, 2013
Boring
Tried 3 levels and quickly hit the quit button. Lags badly. Not real entertaining or attention grabbing. Just the same clicking over and over again. The idea is to select a suitcase and then click on the 7 items on a different conveyor belt to fill the suitcase. Later levels mix the items up. Very similar to Burger Shop without the interest level. If I could give it less than 1 star I would. :(
February 5, 2013
HOW OLD IS THIS GAME???
Where did Big Fish dig this one up?? This game is tiny in size but took forever to download and install. Then, when I went to play it, the game appeared upside down on my screen. The only time that's ever happed to me was when I tried to play an old CD adventure game that was ten years old. So, being the curious type, I did some research on this German developer and found they do not publish games outside of Europe and that they produce games primarily for 8-bit systems. Airline Baggage Mania does appear on their website with some rather old school-looking game offerings, but I didn't feel like translating their site into English to investigate further.
February 5, 2013
Repetitive boring game
This game is ok if u like doing same ole thing over and over with very very little variety...I love time management games but this one is too repetitive with NO changes per say...not worth it
February 5, 2013
really bad game
I thonk it's one of the worst game I've ever played! It's long, annoying and in no way challenging
February 5, 2013
The game now departing from terminal 5
This game was along the vain of games such as 'cake shop' series and the 'burger' games that moved along a convyer belt. That though was where the similarities ended. At least in the other games the mouse was responsive thus you could click on what you wanted when you needed to, this game you couldn't, the belt also moved extreamely fast so because of the mouse issues you couldn't keep up thus this ended in frustration. The other problem with the game (as others have said), after the third or fourth tutorial 'pop-up' box there is no text just picture depicting what should be in the cases, I can just about forgive the developers for this as I suppose as long as you put the right items in the right case then the case will close. The learning curve was too steep, usually on TM games you are able to get the 'master' (or equivalent) score on the first few levels to ease you in, here I was lucky if I got the bronze, this doesn't really give me any incentive to continue. Also it seemed to be unrealistic when you needed some items for cases and there didn't come up on the 'belt', thus you had angry customers through no fault of your own. One tip I will give is if you really do want to pursue with the game to try and alleviate some of the mouse problems, try the game on a lower resolution to the one the game puts you in (though be aware for me the first time I did this I had to reboot my computer as it kind of did something to my graphics/monitor, but second time it did help), though to me it just proved how 'not very good' this game actually was. I would not recommend this game to anyone, as along with the sluggish mouse controls, the unhelpful 'help boxes', the frustrating gameplay, unrealistic targets, poor music, what is there to say that is good about it? As the title said the game is departing terminal 5 (forever)!
February 5, 2013