Airline Baggage Mania
Fast-paced against-the-clock gameplay and lots of fun coming up to you in Airline Baggage Mania! Manage your first service point at an airport and establish new ones all around the world. Make sure that your passengers get their personal belongings in the shortest amount of time possible. It is no easy task because all the cases have opened during loading and their contents are scattered all over the conveyer belts! Being quick is the ultimate objective because all the passengers are in a hurry! Travel around the world to personally support your new service points!
Career and Survival Modes
70 phenomenal levels
Hilarious gameplay
Game System Requirements:
OS:

Windows XP/Windows Vista/Windows 7/Windows 8

CPU:

2.0 GHz

RAM:

1024 MB

DirectX:

9.0

Hard Drive:

57 MB
Game Manager System Requirements:
Browser:

Internet Explorer 7 or later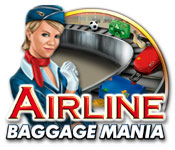 NEW299
The Big Fish Guarantee:
Quality tested and virus free.
No ads, no adware, no spyware.

Reviews at a Glance

Airline Baggage Mania
0
out of
5 (
0
Reviews
Review
)
Customer Reviews
Airline Baggage Mania
45
45
The game now departing from terminal 5
This game was along the vain of games such as 'cake shop' series and the 'burger' games that moved along a convyer belt. That though was where the similarities ended. At least in the other games the mouse was responsive thus you could click on what you wanted when you needed to, this game you couldn't, the belt also moved extreamely fast so because of the mouse issues you couldn't keep up thus this ended in frustration. The other problem with the game (as others have said), after the third or fourth tutorial 'pop-up' box there is no text just picture depicting what should be in the cases, I can just about forgive the developers for this as I suppose as long as you put the right items in the right case then the case will close. The learning curve was too steep, usually on TM games you are able to get the 'master' (or equivalent) score on the first few levels to ease you in, here I was lucky if I got the bronze, this doesn't really give me any incentive to continue. Also it seemed to be unrealistic when you needed some items for cases and there didn't come up on the 'belt', thus you had angry customers through no fault of your own. One tip I will give is if you really do want to pursue with the game to try and alleviate some of the mouse problems, try the game on a lower resolution to the one the game puts you in (though be aware for me the first time I did this I had to reboot my computer as it kind of did something to my graphics/monitor, but second time it did help), though to me it just proved how 'not very good' this game actually was. I would not recommend this game to anyone, as along with the sluggish mouse controls, the unhelpful 'help boxes', the frustrating gameplay, unrealistic targets, poor music, what is there to say that is good about it? As the title said the game is departing terminal 5 (forever)!
February 5, 2013
Not worth the 10 minutes I spent trying it.
Awful. I too found myself turning it off after the third level. When you pick the items off the conveyor, they get really small into the suitcase, and it's next to impossible to figure out what item you might be missing. It might have been better if there was a legend that listed the 6 items that go in each bag, and what each bag was missing. I generally enjoy these conveyor-type TMs, but this was just awful. The tutorial for me was broken. All of the tutorial boxes were empty, but this was no complaint as the game was so linear, it needed no explanation.
February 5, 2013
ho hum and certainly no fun
not for me and I wouldn't recommend it to anyone. I played for 10 minutes and found it a clumsy game which was too repetitive. Sorry but good TMs keep you amused and motivate you to increase your score or time but this was just a bore. There was simply not enough variety in the game.
February 5, 2013
Disappointment
Was so excited to see a time management game and then played it...nothing to it to keep one interested...game is slow, boring and repetitive...still dreaming of a good time management game...couldn't even make it through the first hour...
February 5, 2013
Lots of baggage!
Want to know what I think of this game? Let's put it this way, I wouldn't even "gift" this game to anyone...need I say more? The cursor is impossible, the game is more than monotonous, and my fingers were crazy clicking like I was sending out the Morse Code. Big Fish, you are about to lose a very, very good customer...if you don't better test your lousy games before you try to pawn them off to us loyal gamers, I suspect you're going to lose a lot more...fast.
February 5, 2013
Is that it?
So what do you do exactly? You click on items to put in a suitcase and that's it? Just that. A massive click-fest. Okaaay. Further down the game, there might have been more to it, but I didn't get that far. Zzzzzzz.
February 5, 2013
Waste of Time!
Thank goodness for the 1-hour free play time, because there's 3 minutes of my life I can never get back! When I saw the 1-star review I thought the game couldn't possibly be that bad. Wrong!! Definitely the worst game I have ever tried to play. As other reviewers said, the mouse movement doesn't match the cursor, and the belt moves faster than it's possible to select items accurately. Come on, Big Fish - lift your game. Whoever on your staff decided this was a game ready for release should be fired for wasting your time and ours.
February 5, 2013
Don't Bother
Really, don't bother. The other reviews tell it all.
February 13, 2013
Yawn
The reviews say it all, gave it till level 4 hoping it would get better but no... all you are doing is packing suitcases with items from a conveyer belt - most of which come out in order of what is needed so there is no skill involved. Just the mindless clicking on items to fill the case up. The only diversion was having to clean up the rubbish which I don't even recall mentioned in the tutorial. Give this one a miss guys - unless you enjoy boring, repetative games that is.
February 8, 2013
Disappointing Time Management Game
I cancelled my membership because of the lack of new time management games and was excited to see this new one come up. What a disappointment though! I wish I had read the other reviews before bothering to click download. Outdated graphics, sluggish movements, and an overall boring game are not at all what I want in a time management game. Don't bother downloading!
February 6, 2013