Meridian: Age of Invention
Experience the wonder of discovery as you rebuild a crumbling kingdom in Meridian: Age of Invention, an innovative time and resource management game! Endlessly imaginative, visually stunning and accessible to players of every skill level, you will be taken to a time and place you'll never want to leave!
Scour for resources
Meet eccentric characters
Unlock trophies
Game System Requirements:
OS:

Windows XP/Windows Vista/Windows 7/Windows 8

CPU:

1.2 GHz

RAM:

512 MB

DirectX:

8.0

Hard Drive:

768 MB
Game Manager System Requirements:
Browser:

Internet Explorer 7 or later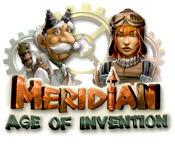 NEW299
The Big Fish Guarantee:
Quality tested and virus free.
No ads, no adware, no spyware.

Reviews at a Glance

Meridian: Age of Invention
0
out of
5 (
0
Reviews
Review
)
Customer Reviews
Meridian: Age of Invention
28
28
Level 36
I actually kinda liked this game until I found out there was no gold solution for Level 36. I don't usually have the sound on, and I don't take too much notice of the storyline either. The game was logical in terms of what needed to be done in what order. And if you didn't get gold on a level only took a couple of goes to get there. (Except level 36, which doesn't have a solution)
February 23, 2013
It gets boring...
I tried and purchased this game and played all levels already. Graphics are quite alright, I always keep music to a minimum so I have not much to say, but it IS monotonous and a bit annoying. The game was a bit clumsy to use at first, since you cannot queue tasks and it is not always obvious how to do things. It seems interesting at the beginning; building houses and adding plumbing and electricity, delivering food and letters looks like something new, but after about half of the game, that's all. It is also rather obvious that some levels were added "just as a filling", with some airplanes to be landed (just by clicking on them and on the hangar with the corresponding color). Let's say that about a 50% of the game is just "more of the same thing once again", but just in larger quantities. Boring and disappointing.
February 19, 2013
Slow moving and sometime confusing
Graphic blend in and having to click on the circle for action made this game frustrating-instead of clicking on the "house" or building--if you don't click just right it doesn't run and then you have lost time thinking an action has been done. I did buy the game and wasted a game credit. Early levels not as confusing but has you move up the graphics start blending due to the same color palette on the game between the buildings, backgrounds and colors of the workers. Challenging in that regard but not in play.
March 3, 2013
good time management
this game is ok but could get easily board with it also a little bit confusing
February 6, 2013
Not for me.
This is a very clumsy tm game in my opinion. Kept going to see if it got any better after the tutorial levels and no not really. The tutorial levels are really annoying. You can't get a grove going. And if you don't have enough workers you can't cue anything up. For instance you want to build a house after fixing the road you can't cue it up for your workers to do unless you have enough workers to do both at the same time. There really isn't a storyline to speak of either. This game just doesn't have anything that makes tm games fun for me.
February 6, 2013
Not for me
I thought in the 1st and 2nd round that this was going to be a great game, but after the 3rd and 4th round it was not so fun. The game was just deliver mail and deliver food the whole round to about 5 different house so you could have enough money or Ore to be able to build a bridge and it went on and on.I thought to my self, what fun is this, I am having to run from house to house delivering stuff that I can't take the time to see what else needs to be done. Not a fun game for me just a lot of work. I hope others like it because I did start out thinking this was going to be really fun.
February 6, 2013
A poorly done time management game!
I keep hoping for a well-done time management game, since them seem few and far between these days. And I decided to try this one out, despite the negative reviews. Unfortunately, this one is not a well-done time management game. The graphics are okay, though nothing fabulous. They're better than some of the time management games that have come out in the past several months, but not as good as other. (Northern Tale strikes me as a somewhat recent example of fairly good graphics for a time management game, to give you context.) The graphics also occasionally are falling off the screen, and changing it to windowed mode doesn't fix this. (There's a chest on one level you can pick up that's half off the screen, for example.) The animation is a bit stiff, but not atrocious. The music is kind of annoying and repetitive, but that can be turned off. The storyline is almost non-existant. The biggest issue for this game is the clunky gameplay. While it's similar to other building-style time management games, it's done in a clunky fashion with excessive amounts of clicking. You have to do multiple clicks to accomplish basically anything. And it's not very responsive sometimes with the clicking, so you may end up having to click more than you otherwise should have to complete an action. For instance, you click on an obstruction in the road, click on the circle that pops up to send a worker out to clear it, then click on the bag that appears to send out a courier to pick up the ore that's a result of clearing the obstruction. It may or may not respond to all of those clicks, so there may be some duplicate clicking. And yes, there are two kinds of characters in this game - workers and couriers. It's nothing new to have two kinds, but in this one they seem sort of foolish. The example I gave just leaves me wondering why the worker is so lazy he can't just pick up the ore and take it back with him, since he has to head back when he's done anyway. Having to send a courier out to pick it up just seems like extra clicking and "busy work" added for no good reason. And there is a lot of clicking even without that example. In addition to clearing the roads, fixing the roads, building houses, repairing houses, mining ore, and those "typical" sorts of things for games like these, you'll also get to pick up letters, deliver those letters; pick up groceries, deliver those groceries; etc. The tutorial is kind of annoying, and constantly feels like it's interrupting you. Honestly, I suspect it would annoy even someone with no experience playing a time management game. The game also gets boring and repetitive pretty quickly, though I didn't play beyond the demo. Something that may or may not annoy people is that you can't queue up actions. This isn't unique to this game, so it's not a huge deal to me, but given the clunkiness of this game it stands out as more of an annoyance than it otherwise would be. Especially with how much clicking there is just to do things. Ultimately, I had no interest in buying this or using a free game coupon after trying the demo. There are better time management games out there, this one just isn't worth it.
February 22, 2013
Very Repetitive
This game was just fine but not that varied. I liked the beginning and bought the whole game but found it to be the same every level. Sometimes it was just basic clicking. It wasn't bad, just average.
February 6, 2013
Premature Release???
I have played up to level 7, I believe. I cannot play further due to game glitches. Turns out, if I had visited the game forum I would have known that this game has issues. Like most, I thought those little men were just being erratic to be amusing. It stopped being amusing when they refused to come out of the workshop to collect things. While I know this is not the place to talk about tech issues, I do believe it's only fair to let people know that a Win7 laptop cannot run this game at this time. I do hope they release a re-build, as it was a fun game so far. However, at this time, I cannot recommend this game.
April 3, 2013
Clunky.
Just clunky. The best thing I can say about this game is that the graphics were good. The least favorite of the building/repairing/upgrading games I've played here. For a new game in this genre, try "Sweet Kingdom".
February 18, 2013