Cursed Fates: The Headless Horseman
In the northern part of the state, near the upper reaches of the Hudson River, there is a town named Sleepy Hollow. As is often the case, small towns hide big mysteries. A chain of bloody events commenced one ordinary night. A secret marriage and a new will have inflicted a dreadful curse upon this town. A terrible legend has become reality. The legend of a terrifying creature returned from hell.
Game System Requirements:
OS:

10.8/10.7/10.6/10.5

CPU:

1.0 GHz (INTEL ONLY)

RAM:

1024 MB

Hard Drive:

341 MB
Game Manager System Requirements:
Browser:

Safari 4.0 or later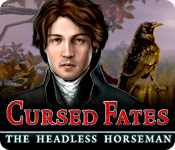 NEW299
The Big Fish Guarantee:
Quality tested and virus free.
No ads, no adware, no spyware.

Reviews at a Glance

Cursed Fates: The Headless Horseman
0
out of
5 (
0
Reviews
Review
)
Customer Reviews
Cursed Fates: The Headless Horseman
66
66
Too formula
This game is a bit too much like many of the other games I have found here. I almost know what is going to happen. In too many of these games there is a car or a horse drawn coach parked outside of an elaborate gate. There is something inside the car or coach and something inside the trunk, or a chest. There is a bridge that catches fire or blows up or falls down when you try to cross it. Some of the scenes looked like they were just copied from other games and changed a bit. Same scene, different tree, same scene different horse, same scene different demon. You get the picture. Having said that, it's not that bad in itself. I like these sorts of games and I may buy this one. I just have to get over the yawn factor when it comes to sameness.
February 8, 2013
Not a good game
it was alright but halfway through I thought do I care? not really and the HO it was very dark and the putting of objects that did not exsist in that day and the beheading of the people should have been scary but I just laughed and thought were was the blood it should have been all over the place but there was nothing.The game was OK but a bit perdantic in places would I recomend this game no not really.
March 29, 2013
The Good, Bad and Ugly
If you haven't seen the movie, this is not a terrible game. I only did the trial, and there are obviously no surprises here, but the level of game challenge is decent. For me that makes the play interesting. The graphics are acceptable with some nice scences. This is good. One thing that continues to bother me with these type of games is the lack of consistancy. Why do I have to pass two ladders in order to find a hidden one? And why can't I use these ladders to get the scyth on the windmill or the bag hanging in the tree? Why do I have to find a ruler to open a latch when I have a stick? And why, oh why, did the object I had a minute ago dissapear when I could still use it to perform the current task? This, to me, is the bad. Please never watch the Johnny Depp version of this tale if you don't want this to seem like a total rip off. The faces and actions are taken right out of the movie. And what the heck is a Victrolla doing in the 18th century anyway? Ugly!
March 22, 2013
The game had potential, but . . .
Great lack of attention to detail and dark dark HOGs. The lack of proofing the in the game was amazing. In the dark (and I do mean dark) hidden object scenes they would have 6 or 8 of the object they asked for, most common was the amulet or pendent. And the story line lacked a logical flow and the strangest was a 1892 Winchester Lever Action rifle and you had to muzzle load it? They had loads of images of muzzle loaders in the other scenes but chose to use a gun that would not be build for another 100 years and used cartage's? On the good side the graphics were good and the voice overs professional, but sadly the bad out weighed the good :(
March 12, 2014
Mediocre..
The best part of this game is there are collectible horseshoes in the standard edition that you can buy things in your office with and the challenge of the hidden object scenes because some of those things are blended in a little too well! And it had VERY well done voiceovers. Bravo! Other than those three things though, I found this game to be very boring. There is no map but one is not needed because every chapter is a new game basically so there is no need for back and forth among a lot of locations. Things also get blocked off so you know you don't have to go back to other locations. There are 5 chapters that I felt dragged on forever but I have to say this game was pretty short, just felt long because I was bored. The hidden object scenes are list and also show you the item and you find it. The show item one was hard because even though you could see what you were looking for, they were behind other things and I liked this challenge. However the mini games were not original and were quite easy, never had to use my brain for those. The story line used the sleepy hollow plot but the game was far from the actual story line of the actual story. That is fine by me BUT I love sleepy hollow in general and this could have been sooo much more inventive but it just fell short. In each chapter you get all new inventory items so there is not much challenge. Everything I got, I played within a few moments of picking it up. There are 2 difficulty modes and expert has sparkles on mini games and hidden object scenes. I like relaxing games so this didn't bother me however this game just dragged on forever and the ending was BAM! and its over. I felt like I had a conclusion but I felt quite unsatisfied with the abruptness and wished I had known the overall outcome of the game if that makes sense. For beginners, people who don't like back and forth or want a relaxing kind of game, this one is for you. Although the hidden object scenes were rather hard to find at times, I really would have liked harder puzzles on expert level as well as no sparkles on anything. I recommend this game because it has collectibles but had it not...I don't know that I would...there's just nothing too "special" about it.
February 6, 2014
The Headless Rockinghorse Man
So many glowing reviews: The graphics! The storyline! The dialogue! The ending! Johnny Depp! Wow, I thought this game was going to be great---but it was, at best, average. I agree with many of the reviewers that there were too many HOs and the puzzles were far too easy. The worn-out "piano playing puzzle" that is in just about every single game I have ever played was actually given a new twist by being so mindnumblingly easy I think my cat was snickering. But the worst thing (or maybe the best because I laughed every time I saw it) was that horseman rocking away across the scenes with his little puppet arm sawing up and down. I am laughing again just writing about it! Oh man, those devs went to the Way-Back Machine for that one. I still would recommend this game for a DD or a freebie---it was fun and passed the time---but I don't think it deserves the raving reviews.
April 17, 2013
A Blaring Time Error
A gramophone in the pub in 1790? Really??? Were they just trying to be funny, or what?! At least it wasn't a juke box... with Elvis music. Aside from that, the graphics were a bit dark but finding objects in HO scenes wasn't really difficult. The music was soft and sort of creepy like it should be, but it was a tad monotonous. The mini-games/puzzles were fairly easy. The hint worked outside HO scenes and didn't count as using a hint, which is nice. I don't like the highlighting around objects that need attention. Too much of a give-away for me. This was just an okay game; nothing that really drew me in to the story. So even as an SE I don't think I'll go for it. And truly, I wish developers would think, really THINK, about what objects they are putting in their scenes. An otherwise okay game just becomes ridiculous.
February 7, 2013
Another game that needs an exterminator.
I could have enjoyed this game and would have purchased it except I can't stand rodents. Especially when they are running around. I will avoid looking in the area of the screen where they are once i have spotted one which makes it hard to complete hos scenes. I do not understand the obsession of game designers with rodents in every scene. it adds nothing to the game, so why do it? Same with spiders and snakes for the people who can't stand looking at them. If it's not an integral part of the game plot, leave the creepy crawlies out.
February 11, 2013
Too many HOS
The storyline was not bad but sadly, the excessive # of HOS ruined the game for me. The objects were sometimes very hard to find. My other concern was there was no opportunity to reset a mini game and a few times I realized what I'd done wrong but couldn't reset. Overall, not sorry to see it end Will recommend it but only for folks who like lots of HOS.
December 9, 2014
Pretty average but fun
I liked this game overall but it has too many HOS's for me. That's just my personal preference but, in addition, the graphics are too dark making it very difficult to find many items, especially the very small ones. (this is a pet peeve of mine in many of these games.) I liked the story line and the fact that you don't have to continually travel "long distances" back and forth between scenes. A few solutions really didn't make sense and the puzzles weren't anything new. If it weren't for the HOS's I would have rated it 4 stars.
January 5, 2014
The Apple logo is a trademark of Apple Computer, Inc.
The Windows logo is a trademark of Microsoft, Inc.