Cursed Fates: The Headless Horseman
In the northern part of the state, near the upper reaches of the Hudson River, there is a town named Sleepy Hollow. As is often the case, small towns hide big mysteries. A chain of bloody events commenced one ordinary night. A secret marriage and a new will have inflicted a dreadful curse upon this town. A terrible legend has become reality. The legend of a terrifying creature returned from hell.
Game System Requirements:
OS:

Windows XP/Windows Vista/Windows 7/Windows 8

CPU:

1.0 GHz

RAM:

1024 MB

DirectX:

9.0

Hard Drive:

779 MB
Game Manager System Requirements:
Browser:

Internet Explorer 7 or later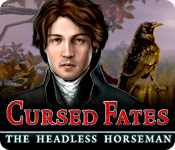 NEW299
The Big Fish Guarantee:
Quality tested and virus free.
No ads, no adware, no spyware.

Reviews at a Glance

Cursed Fates: The Headless Horseman
0
out of
5 (
0
Reviews
Review
)
Customer Reviews
Cursed Fates: The Headless Horseman
47
47
Didn't loose my head....
Played the SE and tried this one to find any differences: Yes, there are still golden horseshoes to find with which we can buy (!) "achievements". In this case the term "achievements" is misleading, as you actually can buy furnishings for your office.... Didn't really hook me... Tried this game, because I loved the movie. And really, the Constable Crane character looks a bit like Johnny Depp... Graphics are Ok. Lots of cluttered HOS (some items really very well hidden!), some not very challenging minigames. Hint is also useful outside the HOS. 2 playmodes to choose from, I played the 2nd. But even in this mode, there is too much handholding; glints and glitters everywhere. Attached to the inventory you have a section in which some items have to be combined. We have no map, but that's not too bad, as found items are used soon. This game ends conclusively with the defeat of the headless horseman. The bonus chapter, offered in the CE isn't really necessary. I don't know exactly what it is, but this game didn't keep me playing...
February 6, 2013
Headless Horseman strikes again!
This is an entertaining game that is fun to play. Although it's not a fantastic game, it has some nice features. The graphics are good, they have done a nice job of keeping the items of the 1700 period. The voices are dialog boxes that simply shows the character's face and you click to continue so you can move through it at your own pace. The HO's are a mixture of list items, slightly interactive (click on a vase to spill out contents) and showing you the picture of the item you need. The puzzles are pretty simple and you can skip them after a little while without penalities. Another feature that I personally love are collectable golden horseshoes throughout the adventure and SPOILER ALERT: they are also hidden in the HO scenes! No map, no achievements, a journal that logs minimal clues and notes and most of the items you find are used within a couple of scenes.
February 6, 2013
Task Oriented Hidden Object Game (HOG)
Beautiful graphics. Great voice-overs. Soft background music fits the storyline. Journal has diary and list of clues. No map. Outside of Hidden Object Scenes (HOS), hint points to direction needed to travel. Collect golden horseshoes in each scene. Combine inventory items to create needed objects. Easy puzzles. Objects in HOS are well camouflaged, which is a plus for me. The story is important to me, but the story got lost with all of the HOS/puzzles. You meet ghosts who ask you to do them a favor so their souls can rest. You have a fire to put out, but before you can put it out, there are several HOS and puzzles, plus a lot of back and forth traveling. You are asked to hurry, so you can save lives, but again, you're too busy doing HOS and puzzles. Those lives are lost. This game also has items from other time periods. There were no record players in 1799; they hadn't been invented yet. If the story is not important to you, this game might be a lot of fun. Try the demo first.
February 6, 2013
Great Fun - Moves fast
I just finished doing the try me of this game and had a blast. I will purchase it today. The game follows the storyline of Sleepy Hollow and all that entails. It moves along very nicely and at a comfortable pace. The games are fun and not all that easy to do. You move around the game some but you don't get confused as to where you are supposed to go and what you are doing. The help button is nice when needed. In all I found this game one I want to play again and again. Hope you do too!!
February 6, 2013
Excellent HO Adventure game
Loved, loved, loved this game, it is now my new favorite. You are Constable Crane, detective sent to investigate murders in the town of Sleepy Hollow. Like someone stated earlier, this is so close to the Johnny Depp movie 'Sleepy Hollow' that it`s not funny. The characters even look like the ones in the movie, and plot is same, just which this game was longer. It has 5 Chapters, each has a murdered person killed by the headless horseman, so because of that you may not want young children to play this game. You of course will have back tracking, but each chapter will be confined to that chapter, and there is about 3-5 scenes in each chapter. The hint system feels rapidly, and works in both HO scenes and out. No map, but don`t need one. Hint is very helpful and shows where to go and where it needs to be done. HO scenes: sometimes have interactive items. Some of the HO scenes you will find the items both from a word list and from a picture list. After you find them you will then have to find one more special item which will go in your inventory list. You will find special 'horseshoes' trophies which you can then buy 'special items' which does nothing for the game, but just adds time, and allows you to 'buy', such as a finger print kit, camera, uniform, etc. and you never use these. Has a diary, but not useful, but good reading, tells history of the horseman. Each murdered person wants you to find something for them and in return gives you something useful, which is used quite rapidly, so you won`t have a lot of stuff in your inventory. Puzzles: some of the same and some different, I only skipped a couple, some puzzles I just don`t like to do, that`s just me. I played in the easy mode, and game still longer than 5 hrs. Normally, I won`t give good reviews if game doesn`t have a stragety guide with it, I can`t see paying more for the guide when a lot of games come with it, but this was ok. I did download the guide as I had a problem in chapter 5 with the fireplace, but that was only time I needed it and could have kicked myself when I found out what I needed to do. Other than the murdered people(which you never see them killed) a very entertaining game, again wish it was longer as I could have played all day and not be the least bit bored. Thank you Fenemen games. I need to see if they have any more Cursed Fates games.
February 7, 2013
Happy Hidden Horseshoes
I bought this game in CE version and loved it. The atmosphere, music and graphics are spooky and set the tone and the mood. It's a good long game and took me several hours of play over days to complete it. It's got a good mix of HOs and fragHOs and minis that aren't too difficult. Agree with the others. Crane looks like Johnny Depp, which made it even more fun. Loved searching for the horseshoes and getting ready to play it again. I didn't find all of them the first time, not even close. Will have to look harder. Thanks for a great and highly enjoyable game.
February 7, 2013
Too formula
This game is a bit too much like many of the other games I have found here. I almost know what is going to happen. In too many of these games there is a car or a horse drawn coach parked outside of an elaborate gate. There is something inside the car or coach and something inside the trunk, or a chest. There is a bridge that catches fire or blows up or falls down when you try to cross it. Some of the scenes looked like they were just copied from other games and changed a bit. Same scene, different tree, same scene different horse, same scene different demon. You get the picture. Having said that, it's not that bad in itself. I like these sorts of games and I may buy this one. I just have to get over the yawn factor when it comes to sameness.
February 8, 2013
HO excellence
First review I've written, just wanted to say how much I enjoyed this game. Can't put my finger on it, but I must own dozens of hidden object games, and this is one of my favorites. Good voice acting, effective music and graphics, just the right level of difficulty, and though I tend to play for the gameplay and puzzles and don't generally pay too much attention to the storyline, this one really had me interested in the outcome. Game is divided into chapters, which I really appreciated because it gave me a convenient stopping point, and the chapters take place in one general vicinity, which means you're never wandering aimlessly. Length is just right -- I occasionally encounter games that go on too long and grow tiresome, but here I found myself looking forward to each new chapter. HO scenes alternated between standard "list" HO and "picture of the item" HO, the puzzles were difficult enough to make me think, but not too difficult to make me skip out of frustration, and the game itself flowed nicely, with an occasional stumper (for me) now and then. A very well-crafted game made by a developer who seems to know exactly what game-players enjoy.
February 10, 2013
hidden object game
LOVED IT!!!great graphics. characters very authentic. storyline great. good game for all. thanks BIG FISH.
February 7, 2013
Time period?
Good game. Great VO, good acting. Good visuals. Bit cluttered here and there and some object are too well hidden. Other than that a decent game. BUT....... For Pete's sake! There were no gramophones in 1700's! Would it be much to ask from the developers to try not to add non period objects? It does put a damper on the whole feel of the game.
February 10, 2013
The Apple logo is a trademark of Apple Computer, Inc.