Dark Tales: Edgar Allan Poe's The Gold Bug
Exclusive
Edgar Allan Poe's classic tale gets a reboot in this fourth game in the well-loved Dark Tales series. You and your detective companion Dupin have been summoned to the seashore to help William LeGrand discover the exact location of a treasure lost hundreds of years ago. But LeGrand isn't the only one with designs on the pirate booty… A masked villain tries to make off with the code, and a mysterious woman in a veil seems to be connected.
Amazing art and animation
Creative puzzles and hidden object scenes
For a more in depth experience, check out the Collector's Edition
Game System Requirements:
OS:

10.8/10.7/10.6/10.5

CPU:

1.4 GHz (INTEL ONLY)

RAM:

1024 MB

Hard Drive:

492 MB
Game Manager System Requirements:
Browser:

Safari 4.0 or later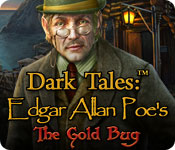 NEW299
The Big Fish Guarantee:
Quality tested and virus free.
No ads, no adware, no spyware.

Reviews at a Glance

Dark Tales: Edgar Allan Poe's The Gold Bug
0
out of
5 (
0
Reviews
Review
)
Customer Reviews
Dark Tales: Edgar Allan Poe's The Gold Bug
42
42
Excellent Game!
I had a really fun time playing this game, I experienced some issues with the characters dialog sputtering when they began to talk, but it straightened out each time after about 5 seconds. I really enjoyed the overall feeling of these game, and I am glad that I purchased it. It was fun to play, and the different challenges kept it interesting, you never knew what they'd have you doing just around the corner. I highly recommend this game. :)
March 8, 2013
Nice game.
We enjoy the ERS Dark Tales series and M. Dupin. With Edgar Allan Poe as a muse/basis it's hard to go wrong. He is a master of mystery/horror and still a fun read today. Graphics: Classic ERS graphics --- artistic and lovely. We love the Belle Epoque era that is brought to life so well in these games. Really lets you feel out of time. Storyline: Again, with EAP as your inspiration you can't go wrong. And who doesn't love a treasure hunt?! Difficulty: Moderate for an experienced player. Bugginess: We run the antique and frustrating Vista. (We really need to get a new computer someday.) As the game play continues, and the game we save keeps getting larger, play definitely slows down, but no real bugs. We enjoyed this game. Quite diverting.
February 27, 2013
I bought it....
I liked the demo and waited for SE version and glad I didn't spend the $7 for an extra chapter. But that's exactly what it needed. The game was way too short. I'll recommend it but these game have got to be longer..... (2013)
February 10, 2013
Review of Completed Game...
Let me start by saying i used to LOVE this series. USED to is the key word here. When demoing the CE, I had written off this game for having too many Hidden Object scenes, which it does, but having looked at a walkthrough, there are only 8 hidden object scenes that you play twice each. So I thought maybe I had overreacted....I should have stuck with my first opinion... The game HAS AN ENDING in the SE mode so thats a huge plus for me as most of the ERS games I own the SE of, have a cliffhanger. So kudos for that. The plot was disjointed however. The thief wasn't scary at all. He had a cape and converse shoes. I love me some converse shoes but they don't really scream scary more like skateboard kid. There were lots of things to do but a lot were completely ILLOGICAL in my opinion. Also, a huge downfall for me was the hint button. I played on the hardest mode BUT the hint button worked outside of the hidden object scenes supposedly. The hint button worked to give direction til about halfway through the game when it started giving me directions to places there was nothing to do. Places that used to be hidden object scenes but I had already done the scene or it would take me into a room but then the second I got there took me back out. It basically malfunctioned which would have been fine if there was a map but there wasn't. That cost me lots of time wandering around aimlessly so I had to stop and look at a walkthrough. I can't remember the last time I needed a walkthrough for a game. Sometimes that doesn't bother me BUT in this case when there is a hint button that is SUPPOSED to work, it bothers me I had to step out of the game to go see a solution and when I had the solution, it was things like...I didn't put it in the sweet spot or some illogical thing that made no sense. So I was really really annoyed by the end. The graphics as always are spot on with ERS. My other big complaint is, if Im playing in the hardest mode it means I don't want sparkles on anything and when ERS says it has no sparkles, it lies because there are sparkles on every hidden object scene. Mentioning Hidden Object scenes...there were a lot of back to back ones that really irritated me. Sometimes it was the same scene I had just played~! There is a part between chapter 2 and 3 that is VERY Hidden object heavy...then it thins out for awhile but then it goes back to that really heavyness only its the "new" type scenes. I usually like those however in this game, they didn't make sense. I needed hints to figure out what to even do... And then I hit the last hidden object scene in the pirate ship...Until then I was going to give this game 4 stars...Its an okay game, I liked it okay until this scene because I have just played "redemption cemetery-grave testimony SE" and in that game, in one of the chapters, is a pirate boat theme which I really enjoyed at the time... HOWEVER, all the exact drawings and characters and colors were in gold bug so its RECYCLED MATERIAL. That really irritates me because if Im buying a game, it needs to be new material, not the same old stuff, rehashed in a new game. I was really appalled at that and already annoyed at the fact the hint button doesn't work and that there are too many scenes back to back and the sparkles so thats why I give it 3 stars and I recommend it to ERS lovers but if you are like me and have played tons of these games for many years, this just does not measure up to my standards of what a good game is supposed to consist of. And boo to me for doubting my first instincts and buying this. Money talks and until this company listens, I am no longer buying ERS games.
March 6, 2013
FUN, EASY, SUITABLE FOR BEGINNERS
BASED ON COMPLETED GAME ON EXPERT LEVEL This is just a fun game that features easy puzzles, an interesting story and fun HOS. It's not a masterpiece, but I really think people new to this genre or kids will enjoy this one. The voice overs are very well done and the graphics are gorgeous. The puzzles are interesting and simple. In addition, you have a dog as a helper, so what's not to enjoy? Just don't expect too much of a challenge.
August 2, 2013
Not worth CE edition
I was very disappointed with this game, as I've enjoyed the other Edgar Allen Poe games. This seemed shorter and, at times, there was no logical reason to the next required step. The Hint system is virtually worthless as it just shows you things to do and does not indicate what's next. If you miss a step along the way it can be quite tedious to find it. The varied HOS scenes were good though - causing you to have to solve a puzzle within the HOS in order to find the next object. Game puzzles were average, at best. Overall, not worth the CE version and not up to previous version standards.
February 11, 2013
Relaxing Game, But Too Easy and Too Short
This game is enjoyable enough, but not much of a challenge. Basic tasks, easy puzzles, and I completed it in just a few hours. This might be a good one for kids or for beginners. There's nothing scary or graphic. I did like that it wasn't frustrating in any way. But I expected more.
February 10, 2013
Just an Okay Game
I have all the other Dark Tales games. They were better than this one. The game was way too easy to play. No challenge. Storyline was good. Glad I didn't buy the CE. Had the whole game played in two hours. If you are one that likes a calm game without brain work, this is the game for you.
February 11, 2013
Simple Game
As usual for this series, the production is outstanding - great art work, VO, etc. The story is OK. Too bad that the game is so simple. This is probably a great game for a beginner, but others will be bored, as was I, with just the demo. Try it before you buy it.
February 19, 2013
Very Short, Very Easy
I don't think I've ever rated an ERS game with only 3 stars, but I just couldn't go higher on this. It was extremely easy, even on "detective" mode. I think there may have been a technical problem because I chose the most difficult mode and the HOS's still showed sparkles and there were way too many hints. I tried changing the difficulty level several times but it never got rid of the sparkles and I kept getting hints when I didn't want them. Very disappointed. It's also extremely short, even for an SE. I honestly couldn't believe it when it was over. Very glad I bought this during a sale. I'm still recommending it for the players who don't like as much of a challenge.
May 14, 2014
The Apple logo is a trademark of Apple Computer, Inc.
The Windows logo is a trademark of Microsoft, Inc.