Dark Tales: Edgar Allan Poe's The Gold Bug
Exclusive
Edgar Allan Poe's classic tale gets a reboot in this fourth game in the well-loved Dark Tales series. You and your detective companion Dupin have been summoned to the seashore to help William LeGrand discover the exact location of a treasure lost hundreds of years ago. But LeGrand isn't the only one with designs on the pirate booty… A masked villain tries to make off with the code, and a mysterious woman in a veil seems to be connected.
Amazing art and animation
Creative puzzles and hidden object scenes
For a more in depth experience, check out the Collector's Edition
Game System Requirements:
OS:

Windows XP/Windows Vista/Windows 7/Windows 8

CPU:

1.4 GHz

RAM:

1024 MB

DirectX:

9.0

Hard Drive:

512 MB
Game Manager System Requirements:
Browser:

Internet Explorer 7 or later
Alcohol Reference
Mild Blood
Mild Violence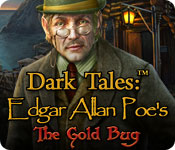 NEW299
The Big Fish Guarantee:
Quality tested and virus free.
No ads, no adware, no spyware.

Reviews at a Glance

Dark Tales: Edgar Allan Poe's The Gold Bug
0
out of
5 (
0
Reviews
Review
)
Customer Reviews
Dark Tales: Edgar Allan Poe's The Gold Bug
42
42
This time a definite buy!!!!!
Tried the CE of this exciting game and decided to wait for this version, as the offered extras in the CE weren't sufficient for me. Once more, Detective Dupin needs your help... Interesting investigations, graphics: typical ERS-style - clear and detailed. As always: 3 modes to choose, can be changed during the game. We have a journal and a helpful hint (showing you, where to go next). Together with the inventory we have a very cude Newfoundland, helping us with his sniffing abilities, when needed. When he is barking, you should look in your inventory for an item marked with a pawprint. Show this item to your doggy-friend and he will react immediately.... HOS are very interactive, some with integrated puzzles, that's fun!! We have enjoyable minigames - not too challenging. Yes, I do recommend this version!!
February 8, 2013
Interesting Adventure Game ? An unexpected surprise!
Intriguing! Not being a Poe fan, I might have passed on this one but am glad I didn?t. The game is entertaining without the grim and gory atmosphere that I was expecting. Are you willing to assist Dupin as he follows the trail of a masked stranger, villain or victim unknown? Will Legrand actually find the lost treasure of Captain Kidd? The opening cutscene is fabulous and draws you into the story. A rousing sense of urgency is evoked by the exhilarating music. The graphics are well done and I was amazed at the degree of colour in the scenes, the close-ups and especially the minigames. I found the characters convincing and the voices realistic. Dupin and Legrand are both appealing. You will want to help them. There are enough cutscenes and animation to move the story along and enhance the suspense. This is important as the gameplay itself is not overly challenging. The HOS are the usual type, shapes and lists, with some interactivity. If you like puzzles, you will find plenty of familiar ones. A journal records the clues you need and the usual hint feature is available. There is no map (in the demo anyway) but inventory is used within a location or two so there is not much backtracking. I loved Arthur! When a whimpering bundle is tossed from the pier in the opening scene, I couldn?t wait to get the item I needed to free the puppy trapped inside. Soon after, you encounter an angry and wailing Newfoundlander who becomes a sweatheart when the two are united. Arthur and his keen sense of smell will help you in your quest. When he barks, he is ready to help. It is delightful! You can just play the game, or you can allow yourself to be immersed in the adventure. The choice is yours. I played the demo, bought the game, and will be checking out the others in the Dark Tales series!
February 8, 2013
Another good ERS game
This is pretty much like the other Dark tales. Great graphics and has voice over. Music is not bad. It is pretty much straight forward and not going all over the place to find items. The HOS are not the normal ones. You have to find items to solve the HOS. Not hard at all. The puzzles are pretty easy also. The hint button works good if you need it. Pretty easy game. You have a dog to help in the game. Not a bad game to play. Pretty straight forward. No special items to find during the game.
February 8, 2013
Gold Bug
I found this game fun to play, but I wasn't blown away. Good graphics and voiceovers, and plenty of interactive things to do. There are a lot of simple puzzles but not a lot of HO's and they are a mixture of list items and find the silloutted items both of which are interactive such as dig a hole, put a flower in the hole, water the flower etc. A new feature in this game is a Neufoundland dog named Arthur that travels with you and a paw print alerts you that Arthur has some work to do sniffing out clues! Good game to have fun with.
February 8, 2013
Enjoyed This Game!
I enjoyed this game. I specifically liked the treasure hunt feel to this game. The game is not that difficult, referring to the Hidden Object games and puzzles. You have a dog provided by LeGrand (a friend of Detective Dupin). There is no map, but retrieving items is simple enough.
July 17, 2013
Great Game From The Amazing ERS!!!!!!
The game is by one of my favorite game developers, ERS! And yes, it is a good game. The graphics are great, and you can lock your inventory, which is a huge plus for me. There is no map, that I saw, but I didn't really look as the game did not need one. There isn't much backtracking, and the items are not tough at ALL to figure out where they go. Okay, my one bad point. The game is hidden object and some are my favorite types where you have to place the hidden objects in the scene rather than find them, but the game is MOSTLY, and I do mean MOSTLY PUZZLES.! Literally every few minutes you will encounter one. Most are not bad so it shouldn't bother most, but it bothers me to have more puzzles or HOS than the GAME! Still even with that...the game was a good one, and worth the money. Happy gaming gamers!!
July 2, 2013
DUPIN IS STILL A TOTAL BABE! :-D
Review based on completed game in casual mode. Animation/VOS - Excellent IHOS - Silhouettes and lists, small objects, repeated. Puzzles/Mini-Games - Variety of difficulty levels. Skip, to me, had a moderate recharge. Hint - Fast recharge, gives clues and directions. Loved my helper, Arthur, a Newfoundland. :-D Misclick Penalty - None Map - None. Would have been nice. You will need a good pair of walking shoes. There is a built-in strategy guide. Journal - Records items found. To my surprise, in addition to the strategy guide, there was also additional game play of hos and puzzles just like a CE. I chose not to play the additional games. The storyline was a bit tedious to me. Preferred the previous Poe mysteries. Since it does have a good mix of hos and puzzles, this game will appeal to just about every player no matter what genre you prefer. Give it a whirl and enjoy.
March 11, 2013
Review of Finished Game
I didn't expect to like this game based on the reviews I read but I ended up really enjoying it and I'm glad I bought it. HO scenes... I read there were a lot of HO scenes, which I don't care for, but there weren't really that many of them. Half of the ones there were are the newer Silhouette Interactive ones which I really like. Puzzles... weren't real hard, most anyone should find them easily solvable. All the HO scenes and puzzles are replayable from the menu in the SE version, so that's a nice plus. Map... There was no map, but it wasn't needed because there wasn't a lot of backtracking. Story... it held together well and came to a good conclusion, including a recap by the villian. The SE version is just fine. I never forgot what the story was, I was always involved in it. Time... I'd guess 3 to 4 hours, but I'm slow. Keep in mind that there aren't a lot of HO scenes and not much backtracking to artificially pad the time. I'd much rather play a shorter game where I'm always doing something I enjoy rather than a longer one where I'm just trudging back and forth from one end to the other looking for endless HO scenes to pop up. If you only buy one game a month, I'd say maybe buy a different game. If you fill a punchcard every month, I highly recommend this one. I went into it prepared not to like it, I only bought it mainly because of the bonus punch offer, but I really enjoyed playing it from start to finish.
March 1, 2013
Fair game
This was a fair game, but not like the others in the series. I liked the other ones better. The story wasn't as good and neither was the game play. This was not a awful game so I gave it 4 stars.
February 9, 2013
A very entertaining game
This was my first Dark Tales, and not having read the original story, I expected this game to be darker and scarier, but I wasn't disappointed as the story progressed. There was a good mix of different games, including silhouettes, which I really liked. The HO scenes sometimes were a little grainy, but they weren't hard. The music nonchalantly added dimension to the game, and at times sounded Italian. The mini-games weren't too challenging, but they were fun, and I actually did them all. The Newfoundland dog helping out was a nice touch. I really enjoyed this game and I'm looking forward to playing the next one in the series--even if it may not be exactly true to the story.
July 10, 2013
The Apple logo is a trademark of Apple Computer, Inc.