Dark Tales: Edgar Allan Poe's The Gold Bug
Exclusive
Edgar Allan Poes classic tale gets a reboot in this fourth game in the well-loved Dark Tales series. You and your detective companion Dupin have been summoned to the seashore to help William LeGrand discover the exact location of a treasure lost hundreds of years ago. But LeGrand isnt the only one with designs on the pirate booty A masked villain tries to make off with the code, and a mysterious woman in a veil seems to be connected.
Amazing art and animation
Creative puzzles and hidden object scenes
For a more in depth experience, check out the Collector's Edition
Game System Requirements:
OS:

Windows XP/Windows Vista/Windows 7/Windows 8

CPU:

1.4 GHz

RAM:

1024 MB

DirectX:

9.0

Hard Drive:

512 MB
Game Manager System Requirements:
Browser:

Internet Explorer 7 or later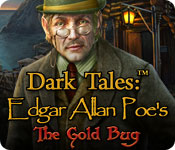 NEW299
The Big Fish Guarantee:
Quality tested and virus free.
No ads, no adware, no spyware.

Reviews at a Glance

Dark Tales: Edgar Allan Poe's The Gold Bug
0
out of
5 (
0
Reviews
Review
)
Customer Reviews
Dark Tales: Edgar Allan Poe's The Gold Bug
35
35
Review of Finished Game
I didn't expect to like this game based on the reviews I read but I ended up really enjoying it and I'm glad I bought it. HO scenes... I read there were a lot of HO scenes, which I don't care for, but there weren't really that many of them. Half of the ones there were are the newer Silhouette Interactive ones which I really like. Puzzles... weren't real hard, most anyone should find them easily solvable. All the HO scenes and puzzles are replayable from the menu in the SE version, so that's a nice plus. Map... There was no map, but it wasn't needed because there wasn't a lot of backtracking. Story... it held together well and came to a good conclusion, including a recap by the villian. The SE version is just fine. I never forgot what the story was, I was always involved in it. Time... I'd guess 3 to 4 hours, but I'm slow. Keep in mind that there aren't a lot of HO scenes and not much backtracking to artificially pad the time. I'd much rather play a shorter game where I'm always doing something I enjoy rather than a longer one where I'm just trudging back and forth from one end to the other looking for endless HO scenes to pop up. If you only buy one game a month, I'd say maybe buy a different game. If you fill a punchcard every month, I highly recommend this one. I went into it prepared not to like it, I only bought it mainly because of the bonus punch offer, but I really enjoyed playing it from start to finish.
March 1, 2013
Simple Game
As usual for this series, the production is outstanding - great art work, VO, etc. The story is OK. Too bad that the game is so simple. This is probably a great game for a beginner, but others will be bored, as was I, with just the demo. Try it before you buy it.
February 19, 2013
formulaic HOG
i played about 30 minutes of the demo, backed out and deleted. sorry, ERS, but this is a no-buy for me. i have played all of the puppetshow games, all of the redemption cemetery games as well as all the rest of your "series"-type games and i am now officially tired of the formula. many of these games have the same music, same artwork, even the same FONT! can't you change things up a little? actually, you can. make another game like "dark alleys: penumbra motel" and you might tempt me. might. my other complaint is the linear quality of the games. you can go to three scenes at a time, basically, and when you're done, you move onto the next group of three scenes. i like the non-linear games better because there is more challenge to remember where you need to use an inventory item. all in all, this game was just TOO EASY. i like some *challenge* to the games i buy! i played this one on the hardest mode of the three (no hints, no black bar tips... let alone the hated *sparkles*!) and STILL it was easy. the puzzles i encountered, i didn't even really have to think about how to do them because i've seen them so many times before. please, ERS, *challenge me*! when you do, i will start buying your games again! and yes, i WILL demo your games to see what you're offering, but if there's no challenge, even on the hardest mode, there's no buy from this fishie.
February 17, 2013
I bought it....
I liked the demo and waited for SE version and glad I didn't spend the $7 for an extra chapter. But that's exactly what it needed. The game was way too short. I'll recommend it but these game have got to be longer..... (2013)
February 10, 2013
bulbulg4u
Nice game but levels are not much difficult. Graphics is nice its like spirits of mystery song of the phoenix . . . :)
April 1, 2013
Pass
This was one of the worst games I have played in a while. There was absolutely no challenge to anything. I am very happy I only played the demo.
March 2, 2013
I wish I would have purchased the CE.
This was so much fun....and I even finished it in one day with a few sittings! Yes, it was too short but I still give it a five because I enjoyed it that much. Was the visual and sound quality that great?...No, not really, but it didn't matter to me. I liked the dog...I wish he would have been used more in this game. The HO scenes are my favorite kind, where you have to look for only a few items and one thing found finds another and then another is found and that causes another to be found and so on...ending up with one usable item to be used in the game. There were the regular search HO scenes also so I liked the change between the two types. I know for some this game was too simple but I enjoy games such as this once in awhile without the 'dark and dreary' effects and magic and witches. This was fun and had some places to go...and I didn't need a map or journal with this game. I do wonder what the extra chapter in the CE game would have held for me though!
February 22, 2013
Not bad, not great
Perfectly OK SE. Not terribly complex or challenging, but no major problems. Fairly linear map, combination of HOS and find-and-use silhouetted object scenes. Not quite as good as previous Dark Tales games, but a decent choice for a free game token. SE has complete ending, wouldn't bother with CE.
March 10, 2013
Not Impressed
Very disappointed - played a previous Edgar Allen Poe game but this was just all over the place and really not interested in continuing
March 10, 2013
Excellent Game!
I had a really fun time playing this game, I experienced some issues with the characters dialog sputtering when they began to talk, but it straightened out each time after about 5 seconds. I really enjoyed the overall feeling of these game, and I am glad that I purchased it. It was fun to play, and the different challenges kept it interesting, you never knew what they'd have you doing just around the corner. I highly recommend this game. :)
March 8, 2013
The Apple logo is a trademark of Apple Computer, Inc.